Transformers, Ice Age in Fourth of July tie for top slot
It's going to be close: Preliminary box-office estimates for the July Fourth weekend show that
Transformers: Revenge of the Fallen
and
Ice Age: Dawn of the Dinosaurs
are tied for the top spot, with and estimated $42.5 million in domestic ticket sales each, the Associated Press reported.
Whether that tie will remain on Monday, when final figures are reported, remains to be seen.
Johnny Depp and Christian Bale's gangster epic
Public Enemies
, meanwhile, debuted in third place, with $26.2 million.
Ecuador forces "The Simpsons" out of prime time "The Simpsons"
is being taken off prime-time in Ecuador pending a government investigation of its effects on children, the Teleamazonas network said Thursday.
The network said that it will no longer be allowed to show the dysfunctional family between 6 a.m. and 9 p.m. until the probe takes place.
"It is not going to go off the air, but we had to change its slot to 5:30 a.m.,"
Teleamazonas' lawyer, Pablo Ortiz, told the Agence France-Presse news service.
A government-supported broadcast regulator will examing
The Simpsons
' impact on
"boys, girls and teenagers."
It also wants airings restricted "to assure the protection" of younger viewers.
The state TV watchdog said that it was concerned by the impact of
"programs and messages that promote violence, racial and gender discrimination."
The investigation is expected to take 90 days.
Recently, Japanese cartoon
Dragon Ball
was also forced from its normal timeslot by Ecuador's broadcast regulator.
Another South American country, Venezuela, instituted a sanction against private TV channel Televen in June 2008 for broadcasting
The Simpsons
during family viewing hours.
The Slow Death of Cartoon Network
Guess who else doesn't like the new CN? The people who used to make cartoons at the network, like
Chowder
creator C.H. Greenblatt. He posted
the following comment on his blog
a couple days ago:
"As I sit here on an empty floor of an empty building looking at all the empty animation offices, I can at least put this on endless loop for some comfort."
The endless loop refers to
this ignominious piece of video
.
Meanwhile, at Cartoon Network's executive offices, where the blind continue to lead the blind into irrelevance, they're convinced that they've discovered what kids really want to watch on TV nowadays: golf. The
Atlanta Journal-Constitution has the farcical details
about one of the network's new programming initiatives, which involves teaming up with the PGA of America to offer live-action golf shows for kids.
"We have to work hard to ensure that we continue reaching families and young people for golf to be relevant in the future,"
said Joe Steranka, chief executive officer of the PGA of America.
"The Cartoon Network complements the PGA of America's leadership in junior golf."
If you wish, there's a
Boycott CN Real group on Facebook
. Frankly, I'm just about ready to label it a lost cause and move on.
(Thanks
cartoonbrew
)
Evind Earle - "Sleeping Beauty" Animation Concept Paintings, 1959
Medium - tempera on heavy illustration board.
All artwork found while digging through the
Heritage Auction website
.
(Thanks
Monster Brains
)
Ponyo, Miyazaki and Ghibli
Reminder:
Hayao Miyazaki's
Ponzo
hits Japanese DVD on
July 3rd
and American theaters on
August 14th
.
The LA Times
confirmed Miyazaki will be appearing at Comic-Con in San Diego in July showing clips from
Ponyo
. The Academy of Motion Picture Arts and Sciences will also be showing
"Spirited Away"
on
July 17
; Pixar's John Lasseter, who has executive produced the American-language version of the last three Miyazaki films, will be interviewing the master animator at the academy on
July 28
.
Ponyo
event
held at Aquarium Kaiyukan, Osaka
Zac Bertschy at
ANN reviews Ponyo
Drew McWeeny at HitFlix
on the movie
Ponyo adaptation thoughts
and a survey of
international Ponyo trailers
Speaking of Ponyo on the international front,
Nausicaa.net
reports Walt Disney Home Entertainment announced that the Japanese release of
"How Ponyo was Born"
(DVD and BD) and
"Ponyo Special DVD BOX"
are postponed until December.
Toshio Suzuki
commented that the delay
is due to rights negotiation on incidental music.
Ghibli World
reports that
a new short
is being produced for the Ghibli Museum. The douga work of the new short finished on
June 25
and the people at the studio play its rush film every week.
Ghibli World also offers
an update on Miyazaki's manga Kaze Tachin
Ayumi Suzuki's essay
A nightmare of capitalist Japan: Spirited Away
At look at the
Grave of the Fireflies musical
Ghibli gate crest
Kiki's Delivery Service - Japanese Trailers
T.H.E.M. Anime review on
Ghibli ga Ippai Special Short Short
CG
Totoro Mae
Going Hollywood
Reuters reports
that the Steven Spielberg and Will Smith remake of
Old Boy
is moving forward despite the legal battle between the Japanese publishers of the original manga and the Korean producers of Park Chan-Wook's 2003 cult hit. Futabasha, publisher of the manga by Nobuaki Minegishi and Garon Tsuchiya, has filed a case against Show East in Seoul, alleging the Korean company never had the right to negotiate a remake. Show East and Big Egg, who produced the Korean film are now out of business, but South Korean sales company Cineclick Asia, which represented Show East's
"Oldboy"
in international territories, actually negotiated the remake deal with Universal.
From a Futabasha press release
As a separate matter, Futabasha, along with Garon Tsuchiya and Nobuaki Minegishi, the original author and illustrator of the manga work, fully support plans for an upcoming film adaptation of the original
"Old Boy"
material currently planned by Steven Spielberg and Will Smith in conjunction with Dreamworks Studio.


"We are very excited about this latest
"Old Boy"
project,"
said Futabasha Board Member Kenji Honda.
"Currently, the option rights are held by Universal Pictures. The legal action should not affect Universal's rights or the Dreamworks project in any way. The suit was commenced to protect the rights of Garon Tsuchiya and Nobuaki Minegishi, as well as to enforce and protect the rights of Futabasha under the contract with Show East."
*
The rumored death of the Hollywood live action
Akira
might be exaggerated. That assertion might also be an exaggeration.
MTV Splashpage
quotes rumored cast member Joseph Gordon-Levitt as saying
"you never know"
when asked about the project's fate.
*
Anime News Network
reports Joshua Long, the production supervisor of 20th Century Fox's proposed live-action
Cowboy Bebop
film, has revealed on Thursday that live-action film projects based on the Kakurenbo supernatural horror anime and a Kazuo Koike work are being pursued. Long revealed the projects at the Anime Expo convention's keynote speech on
"Making Anime and Manga into Hollywood Features."Upcoming in JapanPreviews -
Bakemonogatari
Baton
Eden of the East
(movie)
Manglobe's (
Samurai Champloo, Ergo Proxy
)
Sacred Blacksmith
Tales of Vesperia: The First Strike
(official English language profile)
Anime -
A-1 Pictures and Satelight will be adapting Hiro Mashima's fantasy adventure
Fairy Tail
into an anime series. The manga is released in North America by Del Rey.
A unique version of
Evangelion: 1.0 You Are (Not) Alone
will air on Japanese TV this week
Following November's
Macross Frontier the Movie: The False Songstress
, which will present a compillation of the story chronicled in the
Macross F
TV series, a second, newly announced
Macross F
will tell an original story.
The second season of
risque fantasy adventure Queen's Blade
is now scheduled to hit Japanese TV in October
A new
xxxHoLiC OVA
will be packaged with a limited edition of volume 16 of the manga
Fresh Precure! Big Secret of the Toy Kingdom
will hit Japanese theatres
October 31st
.
A fourth Gag Manga Biyori anime adaptation is the works.
Manga -
Ai Yazawa's
Nana
has gone on hiatus due to illness
Bokurano, the painful approach to sci-fi adventure tropes by Shadow Star's Mohiro Kitoh has come to an end. A one-shot spin-off
Yet Another Bokurano
will be in the next issue of Japan's Ikki. The manga will be running in Viz's English, only edition of the magazine.
Masato Natsumoto's
Mobile Suit Gundam Battlefield Record U.C. 0081: Tears of the Seas and Skies
and Tsukasa Kotobuki's
Mobile Suit Gundam: Day after Tomorrow
: From Kai Shiden's Memories have launched in the latest issue of Gundam Ace
Macross Ace has also launched a new
Macross F
manga.
Live Action - Ultraman
movie
Mega Monster Battle: Ultra Galaxy Legends The Movie
(
Daikaiju Batoru Urutora Ginga Densetsu
) is Japanese theatre bound
Kamen Rider Double (W)
will premiere in September
The Anime Business
ICV2
reports
that American anime sales declined 2% in Q1 2009 versus Q1 2008, versus an 11% drop in 2008 versus 2007.Consolidation of anime companies is also continuing, according to the report, with FUNimation's market share topping 40% in Q1 2009.
Robert of Robert's Anime Corner Store comments
*
Toonzone
and
Video Business
report that Millenium Media Services, a joint manufacturing/distribution venture between First Look Studios and Sony DADC hope to streamline the process of getting DVD/Blu-ray media into Best Buy. One of the mentioned client is Bandai Entertainment, who were unable to get releases such as
Code Geass Part 3
and
Gurren Lagann Part 3
into Best Buy.
*
Plans to a build a government funded anime hall of fame
are controversial among animators
in addition to politicians
Via Matt Alt's translation
"The number of productions and the production budgets have plummeted in comparison to last year,"
says Studio Gonzo producer Junichi Tagaki.
"We used to get 1.8 million yen for a thirty minute television episode. Now we get 1.3 million yen.... If there's the money to build an [anime] center, I'd rather see it spent on reorganizing the domestic anime industry."


...


"Totally useless,"
opined no less a personage than
Mobile Suit Gundam
character designer Yoshikazu Yasuhiko about the proposed anime center.
"Anime has the vitality of a weed. I want it to be left alone. And with government support, I worry about potential restrictions being placed on freedom of expression."
ANN
reports
the members of its preparatory committee to establish the tentatively named National Media Arts Center include
Media Arts in General
Yasuki Hamano, Tokyo University professor in graduate studies
Kazuo Hayashi, Pia Research Institute President
Tomoe Moriyama, Museum of Contemporary Art Tokyo Curator
Film, Video
Kohei Ando, Waseda University professor
Anime
Taku Furukawa, artistic anime creator
Sachiko Kamimura, character designer (City Hunter, The Heroic Legend of Arslan)
Yuji Nunokawa, The Association of Japanese Animations Board Chairperson
Manga
Chiho Saito, manga creator (Revolutionary Girl Utena, Anastasia Club)
Machiko Satonaka, manga creator (Lady Ann)
Media Arts
Hide Nakaya, NHK commentator
Nobumichii Tosa, Maywa Denki artist
Computer Games
Tsunekazu Ishihara, Pokémon President
Tetsuya Mizuguchi, Q Entertainment Representative Director
Helen McCarthy
on the topic
*
Robert's Anime Corner Store Blog asserts that
Viz is abandoning the niche anime market
It's pretty clear that Viz has pretty much abandoned the niche market and is only going to go forward with DVD releases that have the potential for mass appeal (and mass market sales) and that they will no longer be publishing lower sell through fetish shows (I think I's will end up being the final 'fan centric' show they release with the
Nana
and
Honey and Clover
releases being sort of hold overs from prior planning). It's also clear they will probably not resurrect
Hikaru No Go
into boxed sets as we originally had hoped. Someone asked me on Friday if they will be packaging
Shippuden
to match the original 16
Naruto Uncut
boxed sets, and while we don't have specs on the release yet, I think the answer is almost certainly no. They will most likely be standard double DVD packs.
*
Anime producer Gonzo will be delisted from the growth
"Mother"
section of the Tokyo Stock exchange on
July 31
.
*
ADV Nation spoke to
Anime Network's Vice President, Stacy Dodson about their offerings
Non-Anime Animation
Chinese steampunk animation
Fenrir
Worth Checking Out...Official
Central Park Media's farewell message
from the anime Expo program
Siren Visual's posted a provocative
Siren Otaku Tv
promo, looking ahead to releases of
Genius Party
and
Tower Of Druaga
.
ADV has also posted
trailers on YouTube
Insight
Exit the Dragon
-
"Asian movies are dead in America and no one cares,"
says Grady Hendrix,
"We're right back where we started."
An interesting look at what to expect from
Imagi Astro Boy
A look at the various incarnations of Tezuka's
Phoenix
part one
part two
part three
part four
Speaking of Madinkbeard,
Phoenix Volume 10 and 11: Sun
Let's Anime on
"Osamu Tezuka Manga Complete Works"
J-Film Pow-Wow on
The Diary of Tortov Roddle
There's a lot of talk about which Japanese animator will take up the title of
"The Next Miyazaki"
. Of course Makoto Shinkai and his lushly illustrated, but often saccharine films
"Voices of a Distant Star"
and
"5 Centimeters per Second"
usually get the brunt of this talk, but for my money I have to say that with the ability to evoke the kind of magic that he does in
"The Diary of Tortov Roddle"
that Kunio Kato will ultimately be the animator to wear this coveted crown... and this is coming from a die hard Miyazaki fan. No, Kato's style doesn't evoke the traditional Osamu Tezuka-based
"anime"
from which Hayao Miyazaki sprung. It's renderings are polished, but rudimentary. Unnecessary details are left out and there's nary a doe-eyed high school girl in sight, but (and I hope this doesn't sound intentionally cryptic) sometimes you have to go outside what you would normally classify as
"anime"
to discover
"Japanese animation"
.
AniPages Daily on
Genius Party
Animator Spotlight: Sushio
Media
Not anime, but still worth a look
Evind Earle - "Sleeping Beauty" Animation Concept Paintings, 1959
Stone Bridge Press is offering The Four Immigrants Manga: Excerpts
Hello Kitty x Star Wars
The cover of the upcoming Satoshi Kon book
The Japanese dub of
Little Mermaid
Fantasmatic Enjoyment of Animation Stills
- including Tezuka work
Blood: The Last Vampire
live action concept art
Astro Boy Color Illustrations
G-Force
(as in
Gatchaman
, not the upcoming rodent animated movie) fan art
Sayaka's Gorgeous Illustration
Felix Ip's Art Blog
Misc
Proposed changes for San Francisco's
Japantown
With the full size
Gundam
statue built, the full size
Tetsujin 28 of Wakamatsu Park in Kobe
is getting lots of play -
more here
comic censorship fights in India
Stan Lee, Go Nagai and Osamu Tezuka
Chinese Marry Off Dead Girls as Ghost Brides
- as seen in
Kurosagi Corpse Delivery Service
Penny Arcarde on the
Avatar race-casting issue
Art is spinach: Koons' "Popeye" show comes to UK
American artist Jeff Koons sailed into London on Tuesday to launch a series of Popeye paintings.
The Serpentine Gallery, which is hosting the show, said that it was the first major exhibition of Koons' work in a public gallery in England.
"Jeff Koons: Popeye Series"
also features what appear to be giant inflatable children's toys, such as dolphins, monkeys and lobsters.
The series, featuring loans from public as well as private collections, is centered around the cartoon figures of Popeye and Olive Oyl.
Koons, who is based in New York, was at the gallery for Tuesday's press launch. Sometimes called the
"king of kitsch"
for his pop-culture references, he began his Popeye series in 2002.
He called the cartoon sailor a symbol of self-confidence.
"Working with everyday objects, it's about people and the acceptance of others. I watched Popeye when I was younger... I always see a little bit of my father in Popeye,"
the 54-year-old artist said, describing his father as a strong and optimistic man.
"But something that's not so personal is that it's 'I yam what I yam,' and it's this self-acceptance,"
he told reporters at a preview of the show.
"And for art to function... you first have to trust in yourself and when you trust in yourself you can follow your interests and follow them on a profound level." "Maybe art is the spinach,"
The Telegraph quoted him as saying.
Koons is famous in the art world for making a sculpture of the late Michael Jackson and his chimp Bubbles.
The London exhibition is open to the public until
September 13
.
Scott Bradley at Walter Lantz
Yesterday Michael Sporn
posted a commentary
about how the musical composers at animation studios of the past served as a trademark for a particular studio. Each had a unique style and sound which immediately identify the cartoon to its makers.
Scott Bradley, who composed the music for MGM cartoons from 1934 through 1957, was one of the best. His delightful scores are upbeat and lush sounding, and perfectly capture the right feel of the upscale MGM animation. But what if Bradley had composed a score for a B-Studio like Universal? Well it just so happens that Bradley did take on such a freelance assignment in 1938 just prior to joining MGM full time, where he'd be under contract for the rest of his career (He had previously been a composer at large, creating music for Ub Iwerks and Harman-Ising cartoons).
Baby Kittens
(1938) is an unremarkable, run-of-the-mill Universal short, directed by Alex Lovy for Walter Lantz Productions. It's made even more unbearable by the voice-over
"thoughts"
of the dog character. Print uploaded (embedded below) has time code obscuring part of the picture, but we present it here for its soundtrack not the animation or story. Bradley's trademark themes and music cues are all there, and are much more sophistcated than what Lantz house composer Frank Marsales was doing at the time. If you close your eyes and just listen to the track (and try to ignore the dog), you might think you are listening to a 40s MGM cartoon - proving Michael Sporn's point entirely.
(Thanks
cartoonbrew
)
Warner Home Video Announces "Green Lantern: First Flight" Animated Feature Contest
Warner Home Video has announced a new contest based on the upcoming
Green Lantern: First Flight
direct-to-video animated feature.
Official details are available below.
From June 30 - August 11, 2009, Green Lantern Fans Can Enter to Win a PlayStation 3, 40" LCD HDTV, a Copy of Green Lantern: First Flight on Blu-ray and Much More


To promote the Blu-ray and DVD release of Green Lantern: First Flight on July 28, a sweepstakes has been created to get fans involved and give them a chance to win cool prizes. Green Lantern fans can enter the sweepstakes and learn more about the fifth entry in the popular DVD series of DC Universe Animated Originals through a Facebook Power Ring widget.

Once the Facebook Power Ring Widget has been added to a fan's page, they can
"recharge their ring"
continuously to keep it powered to 100% and automatically submit additional entries in the sweepstakes. Additional features of the widget include a Personality Quiz, Green Lantern IQ Test, Video, News and Updates, Downloads and Links.

Check it out now at
GreenLanternSweeps.com
.
Writer Jeph Loeb On The Upcoming "Superman/Batman: Public Enemies" Animated Feature
Jeph Loeb sits down with The
World's Finest
for an exclusive Q & A on the upcoming
Superman/Batman: Public Enemies
direct-to-video animated feature.
The World's Finest caught up with famed comic and television writer Jeph Loeb for a quick Q & A to share his thoughts on the upcoming direct-to-video
Superman/Batman: Public Enemies
animated feature. The animated feature adapts the six-issue story arc of the same name, originally written by Loeb, from the Superman/Batman comic series currently published by DC Comics. The story features Superman and Batman facing off against Lex Luthor, now President of the United States.
The World's Finest: Any thoughts on seeing one of your stories being adapted into an animated feature? Were you surprised by the announcement?

Jeph Loeb:
I got a call from DC asking if I wanted to write the script, which caught me totally off guard because I had no idea they were thinking about this series. I love the
Justice League: The New Frontier
DVD both in terms of look and how faithful they were to the story. My schedule wouldn't allow it, so all I could do was hope for the best. And from what I've seen it's better than the best!
WF: Have you been consulted about this project? Are there any moments you'd like to make sure appear in the animated movie, and do you think they'll stick close to the source material?

JL:
I didn't have anything to do with it. I know the people involved and they are all first rate, top of their game in animation. I did some commentary that is on the DVD. I hope that's not too embarrassing!
WF: Is there another Superman/Batman arc of yours you would like to see adapted?

JL:
Sure! All of them! I'd love to see them adapt the next arc, Supergirl, and do it in Mike Turner's style. That's what makes these DVD's so unique is that they have been following the designs of the specific artists. The "McGuinness" look to
Superman/Batman: Public Enemies
just rocks!
WF: Do you plan to check out Superman/Batman: Public Enemies when it hits shelves?

JL:
On the shelves?! I'm hoping for an
advance copy
(laughs)! I've downloaded the trailer and play it all the time.
WF: There have been rumors that your other work, specifically Batman: The Long Halloween, may be adapted into animation at some point. Any details on that? Any thoughts?

JL:
Haven't heard a thing, but they keep secrets really well over there.
Batman: The Long Halloween
is certainly one of my favorite stories, and I was incredibly flattered how much has been used in
Batman Begins
and
The Dark Knight
.
WF: To wrap this up, can you give fans a quick update on what you're up to right now, including current comic and entertainment work? What can we expect from you down the line?

JL:
In movies and television there are a few huge announcements which I can't really talk about at this time, but very soon. I am going back to television on a new series that is going to be huge!
In comics, my plate is very full. I've got the monthly
Hulk
book, featuring the all-new, all-deadly Red Hulk, with my
Superman/Batman
partner Ed McGuinness. Also, we're finishing up
Ultimatum
with David Finch, which will both reinvent and reinvigorate the Ultimate Universe at Marvel and lead toward Brian Bendis' new
Ultimate Spider-Man
, Mark Millar's
Ultimate Avengers
, and my own
New Ultimates
with Frank Cho. It's going to be a very big year!
The World's Finest would like to thank Jeph Loeb for his participation!
A co-production of Warner Premiere, DC Comics and Warner Bros. Animation,
Superman/Batman: Public Enemies
will debut Tuesday,
September 29th, 2009
on DVD and Blu-ray disc.
Click here
to view the official press release for the upcoming direct-to-video
Superman/Batman: Public Enemies
animated feature release.
Chris Wedge Speaks
Marshall Fine
interviews
Chris Wedge, the Big Man of Blue Sky:
...
"The differences [between Pixar and Blue Sky features] are pretty apparent to the audience,"
Wedge says.
"It all depends on what audience you're making the film for. With the first
'Ice Age,'
we were making it mostly to entertain ourselves. When we saw the audience was into it, we fine-tuned it. But still, the things we like best are the ideas that entertain me and my buddies.


...
"Pixar has a well-understood internal development paradigm. It was started by animators who were influenced by the tradition of animation at Disney. On the other hand, we started on our own."
...
Blue Sky is, to my mind, the third studio in the triad of
"Blockbuster Animation Houses"
(the other two being Pixar and DreamWorks.)
There are those who snipe at Wedge, but anybody who has produced as much high quality work that is also
highly commercial
is in rare company. I can only think of two others with equivalent track records who began their working lives as artist/creators.
So here's to Mr. Wedge, and congratulations for seeing Ice Age Three off to a
roaring start
.
(Thanks
Animation Guild Blog
)
July 4th Linkorama!
Happy fireworks; now enjoy a shorter linkfest to get the holiday sparking.
Consequences of Sound
examines the splendors
of
Beavis and Butthead Do America Original Motion Picture Soundtrack Album
:
... [W]hile [the animated film] cost about five million to make (pocket change nowadays), …Do America grossed over $60 million dollars for its domestic box office run, a feat attributed to timing as the height of Beavis and Butt-head's popularity only dwindled shortly thereafter ...

... [T]his album is essentially the love child of late '90s alternative and Beavis and Butt-head-approved metal, only with a little comic relief for good measure — a perfect mix for such a confused yet brilliant decade. The on-screen duo get the '70s buddy cop treatment with the late Issac Hayes turning their TV show theme song into the "Theme From Shaft"'s evil twin, and it's all aptly titled, "Two Cool Dudes" ...
Bruce Kirkland at the Toronto Sun
overviews
some of the newer and older animation now out on those little silver disks:
... Animation is about 117 years old, depending on what you count as the earliest example ...

The 1960s [cartoon] collection [from Warner Bros.] includes good stuff like
Top Cat, Quick Draw McGraw, The Flintstones
and
Porky Pig
. There is also marginal work such as
Precious Pupp
and
Peter Potamus
. The 1970s set includes bits of
Batman
and
Tarzan
from their
Adventure Hour
, as well as
Scooby-Doo, Yogi's Gang
and other Hanna-Barbera animations.
In the three-dimensional world of animation, the Diz Co.
has dropped three million new dollars
into the Florida Magic Kingdom's Hall of Presidents..
After an eight-month rehab and a total script rewrite, Walt Disney World on Friday reopened the Hall of Presidents with an animatronic Barack Obama...

Nicknamed "Robobama" by the artisans who created him under tight secrecy in a Los Angeles warehouse, Disney's presidential replica is more realistic than predecessors thanks to new technology such as a more flexible silicone skin.

His mouth wraps around more sounds like "oh" than just jawing up and down. The muscles in the chin and cheeks flex as he talks ....
Examiner.com takes a short tour --
photographic and written
-- of the Disney archives.
The archives ... contain shelves and shelves of books, cases of rare antique Mickey Mouse watches, drawers of rare animation cels and artwork, vintage Disney-licensed toys, and almost anything else Disney-related you might imagine ...

The archives are contained in the Frank G. Wells building on the studio lot, and inside the lobby were many more historical exhibits ... on display was one of Walt Disney's three multiplane cameras, which were used to create three-dimensional pans in Walt's early animated films. A set-up from
"Pinocchio"
was on display, demonstrating how the cameras would hold the cels spaced apart, allowing the camera to focus on various layers giving the viewers the illusion of depth ...
On the European front, The Hollywood Reporter
informs us
that the live-action icon Lassie is morphing into a 3-D cartoon:
... The series, to be a 26 x 26 min series, will be a U.K.-Ireland-France-Germany-India co-production.


"What we are announcing now is a co-development agreement. But it is very well understood that we will go ahead and co-produce this as a multi-million Euro series, with us as the lead producer,"
said Tapaas Chakravarti, DQ's CEO.
"The script will primarily be written in Europe with the intention of delivering the series at the end of 2010 or early 2011."
If you're in the right age group, black-and-white memories of Lassie are vivid, since the series, beginning in the early fifties, ran for almost twenty years.
Lastly, Tech Radar
offers five animated shorts
from various times and places for you to pick over ... as you pick the cob corn out of your teeth. (Here's one):
(Thanks
Animation Guild Blog
)
Penultimate RDCCDX Episode Jailbreak
Matt Burnett and Ben Levin
are bringing their online series
RDCCDX: Digital Pirates of Dark Water Saga
to a close at
Otakon 2009
, which runs from
July 17th-19th
at the Baltimore Convention Center. The finale will premiere at the For Tax Reasons panel, but in the meantime we've got another installment. In episode 3.5,
You Are (Not) Loved
, Dad busts the boys out of jail, but Mark and Barry might have preferred if he didn't….
Then Is the Animation Going To ... Hawaii?
Well, a little of it is. Amazingly enough, there's
a small slice of toonage being produced
in the Island State.
... [A] production studio in Hawaii will launch a series of animated shows on the national scene. Hawaii Film Partners has produced 38 two-minute episodes of
"Ape Escape"
for Nickelodeon's NickToons network. The series premieres at 9 a.m. today.
"This was a way for us to do our first animation project on something that was bite-sized,"
said Rann Watumull, co-founder of Hawaii Film Partners and an executive producer of
"Ape Escape."
"It's a wonderful way to introduce a show without having to take over a time slot."
... Creating the infrastructure for animation has already led to the next step. Watumull's company is working on 26 half-hour episodes of
"Guardians of the Power Masks,"
an animated series that represents a multinational partnership with South Korea and China, where it will air in prime time ...
The last animation produced in Hawaii was
Final Fantasy
, also the product of a multi-national effort. A consortium of Japanese and American artists created the elaborate mo-cap feature in Honolulu at the turn of the millenium. High hopes and big bucks were poured into
Fantasy
, but only tiny box office resulted, so the big Honolulu studio in the oceanfront high rise went away.
Animation, to a far greater extent than live action, is market driven. If the
projects
tank
, then the jobs and
studios disappear
. Sadly, this is the way it's always worked.
If Hawaii's latest animation house hopes to endure, it will have to deliver the goods, quality wise. It shouldn't take long to tell if that comes to pass.
(Thanks
Animation Guild Blog
)
Routh done with SUPERMAN?
Actor Brandon Routh chatted with Brazilian website
Omelete.com
on the set of
'Scott Pilgrim vs The World'
. They quizzed the actor about the status of the
'Superman'
franchise.
Omelete's article is not in English so we can't be sure what Routh said but a Google translation of the piece seems to indicate that Routh is saying his contract to return to the franchise has expired. However, if the studio wants him he's happy to return to the role that made him famous.
In the interview Routh also grouses a bit about how Chrisopher Nolan's
'Batman Begins'
didn't totally live up to studio expectations, yet they found room for the sequel. Of course, the actor doesn't own up to the arguable difference in quality and critical reception between
'Batman Begins'
and
'Superman Returns'
.
BLOOD: THE LAST VAMPIRE Opens This Week
If you live in select cities, you'll be able to check out
'Blood: The Last Vampire'
in theaters this Friday. Here's a list of cities and theaters that will be screening the film on
July 10th
.
Los Angeles - Mann Chinese 6 / Hollywood, CA, University Town Center 6 / Irvine, CA
Chicago - Landmark's Century Centre Cinema / Chicago, IL
San Diego - Hillcrest Cinemas / San Diego, CA
Seattle - Varsity Theatre / Seattle, WA
Boston - Kendall Square Cinema / Cambridge, MA, Embassy Cinema / Waltham, MA
DC - E Street Cinema / Washington DC
San Francisco - Metreon 15 / San Francisco, CA, Shattuck Cinemas 10 / Berkeley, CA
Honolulu - Kahala Theatres 8 / Honolulu, HI, Pearlridge West 16 / Aiea, HI
Dallas - Magnolia Theatres / Dallas, TX
Houston - Angelika Film Center / Houston, TX
Las Vegas - Village Square 18 / Las Vegas, NV
New York - Empire 25 Theatres / New York, NY
Village Theatre 7 / New York, NY
Visit
BloodTheLastVampire-Movie.com
for trailers and info.
SUPERMAN LIVES' Brainiac Revealed
Drawings and models Tim Burton's vision for the DC Villain
Model of Brainiac from SUPERMAN LIVES
© Mania
Remember back in the mid-late 1990s when Tim Burton was developing
'Superman Lives'
? They were building sets for the Daily Planet in Pittsburgh. Nicolas Cage was signed to star for a huge pay-or-play deal. Cameras were going to role at any second...and then the whole thing collapsed (much to the relief of fans everywhere).
How bizarre would that movie have been?
Well, a
Japanese Tim Burton fan site
has uncovered a slew of drawings and models of Brainiac from the film, not to mention numerous additional concept sketches of other things that are difficult to recognize.
Is that the resurrection suit Superman? Or the cyborg? Or the Eradicator?
What's with the little Edwards Superhands drawing? Is that Superboy?
Click through
for a look at the drawings because they are fascinating. Any of you who read Japanese can help us out by posting translations in the comments below.
One thing that is clear is Burton's plans for Brainiac, which has him as a disembodied head who apparently utilizes various robotic bodies. The fan site has posted a video displaying Burton's Brainiac, which you can see below. Clearly the director is channeling sci-fi movies from the 1950s, like
'Invaders from Mars'
which featured a similar alien psychic contained in a glass sphere, or
'War of the Worlds'
with it's tripod walking ships.
HEEEEERE'S BRAINIAC!
Stan Lee to Appear in the Venom Spin-Off
At this point, it's a foregone conclusion that Marvel's former president and chairman Stan Lee will have a cameo in every single movie based on a Marvel Comics character whether or not he had any direct association with that character during his lengthy career. But how many of the upcoming movies can claim that he's already been written into the script?
When we spoke to
Zombieland
creators Paul Wernick and Rhett Reese a few months back, they were hesitant about saying much about the
Venom
script they'd been working on. (You can read what they could say
here
.) As we were going through our lengthy interview with them, we found a little missed tidbit that might thrill Marvel fans, as they admitted to us that Lee will appear in the Venom movie and that they've even already written his part!
"Oh, yeah. Stan Lee is in it,"
Reese told us.
"I feel like that's the one thing we can say. He does appear in our script, and we're very specific about where he is and why. May he live forever. Let's hope he's in many movies to come."
Trilogy Details On The Last Goofybender
lastairbenderfilm.com
has an interview with Producer Frank Marshall and "writer/director" M. Night Shymaskiptotheloomydarlinglan about how long it would take to make the entire Last Goofybender trilogy:
"We're shooting them one at a time, because they're being written one at a time,"
says veteran producer… Frank Marshall.
"Night is now working on the script for the second movie, but he hasn't had time to write the second or third ones. He's looking at the arc of all three. One of the things we'll be doing is using the sets, ships and elements for each different nation in this film and incorporating them into movies two and three. We're not waiting. There just isn't enough time. Night will finish this movie, then the script and then we'll prepare for the next one. I think it'll probably happen over six years."
M. Night InBangkok also talks about how important he thinks the film is and how he plans on screwing the whole thing up:
"
THE LAST AIRBENDER
will be a very entertaining movie, a really fun summer film,"
says Shyamalan.
"But underneath that, it's serious and talks about genocide, balance, our connection to the planet and all those things that interest me if you've seen the other movies that I've made. It felt like an important film."
It felt like an important film? Our connection to the planet? I think you severed that connection when you made
The Happening
. That movie was so awful I'm surprised trees don't try and fall on you when you walk by them. Sounds like M. Night is going to try and make this a deeper movie than it should be because he has such a boner for the elements. And Goofybender is all about elemental powers. Perfect fit!
There's more to the story including quotes from the film's stars. Click
HERE
to read the rest.
(Thanks
Latino Review
)
Full Body Character Shots From Alice in Wonderland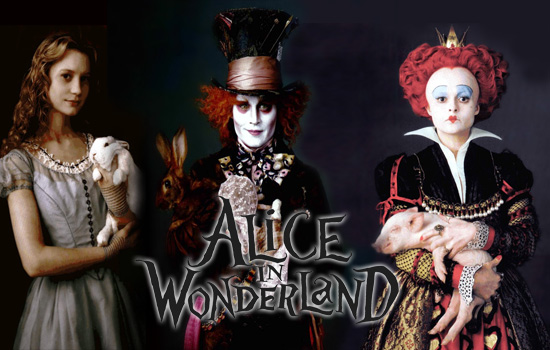 Planet Disney
has posted some new character photos from Tim Burton's
Alice in Wonderland
, which appear to be scanned from a magazine. I have cleaned up the images a bunch, and included the cleaner versions after the jump. The photos include Johnny Depp as the Mad Hatter, Helena Bonham Carter as the Red Queen, and Mia Wasikowska as Alice with The White Rabbit. No characters that we haven't see previously, but each photo gives us a better look at the make-up and wardrobe of Burton's Wonderland.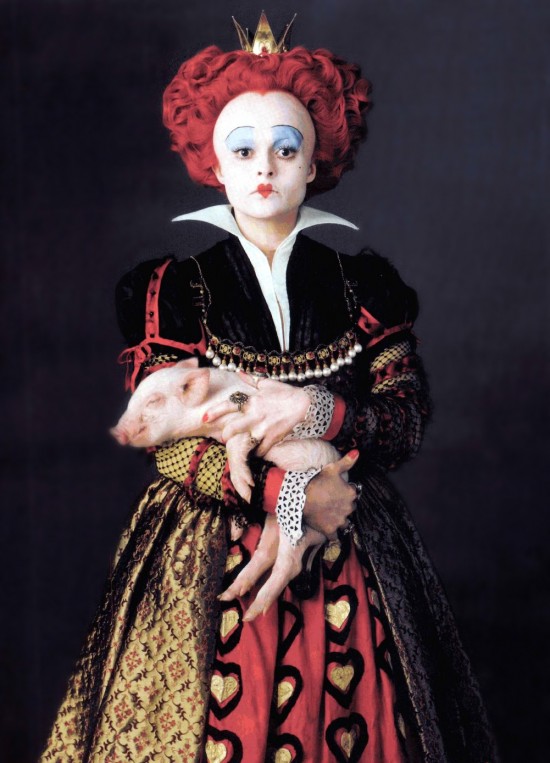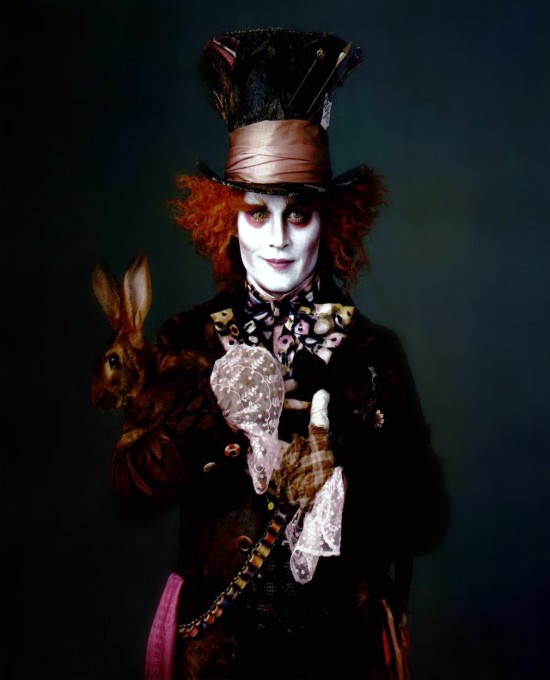 The film is actually a sequel to the original story, and follows Alice, now 17 years old, as she escapes from a snooty party and follows a white rabbit down a hole, back to Wonderland. The White Rabbit is convinced that he has the right girl, the one who had visited the magical land ten years prior. But Alice doesn't remember her past visit to Wonderland. The creatures of Wonderland are ready to revolt and are hoping/waiting for Alice to help them, but will she? Can she?
Alice in Wonderland
hits theaters on
March 5th 2010
.
Check Out Tony Stark's New Whip
The other online guys don't know a damn thing about cars, which is kind of a shame because men are supposed to know shit about cars. It's kind of built into our genetic code that we know how to tune up our vehicles (minus the new computer controlled ones), change a flat, install your own aftermarket transmission cooler, etc. So when a guy tells me he doesn't know anything about cars my inner voice calls him an enormous wuss while my outer voice calls him an asshole.
Road & Track (one of my magazine subscriptions. d-uh) has the first look at one of Tony Stark's cars in the upcoming
Iron Man 2
.
R&T has more:
This is the Stark Industries-sponsored vintage race car that the movie's main protagonist — genius inventor and swashbuckling lady's man Tony Stark — will be driving in a scene that depicts him racing in the Grand Prix de Monaco Historique, a vintage race held in Monte Carlo. The scene is not being filmed on the actual streets of the tiny, glamorous seaside principality near the south of France, but on an elaborate set that replicates the Monaco circuit. We're not sure what the Stark Industries car, which is built to resemble a '70s racer, is based on exactly, but this image leads us to believe that a fully functional race car — perhaps a Formula Ford or Formula Mazda car — resides beneath that blue-and-white Stark Motor Sports livery. Check out the Avon racing slicks and transmission sticking out the back of the car beneath the rear wing.
Click
HERE
to read the rest.
We've seen the picture of Mickey Rourke as Whiplash on a race track, so this must be where they first meet? By the way, did you know the hot rod he works on in the first film is actually Favreau's car?
Looking forward to
Iron Man 2
!!