NAB Low-Down, Day 1
To all of you who decided to stay home from NAB this year, I thank you. But I also say, you're missing out! It's a refreshing luxury to come to this massive broadcasting show, where tens of thousands to over a hundred thousand people from industries as diverse as software and cable covers, editing suites and greenscreens, HD cameras and helicopters converge in Sin City to talk some risky business--after all, despite the piles of money you can almost smell as you walk by the enormous booths full of flashing HD monitors, entertainment is nothing if not a gamble.
My feelings are mixed in observing the turn out this year. While it's still a big show and there are no empty booths full of tumbleweeds (or agitated big wigs on their BlackBerrys trying to find their next meeting) as we've seen in some other markets since the recession, there is a lot more breathing room. The notoriously bad taxi lines at LV International are refreshingly manageable, traversing the show floor is not a battle of elbows and laptop bags, and for the first time in history you can find a seat in the cafe in South Hall. It seems like the meteorite has landed, and the tenacious mammals who have been holding on through the boom and bust find themselves walking in the sunlight, free from the shadows of the media market dinosaurs who had blotted it out.
The software giants--Mac, Autodesk, HP, etc.--are making a big show as always. There is a lot of buzz about camera/switcher/router/editing equipment innovators Grass Valley and their sizeable display, celebrating the company's 50th anniversary. Grass Valley has used the occasion to launch a brand new high-end producion switcher, the Kayenne, and they're already boasting major international orders. This celebration also marks a turning point for GV as parent company Thomson is in the middle of selling off the equipment outfit and has received several very serious offers at the show already.
Though your faithful Animag booth jockey spent much of the day behind a table (drop by #SL4310!), meeting some interesting animation fans (most of whom are trapped in tech-guru bodies, who knew?) and handing out free copies of our April/May issue, I did manage to sneak away to enjoy one of NAB's awesome super sessions. Stereoscopic 3-D leaders RealD presented an interesting lecture and Q&A with stop-motion maestro Henry Selick on the topic of using new media (especially 3-D as in his latest hit,
Coraline
) to augment the classic art of stop-motion animation. Though I returned to find that a gaggle of disenfranchised booth babes had left a collection of Pepsi cups all over my table, it was so worth it.

Selick began the session with a brief description of the history of stop-motion animation, an art form nearly as old as cinema itself. He recalled his first experience with the medium:
"I was five or six when I saw my first Harryhausen [film]... his monsters terrified and astonished me. If someone had told me these living nightmares were just poseable puppets made of steel and rubber, I would have called them a liar."

The director observed that though stop-motion was a popular medium for commercials (Selick worked on the late '80s Pillsbury Doughboy spots), 100 percent stop-motion features are much rarer. Though Selick reignited audiences' affinity for stop-mo with

The Nightmare Before Christmas
and
James and the Giant Peach
, the advent of quality CG animation swept stop-mo under the rug for a while.
"The writing on the wall--and the Disney marketing execs--told me...stop motion was toast,"
he quipped, getting a chuckle out of the room. On CG's overtaking of other animation techniques:
"
Every Pixar film is, if not a great masterpiece, at least a minor masterpiece--[however] I think we're at a time when the audience has seen so much CG they're ready for something else."
He cites the popularity of
Coraline
and Disney's return to 2D features with
The Princess and the Frog
as examples of animation regaining its variety.

What followed were a series of clips from
Nightmare, James
and
Coraline
(in 3-D!) which Selick used to illustrate how he's used new and emerging technologies (however retro they may seem now) in each of his films to augment the magic of this veary hand-made genre. From the advent of motion-control camera rigs and frame grabbers which added immeasurably to the super-smooth quality of
Nightmare
, to the DIY of programming in-camera effects, light-capturing techniques and incorporation of CG and live-action blended with stop-mo in
James
, all the way to the utterly high-tech and innovative full 3-D shooting of
Coraline.
Even though
Coraline
has the advantage of being the latest with the access to the most techy tricks, it actually contains far more hand-crafted elements than either of the previous films! Selick explained the painstaking process which made these characters the most expressive yet: Shots of the models' faces were scanned onto a CG image, then 2D artists would draw a new expression over the scanned face--the new face was then printed out and used as reference for the modellers to create new heads by hand.
Coraline
also benefitted from rapid prototyping technologies, which were used to create the hundreds of flowers in the Other World garden (which Selick estimates was about 95 percent real elements), as well as the mice for Bobinski's jumping mouse circus.

For the second half, Selick was joined by Variety's Ann Thompson, who questioned him on topics ranging from the technical details of
Coraline
, his opinions on the state of 3-D capabilities in theaters and in the home, the possibilities of holographic 3-D (we hear there is very industrious man in Russia working on making this an accessable technology!) and his thoughts on furthur upcoming 3-D projects.
There were far too many witty quips and snippets of info to do justice to here, but we whole heartedly agree with Selick's sentiment which he reiterated throughout the event: That technology, no matter how spectacular, can only serve to enhance stories, to enliven artistry, and to put a little sparkle on a thing which is crafted with the care, emotion and delicate sensibilities that can only be created by artists who wish to tell a story, and tell it beautifullly--that is the true human touch in animation which we'll never be able to simulate.
(Thanks
Animation Magazine
)
"Ricky Sprocket"

episode wins screenwriting award
The
Ricky Sprocket, Showbiz Boy

episode

"The Perfect Family"

was one of the winners Monday night at the annual Writers Guild of Canada Screenwriting Awards.

Written by Shane Simmons,

The Perfect Family

won in the animation category. The two other nominees for animation were both episodes of the Nelvana Limited series

6Teen: "Date and Switch,"

written by Robin J. Stein and Alice Prodanou, and

"Whoa Baby!"

, by Prodanou alone.

Meanwhile, an episode from the cartoon series

Captain Flamingo

won in the Children and Preschool category:

"Comic Slip,"

by Christin Simms. The other two nominees in the category were also for cartoons: the

Captain Flamingo

episode

"The Gobbler Robbler,"

by Suzanne Bolch and John May, and the

Future Is Wild

episode

"Monkey Brains,"
by Jeremy Winkels.
The gala at Maro Nightclub in Toronto's Liberty Village was hosted by
This Hour Has 22 Minutes
cast members Geri Hall and Kyle Tingley.
This is the 13th year of the awards, which honor writers behind the year's best scripts for Canadian TV, radio and film productions.
Chuck Jones's Version of

The Jungle Book
Did you know Chuck Jones made an adaptation of
The Jungle Book
? Sadly, I'm ashamed to admit that I didn't. It's even
available on DVD
.
This clip below offers a taste. Like most of Jones's work from the 1970s, it's dripping with cloying preciousness. And yet, it's difficult to dislike it. Even Jones at his Jonesiest is a cut above the rest of the animation that came out of Hollywood during that decade.
(Thanks
cartoonbrew
)
Coyote catches Road Runner
Speaking of Chuck Jones, an anonymous Argentinian Youtube user called "Lafacukur" recently uploaded a video of an edited version of the debut Coyote & Road Runner cartoon,
Fast and Furry-ous
, with an obviously tacked-on ending where the Coyote actually catches the Road Runner. The video has become viral and the Latin American press and TV media
have made a big deal of it
. Most of the press reports say that this is cartoon made by an animator by request of a Japanese millionaire that was sick of never seeing the Coyote succeed. I rather doubt it—but it's a nice try.
(Thanks, Andrés Sanhueza)
(Thanks
cartoonbrew
)
Toon Tuesday: Jim Fletcher, Disney Artist and the Ultimate Hollywood Fan
Disney Legend Floyd Norman launches a new series at
JHM
by talking about a co-worker of his who really did seem to know everyone who was anyone in Tinsel town
I hope that you'll allow me to indulge myself here with a new series that I'm going to call
"The Disney Artists You Never Knew."
Only this time, it's personal. Because I'm now going to write about my old pal & colleague,
Jim Fletcher
.
James Lawrence Fletcher was born in Des Plains, Illinois, and attended the Chicago institute of Art. His father, Edgar was a successful businessman who ran his own company. Naturally, it was expected that Jim would one day run the family business. But Fletcher (as we always called him) had his eye on Hollywood, movie stars, and the Walt Disney Studios in particular.
There were always those in Tinsel town who claim to be on a first name basis with Hollywood big shots, and could get these stars on the phone if need be. But Jim Fletcher could actually do this, and did so on many occasions. And I should know. Because I was there.
One morning while working in my B-Wing office, I looked out of my window to see Jim Fletcher walking down Mickey Avenue with Gregory Peck. For Fletcher, this was nothing unusual. Over time, he would introduce me to a number of Hollywood icons such as Edward G. Robinson, Ed Wynn, Edgar Bergen and many others.
I first met Jim Fletcher in A-Wing back in the 1950s. He had just returned from a stint in the military, and was anxious to return to the drawing board. The two of us ended up on Freddy Hellmich's
"Fairy Crew"
for
"Sleeping Beauty,"
and we worked together for over two years.
Jim Fletcher worked on the Three Good Fairies in Walt Disney's "Sleeping Beauty."
He later worked with Ward Kimball on Disney's special science unit
Because of our interest in film, we became fast friends, and had a ritual of going to the movies every Friday evening. Because of Fletcher's movie contacts, we visited every studio lot in Hollywood, and even hung out backstage at CBS were they shot
"The Jack Benny Show."
And, of course, Fletcher knew Jack Benny.
After the completion of
"Sleeping Beauty,"
Jim Fletcher managed to score a coveted position in Ward Kimball's production unit. At the time, Kimball was the talk of the studio, and everybody wanted to work with the
"Disney genius."
In the 1960s, the community was trying to get a
long-planned museum
that would chronicle & celebrate and chronicle the history of Hollywood. And Jim Fletcher was chosen to produce & direct the motion picture that would serve as a preview and fundraiser for his industry project. Walt Disney himself made sure that Jim Fletcher and his film unit was given production space on the second floor of the Animation Building. The Old Maestro also offered the services of his top production personnel including the Studio's very best animators.
As work on this preview picture progressed, Fletcher recruited top talent to appear on screen and/or narrate this fundraising film. And among the stars that appears in Jim's movie were Nat King Cole, Doris Day and Bing Crosby. Fletcher even persuaded Bing's old buddy, Bob Hope, to appear in this preview. And when Fletcher went to record Hope, I joined him for the short drive over to Bob's Toluca Lake estate. Which was just up the road from Walt Disney Studios.
Fletcher continued to work into the 1970s at a number of animation studios such as Hanna-Barbera, UPA, Format, and Hyperion Studios. Jim truly loved the business, and always wanted to stay busy. He even illustrated a number of
children's books
in his own distinctive style. I never felt Fletcher had a need to work.Given that he purchased loads of Disney stock in the 1950s, the man was financially well-off. But like most artists, he simply loved to draw.
Jim Fletcher attended the Chicago Art Institute before coming to Disney.
He left the drawing board for a time to produce & direct movies
A confirmed old bachelor, Jim Fletcher never married. He did have a bachelor pad in the Hollywood Hills that would make Hugh Hefner proud. When the Disney artist ran out of space for his many books and paintings, he bought a large home in nearby Encino. Oddly enough, his neighbor was no less than the "King of Pop" himself. That's correct. Just down the street was another kid who loved Disney stuff. The gloved one, Michael Jackson.
I guess it's not unusual for Disney artists to date movie actresses. Writer/producer Bill Walsh married Ruth Roman, and animation legend Art Babbit married Margie Belcher, the model for
Snow White
and soon to be dancing partner of Gower Champion. Jim Fletcher dated actress Linda Darnell, and hung out with Debbie Reynolds & Margaret O'Brian. Even into the 1990s, I would often see Fletcher at the Walt Disney Studio commissary having lunch with actresses Jane Withers or Charlotte Rae.
While it's true Jim Fletcher knew a fair share of Hollywood big shots, he always said his favorite moments were those with Walt Disney. While working on his movie, Fletcher often worked late at the Studios. And it was well known that the "Old Maestro" had a habit of prowling the halls at night to see what his artists were working on. Seeing Fletcher slaving away at his desk at night, Walt Disney would stop in and chat with Jim for hours.
James Lawrence Fletcher passed away four years ago. Like most Disney artists who worked at the Studios in years past, few people even know his name today. But Jim was a talented animation & layout artist. More importantly, a guy who truly loved the movie business. His two sisters, Phyllis and Jeanette, survive him. Fletcher also has a host of nieces & nephews who can honestly say that their Uncle Jim was a Hollywood big shot.
Mark Osborne Remembers Jules Engel
AWN has posted
an article by

Kung Fu Panda

co-director Mark Osborne about Jules Engel
, founding member of the UPA animation studio and the founding director of the Experimental Animation program at the California Institute of the Arts (CalArts) School of Film/Video. Osborne discusses how Engel's
"visual music"
approach deeply affected his perception of animation as a means of personal expression, and the life-lessons that the classes and Engel's own work taught him. CalArts hosted a Centennial Celebration of Engel last Saturday, April 18 (
covered by

Jim Hill Media

's Todd James Pierce
), and
Nickelodeon recently announced a scholarship for animation
in his name.
Red Stick Animation Festival to Debut

"Voices in the Dark"
The
Red Stick International Animation Festival will host the world premiere of

Voices in the Dark
on
Thursday, April 23, 2009
, with an encore screening on
Friday, April 24
. The movie is a groundbreaking 3-D animated movie designed to be projected on a domed ceiling, and will be screened at the Irene W. Pennington Planetarium at the Louisiana Art & Science Museum. The festival will run from April 22-25 in Baton Rouge, LA; for more details, visit
the festival's official website
.
Indies Flash Animation Class 2009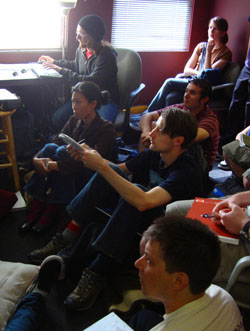 A rare opportunity for 24 LA-area artists is now open for applications. This free 4-day event will run from 9am - 5pm on Saturdays starting on May 9th (skipping a weekend on May 23rd), aiming to teach artists Flash animation "the indie way." Why "indie?" The class is being hosted and taught by 5 of the best independent animation studios in Los Angeles -
Animax
,
Oddbot
,
Renegade
,
Six Point Harness
and
Titmouse
. Artists who take full advantage of this opportunity will emerge with HIGHLY employable skills in a very vibrant employment climate.
WHO SHOULD APPLY
Talented individuals pursuing a career in animation for television, film and emerging media. You DON'T need to know how to use Flash to apply, but we do recommend you at least download
a free trial copy
and have a basic understanding of the software.
SCHEDULE
WEEK 1 (May 9th, 2009)
Pre-Production and Drawing/ Symbolizing with Flash
WEEK 2 (May 16th, 2009)
Organization of Assets, Pipeline Basics and Basic Animation
WEEK 3 (May 30th, 2009)
Animation 101- Acting and Believability
WEEK 4 (June 6th, 2009)
Animation Continued- Action, Tips, Tricks, AND making Flash work with other tools
SUBMISSION PROCESS
Artists are being chosen by a committee, and your skills will be evaluated across an array of categories. We highly encourage you to take the test we've supplied below, but feel free to submit an animation reel consisting of any type of animation you think exemplifies your understanding of animation principles. We also require that you submit a current resume. Enter your test materials, animation reel and resume via the Lineboil.com
file submission page
. Use the "message" window to enter links to YouTube reels or online portfolios. In the subject box, enter "2009 Flash Class." Your ability to follow instructions WILL BE TAKEN INTO CONSIDERATION.
ANIMATION TEST
Download the animation test by right-clicking (MAC: Control-click) and saving this link -
Animation Test
(19 mb ZIP). The password to open the ZIP file is "keyframe." Inside are all the assets you need to complete the test, and if you don't have a copy of Flash, download a 30-day trial at adobe.com.
FILE FORMATS ACCEPTED
Animation Test
- link to YouTube (optimum choice), mp4, swf, wmv, qt, mov, mpg, avi
Animation Reel
- link to YouTube (optimum choice), mp4, swf, wmv, qt, mov, mpg, avi
Resume
- pdf (optimum choice), doc, txt
Portfolio
- blog or website (optimum choice), pdf, jpg
(Thanks
cold hard flash
)
Hibbert Give For

Specsavers
Jerry Hibbert at Hibbert Ralph Animation directed this traditionally-animated spot for
Specsavers
, the UK glasses retailer. The spot aims to bring attention to Specsavers' digital hearing aid deals.
Clip From New

South Park

Episode

Fatbeard
South Park
, just coming off a little swashbuckling with Kanye West, is planning to overtake the Somalian pirate story. The episode, titled
Fatbeard
, sees Cartman and band of merry mates make for the high seas of Somalia to live discover buried treasure. The all-new episode premieres this Wednesday at 10pm on Comedy Central. Here's a teaser clip:
Experimentation by Chuck Jones on Looney Tunes Shorts - the "smear"
Technique 1: "Smears"
I my last shorts program post I talked about the value of experimentation and progress. This was built into many classic shorts programs, particularly Disney and Warner Bros.'
http://johnkstuff.blogspot.com/2009/04/goals-of-shorts-program-8-developing.html
Chuck Jones was an interesting character. He seemed torn between extreme experimentation and conservatism. The things he chose to experiment with are mostly of secondary importance to the entertainment value of the cartoons - background stylings, and inbetweens.
For awhile in the early 40s you can see a lot of what we now call "smears" in the inbetweens. Stretched inbetweens that carry us from one layout pose to the next in just a couple frames.
Bob Jaques first showed me this stuff by slowing down old cartoons to study them - and he may have been the one to coin the term "smear" to describe it. We of course loved it because it was something unique to the cartoon form. Real people don't smear in front of you.
Chuck's drawing style in the 1940s was a slight variation of Bob McKimson's drawing style, only a bit softer.
In the slow scenes, the characters are drawn with pretty solid construction and conservatism.
Then they break into these wild smeared inbetweens to get to the next solid drawings. Chuck didn't invent this concept; you can see it even in 30s Disney cartoons. But Jones' crew took it to much further extremes than anyone else - to the point where you can actually see it in real time. He toned it down in the late 40s, but it was all the rage in his unit for a few years.
What's important to note, is that they didn't do it the same way every time. They had fun with it and tried to tailor each smear to the context of the action.
I find this bit odd. Daffy falls into scene without a smear. Instead they chose to use drybrush to add to the effect of the fast action.
...which brings me to another point: variation keeps things from becoming monotonous or formulaic. Jones didn't use the same technique for every action. His crew constantly experimented, studied and discovered new techniques and used them all according to which technique they felt suited a particular action best.
http://www.cartoonthrills.org/blog/Jones/43duckornottoduck/1DaffyFallsDogSmears.mov
Technique 2 - Bobble Head acting from Chuck's Layout Pose
Here's another technique you see a lot of in Jones' cartoons, a much more conservative technique.
Jones usually posed out the cartoons for his animators. For example, here's Daffy in a basic layout pose talking to the dog.
This would be a good place for the animator to use multiple facial expressions to get across his acting, but instead he uses head bobs and actions to mildly punctuate the accents in the dialogue. I don't think Chuck wanted his animators to put too much of themselves into their scenes. Not where the audience could notice it, anyway. The animation tends to stay within the framework of Chuck's layouts. This animator didn't even try to animate lip-synch for the dialogue.
When young animators first discover smears, they tend to have the urge to do everything using smears. I think it's important to remember that it is just one trick in a huge potential bag of animation techniques. When you use the same technique to bridge every pose to the next, it becomes a formula, monotonous and predictable....and DEAD.
http://www.cartoonthrills.org/blog/Jones/43duckornottoduck/2DaffyTalksNoSmears.mov
Experiment to discover and practice new techniques
Vary your techniques
Apply Techniques in context wherever possible
(Thanks
John K.
)
SpongeBob

Rides

Big One

to Ratings Win
SpongeBob SquarePants
returned to the airwaves with new pal Johnny Depp, gliding his way to a gnarly ratings victory.
The special
SpongeBob vs. the Big One
drew 5.8 million viewers in its premiere airing April 17, making it the top-rated kids program on basic cable for the week. The show also won the week with kids 2-11 and 6-11 on both broadcast and cable.
The special, part of
SpongeBob
's yearlong 10th anniversary celebration, was the fifth-highest ranking show for the network this year. It also helped pull in online numbers, with the trailer for the special being the no. 1 video for the week on Nick.com.
Rock Band Clicks with Lego
Building a career as a rocker has never been easier.
Lego has signed on with MTV Games and Harmonix for
Lego Rock Band
, a new take on the popular video game that will debut for the Christmas season on Xbox 360, PlayStation 3, Wii and Nintendo DS, Variety reports.
Rock Band
follows in the footsteps of
Star Wars, Indiana Jones
and Batman in creating games featuring the look of the popular building-block toys. TT Games, which developed previous Lego games, will co-create the game with Harmonix and Backbone Entertainment, while Warner Bros. Interactive will publish the title.
The
Rock Band
game franchise has been struggling to overtake music-game leader
Guitar Hero
despite having sold more than 2 million units. A version of the game using the music of The Beatles is set for fall.
VIZ Opens Online Hub for Europe Partners
VIZ Media Europe has launched a new business-to-business web site to manage the licensing, marketing and distribution of its brands.
The site,
www.vizeurope.com
, will connect the company's partners with each other and keep them up to date on developments with the company's anime, manga, DVD and merchandising products. Among VIZ's most popular current titles are
Bleach, Death Note, Naruto, Inuyasha
and
Zoids Genesis
.
The site serves France, Spain, Italy, Germany and the United Kingdom, with more markets expected to be added in the future.
The site was developed with web design communications agency Megalo(s).
"The site will serve as a very important communication tool for VIZ Media Europe, and it will greatly enhance our ability to build synergy and promotional relationships with all of our business partners,"
says John Easum, president of VME.
EXCLUSIVE: Michel Gondry Plans To Link

'Green Hornet'

And

'Lone Ranger'

Worlds
.
Don't look now, but old radio serials are suddenly hotter than any Wii game or iPhone app. These days, visionary director Michel Gondry is hard at work with Seth Rogen bringing back
"The Green Hornet,"
Jerry Bruckheimer and Johnny Depp are gaining momentum on
"The Lone Ranger,"
and the two worlds are making plans to meet. Well, kinda.

Flashback to January 31, 1936, when a new program entitled
"The Green Hornet"
premiered on Detroit radio station WXYZ. Envisioned as a worlds-away spinoff to the immensely popular show
"The Lone Ranger,"
masked crimefighter Britt Reid was explained to be the son of LR's comic-relief nephew Dan. Although their connection faded as

Green Hornet

became more closely linked with

Batman

in their '60s TV shows, it returned as recently as the late-'80s when a
"Hornet"
comic book series published by NOW Comics had a portrait of The Lone Ranger hanging on Reid's wall, a sly reference to their familial ties.

Nevertheless, history — and legal complications — have virtually erased the link between
"Green Hornet"
and
"Lone Ranger,"
as the properties have fallen into different hands throughout the decades. And although Bruckheimer and Gondry are making their films at two different studios, the
"Hornet"
director told us that he plans to keep their link alive.
"Yeah, yeah, I know that,"
Michel told me recently when I brought up the famed great-uncle of the character Rogen is preparing to play.
"I'm all for making such references."
Gondry, whose visual supremacy is on display in his new DVD,
"More Videos,"
has been researching the
Hornet
folklore intensely over the past few weeks. And although he doesn't have the rights to depict The Lone Ranger, he recently came up with a way around the problem.
"I've suggested that in a cemetery [scene] we would see the horse of the Lone Ranger,"
Gondry explained, saying that we'll see a headstone marking the grave of the masked ranger's white horse Silver.
"I think there is a right situation to deal with it,"
added Gondry, who recently revealed similar fan-pleasing plans to
give a cameo to '60s

"Hornet"

star Van Williams
. But will messrs. Bruckheimer and Depp return the favor by injecting a
"Hornet"
reference into their film? As the old radio serials used to say: Tune in next week…