Dragon

drops the ball to open poorly in eighth place
Dragonball Evolution
opened in eighth place at the weekend box office, with just an estimated $4.7 million, according to
The Hollywood Reporter
.
A live-action spinoff of a successful Japanese manga/anime franchise, the PG-rated movie directed by James Wong opened domestically in 2,181 theaters and looks as if it will do most of its business abroad, where it had already taken in more than $25 million before its U.S. release.
Monsters vs. Aliens
, meanwhile, continued strong, dipping by only 31 percent in its third weekend of release and taking in $22.6 million, which brought its domestic tally to $141 million.
Knowing
was off just 18 percent, dropping to fifth place with $6.7 million, which brought its gross to $68 million.
EXCLUSIVE: Get Your First Look At

'Wolverine and The X-Men: Heroes Return'
While Wolverine's big solo feature looms ever closer to its release date, his animated exploits continue in the hit series
"Wolverine and the X-Men."
Later this month (on
April 21
, to be exact), the first story arc from
"Wolverine and the X-Men"
will be released on DVD — adding to the already high level of buzz surrounding the ol' Canucklehead these days.
The good folks at Marvel Animation and Lionsgate have provided Splash Page readers with an exclusive clip from
"Wolverine and the X-Men: Heroes Return,"
the first volume of the hit animated series.
After the jump, get more info on
"Wolverine and the X-Men: Heroes Return"
and check out the box art from the DVD.
In the first volume of the hit animated series, Logan faces the unenviable task of
"reuniting the broken heroes formerly known as the X-Men to prevent the world's destruction and save the future"
— but that should be easy enough for Marvel's most popular mutant, right?
Along with the three-story arc, the DVD will feature:
-
Character Profiles:
Wolverine and the X-Men
-
"Making of Wolverine and the X-Men"
featurette
- Audio commentary with Supervising Producer Craig Kyle and Head Writer Greg Johnson
- Audio commentary with Lead Director Boyd Kirkland and Director Steven Gordon
-
"Nicktoons Network Going InScene" Wolverine and the X-Men
"Wolverine and the X-Men: Heroes Return"
will hit shelves on
April 21
, and retail for $14.98.
Fan-Made

'Green Hornet'

Flick Gives Seth Rogen & Michel Gondry A Run For Their Money
If you've been keeping up with the latest online scuttlebutt regarding Seth Rogen's adaptation of
"The Green Hornet,"
then you're probably well aware that the
rumor mill has not been too kind
to the project lately. Likewise,
Rogen's most recent, head-scratching comments
didn't do the flick any favors, either.
As if that wasn't enough, amateur French filmmaker
Aurenlien Poitrimoult
has upped the ante in terms of gritty action and breakneck fight sequences in a
"Green Hornet"
short film that's been around a while now, but just caught our attention here at Splash Page HQ.
We're not saying Rogen and
"Green Hornet"
director Michel Gondry are slouches by any stretch, but if their take on the character has half the action that Poitrimoult packs in his five-minute short, then consider us sold.
"The choice of the characters and the subject was very simple,"
explained the filmmaker in a 2006 interview with
SuperHeroHype
.
"For a long time, Manu Lanzi (who plays The Green Hornet) and [I] had wanted to work together on a project. One thing we had in common was our passion for comic books, and Manu's background as a stuntman and martial arts actor [pushed] us towards a more action orientated choice.
Click HERE to see Aurenlien Poitrimoult's

"Green Hornet"

film.
"We decided upon

'The Green Hornet,'

a character we both knew very well and that we agreed could satisfy own wishes,"
continued Poitrimoult.
"Manu for the action which is such an integral part of

'The Green Hornet,'

and myself for the twist and turns on the comic book world and the urban 'who dunit?' feel."
Nickelodeon Announces Earth Day "Green"-Themed Programming Schedule
Nickelodeon has announced its scheduling for Earth Day, April 22, 2009, which will include environmentally-themed episodes of hit shows like
The Wonder Pets, Olivia, Wow! Wow! Wubbzy!, iCarly
, and
Yo Gabba Gabba
! In addition, Nickelodeon will be airing vignettes of real kids taking action to improve the environment, and Nickelodeon, NOGGIN, and The N will all power down for 60 seconds at 9:00 PM (Eastern/Pacific).
The scheduling highlights include:
NICKELODEON – (all times ET/PT)

WEDNESDAY, APRIL 22
10:30 a.m.--

The Wonder Pets! "Save the Racoon"
--As The Wonder Pets are on their way to rescue a Baby Raccoon stuck in a recycling bin, the Flyboat breaks down. The Wonder Pets must use recycled materials to create a new Flyboat and save the day.
11:30 a.m.--

OLIVIA "Olivia Helps Mother Nature"
--After learning about the environment, Olivia is on a mission to recycle, cut down on waste, and conserve energy. But she just can't get Ian to turn off his light at night. Either she'll have to find a way for Ian to fall asleep without it, or else find a sustainable alternative.
1:30 p.m.--
Wow! Wow! Wubbzy! "Save the Wuzzly/All Bottled Up"
—In
"Save the Wuzzly,"
Wubbzy and Daizy must help a family of Wuzzly bears save their bambooboo tree home, from developers cutting down Wuzzleburg Forest to make a new playground. In
"All Bottled Up,"
Wubbzy has to teach the denizens of Wuzzleburg to reuse and recycle, after he introduces them to a great new drink – Hapgood's Fizz-eee Wizz-eee Juice – and they start discarding the bottles making a big messy bottle problem.
8:00 p.m.--

iCarly "iGo Green"
--In honor of National Green Week, Mr. Henning, an environmentally conscious science teacher, assigns Carly, Sam and Freddie the task of creating an original earth-friendly project that benefits the environment. And Carly learns a lesson about how easy it is to go green by doing simple things like watering after dark or recycling.
8:30 p.m.--

True Jackson, VP "True Intrigue"
--Max returns from his trip to Africa with a top-secret environmentally-friendly fabric he discovered and is going to announce to the world that is if True, Max and Amanda can fend off the corporate spy trying to steal the fabric.
9:00 p.m.*
—Nickelodeon, NOGGIN and The N will
"Power Down"
for 60-seconds.
Throughout the day, Nickelodeon will air vignettes featuring real kids who are taking action to improve the environment.
Names of those who have pledged to be part of The Big Green Help and local events/organizations that are participating in The Big Green Help Earth Day events will be scrolled across the screen all day.
NOGGIN's Earth Day programming schedule includes (all times ET):
WEDNESDAY, APRIL 22
9:00 a.m.--

Toot & Puddle "Recycle Cycle/Being Green"
--In
"Recycle Cycle,"
Toot and Puddle discover a pollution problem in Pocket Pond and the whole gang rallies to clean up their home environment. Toot & Puddle visit Uncle Bertie in Scotland in
"Being Green."
In the process, the pig pals get an enjoyable lesson in living green.
1:30 p.m.--

Yo Gabba Gabba! "Green"
--The Gabba gang learns to care for their environment by watering plants, not littering, cleaning up the trash and recycling. Sal Masakela (E!'s Daily 10) performs
"Hello World"
. Additional featured songs include:
"A Flowers Power," "Throw Us Away,"
and "
We're Counting on You."
3:00 p.m.--

Pinky Dinky Doo "Loch Mess Monster"
--When Tyler's fish tank gets polluted, Pinky tells him a story about the town of Loch Mess and the importance of working together and keeping things clean so they don't get polluted.
9:00 p.m.
NOGGIN will
"Power Down"
for 60-seconds
* NOGGIN and The N will
"Power Down"
at 9 p.m. ET only.
Dave Arneson, 61, co-created

Dungeons & Dragons
White-bearded Dave Arneson, co-creator of the pioneering role-playing game
Dungeons & Dragons
, died Tuesday night in St. Paul, Minnesota. He was 61.
"Shortly after 11 p.m. on Tuesday, April 7, Dave Arneson passed away. He was comfortable and with family at the time and his passing was peaceful,"
a statement from his family said.
Born in Minneapolis on October 1, 1947, Arneson suffered a stroke in early 2002 and was diagnosed with cancer soon afterward, according to Wired News.
Marvel Productions, Ltd. produced an offshoot of the game, cartoon series
Dungeons & Dragons
, which aired on CBS in 1983-84. Arneson was one of the series' writers.
Arneson's fame was somewhat eclipsed by that of Gary Gygax -- the other co-creator of
"D&D,"
as the game is popularly known -- who died in March 2008 at 69.
The inventor of the Blackmoor game, Arneson met Gygax in Wisconsin in 1970. They worked together on several games before Arneson helped change Gygax's Chainmail to what would become the first edition of
Dungeons & Dragons
, marketed in 1974. The medieval fantasy is played with graph paper, pencils and dice.
"We thought we were crazy, and our friends thought we were crazy,"
he said.
"But then with no advertising, we sold more than a thousand games in the first year."
D&D
has been credited with inspiring such modern video and other electronic games as Microsoft's
Halo 3
.
"A great number of things in

Halo

and most of today's games go back to

D&D

-- from the creation of characters to the different skill levels,
" says Peter Adkison, who bought rights to the game in 1997 for his Wizards of the Coast company. Adkison resold the rights to Hasbro in 1999 for $300 million.
At least 20 million people have played
D&D
. Celebrity players have included Vin Diesel, Robin Williams, Stephen Colbert and Mike Myers.
Known for its oddly shaped dice,
D&D
initially drew controversy when some blasted the RPG as being evil.
"Certain people didn't understand that we were just nice guys playing a fun game, not a bunch of introverts having human sacrifices,"
Arneson once said.
D&D
also appeared in video games, books and live-action movies. Arneson had a cameo in the first film,
Dungeons & Dragons
(2000).
"After spending a week in Prague for the filming, I was on screen for eight seconds,"
Arneson reflected in a 2007 interview.
"I was a magic user in the third row, and I threw fireballs at a dragon."
In 1976, Arneson joined Tactical Studies Rules (TSR), founded by Gygax, of Lake Geneva, Wisconsin, and partners Brian Blume and Lorraine Williams.
D&D's success led to a falling out between Arneson and Gygax. Arneson left the company in 1979, filing a number of lawsuits against Gygax and TSR over credits and royalties. These were settled out of court in 1981.
However, in the mid-1980s, Arneson and his partner made up and worked together again.
He founded 4D Interactive Systems, a computer company that remains in operation.
Later on, he started a second career as an educator. From about 2000 until his retirement in June 2008, he taught the class
"Rules of the Game"
at Full Sail University, a school of graphic arts and game design near Winter Park, Florida, outside Orlando. He also worked in several schools, focusing on how to use gaming as an instructional tool.
"I used to call myself the 'father of all gaming geeks,'"
Arneson recalled in 2007.
"But my granddaughter recently updated that to 'grandfather of all gaming geeks.'"
Dave Arneson married Frankie Ann Morneau in 1984. They had one daughter. He is survived by his wife, daughter and granddaughter.
The Arneson family will continue to receive cards and letters. They can be sent to Dave Arneson, 1043 Grand Avenue, Box #257, St. Paul, MN 55105.
A public visitation will take place Monday, April 20 (time yet to be determined) at Bradshaw Funeral Home, 687 Snelling Avenue South, St. Paul, MN 55105.
Raimi says reports of back-to-back

SPIDER-MAN 4

and

5

are wrong
Buzz around the
'Spider-Man'
sequels dating back to last summer have persistently indicated that parts 4 and 5 could be filmed back-to-back. However, in a recent interview with
Ain't it Cool
, director Sam Raimi denied such talk.
"No one's talked to me about making part 5 at this moment. Right now I'm hoping to make part 4,"
Raimi said.
The director went on to say that work is underway on the next installment, which is due out in 2011.
"It's a never-ending process. Basically we are talking about the story right now, shortly artists will come on and I'll start giving them shots to draw. We are supposed to start talking to a production designer soon, so it will just keep getting larger and larger,"
Raimi said.
He also talked a bit about the process of updating the technical design of the movie from one installment to the next. Read the
complete interview
for more.
Titmouse Carries

Baton

To Yokahama Celebration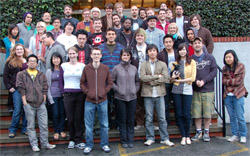 To celebrate the
150th anniversary celebration
of the Japanese city of Yokohama,
Titmouse Inc
. has teamed up with Ryuhei Kitamura (
Azumi, Godzilla: Final Wars
) to create a 50-minute, sci-fi animated film titled
Baton
. The team (inset) utilized Flash to rotoscope the live-action footage of a number of huge Japanese stars. The film will bow on April 28th at the Futuristic Theater in Yokahama, and will screen until September 27th. Here's the trailer:
Jonny Quest: the Real adventures
It was announced several months ago that Warner Bros. is developing a live action feature based on Hanna Barbera's
Jonny Quest
, with Zac Efron as Jonny and Dwayne
"The Rock"
Johnson as Race Bannon. LA Times blogger Geoff Boucher
reported this week
that, possibly due to the failure of last years
Speed Racer
movie, Warners is now thinking of making the
JQ
film, but droppping the
JQ
name. Apparently the live action
JQ
script is so good that the studio wants to produce the film regardless of what the characters are called. But the failure of
Speed Racer
- another live action version of a 1960s cartoon series - still resonates with upper management. So the thinking is to just cut ties to the H-B series that inspired it. Personally, I think this is a good idea.
Dear Warner Bros.,
Please
don't make a live action
Jonny Quest
movie. After
S
cooby Doo, The Flintstones
and
Josie and the Pussycats
we don't need anymore of our childhood memories destroyed by bad movies adaptations. If the
Jonny Quest
script is as good as reported, it'll be popular under any title.
Now, is there anyway to make you reconsider your live action plans for
The Jetsons
and
Yogi Bear
?
(Thanks
cartoonbrew
)
The Sky Crawlers

DVD in May
DVDActive
reports that Sony Pictures Home Entertainment has announced DVD and Blu-ray releases of Mamoru Oshii's
The Sky Crawlers
for the
26th of May
. The only extra material on the DVD release will be 2 featurettes:
"Animation Research for The Sky Crawlers"
and
"The Sound Design and Animation of The Sky Crawlers"
. The Blu-ray release will also include an additional
"Sky's the Limit: An Interview with Director Mamoru Oshii"
featurette.
PONYO ON THE CLIFF

Now Available To Order On DVD!
It was noted a little while back that Hayao Miyazaki's
Ponyo On The Cliff
was due for a Japanese DVD release - English subtitles included - this July and now that edition is available for order. It comes in two varieties: the basic edition and a luxury nine disc set that includes the film, a twelve-hour five-disc making of documentary, and a two disc live performance from Miyazaki's regular composer Joe Hisaishi. With the domestic release of the film also due this summer the patient among you - or those with young children who will require the dubbed version - will want to wait, but for the impatient the time is now. Oh, and that crazy doc? Also available on it's own, though it doesn't appear to include subtitles.
EW
reports that Walt Disney Pictures will release Hayao Miyazaki's latest animated film
Ponyo
in United States on
August 14
. Featuring the voices of Cate Blanchett, Matt Damon, Tina Fey, Cloris Leachman, Liam Nesson, Lily Tomlin, Betty White, Frankie Jonas and Noah Cyrus, the English language version of the film is being produced by John Lasseter, Kathleen Kennedy and Frank Marshall. The film which opened in Japan last July has become the country's highest grossing film of 2009.
Trailer for upcoming CG animated film from Japan:

'The Asylum Session'
As far as using 3D animation to create really nice looking animated films the Japanese do a really good job of it. Though some of the movements in this trailer do look a bit stiff I really like the character design in it. There is just something about it that clicks with me. I am also quite fond of the counter culture theme in this story as well.
The Asylum Session
's story follows the trials and coming-of-age of teenaged boys and girls in the distant future. In this era, the development of civilization has stopped and even declined. Hiyoko is a runaway girl who goes to live in tents with other people at a stadium nicknamed "Asylum." There, she meets Akira, a leader of a band of street children. Profiteering police want to tear down the stadium, so its denizens create a street culture event called "The Asylum Session" to counter those plans.
After a career in music, Aoki worked on
Catblue: Dynamite
and then debuted his first 3D computer-animated anime short,
"Haruo,"
in 2005. Voice actress Aya Hirano (
The Melancholy of Haruhi Suzumiya, Lucky Star
) will play Hiyoko, while stage actor Masakazu Nemoto (
Haruka: Beyond the Stream of Time
stage play) will play Akira. CoMix Wave Films and Brosta TV will screen the 0-minute 3D computer-animated film this summer in two theaters in Tokyo and Osaka.
Monday Morning Inspiration: 4 Great Posts
So much valuable educational material is being posted online nowadays. Here are a few newish items that have caught my attention:
Michael Sporn shares a genius
walk cycle from

Moonbird
animated by Bobe Cannon and assisted by Ed Smith.
"Finding My Inner Pintoff"
is a thought-provoking post by animator Will Finn (Iago in
Aladdin
, Cogsworth in
Beauty and the Beast
) about how animating a scene without inbetweens, squash & stretch, anticipation and follow-through led him to a new understanding of what it means to communicate through animation.
Bill Tytla speaks about Forms vs. Forces:
Part I
&
Part II
Hans Bacher's blog
Animation Treasures
is a constant stream of inspiration from
this comparison of
Bambi
pencil layouts to the finished backgrounds
to fascinating bits of personal history like
the early development of

Beauty and the Beast
to artwork by the likes of
Jiří Trnka
, and my recent personal fave, this
Song of the South

background analysis
.
(Thanks
cartoonbrew
)
News briefs:

Trick

drops,

Galactica

props,

Shorts

trailer pops
Trick r Treat
Bloody-Disgusting
reported a rumor that Warner Home Video may release Michael Dougherty's highly anticipated Halloween horror movie
Trick 'r Treat
on DVD. The long-delayed film, which interweaves four stories, has been waiting for a theatrical release for years.
Here's the trailer.
...
Hundreds of items from SCI FI's recently concluded
Battlestar Galactica
will be auctioned off on the weekend of
May 8
, with a portion of the proceeds to benefit United Way; this final auction will include a full-size Viper Mark II ship and a full-size Blackbird Stealth ship and will take place at the Pasadena, Calif., Convention Center.
...
Yahoo! Movies
has posted a new trailer for Robert Rodriguez's upcoming family action-adventure
Shorts
, which is due in theaters on
Aug. 7
.
...
Cartoon Network announced that it will premiere
Star Wars: The Clone Wars: Decoded
, a full slate of 22 enhanced episodes from season one, starting
May 1
at 9 p.m. ET/PT and airing Fridays at 9.
...
Spaceballs: The Totally-Warped Adventures
debuts on DVD and Blu-ray on
June 16
from MGM Home Entertainment.
Blade Runner

blaster highlights Hollywood auction
The Harrison Ford "Rick Deckard" hero blaster from
Blade Runner

, predicted to draw bids between $100,000 and $150,000, is among the 1,100 pieces of Hollywood memorabilia being auctioned by

Profiles in History

April 30

and

May 1.

Other items for sale include an original

Frankenstein

onesheet movie poster ($200,000-$250,000), the original

Creature From the Black Lagoon

hero

"Gill Man"

mask from

Revenge of the Creature

($60,000-$80,000), Ray Park's

"Darth Maul"

fighting lightsaber from

Star Wars: Episode 1—The Phantom Menace

($40,000-$60,000) and Charlton Heston's "Colonel George Taylor" costume and display from

Planet of the Apes
($40,000-$60,000).
Worldwide bidding begins at noon on April 30, and bids can be placed either in person, via mail, phone, fax or live on the Internet.
The auction will also feature items from the collections of filmmaker Tim Burton, Jeff Walker, director John Landis and the late Forrest J. Ackerman.
New poster revealed for

X-Men Origins: Wolverine
Marvel Comics
has uploaded a new poster for
X-Men Origins: Wolverine
to its site. You can view the full poster after the jump.
X-Men Origins: Wolverine
premieres in theaters
Friday, May 1
.
Crew has

Goode

Hopes
Various news outfits
reported
yesterday
that Mike Judge's new comedy
The Goode Family
will roll out on
May 27th
.
This is a couple of months later than what the crew believed was the show's original launch date, but even with the resulting looong hiatus, that might not be a totally bad thing. As a crew member told me today:
"Most of us have been away from the show for a while now. When we got layoff slips, we thought the show was airing in March, April at the latest."

"I didn't want a long break. I hoped
The Goode Family
would get on the air earlier rather than later, and we could go back to work before summer. But now that I know about the end-of-May date, I'm thinking maybe that's not a bad thing.

"The word I've gotten from people is that ABC execs like the film they've been seeing, and that's why they've held the show back. They didn't want to launch it while
American Idol
was on, and have it get smothered.

"So May 27th not be a bad time to have it debut. I've heard that ABC has already ordered four more scripts, so those will be ready to start working on if we get a green light.

"I'm not disappointed with the May date at all. If it means the show gets an order for more episodes, the longer wait will have been worth it."
Be nice if
The Goode Family
got a pickup and a nice long run, especially since its parent
King of the Hill
is over after 300+ episodes.
(Thanks
Animation Guild Blog
)
Heal
Here's something we don't post much on Cartoon Brew - medical animation:
Minnesota based
Ghost Medical
has been producing medical animation for 15 years. Art Director/Animator Joel Erkkinen writes:
We wanted to make something that pushed the limits of medical animation. This short was created from the ground up to showcase the talents of ghOst Productions at the 2009 American Association of Orthopedic Surgeons in Las Vegas. Instead of showing pre-existing client work in our reel, we thought it would be more fun to make a character animation, break nearly every bone in his body and then surgically repair him in under 3 minutes.
Heal
was the result. While it may not win awards at Annecy or Ottawa, it's a clever way to present a demo reel for specialized work.
(Thanks
cartoonbrew
)
Book Review:

Canadian Animation: Looking for a Place to Happen
Front Cover
Back Cover
From cover to cover,
Looking for a Place to Happen
is a fantastic read. I enjoy jumping into a thought-provoking book on a subject in which I am not well versed, and which both expands my knowledge of that subject and encourages further exploration of the topic.
Canadian Animation: Looking for a Place to Happen
is such a read. The book follows the author, Chris Robinson, as he travels from Vancouver to Montreal conducting a series of interviews with animators who contribute the Canadian independent animation scene.
Robinson makes good use of the book's 258 pages by squeezing in as many interviews as he possibly could. It will require a modicum of patience and determination to follow through to the end. Some of the interviews are upwards of 20 pages long, and one might find it difficult to absorb an entire flow of words and thought without finding it entirely jarring to disengage and jump right into another. I found it best to read one or two, put the book down, absorb it, and come back for more once I had sufficiently digested what I had read.
Bridging these interviews are journal entries featuring Robinson's thoughts and experiences between stops. While the journal entries could not save the book from required reading breaks, they do showcase Robinson's wit and help ease one back into the reading experience. They contribute to a sense of being on a journey as opposed to having a mess of interviews crammed together in book form.
The interviews manage to create the atmosphere of a relaxed conversation with a friend. I always enjoy having an opportunity to get inside the heads of other artists. Whether it be insight into process, the idea of art for the sake of art, art with purpose, what happens when you fall into a career of animation, not knowing any other way to be, stopping once you've run out of things to say, working within and/or frustration with the system: it's all fascinating. Equally, it's a monumental task to balance both a commercial and independent career, or to live a minimalist lifestyle to support an independent-only career. It takes an uncommon level of dedication and courage.
Threaded throughout the book, and providing another common theme, are mentions of both Helen Hill (
"Mouseholes"
) and Ryan Larkin (
"Walking", "Street Musique", "Syrinx"
). The author portrays them as two entirely different personalities, both of whom had a large impact on other animators in the scene: Hill, with her strong sense of community and activism, and Larkin as a cautionary tale.
There is a minor disappointment with a missing interview that the author misplaced somewhere along the way. In that instance, and any other where the interview was not coherent enough or the meeting between the animator and Robinson was not able to take place, an article or reprint has been inserted in its place.
Images break up the text, but not overwhelmingly so. While the inclusion of screen grabs allowed some visual access to the styles of the animators' works, they're only stills. They couldn't possibly communicate what a moving image could. The book really would have been better served by including a sampler DVD with short clips of the various works.
Those interviewed or spotlighted include: Rick Raxlen (
Geometry of Beware, Deadpan, Rude Roll, Fish Don't Talk
), Bruce Alcock (
At the Quinte Hotel
), Marilyn Cherenko (
Omnibus, Pursuit/Flight, About Face
), Gail Noonan (
Play Ball, Lost and Found, Your Name In Cellulite, Honey, The Menopause Song, More Sensitive
), David Fine (
Ricky Sprocket, Bob and Margaret, George and Rosemary
), Anne-Marie Fleming (
AMF's Tiresias
), Marv Newland (
Bambi Meets Godzilla, Tête à Tête à Tête, Beijing Flipbook
), Carol Beecher and Kevin Kurytnik (
Intergalactic Who's Who, Abandon Bob Hope, All Ye Who Enter Here, Ask Me, Trees, Mr. Reaper's Really Bad Morning
), Wendy Tilby and Amanda Forbis (
Table of Contents, Strings, When the Day Breaks
), Richard Reeves (
Linear Dreams, 1-1
), Ed Beals (
SeXXXy, Plickey and Muto, Pat the Cat
), a gathering of Halifax animators (Heather Harkins, Lisa Morse, Lynn Wilton, Siloen Daley and Shelley Wallace
), James McSwain (
Atomic Dragons
), Patrick Jenkins (
The Magician's Hat, Making Faces, Alleycats, Eye to Eye, The Skateboarder
), Jonathan Amitay
(Nukie, Oh, Dad, Three Nukies
), Eugene Federenko (
Every Child, Village of Idiots
), John Straiton (
Horse Play, Marilyn
), Claude Cloutier (
Sleeping Betty, From the Big Bang till Tuesday Morning
), Janet Perlman
(Why Me?, Lady Fishbourne, My Favourite Things that I Love
), Theodore Ushev (
Tower Bahwer
), Chris Hinton (
The Man Who Waited, Watching TV, Flux
), Craig Welch (
How Wings Are Attached to the Backs of Angels, Welcome to Kentucky
), Chris Landreth (
The End, Bingo, Ryan
) and Nick Cross (
Tea for Two, U-Girl, The Waif of Persephone
).
Canadian Animation: Looking for a Place to Happen
is currently available through
Amazon.com
.
(Thanks
Toon Zone
)
These 10 cities are vying to host the

Wolverine

world premiere
Fox has narrowed to 10 cities the candidates to host the world premiere of
X-Men Origins: Wolverine
.
Star Hugh Jackman invited fans to nominate their towns for the honor, and the top 10 leading towns as of Wednesday are Davis, Calif.; Hastings, Neb.; Austin, Texas; Melbourne, Fla.; Dallas; San Antonio; Las Vegas; Tempe, Ariz.; Chicago; and Philadelphia.
The winning town will be announced on April 20, and you can still
vote here
.
X-Men Origins: Wolverine
opens
May 1
.
Starlog

ceases print publication; will remain on Web
Starlog
, one of the longest-running print magazines devoted to the worlds of sci-fi and fantasy, has ceased publication after 33 years.
Official word of
Starlog
's demise came in a posting last week on the
Starlog.com
site, buried five paragraphs into an update informing readers that Starlog.com had relaunched in beta as part of a
"massive digital initiative"
and touting the fact a
"Digital store,"
to launch next month, will feature digital editions of the entire
Starlog
catalog.
"It is also at this time that we announce the temporary cessation of the current run of

Starlog

as a print magazine,"
the statement read.
"After 33 years, and considering the present state of the economy, we feel [it's] time for a major revamp and will be temporarily discontinuing publication while the model and redesign of the magazine are contemplated and executed.
"The last print issue available for the time being is #374,"
it continued,
"while issue #375 will be available exclusively as a digital edition on the network in the very near future."
Starlog
debuted in 1976 as a quarterly magazine created by Kerry O'Quinn and Norman Jacobs. Jacobs eventually sold the company to the Creative Group, and the Brooklyn Co. bought Starlog and its horror-centric sister magazine
Fangoria
last year from the Creative Group, which had fallen into bankruptcy.
According to sources,
Fangoria
, which already has a strong Web presence, will remain a print entity. Left unanswered: the fates of longtime
Starlog
editor in chief David McDonnell and managing editor Allan Dart.