Boomerang Acquires Subsidiaries From Entertainment Rights
Boomerang Media has acquired three major subsidiaries of Entertainment Rights that control such popular properties as
Casper the Friendly Ghost, Where's Waldo?
and
Veggie Tales
.
Boomerang, in conjunction with private equity group GCTR, plans to invest $200 million in building up the franchises held by the subsidiaries, which are Entertainment Rights, Classic Media and Big Idea.
Boomerang is lead by Eric Ellenbogen and John Engelmen, who founded Classic Media and sold it to Entertainment Rights in 2007.
Fast and Furious

Revs Up to Take On

Monsters
Fast and Furious
, the fourth film in the street-racing franchise, is looking to outpace the
Monsters vs. Aliens
3-D juggernaut at the box office this weekend.
The Universal release, starring Vin Diesel and Paul Walker, arrives at 3,462 theaters this weekend and hopes to emulate the success of the second film in the series,
2 Fast 2 Furious
, which had a $50 million opening weekend in 2003.
Also opening this weekend is
Adventureland
, a Miramax comedy starring Jesse Eisenstein and
Twilight
's Kristen Stewart that plays at just over 1,800 theaters.
That means there's a good chance
Monsters
will have a monstrous second weekend at the box office, though word of mouth on the film may dampen the flow of moviegoers to the pic.
MIPTV Wrap: Day Three "The Time-Wasters Stayed Home!"
Despite the lousy weather, most of the toon execs I cornered today seemed pretty happy about their business meetings—of course, they would just say that to the gullible press, right? It was a bit depressing to see the vast space previously occupied by Warner Bros. Animation in previous years (Sander Schwartz, please come back!) … and the sight of tumbleweeds blowing through the empty booths in the Palais left us with deep feelings of trepidation about the brown sink-hole we like to call the global economy. But enough with the depressing talk. Did you hear that Entertainment Rights, the company that owns the licensing rights to
Postman Pat, Rupert Bear
and
Basil Brush
, was sold to Boomerang Media, backed by a U.S. private equity firm managed by the co-founders of Classic Media? The good news is that 90 jobs were saved for the time being. The disturbing news is that the company still has debts of more than $188 million—too bad we can't blame that on Bernie Madoff or the weasels at AIG.
Not everyone is seeing the drop in market attendance as necessarily a bad thing. As one smart exec at a very popular animation studio told me today,
"The time wasters stayed home this year, so we had a lot of less people just wandering in and asking for meetings and dropping off their cards that we would never do business with."
Most others were confessing that they don't see a fast recovery happening anytime soon
"We give it at least another year,"
they'd say with a strange distant look in their blood-shot eyes.
A Crazy Squirrel and a CG Elephant
Lynn Chadwick, VP of wordwide sales and distrib and Colin Bohm, vp and managing director of Nelvana Enterprises, were kind enough to walk me through some of her Toronto-based studio's upcoming toons which are launching this year early this morning. A new series (52 x 11) about a neurotic, agoraphobic and paranoid critter called
Scaredy Squirrel
has an arresting, clean look and a strong fan base as it's inspired by a series of books by Melanie Watt. Also on the horizon is
Hot Wheels: Battle Force 5
, a slick boys action show featuring the Mattel toy brand and the much-anticipated
The New Adventures of Babar
, which puts a CG spin on the beloved lit property. In this 26-parter, co-produced by French shop TeamTO, the classic elephant is a grandfather and his relationship with his eight-year-old grandson is explored in colorful and entertaining episodes. The show is slated to air in the fall of 2010/spring of 2011.
"We like to keep the classical roots of the property, but give it a contemporary spin with the CG animation,"
said Chadwick.
Last of the Jurassic Generation
The talented team at Seoul, Korea-based Daewon Media (
Noonbory and the Super 7
) gave me a sneak peek at some of the art created for their upcoming new CG-animated series
GON
, which is based on the popular manga created by Masashi Tanaka. The award-winning comic-book follows the wordless adventures of a spunky dinosaur which roams the natural world after the extinction of his fellow creatures. The studio will be introducing the new show at the next MIPCOM Junior market in October. (Look for a special behind-the-scenes article about the new toon in the MIPCOM Junior issue of Animag this year.)
Bernard

Signs Up for 3-D Movie
Carlos Biern, head of co-pros at the innovative Spanish studio BRB, told me that he'll be taking the shop's hit property
Bernard
to the next level. Yes, the clean-living polar bear will be the star of a 3-D stereoscopic movie, slated for the summer of 2012. Also on tap is a new 70-minute TV special and DVD release that will be titled
My Friend Bernard
and will co-star a shy boy named Sam who joins the bear on a comic adventure. The animation is done by the Barcelona-based studio's Screen 21 production house. BRB's other hot toons at Cannes include the jazzy CG-animated shorts series
The Secret Life of Suckers
(about the adventures of a wide variety of car window toys),
Pawaya
and
Angus and Cheryl
. BRB is definitely on a hot streak these days.
Another Gem from Aardman?
Miles Bullough, head of broadcast at Aardman Animations, gave me the good news that his his phenomenal Bristol-based studio has yet another new animated TV series in the pipeline. Titled
Peppy + Rex
, the 52 x 10 toon mixes 3D stop-frame with 2D animation.
"In every episode, a young boy named Peppy is inspired to draw a picture, so he draws himself and his dog Rex having all sorts of amazing adventures,"
said Bullough. "He meets, pirates, fire-breathing dragons, monsters, and then he comes home to the real world and shows his mom and dad his drawing and they put it on the fridge. It's quite lovely." The real-word portions of the show are done in stop-motion, while the imagined drawings portions are 2D-animated by the studio. It certainly seems like the kind of project we can all look forward to…creative, smart, beautifully crafted and innovative.
Let's just end our third-day MIPTV wrap on that positive note, in hopes that a lot of deserving animated projects get the partners, buyers and finances they were hoping to find at this recession-soaked market. Let's keep our fingers crossed that we'll soon see the day that kids will stop watching annoying, shrill shows featuring precocious singing/dancing fame-harlots (insert your own favorite word here) so that well-made toons can bounce back at markets all over the world.
(Thanks
Animation Magazine
)
"Avatar: The Last Airbender"

wins Peabody Award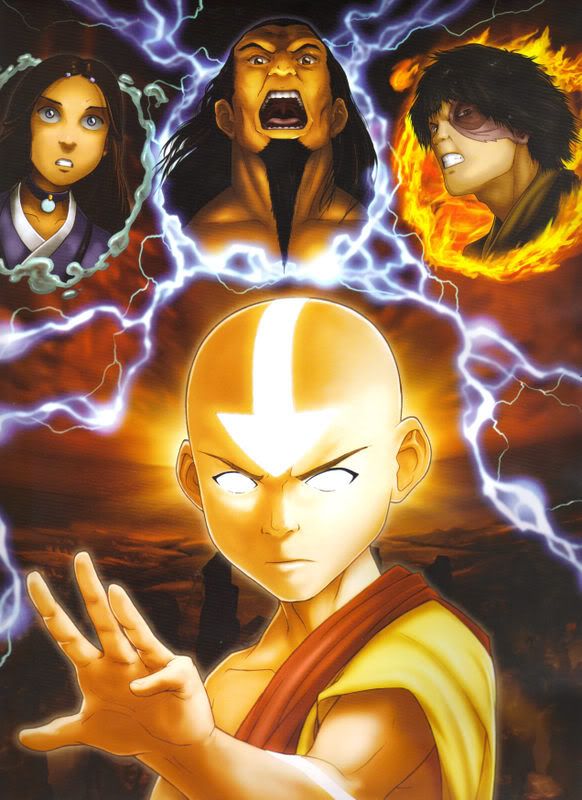 "Avatar: The Last Airbender,"
an animated, Asian-influenced mythological epic shown on Nickelodeon, is one of 36 recipients of the 68th Annual Peabody Awards, the University of Georgia's Grady College of Journalism and Mass Communication announced Wednesday.
The winners, chosen by the Peabody board as the best in electronic media for 2008, were named in a ceremony in the Peabody Gallery on The University of Georgia campus.
"Unusually complex characters and healthy respect for the consequences of warfare enhanced this American-made, anime-influenced martial-arts adventure,"
the Peabody board said of
Avatar: The Last Airbender
.
An institutional Peabody was awarded to Turner Classic Movies (TCM), the cable channel devoted to showing, preserving and fostering a critical appreciation of vintage films. TCM's programming includes classic cartoon shorts and the occasional animated feature film.
"It's a wonderful network, this dedicated presenter and preserver of vintage films, and after 20 years, no other in the cable spectrum has stayed truer to its original mission,"
the Peabody Board commented.
"The works recognized by the Peabody Board this year not only reflect great diversity of content and genre, but also true technical innovation and the varied roles of new distribution systems,"
said Peabody director Horace Newcomb.
"The list of winners this year clearly indicates a changing media environment that will continue to require judgment and evaluation through the Peabody Awards process."
The recipients included
Lost
, ABC's innovative, mind-bending adventure serial;
"The Giant Pool of Money,"
a remarkably comprehensible explanation of the current financial crisis from public radio's This American Life; and YouTube, the video-sharing Web site that puts a boundless array of video artifacts, from historic political speeches to cell phone videos, at every Internet user's fingertips.
Black Magic
, ESPN's fascinating examination of the integration of basketball and its impact on the programs of historical black colleges and universities, received a Peabody, as did
Saturday Night Live
's campaign-season political satire.
A Peabody went to Sichuan Television for its immediate coverage of the deadly earthquake that struck its Chinese province. For several days, SCTV was the only source of video for television news organizations around the world. National Public Radio was also recognized for its exhaustive and sensitive daily reporting on the quake.
Peabodys went to CNN's coverage of the Presidential primaries and debates, and to the election-year broadcasts of Washington Week with Gwen Ifill. The Hearst-Argyle television-station group was awarded for its extensive Commitment 2008 coverage of local and regional political contests.
In the realm of the arts, Peabodys went to The Metropolitan Opera's Live in HD series;
The Gates
, an HBO documentary tracking the 24-year making of a now-celebrated installation in New York's Central Park; and to NBC's dazzling telecast of the Beijing Olympics Opening Ceremony and the ceremony director, Zhang Yimou.
The entertainment series selected included
Breaking Bad
, AMC's thorny drama about a terminally ill science teacher who turns to making and selling methamphetamine to build an estate for his wife and disabled son.
John Adams
, HBO's richly detailed miniseries about the lawyerly Founding Father, his wife Abigail and the times in which they lived, received the award. Also cited was HBO's comedy
Entourage
, a wicked take on Hollywood and the joys and sorrows of minor stardom.
Jungle Fish
, a handsomely stylized slice of South Korean teen life from the Korean Broadcasting System (KBS), received a Peabody.
In addition to YouTube, a Peabody was awarded to the New York Times' Web site (www.nytimes.com). Another went to Onion News Network (www.theonion.com/content/video), where video parodies of newscasts and newsmakers are so shrewdly conceived and produced that they're often hard to distinguish from the real thing.
"We recognize the great transformations affecting dissemination of news and information,"
Newcomb said.
"The variety of choices available to citizens does in fact range from the best traditional journalism expanded for the Web, to sharp critiques in the form of parody and satire. Both can achieve a level of excellence that reaches the Peabody standard and both require citizens to respond with careful analysis of their own."
A Peabody went to NOAH Housing Program Investigation, a series of more than 50 reports by New Orleans' WWL-TV exposing problems and possible fraud in a multi-million dollar program designed to help homeowners rebuilding after Hurricane Katrina. Awards also went to
Failing the Children: Deadly Mistakes
, Denver TV station KMGH's multi-part expose of tragic incompetence in the city's Department of Human Services.
National Public Radio's 36 Years of Solitary: Murder, Death and Justice on Angola received a Peabody for a gripping investigative report questioning the guilt of two inmates at Louisiana's notorious prison farm. The two have been kept in solitary confinement for more than three decades.
Newcomb commented on a
"stunning array of notable documentaries,"
saying:
"This year the Peabody Board was faced with what can only be described as a renaissance in the form. Our decisions came after difficult, but thorough reviews of one of the best pools of docs ever submitted."
Among the documentary winners, Shanghai Television Group's
The Red Race
provided a shockingly intimate portrait of the rigorous -- some would say sadistic -- training that Chinese child gymnasts undergo. Campaign, a quirky P.O.V. film, illuminated Japan's political system by following one guileless candidate's run for a city-council seat.
Hear and Now
, shown on HBO, poignantly chronicled the process and consequences of a middle-aged deaf couple who undergo cochlear implant operations. One splendid Independent Lens documentary,
Mapping Stem Cell Research
, followed a neurologist obsessed with discovering a way to reverse the effects of his beloved daughter's spinal injury, while another,
King Corn
, is a deceptively whimsical exploration of what our corn-syrup saturated diet means to our health and the environment.
Peabodys also went to
Ape Genius
, a NOVA documentary examining the latest research on how the intellectual capacity of gorillas, chimps, bonobos and orangutans compares to ours. Cinemax's Nanking offered a wrenching remembrance of a small group of Westerners who tried to save Chinese civilians from the horrors of the 1937 Japanese invasion.
Crossfire: Water, Power and Politics
, a documentary from Las Vegas' KLAS-TV that achieved network quality, dared to look hard at a plan to pump massive amounts of water from rural Nevada to its booming, major city and at what this will mean to ranches, farms, Native Americans and the environment.
Depression: Out of the Shadows
, a multi-dimensional, ultimately hopeful examination of the devastating disorder that affects millions of Americans, received a Peabody, as did Hopkins, ABC News' compelling verite series filmed in the halls and operating rooms of the Johns Hopkins Hospital.
A Peabody was also awarded to R
ichard Engel Reports: Tip of the Spear
, a series of reports under-fire by the NBC News correspondent from the deadliest zone in Afghanistan.
Lifeline
, a CBS News 60 Minutes report, received a Peabody. It memorably encapsulated the plight of America's 47 million uninsured by showing some of the 18,000 people who showed up when a free-clinic mission, designed for Third World charity, set up shop for a weekend in Tennessee.
speaking of
Avatar
...
M Night is shooting

THE LAST AIRBENDER
I've really no idea what M Night Shyamalan is going to turn
THE LAST AIRBENDER
into, but whatever it is - it's actually shooting atop Mount Penn! The area's
READING EAGLE
seems to have been given a certain degree of access and as a result we have the first report on the making of the film with pictures! So if you care about this project - this is the first chance to get excited or discouraged... depends on your point of view...

Click Here to see the pics and report from the READING EAGLE!
The Gathering







The San Diego Union Tribune is

reporting

on a controversy brewing at the

Chuck Jones Gallery

over a new one-of-a-kind oil painting displayed in their window. It's a parody of Leonardo da Vinci's

The Last Supper

named

The Gathering

. It substitutes Looney Tunes characters, and the Grinch, for disciples — and Bugs Bunny for Jesus.



"Most people think it's fun and amusing, but 5 percent are pulling their hair out,"

said Mike Dicken, sales director for the gallery.

Click here for a larger version of the above

. For more information

click here

.



(Thanks,

Jon Cooke

)

(Thanks

cartoonbrew

)







NY Times on New Walt Disney Family Museum



The

New York Times

has

taken a look at the Walt Disney Family Museum

, which is under construction at the Presidio in San Francisco, CA, and scheduled to open in October 2009. The museum is a by-product of dissatisfaction by Disney's heirs at how his life and his legacy have been shown in the past, with Diane Disney Miller (Walt Disney's sole surviving child) noting Marc Eliot's 1994 biography

Walt Disney: Hollywood's Dark Prince

(which depicted Disney as a bigot) and even the efforts of the Walt Disney Company itself (

"They try, but there is nobody there anymore who actually knew him."

) She added that,

"My kids have literally encountered people who didn't know that my father was a person."



The museum will focus on Walt Disney's life story, and will be run by Richard Benefield, the former deputy director of the Harvard Art Museum.





Newsarama Speaks with

"League of Super Evil"

Creators



Newsarama's Animated Shorts has

interviewed the creators of

League of Super-Evil

, a new animated series about a gang of super-villains who are very very bad at being bad. Nerd Corp. founder Asaph "Ace" Fipke and series creators Philippe Ivanusic-Vallee, Davila LeBlanc and Peter Ricq discuss the origins of the series, the similarities to Ralph Bakshi's

Mighty Heroes

series, who the major comic book nerd is in the group, the appeal of the world they have created, and what sets them apart from the many other superhero parody cartoons.







"Coraline"

's Henry Selick Gets Tex Avery Animation Award from AFI

The American Film Institute has awarded its Tex Avery Animation Award to Henry Selick, director of

The Nightmare Before Christmas

and

Coraline

, at the AFI's Dallas International Film Festival.

Local station WXII spoke with Selick briefly

about the award and the legacy of Tex Avery, the labor of love in making

Coraline

, and the challenges of finding stop-motion animators.







Briefly: New Animated

"Jungle Book"

and

"Jelly Jamm"

Series

* Indian animation studio DQ Entertainment will be producing a new CGI animated series based on Rudyard Kipling's

Jungle Book

, which is expected for delivery in 2010.

[

World Screen

]

* Spain's Televisión Española, Secuoyas, and Vodka Capital are teaming for

Jelly Jamm

, a new CGI animated series about five friends who live on the planet Jammbo, the source of all music in the universe.

[

World Screen

]





Michael Bay reveals the new robot stars of

Transformers: Revenge of The Fallen














Mechanical jaguar Ravage acts as the Decepticons' spy.



Director Michael Bay and screenwriters Alex Kurtzman and Roberto Orci gave USA Today a first look at the Autobots and Decepticons that will be hitting the screen when

Transformers: Revenge of the Fallen

premieres in theaters

June 24

.

Ever since the mechanical jaguar Ravage prowled through the trailer for this summer's sequel, audiences have been wanting more word about the feline-ish Decepticon.



"In the spirit of 'more than meets the eye,' Ravage isn't just lethal because of his sharp teeth,"

says Kurtzman.

"There's actually another skill set Ravage has that didn't exist before, so there's going to be a surprise for fans."



Ravage, as before, won't speak like the other Transformers.



"We wanted to stay true to the idea that Decepticons who take visual clues from beasts maintain that,"

says fellow screenwriter Roberto Orci.

"It would be strange to have a talking jaguar, or a scorpion with an English accent."



Filmmaker Michael Bay has ensured that Ravage has lots of company, including many redesigned favorite robots from the original 1980s incarnation, in the new film.



"We have big guys, some little guys. We have a lot of littler ones, too. Little weirder ones,"

Bay says. Like the Insecticons, which were giant bugs in the original series and Hasbro toy line but are now tiny creepy-crawly infiltrators.

Some of the new robots who'll be joining Optimus Prime and Bumblebee for the sequel:

Arcee is the only female and turns up as Megan Fox's hot-pink motorcycle. Kurtzman and Orci say she was in an early draft of the first movie.

"But we felt we needed to win the audience over before asking for that suspension of disbelief: a feminine alien robot,"

Kurtzman says.

The Decepticon known as the Fallen is an ancient robot, sort of the Transformers' version of Lucifer. He's one of the original robot aliens, and his defiance and arrogance led to his banishment into another dimension. The screenwriters say that the Fallen holds the key to life on both Earth and Cybertron, the Transformers' home planet.

For a complete list of new Autobots and Decepticons, visit

USA Today

.





Animated Views: first look at

Captain Toontastic




As well as new reviews for

Monsters Vs. Aliens

and the DVD release of

The Zeta Project: Season One

,

Animated Views

today discusses the traditionally animated superhero comedy

Captain Toontastic

, being animated in France for international release.











Hugh Jackman Offers Fans An

'X-Men Origins: Wolverine'

Hometown Premiere



Wolverine isn't the most competitive guy on the planet — after all, he's already the best at what he does. And the upcoming star of

"X-Men Origins: Wolverine"

recently jumped in front of the camera to show exactly how generous he is, recording a special video message that offered one lucky X-Men fan the chance to win a hometown sneak preview of the film.



Over on the

official contest website

fans can throw enter the contest for an opportunity to bring an advanced screening of

"X-Men Origins: Wolverine"

to their local theater.

To enter the competition, voters are asked to submit their name, e-mail address, date of birth, state and zip code through an online form. The website displays a map of the United States and the city with the biggest "X" by

April 17th

wins the screening.

As of this writing, the fiercest battles appear to be on the eastern side of the country, though California is also seeing some stiff competition. Nonetheless, its plain to see that middle America is largely out of the competition, with some states such as Montana and North Dakota completely bare of competitive cities.

Still, in light of the recent leak of

"X-Men Origins: Wolverine,"

the timing seems awkward to champion an advanced preview contest when a rough version is available online. However, along with other reasons why you might want to opt out of viewing the leaked movie, there's absolutely nothing like the theatergoing experience — especially for a movie that promises to be as epic as "Wolverine."

Seriously — getting a chance to see Deadpool and Gambit on the big-screen before anyone else? We'll take that over squinting at a tiny computer monitor any day of the week.







Lagging Indian Animation





Here might be

one more reason that the Indian 'toon biz, despite a growing infrastructure and lower labor costs, isn't taking over the world:

... The bull run in the domestic animation industry appears to have lost steam mid-way. While 2009 has an impressive line-up of releases, industry sources confirm that some of these projects were being delayed by 2-3 months ...

The reason for the sluggishness, perhaps, is what happened last year. The animated industry made significant progress in the year 2008 with five major animated theatrical releases, but none was a box-office hit. All movies under major banners failed to impress the audience including Walt Disney and Yash Raj films'

Roadside Romeo

, Elecom Fiesta's

Cheenti Cheenti Bang Bang

, Shemaroo's

Ghatotkach

, Phoebus'

Dashavtar

or the celebrity-backed film

Jumbo

.

These films were backed by huge marketing budgets. It was reported that

Jumbo

had a marketing budget of Rs 4.5 crore.

Roadside Romeo

was backed by Disney, which added to its marketing blitz. Visual Effect Society had nominated

Tata Elxsi

for animation work in

Roadside Romeo

along with movies like

WALL-E, Kung Fu Panda

and

Waltz with Bashir

and

Bolt

. ...





"The Indian market is not fully-matured for animated products. Disney, Sony and Cartoon Network are committed towards building the animated market in India, however till the content does not meet high-quality standards it will continue to remain a challenge. Multiple small studios which do not have sustainable business models are beginning to feel the heat"

said AK Madhavan, Chief Executive Officer, Crest Animation Studios.





"Not fully-matured for animated products."

That's executive-speak for

"The audience stayed away in droves, but don't blame us!"



Enthusiasm by conglomerates to shift everything overseas always gets damped down when box office returns are anemic.

To use an analogy from the U.S. film industry circa 1940:

"If cost were the only factor, then Republic Pictures would rule the world."



It's not enough to do them cheap. You must also have them make money.

(Thanks

Animation Guild Blog

)