Monsters vs. Aliens

destroys the competition to rank No. 1
DreamWorks Animation's 3-D animated
Monsters vs. Aliens

smashed the competition over the

March 27 weekend, topping the box office and raking in a monstrous estimated $58.2 million, according to

The Hollywood Reporter

.

Monsters

played on about 7,000 screens in 4,104 theaters, with the PG-rated action comedy offered in 3-D on just over 2,000 of those United States and Canadian screens. But the 3-D screens contributed 56 percent of the overall tally—or $32.6 million from just 28 percent of the screens—to power

Monsters

to the biggest 3-D opening ever, the trade paper reported. (The 3-D screenings charged more.)

Meanwhile, the supernatural thriller

The Haunting in Connecticut

opened strongly in second place with $23 million.

Nicolas Cage's

Knowing
, which topped the box office in its opening, dropped to third place in its second weekend of release, slipping a modest 40 percent to fetch $14.7 million, for a 10-day total of $46.2 million.
The WB Cartoon Billboard returns!
Remember the Warner Bros. cartoon mural that adorned the Burbank studio lot at Olive and Pass Avenues? I noted
back in December
that the studio took down the 15 year-old cartoon wall and I wondered what would take its place.
Well the good news is that Looney Tunes, Hanna-Barbera and the animated DC Comics characters will return. In fact, you're all invited to the public unveiling of the new billboard. Warner Bros. is holding a free, open to the public,
Animation Celebration
on
Tuesday, April 7, 2009
. At 7:00 p.m. a public entertainment program will precede the billboard reveal at 7:20pm. A live, special performance by the
Beat Freaks
,
"the phenomenal all-girl dance crew from the 2009 edition of America's Best Dance Crew."
The studio is encouraging people come dressed as your favorite DC Comic super hero (
Batman, Superman, Wonder Woman, Green Lantern
, etc.) or other Looney Tunes or Hanna-Barbera character and there will be prize giveaways, including tickets to the Warner Bros. Studios VIP Tour, as well as DVDs, toys and more. Bruce Timm, James Tucker and Glen Murakami will be there to draw your favorite characters — and free refreshments will be provided. Get there early… this is guaranteed to snarl traffic.
(Thanks
cartoonbrew
)
"Bye-Bye Bin Laden"

premiered Saturday in Miami
The feature-length animated musical
"Bye-Bye Bin Laden,"
a satire about war, TV and religious excess at home and abroad, will have its world premiere in Miami Beach on Saturday, March 28 as an Official Selection of the South Beach International Animation Festival.
The cast of characters includes Bin Laden, Mullah Omar, and Jenna and George Bush. The 70-minute film is narrated by the ghost of Mark Bingham (gay hero of Flight 93) for the benefit of the post-apocalyptic roach-boy, Josh.
Bye-Bye Bin Laden
's 8:30 p.m. time slot is considered the most prestigious at The South Beach International Animation Festival, which screens its selections at the Miami Beach Cinematheque, 512 Espanola Way.
"We wanted to have our world premiere in Miami because Miami is the most international city in America, and because the South Beach Animation Festival is suddenly very hot,"
said writer-director Scott Sublett.
The animated film
Bye-Bye Bin Laden
is based on the stage musical of the same name, which had its world premiere in San Francisco in 2004, and was the world's first musical comedy about the titular terrorist. Now it's the first feature-length animation to be made at any university on planet Earth (which is hilariously destroyed at the beginning of the movie).
"South Park

meets

The Daily Show"
is how the director describes the film:
"We're absolutely a comedy, but we have very serious things to say about war, the media, women's rights, and most of all religious extremism."
The film was made in connection with San Jose State University with a student crew.
Bye-Bye Bin Laden will be released on DVD and VOD by Cinequest Distribution later this year.
Also at the festival, celebrity John Canemaker will be
"Marching to a Different Toon"
at 7 p.m.
Friday, March 27
at the Tower Theater, 1508 SW Eighth Street in Little Havana, and 2 p.m. Sunday, March 29 at the Miami Beach Cinematheque.
Canemaker will screen several of his most famous short films, including his Academy Award-winning short The Moon And The Son: An Imagined Conversation. Following the screening, Canemaker returns to discuss his methods for animating "difficult subject matter." This fascinating information is valuable to all types of filmmakers, while movie enthusiasts will have a greater understanding and appreciation for the films they see.
Bill Plympton is a guest of honor alongside Canemaker at the festival, which ends Sunday.
The Miami Science Museum, 3280 South Miami Avenue in Coconut Grove, is another festival venue.
The South Beach International Animation Festival continues through Sunday. Events are generally $10 ($7 for members, seniors and students), but several programs are free. For schedule and ticket information, visit
www.southbeachanimationfest.com
.
Disney's

The Sorcerer's Apprentice
This is Nic Cage as the Sorcerer in Jerry Bruckheimer's live-action version of Disney's
"The Sorcerer's Apprentice."
More photos of Cage as the Sorcerer at
FilmDrunk.com
. This news has inspired me to start a new tag category on Cartoon Brew, and yes, I plan on using this tag often.
(via

Topless Robot

)
(Thanks
cartoonbrew
)
Trailer for CG Animated Short

MEET MELINE
.
Once in a while, I would come across a promising independent project online that spur me to plug it here for much deserving attention. The project I'm referring to is
Meet Meline
, a 6 minute animated short film created by French CG artist Virginie Goyons and Sebastien Labanon and after two years of working independently, they are ready to present the trailer on the official site. Here's a brief synopsis:
"Meet Meline"
tells the story of little girl, named Meline, that will be faced with an extraordinary event. A strange little creature will appear on her life. The story follow this unusual encounter from the little girl's point of view.
I'm can't help but become captivated with the child-like wonder of the girl as she is searching for the mysterious little creature. Its a great piece of quality animation with gorgeous details and the music playing in the background is beautiful. I can tell alot of heart went into this. Check out the embedded trailer after the break.
(Thanks
Twitch
)
'SpongeBob'

and
'Madagascar 2'
Winners at Nick's Kids Choice Awards
The winners of the animation-related categories of
Nick's 2009 Kids Choice Awards
are as follows:
Favorite Cartoon
Phineas and Ferb
Winner:

SpongeBob SquarePants
The Fairly OddParents
The Simpsons
Favorite Animated Movie
Bolt
Kung Fu Panda
Winner:

Madagascar 2: Escape 2 Africa
WALL-E
Favorite Voice from an Animated Movie
Ben Stiller
Winner: Jack Black
Jim Carrey
Miley Cyrus
In related
SpongeBob
news, Tom Kenny (voice of
SpongeBob
) is interviewed in the April 2009 print issue of
NICK Magazine
in which he discusses
"SpongeBob SquarePants vs The Big One"
(featuring the voice of Johnny Depp) which is scheduled to make its Nick TV debut
Friday, April 17th
at 8 PM. The article also says that the full episode will be available to view online at
SpongeBob.com
after the special airs.
Watch the new extended

Star Trek

TV spot
A new extended TV spot has gone live for J.J. Abrams' upcoming
Star Trek
, with mostly footage we've seen and a few glimpses of new stuff. (Who's the guy in the clear water pipe?) You can watch the trailer below.
Animex honors tale of disobedience on other planet
"Ex-E.T,"
about a disobedient little child on another planet, won the 3D Animation Award at this year's Animex International Festival of Animation and Computer Games.
This year marked the 10th anniversary of the festival, held annually in Middlesbrough in northeastern England.
Produced at Frances EMSA (L'Ecole Superieure Des Metiers Artistiques),
Ex-E.T
tells of a wayward child on a planet where the only rule is order. After some pills given by doctors, the little child becomes as others until the moment when he splits the pills. The sanction will be done immediately, the child will be sent to earth.
Office Noise
, from The Animation Workshop in Denmark, was the runner-up in the 3-D Animation category.
Fish
, from The Arts institute at Bournemouth, won the 2D Animation Award, while the runner-up was After the Rain, from Paris' Gobelins School.
Fish
is a tale about a little girl's journey towards happiness, the purpose of goals and finding inner strength, in a world that is as real as a fake smile. A surreal piece with elements of symbolism and plenty of fish.
The winner of the Experimental Animation Award was Frequency Morphogenesis, a musical visualisation of the creative power of audio frequencies. It was made at the Filmakademie Baden in Wuerttemberg, Germany.
The Sound of Silence
, from Ling Tung University in Taiwan, was the runner-up.
The Visual Effects Award -- for the best and most innovative use of 2D or 3D media combined with live action -- was given to Alienated, made at the University of Hertfordshire. It's a visual FX piece about an alien who has moved to planet earth to seek acceptance among the human race. As well as a comedy, this film explores social boundaries and hopes to inspire and motivate people to be yourself.
Walka
, from the Filmakademie Baden D Wuerttemberg, was the runner-up for visual effects.
In
For Sock's Sake
, the winner of the Stop Motion Award, a sock escapes from the clothesline to go clubbing. It was made at Gobelins School. The runner-up was Double Je, a joint production of La Poudriere, Ecole du Film d'Animation and Francesco Bianchini Grant.
Fun
is PSP, made at Daegu University, South Korea, won the Motion Graphics Award, while
Still Life
, produced at Pratt Institute, was the runner-up. The winner of the Games Art Award was
World War
, made at the University of Hertfordshire; the runner-up was
Canary Wharf
(University of Teesside, School of Computing).
Superman

On Pause!
Clark Kent's identity is gonna be safe a little longer (at least on the big screen; by the end of friggin'
"Smallville"
everyone's going to know CK can outrun the local Amtrak - jesus, zip it boy!) - at least until DC flogs a page from Marvel's book and works out a way to distance themselves from Warner.
According to comic-book writer and screenwriter Mark Millar
(
"Kick-Ass"
), the red-blue blur won't be returning to cinema screens anytime soon. Warners have the
"Superman"
series in a freeze.
Millar had pitched the studio a new
"Superman"
trilogy (one that had apparently sparked the interest of an unnamed big-time director) - an epic, rather-dark set of films that would resemble Bryan Singer's
"Superman Returns"
about as much as Miguel Ferrer does cousin George Clooney.
"Warner's talked to us and a few other writer/ director teams, but things seem to be in stasis right now. As far as I understand, nothing is happening with Superman at the moment and so the director and I are just working on another project. If it happens, great. If it doesn't, no biggie. [My latest comic] taught me that creating your own stuff can be at least as much fun and you don't have to answer to anyone. It's the future, baby."
(For the record : It was announced yesterday that Millar would be writing a feature film version of
"American Jesus"
, a comic-book project with Matthew Vaughn)
''The director (I believe it's Matthew Vaughn - makes sense no, considering the bracketed bit above?) was the one who was approached by WB, not me, so it would be bad form for me to spill the beans"
, Millar said.
''But we're working on our replacement project at the moment and when this gets announced I'd imagine we'll talk a little about Superman''.
That's right - there still may be hope.
''We're one of three teams they were in serious chats with (more for the director than me) and if Superman is available when we finish our next film who knows? But we're starting production on the new movie in June and so Superman absolutely not on our dance cards anytime soon. A shame, really, as we'd have completely reinvigorated it, but then again I like the idea of complete control over everything I'm doing now (which I have on all my projects). The idea of taking notes from the guys who liked the idea of Superman lying in bed for the final act of Returns doesn't sound good to me
."
One of our contacts at Warner Bros knew nothing of the situation but did say, as far as he/she was aware, there was no movement on any
"Superman"
project.
Ya see,
"Superman Returns"
(2006) received fairly mixed reviews (I personally loved it but can understand why some dyed-in-the-wool fans didn't enjoy it as much as the Dick Donner film) and a slightly-under box-office tote, so Warners have been more frightened than a teenager around Michael Jackson to do another so soon. The studio - and power to them, regardless of what you thought of the film you have to admit they cast brilliantly - insist they're keeping Brandon Routh on as Superman for the next film... when it happens.
New Rooney music video for

Iron Man: Armored Adventures
EW.com
has posted a new music video of Rooney playing the new theme song from
Iron Man: Armored Adventures
, the animated series on the Nicktoons Network.
The video also features clips from the 'toon.
Iron Man: Armored Adventures
debuts
April 24
.
JAM Media Rolls with Hybrid Toon

Roy
Roy
, a new 13x26 animation/live-action hybrid series from Dublin-based JAM Media will be making a splash at MIPTV this month. Commissioned by CBBC and executive produced by Sue Nott,
Roy
(formerly titled
Badly Drawn Roy
) centers on the trials and tribulations of a cartoon boy who is born in the real world. The series is shot in HD, but also available for standard def. broadcast in the fall of 2009.
Roy
is quite unlike any other existing animated series says CBBC's Anne Gilchrist :
"I've loved the idea of

Roy

from the moment I heard about it – it's funny, poignant and totally mesmerising to see how an animated boy copes with living in a world of real people. This drama has real relevance to children and deals warmly with the bemusing situation of being a 'fish out of water.' "
JAM Media was formed seven years ago by John Rice, Alan Shannon and Mark Cumberton to create cross-genre and platform entertainment brands. The shop has developed the Head-Hunter software IP that enables broadcasters and viewers to personalize JAM's animated content with their pictures and allows this content to be shared on video sites, blogs, social networks and mobile phones. Other JAM titles include
PICME, Funky Fables, Powder Pink Girls
and
Escape
. For more info, visit
www.jammedia.ie/badlydrawnroy
.
VIZ Debuts

Naruto, Bleach

Pics on iTunes
Fans of VIZ Media's
B
leach
and
Naruto
movies can now enjoy dubbed versions of the pics on iTunes.
Bleach: The Movie, Memories of a Nobody
, and three full-length Naruto features
(Ninja Clash in the Land of Snow, Guardians of the Crescent Moon Kingdom

and

Legend of the Stone of Gelel)
are now available for purchase in standard-def format for $9.99 and for rent in high-def for $3.99 and regular-format for $2.99 in the U.S. (Prices in Canada are $14.99, $.499 and $3.99 respectively).
"

Bleach

and

Naruto

are two of the most popular animated properties to ever come to North America from Japan, and we're very excited for fans to check out these feature films on iTunes,"
says Ken Sasaki, VIZ Media's VP of strategy and business development.
"These movies can be enjoyed on a Mac or PC, a widescreen TV with Apple TV, or on the go with an iPod with video or iPhone, giving fans the opportunity to watch their favorite anime wherever they are."
More information is available at
www.Naruto.viz.com
and
www.Bleach.viz.com
.
Upcoming in Japan
Previews
Sora no Manimani
(astronomy club romantic comedy)
Hayate the Combat Butler
(second season)
Ristorante Paradiso
Valkeria Chronicle
Sea Story
Saki
(schoolgirl mahjong)
Shin Mazinger
Tokyo International Anime Fair Trailers
Anime
Another anime adaption of
Sayonara Zetsubou Sensei
, about a suicidal teacher and his pathological students,
may be in the works
. The first volume of the original manga has recently been released in North America by Del Rey.
Studio Fantasia
> ( AIKa, Najica Blitz Tactics) will be producing new anime series
Gonzo mecha anime
Linebarrels of Iron
will be extended with a original to DVD 25th episode called
"Tensai Bishoujo Kagakusha Rachel-chan" ("Genius Beautiful Girl Scientist Rachel")
, bundled on its ninth disc.
Manga
Via
Anime News Network
Santa Inoue
(Tokyo Tribes

and

Rinjin 13-go/The Neighbor No. Thirteen)
will be commencing a new manga series called
Dan Da Barbarian
in Monthly Comic Birz magazine on
April 30
.
Kadokawa Shoten's Comp Ace magazine has announced that the following manga series will launch in the July issue (which ships in May) or later:
Shin Strike Witches (New Strike Witches
, tentative title
)
CANAAN
Shin Koihime†Muso (True Koihime†Muso)
G-Senjo no Mao (The Devil on G-string)
Summer Wars Gaiden (Summer Wars Side Story,
tentative title
)
Angel Magister
Valkyrie Complex
After breaking in October 2007, Yoshiyuki Sadamoto's
Evangelion
manga will be resuming in July issue of Young Ace magazine.
Sadamoto also recently released his third art book, Carmine on
March 2th
. This collection will feature art from
Evangelion, FLCL, Diebuster, The Girl Who Leapt Through Time
, and
.hack
.
Live Action
Tokyograph
reports that public interest in the soon to be institutionalized
"saiban-in" (lay judge)
system has lead Fuji TV to adapted Toma Ikuta's court manga series manga
"Samayoi Zakura"
into a live action series, retitled
"Majo Saiban."
Written by Mamora Goda
("Mori no Asagao")
, the drama features Atsushi Ito as Keiichi Aiba, a "net cafe refugee" who gets chosen as a juror in the trial of a 28-year-old NEET
("Not currently engaged in Employment, Education or Training")
accused of killing three women.
Takashi Tsukamoto plays the role of the killer, while Rosa Kato plays a law student who is also selected for the jury. Fuji TV has tentatively scheduled the drama for this May.
Twilight

Director Back Away From Anime Statements
Director of the vampire-romance adaptation Catherine Hardwicke mentioned on the commentary track for the DVD release that she thought
"there's going to be an anime version of this in Japan."
On MTV's movie blog, Hardwicke
set the record straight
. MTV dismisses it as an off the cuff comment. Hardwicke says
"I haven't heard any plans yet"
The Final Theatrical

STAR TREK

Poster Has Arrived!!
MySpace Movies / Trailer Park has posted the final theatrical one sheet for Abrams'
STAR TREK
movie.
Click the image below to jump to a bigger version!
I kinda like this, even though a big part of me wishes the same abstract image was in color. The exact same image by way of, say...Bob Peak styling...would be kinda smokin' if you ask me.
But, this is diggable all the same...
An Interview With

Waltz With Bashir

Animation Director Yoni Goodman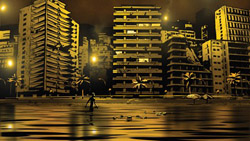 Ari Folman's animated documentary

Vals Im Bashir (Waltz With Bashir)

is a pioneer in many ways. The film was one of the first (along with

$9.99

) feature films emanating from Israel to be released in theaters. Beyond that,

Bashir

, a 2D animated film, was produced primarily with Adobe Flash, a medium that is typically reserved for television and internet projects. Of late, many Flash features have been emerging, but none (save perhaps

Sita Sings the Blues

) have been praised to this degree.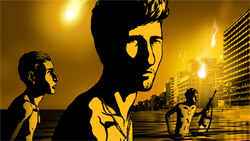 Four years in the making,

Waltz With Bashir

went on to grab more award nominations than the crew had artists, but no achievement was bigger than the film's nomination for the Palm d'Or (Best Film) at the 61st Annual Cannes Film Festival. It set the tone for the coming awards season, which saw the film pick up the Golden Globe for Best Foreign Language Film and an Academy Award nomination in the same category. Animated films are often left out of the "Best Picture" category, relegated instead to the animation corner of the ballroom, but at the 43rd National Society of Film Critics Awards,

Bashir

took the top prize - Best Film.


Yoni Goodman
, the film's animation director, took some time between award shows to answer a few questions.
AARON SIMPSON: What has been the best part of the international praise the film has received?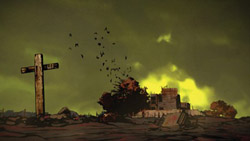 YONI GOODMAN:
I think throughout the production our only thought was to finish the film. That was our goal and we thought of nothing past that. Initially it was supposed to be a small art house movie, with very limited distribution, and of course we had our fantasies of how people would react, but we never suspected the movie would go so far and attract that much of attention. The first real shock was the premiere at Cannes. We had heard stories about the event, but nothing could have prepared us for the real thing. At the end of the screening, we had a 20 minute standing ovation from 2,300 people, which was quite a shock (until that moment, I didn't notice that the theatre had balconies). Later on that week, we were the talk of the festival, and that just didn't stop. In a way, it hasn't really stopped since, so we're still in a 12-month rollercoaster ride.
AARON: Tell us about the whole rotoscoping confusion…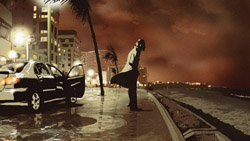 YONI:
Well,
Waltz with Bashir
has 0% rotoscoping in it. We keep fighting the rumor that we rotoscoped, as many people compared our process to Linklater's
A Scanner Darkly
and
Waking Life
, but the whole movie is Flash cutouts. We did have live reference of the interviewees, but we just used it to learn the movements. There was absolutely no tracing over a video.
David has this great dark, graphic novel, contoured look which we really wanted to use, so I had to come up with a technique that we could work with, and still refrain from doing it in traditional animation. Traditional animation features typically employ 200-300 people. There are the keyframers and inbetweeners and colorists and cleanup artists, but we just don't have enough experienced manpower in Israel, and no budget to outsource it, so we used cutouts instead.
Every drawing made by David was sliced into many pieces in Flash, sometimes counting to 400 pieces per character, and they were set up in different levels of hierarchy. So like normal cutouts in Flash, we split a character into primary pieces - head, torso, limbs etc.. Each of these was symbolized, and inside each symbol we had another set of layers containing the parts it was made of. This complexity didn't allow us to draw much of anything from scratch, as we were maintaining David's original line. Eventually was done using 10 animators (including myself).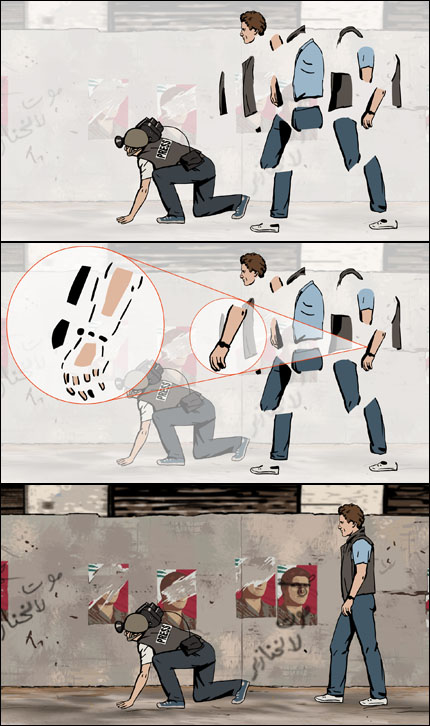 AARON: Looking back at the original 2005 pitch short?

YONI
: Mainly, we got better at it (laughing).
AARON: What was the goal of the pitch?


YONI:
One was to get the budget for the movie, the other was to check how three minutes would hold using this technique. I had quite a lot of prior experience with complex cutouts, but this one was by far the most complex I've ever worked with. David Polonsky and I were the only crew members working on the pitch (except for a two or three shots, where I was aided by Tal Gadon) and we had only three extremely sleepless weeks to get it done from scratch. So a few parts of the pitch didn't meet the later we established later on. These shots were repaired and most of the pitch is actually in the movie.
AARON: How did your process evolve by the end of the production?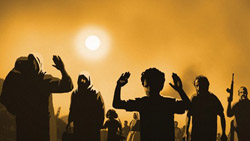 YONI:
We learned a lot from doing the pitch, but it was only when we got into full production that we got really better at the technique. One of our big decisions hinged on how much should we break a character: how many pieces, how complex, what is a better hierarchy system, stuff like that. The crew had to go through a very tough first 20 minutes of the film before things went really smoothly.
The funny thing is, for all it's faults, when Ari would go and get more money from investors, the original pitch was still the thing that got people's attention.
AARON: Which version of Flash did you use on the project?

YONI:
When we worked on the pitch we used Flash MX, and we had to convert each shape to a symbol, which made the tracing very slow. We were very happy when the drawing object feature appeared!
AARON: Once an illustrator had finished the artwork for a particular scene, explain the process of preparing that layout for animation.

YONI:
Once an illustration was complete (mostly by David, he illustrated something like 80% of the movie), the image was imported to Flash, traced and broken into pieces. The sliced pieces would then be converted to symbols and set in their appropriate hierarchies. Then we would place the sound and the animatic inside the file (after the animatic was done, we sliced the sound according to the shot's length, that way we knew when it was supposed to end in the FLA). The animatic was placed as reference for timing and acting in a guide layer, and then the animation process began. The first part, moving the main symbols, requires some skill, because things never look completely right - joints are usually breaking and the movement looks very stiff.

Once the main symbols are done, we went into the secondary hierarchy to animate each symbol and compensate for the stiffness, creating a smoother look for the animation. Usually you work in and out, back and forth - sometimes correcting the main symbols after you are done with the inner hierarchy, then going inside and adjusting the new positions. It sounds terribly complicated, and in a way it really is, but still, to get that very fine clean movement, it's a lot faster (and easier to correct) then traditional animation.
At the end of it all, I think there were less than 10 percent of the film was traditionally animated. The only scene that was fully created using traditional animation was the waltz scene.
AARON: It sounds like very little CGI animation was employed in the film, but many sequences appear to have so much depth. Do people often mistake the animation for CGI?

YONI:
A few month ago I went to Annecy film festival, where
Waltz with Bashir
was the opening movie, and in my speech, as part of my ongoing campaign to deny the rotoscope rumors, I said "this movie has no rotoscoping in it" (my animators asked me to say it). Later on, someone told me there was a rumour that it was all done in CGI. So much for fighting rumours. We had very few shots (10 or so) in which we used Maya, but that was mainly for camera movements. There was no actual modeling, except for a ship and a few houses in the snow which you can see with a very good telescope.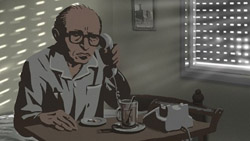 I think most combinations between 2D and 3D animation don't work so well, and we really tried to make the 3d environment as flat looking as we possibly could. We just placed the Flash animated sequences on flat planes in the 3D environment and moved a camera through them so we could get a depth-of-field feeling. We also got to a point where people mistook very complex Flash cutouts for CGI. For instance, the scene where the tanks are squashing cars, but these parts were all done in Flash. We didn't do animation in any other software (unless you regard the explosions as animation. These were done in After Effects).
AARON: How else did you use After Effects on the project?

YONI:
Every shot in the movie was exported as PNG files and rebuilt in Adobe After Effects. The smoke, explosions and simple camera movements in the movie are all done in AFX. We also used grains and filters to avoid the vector look Flash usually gives.
AARON: During the production, did your team "sweatbox" scenes - or were scenes reviewed in smaller teams?

YONI:
Ari already finished the interviews before we began the animation production, then he edited them to a 96 minutes video. After he was done, we sat together, Ari, David and myself, and watched the video, breaking it down to storyboards, deciding which part would be a "talking head" scene, which would be a recreation and which would be a fantasy scene. Ari had a rough idea of what he wanted, but he was very open to suggestions and we had our free say. I would say the construction of the film was a team effort of the three of us (with Ari, of course, having the final say). My team often had suggestions of how we could do things differently and we changed the storyboard many times if a better idea emerged. Eventually, I think every team member has his/her mark on the film.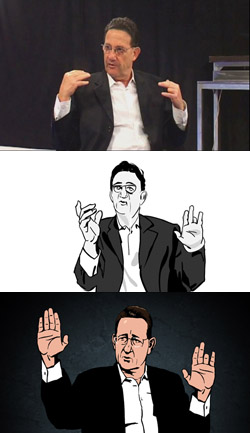 AARON: Was there a significant amount of final animation that didn't make the final cut?

YONI:
Luckily, no. We had major two scenes deleted, but they were both in animatic, with no real animation. One of those was actually completely designed and ready to go, but we cut it right before we started.
AARON: With all of the various pieces that went into each element, did the software ever strain under the weight of your production?

YONI:
As we used highly-detailed symbols with lots of inner-hierarchies, the more you got into the nested timelines, the heavier the FLA would become. Some work files got to a point where they could not be opened on a computer with less than 4 GB of RAM. This is actually the main reason why we only worked with one shot per FLA, and no shot over 40 seconds per FLA, otherwise it would crash the software or make it impossible to work with.
Flash is a sort of a blessing and a curse all at once. It's a format I find very handy, very easy to produce high quality animation, and it's very easy to correct and fix animations (once you learn how to build the file correctly), but at the same time, it still has the "internet animation software" attitude to it. I always feel like I'm abusing the software by doing things it wasn't designed to do, and it's a shame, because I feel it can do so much more. I've been using Flash since version 4, and it doesn't seem like there have been many improvements in the broadcast field. I actually think Flash MX was much better at handling heavy files and high-rez exports than any other version that came after it.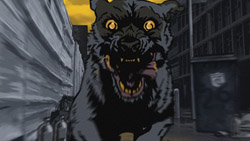 I have many ideas, and I also read many thoughts (in your site as well) how to improve Flash in that aspect. I think Flash needs to evolve into a broadcast-quality-specific animation software, perhaps as a separate "Flash-based" software that uses all of it's features but is strong enough to handle the strain. Ari Folman once tried to approach Macromedia (they were the owners then) after we finished "the material that love is made of" and the pitch to present some of our thoughts but they sort of snubbed him out of the building. I would be really happy if they decided to improve the software in that direction.
AARON: How did you celebrate the wrap of the production?

YONI:
We went out and got seriously drunk. We had a tradition in the studio - with every 20 minutes of animation we finished (actually, every major event - animatic, 20 minutes, final wrap, going to Cannes, the premiere), the entire crew would go get drunk. Our producer, Yael Nahlieli, would get these insane deals, where she only paid for food but the whiskey was for free, and by the end of the night we would have finished 10-12 bottles of Jamesons. Pretty soon we were banned from most of the pubs in Tel Aviv.
AARON: Would you both look forward to animating with this particular process again?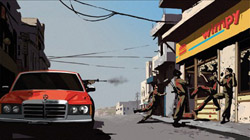 YONI:
I am actually trying to develop a new technique for our next film. It will probably be Flash-based, but I want to use more traditional animation and possibly a different look (we already did this one in
Bashir
:-))
AARON: Give us an idea of what the animation community in Israel is like.

YONI:
Israel has a fairly small but talented animation community. The jobs available are mainly on short clips, commercials and kids TV series. There's not enough money available for high profile projects but it's something that's growing year-by-year.
The market is beginning to understand how complicated and costly an animation production is, so nowadays when someone wants an animation project they know what they're getting in to. When we set out to do
Waltz with Bashir
, it was an impossible mission. Now that we are done, the same type of effort is still is an impossible mission, but if I had a tough time getting 10 extraordinarily good Flash animators, I think I can get 20 for our next project (Which will still be impossible to do, so we're very eager to start).
(Thanks
Cold Hard Flash
)
DreamWorks'

Truckers

trucking ahead
Academy Awards can be handy things for screenwriters wanting to get into animation: after Michael Arndt, who won the original screenplay Oscar for
Little Miss Sunshine
, was picked to work on Pixar's
Toy Story 3
,
The Hollywood Reporter

announces
that this year's adapted screenplay writer Simon Beaufoy, winner for
Slumdog Millionaire
, has joined DreamWorks to fashion the script for the long in development
Truckers
. Although the
Reporter
states that nothing is known about the story line, those following the Studio's progress must assume that this is indeed the first in Terry Pratchett's
Bromeliad Trilogy
, which DreamWorks optioned some years ago. Beaufoy's assignment to the film suggests that he has the British slant necessary to adapt Pratchett's work to the screen. DreamWorks are certainly looking for a new franchise: the author has sold over 30 million books and, if successful,
Truckers
could well be followed by the other titles in the trilogy,
Diggers
and
Wings
.
Sam Raimi Controls

Spider-Man 4

(Unlike

Spider-Man 3

)
Did you like
Spider-Man 3
? I didn't. Sadly, many fans of the Spider-Man franchise were let down by the third installment of the series but don't fret! We just may get a return to form with
Spider-Man 4
.
In an interview with Empire for this May's issue, Raimi openly talked about some of the problems with
Spider-Man 3
and confirmed some rumors we all heard about two summers ago when the movie was released.
"They really gave me a tremendous amount of control on the first two films, actually. But then there were different opinions on the third film and I didn't really have creative control, so to speak."
There were rumblings that Raimi wasn't allowed to truly do his own story and that producers forced him to include the popular Venom character as one of the villains in the story. When asked about that, Raimi responded:
"I don't even want to comment on Venom, because I know he's a great character and all the fans love him. I never want to say anything bad about a much-beloved character because usually it turns out that I'm the one that doesn't understand what makes it great."
It seems that the image above is more meaningful than at first glace…
More questions were thrown at the director about the issues surrounding Spider-Man 3 and the at-the-time Marvel head honcho Avi Arad's rumored insistence on Venom's inclusion, but Raimi responded professionally and didn't name names or play the blame game in his answers.
"The best way for me to move forward on films, I realize…and this was a lesson I had to learn for myself…is that I've gotta be the singular voice that makes the creative choices on the film."
It sounds promising that the next movie will return to the quality we've come to expect from the first two films in the franchise. I'm glad that Raimi is back in the captain's chair (for real this time) and that Tobey will be back as Peter Parker. We also know that Raimi really wants Kirsten Dunst back as Mary Jane but no deal has been made on that front as of yet.
As for the villains of the next Spidey film; we know Raimi has an interest in Morbius and they've spent quite a bit of effort in developing The Lizard. So, we could be seeing those two in the story. I like those choices as villains as they go hand in hand as a pairing in the Spider-Man comics and both have very similar origins.
I definitely prefer that pairing to the recently rumored (originating from a fan site) Electro and Carnage combo which I think would be a poor decision. They need to avoid Carnage if they want to keep the suspension of belief and have a more realistic (as realistic as it can be for a superhero flick) movie experience.
Or at least, save Carnage for the fifth film.
What do you think?
Spider-Man 4
is set to open in theaters
May 6, 2011
.
(Thanks
ScreenRant
)
Out of 'Toon
Animated movies are just for kids ... right? Wrong. Here are 10 movies that demonstrate how the form has moved beyond the underage mindset.
In today's post-Pixar age, anyone who believes that animated movies can't appeal to a broad range of ages is willfully ignoring the rich, rewarding work that's out there. That, or they simply still cling to the notion that cartoons, even if they are shown on the big-screen and make beaucoup bucks, are nothing more than things that tots drag their parents to and use to pass the time in between sugar highs.

There's no doubt that some studios are content to put out cut-rate computer-animated movies with wisecracking animals and easy-to-digest moral lessons, especially since these projects are guaranteed to sell toys, put young tushes in seats and bring in boffo box-office. But if you look back over the last six-and-a-half decades, you'll notice a handful of animated movies have sought to move beyond the needs of a 12-and-under moviegoer. Some have looked to use the flexibility of the medium to indulge in creative flights of fancy beyond the norm, or tried to explore what a series of two-dimensional renderings could accomplish in terms of tackling adult subjects; some have even tweaked socially acceptable notions of good taste. The one thing these films have in common, however, is that they aren't filled with live actors and aren't just for kids. In fact, many of them are strictly for adults only.

In the spirit of celebrating the complex, cunning, rude and even crude animated features that have pushed the envelope and pursued mature audiences, we take a quick look at 10 'toons that bucked that children's-entertainment trend. You may want to usher the young 'uns away from the computer, folks.
'Fantasia'

(1940):

Having already created the world's single most recognizable 'toon icon (big up

"Steamboat Willie"

!) and produced two full-length animated features (1937's

"Snow White and the Seven Dwarfs"

and 1940's

"Pinocchio"

), Walt Disney had proved that the medium was capable of reaching the masses on a big level. His new project, however, was even more ambitious: elevating animation to the realm of high art. This collection of shorts set to classical music runs the gamut, from abstract colors and shapes (the opening number, Bach's

"Toccata and Fugue in D Minor"

) to nightmarish horror scenarios (Mussorgsky's

"Night on Bald Mountain"

) to a big-bang-to-brontosaurus history lesson (Stravinsky's

"The Rite of Spring"

). Yes, the company's signature star does show up in the film's most famous episode,

"The Sorcerer's Apprentice,"

but this is the rare Disney film that isn't solely aimed at the underage set.

"Fantasia"
is a genuine attempt to fuse highbrow content with what many considered a lowbrow form of entertainment. Despite the fact that the movie was a critical and financial disaster upon its release, this oddball hybrid is indeed a singular -- and, dancing hippos be damned, a groundbreakingly mature -- achievement.
'Animal Farm'

(1954):
George Orwell's 1945 satire about the curdling of Communism during the Stalin era isn't the kind of novel that screams film adaptation. The allegorical story details the power struggles between pigs, horses and chickens on a ranch, which leaves two choices: Dress up actors as barnyard tyrants (frankly, we'd have paid to see Gregory Peck and Doris Day in piggy suits) or go the 'toon route. Thankfully, producer Louis de Rochemont chose the latter route, and while the result only partially does justice to author's vision of power and corruption, this animated version manages to establish that cartoons didn't begin and end with Looney Toons. Given how close the movie's animated aesthetic is to its Disney and Warner peers, the use of two-dimensional drawings actually makes the film seem even more subversive; it's almost as if you're watching Porky Pig and Donald Duck leading the Bolshevik revolution. The fact that Orwell's bleak ending is changed to a victorious populist uprising (a stipulation by the film's benefactors, the CIA) doesn't make the effort to expand the horizons of '50s animation any less exceptional.
'Yellow Submarine'

(1968):

During the Beatles' 1965 cartoon TV show, the Fab Four's animated avatars were versions of the lovable mop-tops that had thrilled teenyboppers on

"The Ed Sullivan Show"

the year before. Fast-forward to George Dunning's spirit-of-'68 opus, however, and you'll notice that Liverpool's favorite sons seem a little more far-out. And while the plot could have been lifted from that kids cartoon series -- the Pepperlanders have been enslaved by the evil Blue Meanies, and only the band can stop them -- the garish, colorful look of the film was less Saturday-morning boob tube and more Saturday night Haight-Ashbury. Though Pop Artist extraordinaire Peter Max has been given credit for the psychedelic look of the film, it was actually German graphic artist Heinz Edelmann who devised the movie's trippy, groovy look -- one clearly aimed at a chemically altered crowd.

"Yellow Submarine"
isn't a kid-unfriendly movie by any means, but it is an animated film that courts a countercultural cachet by suggesting that a different demographic turn off their mind, relax and float downstream.
'Fritz the Cat'

(1972):
The first animated feature to earn an "X" rating, Ralph Bakshi's cult classic didn't so much push the boundaries of the form as plow right past them: Anyone expecting cute cartoon animals were surprised to find a gaggle of grotesque '60s caricatures screwing, shooting up and swearing a blue streak. Of course, the hippies and heads who turned Bakshi's satire of youth-culture hypocrisy and radical chic into a midnight-movie sensation probably knew the horny feline from Robert Crumb's underground comix, and were delighted to see that the animal's anti-social tendencies had made it to the screen intact. (Fritz's original creator, Crumb, however, was less than pleased with the result; the artist killed off the character almost immediately after the film's release.) The movie's pseudo-hip racism and baiting vulgarity have not aged well, but Bakshi's debut does deserve credit for laying the groundwork for almost every adult 'toon to follow. PS: Do yourself a favor and avoid the non-Bakshi-related sequel,
"The Nine Lives of Fritz the Cat"
(1974), at all costs.
'Heavy Metal'
(1981): It was a juvenile geekboy's dream: a movie based on a magazine devoted to comic serials, complete with graphic sex and brutal violence. The animated film that was loosely based on stories run in National Lampoon's '70s genre publication (and its French ancestor,
"Métal Hurlant"
), however, was definitely aimed at grown-ups -- albeit the kind of adults who dug zombie bomber pilots, dystopic-future tough guys who spoke in Chandleresque patois and naked Amazons straight out of a Chevy van mural. The cult movie's humor is sophomoric at best (see the stoned aliens segment), its attitude toward women is stuck in the Cro-Mag era and its weak connecting segments involving a glowing green ball feel born of too many late-night dorm philosophy sessions. ("Dude, the ball represents, like, the spirit and stuff ...?") But this anthology doesn't treat animation as strictly kid's stuff; in its own muddled way,
"Heavy Metal"
is a giant leap forward in terms of using the cartoon form to tackle eroto-fantasy and sci-fi. Plus, the soundtrack rocks!
'Akira'

(1988):
Japanese anime had made inroads to the West long before Katsuhiro Otomo's mind-blowing cyberpunk epic started creeping its way into the comic-con fanboy cliques. But it wasn't until this vision of a postapocalyptic future began sporadically showing in America that the second official anime explosion began in earnest. Suddenly, all memories of wide-eyed heroes like
Astro Boy
were wiped off the memory slate. Based on a popular manga, this dense, dystopic tale of a young man with strong psychic powers battling corporate goons is filled mind-meltingly hallucinogenic imagery. (Full disclosure: I still have nightmares about those marauding rapist clowns and that giant mutant teddy bear). But it was the top-notch animation, an unusually strong narrative (for anime, at least) and its bleak,
"Blade Runner"
-esque take on Tokyo circa 2018 that made discerning geeks sit up and take notice. The influence that
"Akira"
has had on the genre ever since has been incalculable, and older viewers who didn't know their Pokemon from their Miyazaki would soon find themselves immersed in the country's fertile animated output.
'Waking Life'

(2001):
What better way to depict the surreal, free-associative world of dreaming than with animation? Richard Linklater's diving expedition into a dozen characters' cerebellums benefits from its use of a specific process known as rotoscoping -- animators paint wobbly, woozy illustrations over live-action footage -- that brings the subconscious noodlings of the director's slackers, Situationists and slick-talking hipsters to vivid life. The result is a lot like drifting into a light slumber during a collegiate lecture, only to awaken to the sight of floating facial features spouting off about Bazinian film theory. (That, by the way, is a compliment.) Linklater would become so enamored with the style that he'd later employ it to equally stunning effect in his adaptation of Philip K. Dick's paranoid drug parable
"A Scanner Darkly"
(2006). His first foray into animation, however, remains both a bold experiment and a breakthrough in terms of utilizing the form. Going to the movies has often been called

"dreaming with your eyes open,"

but thanks to its intelligent use of cutting-edge digital animation,
"Waking Life"
is the only one to replicate the REM-cycle experience with such remarkable fidelity.
'Persepolis'

(2007):
Marjane Satrapi's graphic novel detailed an ironic look back at the writer-artist's formative years in Iran during the country's repressive post-revolutionary era. But while longtime fans of indie comics had grown used to seeing such drawn-out romans à clef, filmgoers weren't accustomed to watching those same autobiographical qualities in animated features. Satrapi's adaptation of her own coming-of-age story, co-directed with French animator Vincent Paronnaud, translates her stark, monochromatic panels into moving pictures with amazing fidelity, which gives the young Marjane's two-dimensional Tehran environment a simplistic, wondrous quality. A jaunt to Vienna for school mirrors her rebellious blossoming by adding complex creative flourishes. When Satrapi returns to her home country, however, those chunky blocks of inky black -- mostly in the long beards of clerics and in robes forcibly worn by female citizens -- have made the visuals all the more forbidding. Like its source material,
"Persepolis"
combines personal and political histories into one interwoven portrait of a young woman trying to break free of her social confines. Her film, coincidentally, does the same with its format, knocking away another set of preconceptions: Anyone who thought that 'toons couldn't function as complex, mature tell-alls were about to have their eyes opened in a big way.
'WALL-E'

(2008)

: To say that Pixar has forced animation to evolve on both technical and storytelling levels would be an understatement; simply put, the Bay Area-based studio has been responsible for the best American non-live-action films of the past 15 years. Movies like

"Toy Story"

(1995) and its sequel, as well as

"The Incredibles"

(2004), have managed to appeal to kids and adults alike -- not to mention cantankerous critics and the multiplex masses. Yet even die-hard fans probably didn't expect something along the lines of this 2008 masterpiece (yeah, I said it!) about a trash-cleaning robot with a silly name. Animation has done dark before, but the genre has never quite gone this bleak: Earth has been bled dry and abandoned, bloated human beings have fled the planet for shopping-mall colonies in space and the last hope for life -- organic and mechanical -- is a dingy analog droid. Director Andrew Stanton fills this sci-fi parable-cum-satire with a handful of poetic sequences (the wordless introduction to that trashed metropolis,

WALL-E
's cosmic waltz with his iPod-like girlfriend) that put most live-action movies to shame. Though the usual Pixarette audience will get a nice Ecological Awareness 101 lesson, it's their parents who will recognize that Stanton & Co. have embedded a wake-up call within the whimsy.
(Thanks
Parallel Universe
)