Witch

races to number one;

Watchmen

plummets
Disney's
Race to Witch Mountain
took the checkered flag as the number-one movie at the March 13 weekend box office, bypassing expectations with an estimated $25 million in ticket sales and sending Watchmen to second place, the Associated Press reported.
The R-rated
Watchmen
saw its ticket sales drop 67 percent from its opening weekend to $18.1 million in its second week, bringing its 10-day domestic total to $86 million, factoring in preview sales. The movie cost about $150 million to make.
Jeff Goldstein, Warner Brothers' executive vice president of distribution, told the AP that the studio anticipated the big dip.
"It's very common with higher-profile, highly anticipated movies,"
Goldstein told the news service.
The Last House on the Left
, meanwhile, debuted in third place, with $14.7 million in ticket sales.
What is the next PG-13 Animated Movie By DC after

GREEN LANTERN

? AICN Has the Scoop!
Hey folks, Harry here from

Aint It Cool News

with the scoop on the next animated film scheduled for release in the Fall of 2009 from Warner Animation. This time it is

SUPERMAN/BATMAN: PUBLIC ENEMIES

based upon the Jeff Loeb and Ed McGuinness comic series. Bruce Timm is the Executive Producer on the film and is currently actually in production!!! Here's the logo and the plot synopsis that I got my grubby hands upon!
SUPERMAN/BATMAN: PUBLIC ENEMIES:
United States President Lex Luthor uses the oncoming trajectory of a kryptonite asteroid to frame Superman and declare a $1 billion bounty on the heads of the Man of Steel and his "partner in crime" Batman. Super heroes and super villains alike launch a relentless pursuit of Superman and Batman, who must unite – and recruit super help – to stave off the action-packed onslaught, stop the asteroid, and uncover Luthor's devious plot to take command of far more than North America.
Rare

Superman

comic sells for $317,200
A rare copy of the first comic book featuring Superman has sold for $317,200 in an Internet auction.
It's one of the highest prices ever paid for a comic.
The winning bid for the 1938 edition of
Action Comics No. 1
was submitted Friday evening by John Dolmayan, the drummer for the rock band
System of a Down
.
In addition to being a musician Dolmayan is a dealer of rare comic books. The auctioneers say he was acquiring the Superman comic on behalf of a client.
The auction site ComicConnect says the man who had owned the book purchased it in a secondhand store in the early 1950s when he was nine years old.
He paid 35 cents.
Little Mermaid

Crew Reunion
Pssst! Save the date. Mark your calendar.
May 21st
, Woodbury University in Burbank @ 7:30PM. ASIFA-Hollywood is organizing a reunion/panel discussion/party to commemorate the 20th anniversary of
The Little Mermaid
.
Character animator Tom Sito will moderate a panel consisting of Mark Henn (Ariel), Andreas Deja (King Triton), Ruben Aquino (Ursula), Tina Price (CAPS system and early CGI) and Gary Trousedale (storyboards) - with many more guests and panelists to be announced. We'll keep you posted with updates, but mark the date now!
(Thanks
cartoonbrew
)
The

Princess

's Progress
Today at the Disney hat building, some of the artists and animators on
The Princess and the Frog
gave me an update on how the work is going.
"We've animated around 60% of the movie, and we've got maybe ten or eleven weeks to go on the production schedule. We had some wiggle room earlier but now things are tight, and we're really going to have to move things along ..."
Oh yeah. That griping about salary cuts from a couple of months ago? Like magic, most of that has disappeared. Now I get tight smiles and "Hey. I'm working, you know?"
Amazing how a sharp economic downturn and massive layoffs can change hearts and minds.
"The cleanup crew will wrap up their work in late summer. Management's hired more staff on the back end because there's a lot of drawing on paper. The show isn't 'paperless' like they first hoped it would be ..."
Today as I walked out, I stopped to really look at the short sequence playing on the flat screen teevees in the hall display case. It's a short, amusing scene between the principles, and it's offered in story reel, rough animation and full-blown color. And very nice work it is, all the way around.
(Thanks
Animation Guild Blog
)
China needs Disneyland clones, advisor suggests
China ought to build several Disneyland-style animation theme parks to increase domestic industry in the face of worldwide recession, a top political advisor says.
"The current international financial situation provides an opportunity for China's cultural industry, given the examples of the post-Great Recession booming of Hollywood and the fast growing animation industry in Japan after its bubble economic crisis,"
Li Yang suggested at a meeting of the annual session of the Chinese People's Political Consultative Conference.
Li is also a well-known voice actor in China. He's best known for dubbing Disney character
Donald Duck
.
A
"national flagship animation group"
should be established as soon as possible in order to offer college graduates more jobs, China's Xinhua news agency reported.
Of China's over 2,300 colleges and universities, 447 provide academic courses in animation. Over 50,000 animation majors graduate from college annually.
This year, a record 6.1 million Chinese college graduates are expected to enter the job market.
Li criticized the country's animation industry for wasting vast sums by
"churning out mountains of low-quality products,"
thus damaging the country's reputation.
At the conference, Li wore a Mao suit -- rarely seen in China nowadays.
The Secret of Kells

Gets Solid Raves
The new European animated feature
The Secret of Kells

(also known as

Brendan and the Secret of Kells
) has been getting fantastic reviews in Ireland, where it was released last week. Produced by Cartoon Saloon/Les Armateurs/Vivi Films, this beautifully animated feature was directed by first-time helmer Tomm Moore—with co-director Nora Twomey—who also received the director-of-the-year prize at this year's Cartoon Movie in France.
The visual style of the film is inspired by pre-medieval illuminated manuscripts, and the story follows an orphan boy living in the Abbey of Kells who ventures beyond the walls of the abbey to help the newly arrived master Illuminator Brother Aidan with an important task. As pointed out in the Variety review of the film
"Their approach produces a pleasingly ye-olde-world-y look that plays off the simplified, UPA-studio-meets-the-Dark-Ages characters with intricate, Celtic design-inspired detailing, especially when the book literally comes to life."
We hear that the Pixar is hosting a screening of the film for its employees this week. Let's hope we a savvy U.S. distributor picks it up soon, so we can all see this great gem in theaters soon!
Here are some of the excellent early reviews we found on the movie:
"The debut feature from Irish animator Tomm Moore immediately establishes Moore as an absolute master of his craft—a story teller and visual artist who absolutely deserves to be mentioned in the same breath as masters such as Michel Ocelot and Sylvain Chomet. His world is richly detailed and strikingly unique, folding traditionally Irish influences into a riot of color and detail that dazzle the eyes while the deceptively simple story goes to work on more subtle levels. His characters are just as richly detailed as his visuals, the messages simple and universal. This is no less than the arrival of a major new talent."
— Twitchfilm.net
"

The Secret of Kells

spirits you back to the early Irish stories of your childhood. It's quite beautifully animated, and in colorfully imaginative sequences the very pages of the Book of Kells spring gloriously to life.The story is sweet and dark in equal parts, and the fearsome bulky Vikings might be a bit much for the very young, but anyone else is bound to enjoy it."
—The Irish Independent
"Fans of Genndy Tartakovsky, the animator of classic series such as
Samurai Jack
and
Dexter's Laboratory
, will admire the way Moore bends the Russian's key techniques (bold lines, eccentric camera angles) to his own, very different ends. Wolves are rendered as jagged flashes. The Vikings become looming tree- people. Equally impressive are the flat, painterly backgrounds, which nod towards the perspective-free world of pre-Renaissance art…
The Secret of Kells
remains a surprising piece of work that should appeal to smart children and open-minded adults. Chemically befuddled students may enjoy it even more."
—The Irish Times
"It's an exquisite cinematic experience. There's nothing overly Irish about it. It's about beautiful things, it's about fear and getting over fear, guarding the things that are beautiful and worth it, and not being unafraid to go and find it, to go and do it. Don't use that word (educational), you're not allowed to use that word, because if people think it's a history lesson, they're not going to go. They'll say, 'Ah, I might see it on DVD'. It's to be seen in a cinema. Go and get your head blown away by it."
—Actor Brendan Gleeson, who voices Brendan's strict uncle in the movie, as quoted in an article in The Independent.
Here's a teaser for the movie:
More are cast in M. Night Shyamalan's

Last Airbender
Cliff Curtis in Danny Boyle's Sunshine
Aasif Mandvi, Shaun Toub and Cliff Curtis have joined the cast of M. Night Shyamalan's
The Last Airbender
for Paramount Pictures and Nickelodeon Movies, the studio announced.
Shyamalan, Sam Mercer and Frank Marshall are producing with principal photography to begin mid-March.
The three join a cast headed by Noah Ringer, who plays the title role; Nicola Peltz, who plays the Waterbender Katara; Jackson Rathbone, in the role of Katara's brother, Sokka; and Dev Patel, who plays Prince Zuko, prince of the Fire Nation.
Mandvi (TV's
The Daily Show
) is set to play the role of Commander Zhao, an ambitious and hot-tempered Fire Nation commander.
Toub (
The Kite Runner
) is cast as Uncle Iroh, the retired Fire Nation general and devoted surrogate parent to Dev Patel's character Zuko.
Curtis (
10,000 B.C.
) is set to play the ruthless ruler Fire Lord Ozai.
In addition, Keong Sim has been cast in the role of Earthbending Father.
It's unclear how this casting will affect
fan protests
.
Here's how the studio describes the movie, which is based on the hit Nickelodeon animated TV series,
Avatar: the Last Airbender
:
"Air, Water, Earth, Fire. Four nations tied by destiny when the Fire Nation launches a brutal war against the others. A century has passed with no hope in sight to change the path of this destruction. Caught between combat and courage, Aang (Noah Ringer) discovers he is the lone Avatar with the power to manipulate all four elements. Aang teams with Katara (Nicola Peltz), a Waterbender, and her brother, Sokka (Jackson Rathbone), to restore balance to their war-torn world."
Speaking of
Avatar
, here's a little something I found a while ago. Some of you may have seen it, some haven't - a keyframed pencil test of the battle between Aang and Fire King Ozai - Enjoy!
Behind the scenes of

Monsters vs. Aliens

, only here!
SCI FI Wire has an exclusive behind-the-scenes featurette for DreamWorks Animation's upcoming 3-D sci-fi spoof movie
Monsters vs. Aliens
, featuring star Rainn Wilson.
Monsters vs. Aliens
features the voice of Reese Witherspoon in her first animated feature as bride-to-be Susan, a woman who grows to 49 feet 11 inches tall. She is labeled a mutant by the U.S. military and placed into secure custody with other so-called
"monsters"
: Dr. Cockroach, Ph.D., an insect-like scientist voiced by Hugh Laurie; Missing Link, an ancient fish-man voiced by Will Arnett; B.O.B., a brainless yet witty gelatinous blob voiced by Seth Rogen; and Insectosaurus, a furry, childlike 350-foot-high grub. It seems hopeless for Susan until aliens (led by Gallaxhar, voiced by Wilson) invade our planet—and the President (voiced by Stephen Colbert) and Gen. W.R. Monger (Kiefer Sutherland) decide those monsters are good for something after all.
Monsters vs. Aliens
opens March 27.
Toony Daylight Savings Time Links
Another cluster of linkolicious offerings, starting with Michael Eisner, Teeve
Toon producer
":
Michael Eisner helped kick off the springtime cable upfront presentation season Thursday morning, as the former Disney CEO took the stage at New York's Hammerstein Ballroom to talk up a series he's developed for rival Nickelodeon.

Supporting his weight on crutches, his left ankle encased in a plaster cast -- he later joked that he had injured himself while
"fighting with (Viacom topper) Sumner Redstone over a parking space at Bank of America"
-- Eisner pitched the assembled throng of media buyers
"Glenn Martin, DDS,"
his new stop-motion animated series that will bow this summer on Nick-at-Nite.

Eisner told his audience that he was
"having fun"
with the series, adding that the project has allowed him to focus on something other than the cratering economy.
"I'm not worried about the meltdown. ... I'm worried about this show,"
he said. Eisner went on to note the irony of his association with Nickelodeon, which he characterized as
"a once distant rival that is now in (Disney's) face."
.
Watch out, Jeffrey Katzenberg. There's a new animation guy in town, and he's tall.
Meanwhile, DreamWorks
pays a bit of money
for a short book:
DreamWorks Animation has optioned rights to
"Dinotrux,"
an illustrated children's book that will be developed as a CG-animated film. Deal was for mid-six figures.

Written by Chris Gall, the 32-page book takes place in a fictional prehistoric age, when the world was ruled by Dinotrux, creatures that were part trucks, part dinosaurs
And
South Park
eviscerates
the Disney Co. (They do Mickey Mouse to a
fare thee well
.)
... a brilliant parody of not only the Jonas Brothers but the entire Disney company ethos attacks the absurdity of using a hot boy band wearing
"purity rings"
to sell sex to young girls ...
Newsarama
profiles
French animation director
Michel Ocelot
.
Born in 1943, the son of Catholic missionaries, he spent his childhood in what was then West Guinea, where his parents wound up teaching in a palm-thatched one-room school. While he did attend the California Institute of the Arts, he wasn't part of their world-renown animation program. Instead, he studied decorative arts. His inspiration for animation came from a do-it-yourself book on stop motion animation. At the same time, anyone who's seen his films will see he's taken many of the most familiar traditional techniques of animation and reinterpreted them in a number of startlingly fresh ways ...
A
good piece
on the Fleischer's place in the cartoon firmament, and the direction Toonland might have spun if they had prevailed over Uncle Walt:
The Fleischer cartoons are now being rediscovered, since most of them have no copyright status, so, unlike early Disney shorts for instance, they can be posted online with impunity. Their influence has waned a bit, but oddly enough they haven't dated nearly as badly as other cartoons from the same era. And it's always fun to take a look back at them and think of what could have been if the Fleischers rather than Disney had won their old depression-era rivalry.
Walter Sragow at the Baltimore Sun
thinks
there's no contest between
Watchmen
and
The Incredibles
. It's the cartoon by a couple of laps:
A tempest in an inkpot: That's one way of characterizing the mini-eruption over the relative virtues of the movie
Watchmen
and Brad Bird's 2004 Pixar smash,
The Incredibles
. Yet the contrast provides an instructive and entertaining demonstration of the difference between a work of art that inspires timeless love and affection and a cult item that begs for disproportionate devotion because of the impact it had on pop culture ...


The Incredibles
can spin like a pop-art pinwheel and still be all of a piece because Bird boasts a coherent and scintillating vision. The members of the Incredible family represent the height of human aspiration; the forces that would pull them down stand for the leveling power of mediocrity ...
The Independent
surveys
the animation of primetime and wonders aloud if
The Simpsons
will ever be dethroned. The Hollywood Reporter's Ray Richmond supplies the answer:
"There are no plans to pull the plug for the simple reason that the show remains a massive cash cow in its rerun syndication afterlife,"
says Richmond.
"The show repeats more effectively than possibly any show in history, and it's easy to see why. The characters never age, change little, and learn practically nothing from their pasts. They remain stuck in time." ...
Which will make the Yellow Family's animation crew happy. For they (last time I checked) wish to remain stuck in time also. Collecting a weekly paycheck to create the show.
(Thanks
Animation Guild Blog
)
Ringbinders

- a New Animated Aardman Series
Aardman Animations
and
RDF Digital
have teamed up to bring us a new animated comedy series -
Ringbinders
. The first episode of the series is available for viewing over at
ComedyDemon.com
, and below is a trailer. The series, which takes place at the intersection of
The Lord of the Rings
and
The Office
, is written and directed by Tom Parkinson, and
Joe Wood
offered his illustration and layout skills to the effort.
First Aid - New UPisode Promotes Pixar's Upcoming

Up
Another short clip from Disney/Pixar's upcoming feature
Up
has turned…. up. This new
"UPisode"
as they're calling them sees Russell atempting to apply first aid to his new friend Carl.
Up
hits theaters on
May 29th
in Disney Digital 3D.
Foster's Home For Imaginary Friends

Closes Up Shop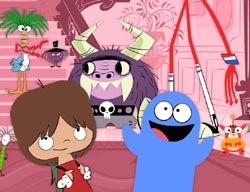 On his blog, Cartoon Network animation director Eric Pringle
offers a swan song
for the departing crew from Craig McCracken's Cartoon Network series
Foster's Home for Imaginary Friends
. With 54 episodes behind them (many animated by Dublin-based
Boulder Media
), he wraps up the 5+ years he spent at the studio with a parting gift -
a 6-page PDF tutorial of how to animate Bloo
. I know I'm not alone in saying that Eric's Emmy-award winning crew helped raise the bar of what Flash animators could do and will do in years to come. Happy trails, Foster's team!
Hesse the Man Behind

Our President
Tyson Hesse's
film
Our President
was produced in Flash at
SCAD
as his final project. The theme of corporate shenanigans is all too appropriate in these trying times.
Song of the Sea

Trailer Reveals Underwater Adventure
Irish director Tomm Moore picked up a few awards the other night for his film
The Secret of Kells
. It was at the
11th Cartoon Movie
event in Lyon, France where he snagged the Best European Director award, and
Cartoon Saloon
, the studio he and Paul Young founded in 1999, was dubbed Best European Producer. As we reported
back in January
, the film includes several Flash-animated sequences, adding to recent spate of features that have
While it must be exciting, it's possible Moore's mind is somewhere else. You see, his next feature film is already under way. The trailer for
Song of the Sea
, which is also being produced by Cartoon Saloon, was revealed yesterday by
Alessandra Sorrentino
, who
explains on her blog
that clean-up on these shots was performed in both Flash and
TV Paint
. Here's the trailer:
Magoo's Christmas Carol

book
I'm pleased to report that
Darrell Van Citters's
book on the making of
Mr. Magoo's Christmas Carol
has now gone to press. If all goes well, advance copies will be available at the
2009 San Diego Comic Con
,
July 23-26
with a wide release in the fall. Darrell has been at work on this labor of love for several years and when he couldn't secure a satisfactory publisher, he decided to go the self-publishing route. Events to support the book launch are in the works on both coasts with the intent to reach as wide an audience as possible. I will certainly keep you posted about it on Cartoon Brew — I can't wait to get this!
(Thanks
cartoon brew
)
Is this the face, er, mask of

G.I. Joe

's Destro?
Topless Robot
has posted what it says is the first image of Christopher Eccleston as Destro from the upcoming movie
G.I. Joe: The Rise of Cobra
.
Click
here
to read more about this image, which is a lo-res screengrab.
The Stephen Sommers-directed
G.I. Joe
, based on the toy line and animated TV series, is out
Aug. 7
.
Favreau Directing

AVENGERS

?
Ain't It Cool News
ran an email from an anonymous scooper which indicates 'Iron Man' architect Jon Favreau may be the favorite to direct Marvel's
'Avengers'
movie.
Although site-meister Harry Knowles admits the scooper is new and unknown, he does say that the information contained the scoop does sync up with what he's been hearing from independent sources. And reading the spy's comments, it's clear that he wants us to believe he is a Marvel insider, which isn't confirmed by AICN's presentation.
Primarily, the scooper claims that yesterday's announced delay of
'The Avengers'
is in part due to financing issues, but is also to give Favreau the breathing space he needs to direct that movie after wrapping
'Iron Man 2'
. Favreau has already been
named an executive producer
on the movie, and part of his negotiations with Marvel gives him "dibs" on the teamup pic.
Other interesting tidbits from the scooper:
* -
Iron Man
starts rehearsals in a few days, which is why the casting is finally coming together so quickly.
* - Alexander Skargard is indeed director Kenneth Branagh's favorite to play
'Thor'
.
* - Stellan Skarsgard is also being eyed for Odin.
* - Josh Hartnett is loking likely for Loki, dependent on negotiating his paycheck (which may be tricky given all the previous Marvel hijinks).
* - The rumored
'Daredevil' and 'Fantastic Four'
reboots are likely to happen, if for no other reason than to allow 20th Century Fox to keep their rights to the character. If they don't make a movie with them, the rights revert back to Marvel.
A bad deal for Scarlett?
In her
Deadline Hollywood
blog Nikki Finke says the reputedly frugal Marvel may have coughed up a hefty sum to
sign Mickey Rourke
to
'Iron Man 2'
, but was it at the expense of
Scarlett Johannson's deal
? The actress also jumped on board the project to play the Black Widow, a role she'll continue into
'The Avengers'
and perhaps beyond.
Finke's sources say that the actress' agents at CAA made "a terrible deal" for the actress. An insider is quoted as saying.
"It's as bad as any deal that I've heard. It's lowball money. And it ties her to countless movies, including that ensemble

The Avengers

, which is what makes this brutal for a lot of actors."
Disney spokesman denies CEO dropped the "F-bomb"
A Walt Disney Company spokesman has denied that Disney CEO Robert Iger said
"f--- you"
to conservative activist Tom Borelli at the company's Tuesday stockholder meeting, columnist Tommy Christopher at the AOL News website
"Political Machine"
reported Wednesday.
"According to... the National Center for Public Policy Research, Disney CEO Robert Iger used an F-word other than

Fantasia

at this year's annual shareholders meeting. Conservative columnist Tom Borelli, senior fellow with the organization... claimed that Iger said "F**k you" to him at the meeting,"
Christopher said.
"Disney spokesman Jonathan Friedland, however, told me that he was 'sitting right there,' and that 'Bob didn't say anything back to him.' He also said he was 'pretty sure Bob shook his hand.' He described the episode as 'strange.'"
The following are statements from Tom Borelli, Deneen Borelli (Tom's wife and fellow of Project 21, who was present), and Steve Milloy (co-director with Tom Borelli of the Free Enterprise Action Fund, which Tom was representing at the stockholder meeting, and also of the Washington-based National Center for Public Policy Research's Free Enterprise Project, who was listening to the live audio webcast of the stockholder meeting as it took place):
Tom Borelli:
"Here is what transpired.

"On the way to make my statement I stopped and shook Iger's hand. He was sitting in front of the podium and because of the extra time it took for me to greet him I was late getting to the podium. In the audio recording, you can hear Mr. Pepper calling my name for a second time and asking if I'm going to be making the presentation. My first few words of my statement I mentioned I was late because I shook Iger's hand.

"After I finished my presentation I again walked by Iger and offered my hand once again. He just stared at me and said "F--- Y--." I immediately walked back to the podium where I told the audience what Iger said to me. Passing Iger the second time, a security official was sitting right behind him and shortly after I walked by them Iger left the auditorium. He was not in the theater during the other shareholder proposals.

"Finally, the shareholder that responded to my statement about the controversial nature of '

The Path to 911'

defended Iger for displaying 'restraint' because he felt I launched a personal attack and he added - 'if it were me I would have probably knocked him on his rear end.'

"Perhaps the Disney representative witnessed the first handshake and missed the second encounter."
Deneen Borelli:
"Mr. John Pepper, Chairman of The Walt Disney Company, opened and conducted most of the shareholder meeting. Once he completed several opening remarks, Mr. Pepper introduced Mr. Robert Iger to welcome and address the audience. During this portion of the meeting, Mr. Iger updated shareholders about company business and several sneak previews were aired introducing new Disney movies. At some point during this portion of the meeting, Mr. Iger came down from the stage and took a seat in the audience in front of the podium set up for representatives of the shareholder proposals. Mr. Iger was alone. There were several security personnel seated a few rows behind Mr. Iger. Following the executive session of the Disney shareholder meeting, Mr. Pepper invited Tom to present his proposal. Before taking his place behind the podium, Tom stopped next to a seated Mr. Iger and shook his hand.

"At some point while Tom was presenting his proposal, a woman walked past me towards Mr. Iger and took a seat to the right of Mr. Iger - either immediately next to him or with one seat in between them - where they engaged in brief conversation while listening to Tom.

"Before Tom completed his presentation, the woman got up and walked away and Mr. Iger was seated alone.

"Tom completed his proposal. While returning to his seat, he extended his hand to Mr. Iger. Mr. Iger did not shake Tom's hand. Then, Tom had a surprised look on his face and immediately went back to the podium and repeated what Mr. Iger told Tom."
Steve Milloy:
"I was listening to the live audio webcast. Tom completed his presentation. There was a short pause; then I heard Tom's voice. It sounded like he was near to the microphone, not at the microphone. He said, 'He just told me to go f--- myself,' or something like that.

"I find it hard to believe they would deny that; there was a whole room full of people.

"If you listen to the Disney version of the tape now, there's a big gap -- like Rosemary Woods. They didn't even have the brains to remove the gap. If they are going to deny it happened, they had better remove the gap.

"The guy after Tom complimented Iger on being so restrained; that he would have punched Tom, I guess."
On Tuesday, Disney released on its Web site what it calls
"a replay of The Walt Disney Company's annual meeting of shareholders on March 10, 2009"
at
corporate.disney.go.com/investors/presentations.html
. According to the National Center for Public Policy Research, a review of the webcast reveals that Borelli's report about Iger's remark to his fellow shareholders has been replaced by white noise.
"Borelli's report of Iger's remark was audible, however, during the live webcast of the shareholder meeting, making it apparent that Disney personnel purposefully censored the material before posting the archived version on its website's information page for investors,"
the National Center said.
Christopher's column can be found at
news.aol.com/political-machine/2009/03/11/disney-denies-ceo-cursed-out-right-wing-columnist-at-shareholder
.
Annecy Animation Film Festival reveals its shorts
Often referred to as the
"Cannes"
of animation, the Annecy International Animation Film Festival revealed Thursday over 200 shorts, graduation films, advertising films and TV episodes that will be shown this year.
The 33rd Annecy Festival will take place from June 8 to 13 in the eastern French city.
The festival is made up of an international competitive fest and a specialized trade fair market for animation. Wholly dedicated to animation, it's the biggest and most recognized event of its kind in the world. Feature films being screened will be announcecd at the end of April.
The 40 short films in competition are:
About Love
(Giacomo Agnetti, Italy)
Berbaoc
(José Belmonte et al., Spain)
Birth
(Signe Baumane, U.S.A./Italy)
Bygningsarbeidere
(Kajsa Naess, Norway)
Chainsaw Maid
(Takena Nagao, Japan)
Chick
(Michal Socha, Poland)
Codswallop
(Greg McLeod et al., United Kingdom)
Dopolnitel'nye vozmozhnosti Pyatachka
(Ivan Maximov, Russia)
El empleo
(Santiago Grasso, Argentina)
Elu ilma Gabriella Ferrita
(Priit Parn et al., Estonia)
Guri Gursjen & Gursjan Gru
(Eirik Aure et al., Norway)
Inukshuk
(Camillelvis Thery, France)
J'ai faim
(Louise-Marie Colon et al., Belgium)
Jazzed
(Anton Setola, France/Belgium)
Je criais contre la vie. Ou pour elle
(Vergine Keaton, France)
Krokodill
(Kaspar Jancis, Estonia)
L'homme à la Gordini
(Jean-Christophe Lie, France)
L'ondée
(David Coquard-Dassault, France/Canada)
Le bûcheron des mots
(Izú Troin, France)
Le noeud cravate
(Jean-François Levesque, Canada)
Lögner
(Jonas Odell, Sweden)
Malenkaya Vasilisa
(Darina Shmidt, Russia)
Mei Ling
(Stéphanie Lansaque et al., France)
Mixed Bag
(Isabelle Favez, Switzerland)
Muto
(Blu, Italy)
Please Say Something
(David Oreilly, Germany)
Q & A
(Tim Rauch et al., U.S.A.)
Regarder Oana
(Sébastien Laudenbach, France/Belgium)
Retouches
(Georges Schwizgebel, Switzerland/Canada)
Runaway
(Cordell Barker, Canada)
Sagan om den lille dockpojken
(Johannes Nyholm, Sweden)
Slavar
(Hanna Heilborn et al., Sweden)
Spãrni un airi
(Vladimir Leschiov, Latvia)
Syötti
(Tomi Malakias, Finland)
The Cat Piano
(Eddie White et al., Australia)
The Winter Solstice
(Xi Chen et al., China)
Tiny Legs of Fire
(Doug Bayne, Australia)
Wallace and Gromit: a Matter of Loaf and Death
(Nick Park, United Kingdom)
Western Spaghetti
(PES, U.S.A.)
Yulia
(Antoine Arditti, France)
Also to be shown at Annecy are 41 TV episodes; six TV specials; five educational, scientific or industrial films; 22 advertising films; eight music videos; 60 graduation films; and 40 short films out of competition.
The entire list of entries is available through
www.annecy.org/home/index.php?Page_ID=2092
. The page contains a search engine by title and director.
When Leverage Erodes
Talk to any veteran animator in the business today, and they'll tell you (if they're willing to talk at all) that they aren't making near the money they earned thirteen or fourteen years ago. As markets and competition drove paychecks up
then
, so are the same forces are pushing wages down
now
.
And so it is with labor unions.
Case in point, the Screen Actors Guild. A few days back the Nikkster
bemoaned
the spinelessness of SAG's new, moderate regime. To wit:
[T]he newly installed SAG leadership has zero interest in bettering the lousy terms of the AMPTP's
"Last, Best And Final"
TV/Theatrical contract offer made to the Guild on February 18th. Not the New Media terms. Not the issues of residuals or jurisdictions. Not anything except the expiration date of the contract.

[M]y own insiders and even the LA Times' sources say the new SAG leaders are only bargaining the issue of the contract's expiration date ... So the sole dispute between the Hollywood CEOs and the SAG National Majority right now is about whether the pact runs only 2 years or 3, and only that because it could prevent a SAG/AFTRA merger.

So tell me, SAG members: is that the only dispute between you and the Hollywood CEOs worth talking about now? ...
Nikki, you see, is agitated that the new SAG leadership doesn't get out there and improve the crappy New Media/residual terms to which the other guilds and unions -- most particulalry the horrid AFTRA -- have already agreed.
She's got no skin in the game, but hey. She's outraged. And she'll urge the players on from the quiet safety of her internet perch until the last picket sign falls.
But
here's a good part of the reason
SAG isn't more militant and aggressive with New Media ... and everything else save the contract expiration date ... in the way Nikki Finke would like:
The looming possibility of a SAG strike and the lure of the less-expensive and more-flexible digital production
has accelerated the transition from film to digital
. The union affiliation for a pilot and the subsequent series is determined by the method of filming: film for SAG and digital for AFTRA. That is firmed up after directors are hired, and with all pilot helmers in place, the final union pilot tally is coming together.

Sixty-six of 70 pilots this season will be AFTRA-affiliated, up from a handful last pilot season ...
See, there's this other union representing actors that has a three-year deal ... with the crappy New Media and residuals language that Nikki and a lot of SAG members hate. (And maybe it is crappy, who knows?)
But the problem is, crappy or not, the AFTRA deal is a ratified reality, and in place for years to come. And every studio in town has the option of signing onto it, whether SAG likes it or not.
And now it comes out that many studios are, at the ratio of eight or nine to one.
So SAG can rend its garments, dump ashes on it head, and weep and wail all it wants. But it gave AFTRA the finger when the smaller union attempted to merge with its militant sister a half dozen years ago, and now SAG is paying the price.
Because if you don't control the workforce, you lose leverage. And without leverage, you lose. Just ask the animators who were making four thousand dollars a week in 1995.
Add On:
I notice, now that I've put this up, that Craig Mazin at Artful Writer has
posted on the same topic
from a slightly different angle. And his angle is well worth reading.
(Thanks
Animation Guild Blog
)
New

Terminator: Salvation

Poster
One of the biggest surprises of the summer movie season could be
Terminator: Salvation
and how bad ass it's going to be. At least that's what we're all hoping for.
Most of the posters have shown the Terminators, and let's face it, we all know what they look like, but the Terminators share poster billing with Sam Worthington and Christian Bale.
This new poster is probably the best one yet. A collection of Terminators ready to kill anything that gets in their way, and no humans around to spoil their good metallic looks. What's odd is this lead Terminator seems to have been wearing clothes at some point since he's got shredded pieces of fabric all over him. Maybe it gets too hot inside of Cyberdyne and he decided to go buck naked.
Check out the poster below.
First Photos From

The Goon
Ain't-It-Cool-News
has posted new photos from
The Goon
, the David Fincher-produced, CG-animated adaptation of Eric Powell's Dark Horse comic book.
The comic follows the adventures of a muscle-bound brawler who claims to be the primary enforcer for a feared mobster. The stories
have a paranormal and comedic edge to them and concern ghosts, zombies, mad scientists and
"skunk apes."
Click the photo below to view it in hi-res and the link above to see one more pic!