It's A New

ASTRO BOY

Trailer!!
A new trailer for the
ASTRO BOY
CGI feature has been revealed. This is from Imagi (the company which brought us the CGI
TMNT
movie) and director David Bowers (
FLUSHED AWAY
). It'll be in theaters in October.
You can see it via the embed below:
Iron Man's Latest Villain Revealed To Be… Bruce Lee?!
Tony Stark has had some formidable foes in the past. From Jeff Bridges' Obadiah Stane in
"Iron Man"
to his comic book nemesis The Mandarin, the red-and-gold clad superhero has had his hands full. In
"Iron Man 2,"
a trio of new antagonists will enter the fray, including Sam Rockwell as Stark's rival, Justin Hammer, Mickey Rourke as a hybrid of Whiplash and Crimson Dynamo and possibly Scarlett Johansson as the antihero Black Widow. But there's someone else ol' Shellhead should be worried about more than any of three aforementioned characters.
Yes, the latest villain to challenge Iron Man has revealed himself, and his name is… Bruce Lee?
French-Canadian filmmaker Patrick Boivin has created a stunning, minute-long
"Iron Man vs Bruce Lee"
stop-motion video featuring the titular characters doing kung fu battle. The video puts action figures into the lead roles and the results are anything but predictable. (Check out the full video below!)
Are Iron Man's repulsor ray punches and kicks enough to overpower Bruce Lee's unmatched physical prowess? Plus, if you thought the crossover craziness was already out of hand, wait until you see what other geek-friendly property rears its head in the final seconds of the video. We dare you not to laugh.
We Swear, It's Not A Gimmick
To paraphrase a well-worn saying, With employees like these, who needs enemies? The DreamWorks employees interviewed in last weekend's
NY Times
don't exactly exhibit the type of enthusiasm for 3-D filmmaking that their boss Jeffrey Katzenberg appears to have for the technology. Nowhere in the article do they even attempt to describe how 3-D is integral to the film's narrative or creative structure. That's probably because, according to the article, 3-D was added midway through production.
In the piece,
Monsters vs. Aliens
director Conrad Vernon recalled how he felt when Katzenberg told him that they would be switching to 3D:
"We were totally taken aback. I didn't sign up to do something garish."
Producer Lisa Stewart had a different reaction when she heard the news:
"I just remember thinking, 'Oh, great, I'm going to have a headache for the next two and a half years.'"
The Times also explains how Katzenberg told the artists that 3-D shouldn't be used as a gimmick, but that when the film was nearly finished, he asked the filmmakers to go back and add more 3-D
"pow."
Stewart, who prepared herself for 3-D by studying
Beowulf
, says that they put in a paddleball sequence at the beginning of the film, because
"that was basically us telling the audience, 'Look what we could do to you, but we're going to control ourselves.'"
Live action

Sorcerer's Apprentice

in 2010
According to
Animation World Network
, Jerry Bruckheimer's live action adaption of
Fantasia
's animated short,
The Sorcerer's Apprentice
, is now set to hit theaters on
July 16th, 2010
. Currently being helmed by director Jon Turteltaub, the modern-day set movie will begin filming this month and stars Nicolas Cage and Jay Baruchel.
Cartoon Network Teams With NBA
Cartoon Network and the NBA have teamed up to create a wide range of basketball-themed content for online, mobile, video on demand and broadcast platforms.
The first project from this deal will be a short-form series called
My Dad's a Pro
, which will offer a glimpse into the lives of NBA players' children. The series is set to debut in the fall, in conjunction with the start of the 2009-2010 NBA season.
Also debuting in the fall will be a new basketball section on CartoonNetwork.com.
The deal continues a relationship between Cartoon Network parent company Turner Broadcasting and the NBA that goes back 25 years.
Wallace & Gromit Bring

Cracking Ideas

to London Exhibit
Aardman Animation stars Wallace and Gromit are putting on their lab coats and heading in to London to present an exhibition titled
A World of Cracking Ideas
at the Science Museum.
The exhibition, which opens
March 28
, is designed to encourage innovation in British children. It features the animated duo in an interactive show and takes visitors on a tour through their famous home, with each room showcasing innovative thinking and various inventions from the collection of both the museum and Wallace and Gromit.
It is funded by the Intellectual Property Office to the tune of £2 million ($2.9 million), and is designed and built by Aardman Animations and SGA Productions, in association with IY A Studios.
Aardmand is considering other venues for the exhibit after its run at the Science Museum ends in November.
AvatarLabs Gets

MvA

's B.O.B. In Your iPhone
Online marketing agency AvatarLabs has announced the release of a
Monsters vs. Aliens
application for iPhone and iPod Touch.
The application, based on the DreamWorks Animation movie due in the theaters
March 27
, comes in a free "lite" version and a regular version.
The lite version lets viewers learn more about the movie, watch videos, look at film stills and find showtimes at nearby theaters. It also features an interactive introduction to the monster charcter B.O.B.
Also available is a full version of the application, which costs $1.99 and includes everything in the lite app plus a B.O.B. Bundle that includes: A soundboard with more than 30 B.O.B. blurbs; more ways to play with B.O.B. on the device's touch screen; a
"Containment Center-tainment"
featuring B.O.B. Says and Monster Match activities; and four levels of B.O.B.'s favorite game, 52 Pickup.
The lite and full versions of the app are available for download in the Apple iTunes App Store.
http://www.apple.com/iphone/appst
ore/
Disney Picks Up

Ponyo

for Aug. Release
Disney will release Hayao Miyazaki's
Ponyo on the Cliff by the Sea
on
August 14, 2009
. Retitled as
Ponyo
for its U.S. theatrical run, the English-language version features the voices of Cate Blanchett, Noah Cyrus, Matt Damon, Tina Fey, Frankie Jonas, Cloris Leachman, Liam Neeson, Lily Tomlin and Betty White. John Lasseter, Brad Lewis and Peter Sohn are listed as English voice talent directors, and Kathleen Kennedy, Frank Marshall and Steve Alpert are billed as producer of version. Melissa Mathison (
ET, The Black Stallion
) wrote the English screenplay.
Ponyo on the Cliff by the Sea
was Japan's biggest box office hit in 2008, earning 15.50 billion yen (over US $172 million), more than double the second highest-grossing film,
Boys Over Flowers Final
. The feature also won the Top Tokyo Anime Award and the Japanese Academy Award for Best Animation of the year a well as the Future Film Digital Award at last year's Venice Film Festival.
Exec produced by Miyazaki and Lasseter,
Ponyo
is inspired in part by Hans Christian Andersen's popular fairy tale
The Little Mermaid,
the movie centers on the friendship between a five-year-old boy (voiced by Frankie Jonas) and an overeager goldfish (Noah Cyrus) who dreams of becoming human.
Watchmen: Black Freighter

Sails Home
You've read the book, you've seen the movie, but the
Watchmen
experience is incomplete without
Watchmen: Tales of the Black Freighter, an original animated featurette that leads this week's DVD and Blu-ray releases.

Watchmen: Tales of the Black Freighter
(Warner Bros., $27.95 DVD, $35.99 Blu-ray) adapts a subplot in the graphic novel in which a teenager reads a popular pirate comic book at a newsstand in New York City. Rather than cut the sequence from the film entirely, director Zack Snyder has animated it for home-video release and plans to include it intercut with the live-action feature in an upcoming DVD release. The R-rated release also includes the fake documentary
"Under the Hood."

Among other major releases, Bolt
comes to DVD two days after its Blu-ray debut (Disney, $29.99 DVD, $32.99 special edition DVD), and the most-recent James Bond movie,
Quantum of Solace
(MGM, $29.98 DVD, $34.98 special edition DVD, $39.99 Blu-ray) also arrives.

Other animated releases for the week include
Star Wars: The Clone Wars — A Galaxy Divided
(Warner Bros., $19.98),
The Venture Bros: Season Three
(Turner, $29.98 DVD, $44.98 Blu-ray),
Wow! Wow! Wubbzy!: Pirate Treasure
(Anchor Bay Entertainment, ($16.98),
Voltron, Vol. 7
(Media Blasters, $34.99),
Happily N'Ever After 2: Snow White
(Lionsgate, $19.98) and
Care Bears: Cheer, There & Everywhere (Lionsgate, $14.98)

Getting new releases are Lilo & Stitch: 2-Disc Big Wave Edition
(Disney, $29.99), while
Secrets of The Furious Five
(DreamWorks, $14.99) gets a solo release after being released in a two-pack with
Kung Fu Panda
.
Joe Hisaishi wins Asian Film Award for

"Ponyo"
While Hayao Miyazaki's hit anime feature
"Ponyo on the Cliff by the Sea"
didn't receive best film or best director honors Monday at the third Asian Film Awards, Joe Hisaishi scored a win for best composer.
In the Best Composer category, the Studio Ghibli film -- known in Japanese as
Gake No Ue No Ponyo
-- won over live-action challengers
The Good, the Bad, the Weird
(South Korea),
24 City
(China),
Three Kingdoms: Resurrection of the Dragon
(China/Hong Kong/South Korea) and
Jodhaa Akbar
(India)
Japan's Tokyo Sonata was named best film at the Hong Kong ceremony. It also captured a best screenwriter award for Kiyoshi Kurosawa.
Kore-Eda Hirokazu was named best director for Japan's
Still Walking
.
Masahiro Motoki won the best actor award for
Departures
, while Zhou Xun was named best actress for China's
The Equation of Love and Death
.
Briefly: LA Times on

"Tintin;"

Animated Goats & Wolves Conquer China Box Office
*
The Los Angeles Times
has
summarized the history of the

Tintin

movie project
, produced by Peter Jackson and Steven Spielberg, which just finished its 32 days of performance-capture filming recently.
* The animated feature film
Pleasant Goat and Big Big Wolf
(
喜羊羊与灰太狼
) has become an unexpected hit in China, with the 6M yuan (approx. 877,000 US Dollars) movie raking in 8M yuan in its opening weekend, and collecting 80M yuan in about 3 weeks. [
Xinhua
]
La-La-Land Records Takes Orders for

"Mask of the Phantasm"

LE Soundtrack on Mar 24
La-La-Land Records will begin accepting orders for their
Batman: Mask of the Phantasm
expanded archival edition soundtrack CD on
March 24, 2009
, at 12:00 PM (Pacific Standard Time). The CD will include the remastered soundtrack to the movie along with bonus tracks. The CD will be limited to 3,000 copies and will sell for $19.98. For more details,
visit their website
.
PULSE News Speaks with Chris Williams on Directing

"Bolt"
Comicon.com's PULSE News has
interviewed Chris Williams on directing Disney's
Bolt
, now available on Blu-ray disc and coming to DVD as of yesterday,
March 24, 2009
. Williams briefly discusses the production of the film, his involvement in the voice casting of the movie, what it's like to work with John Lasseter, and what's coming up next for him.
Upcoming in Japan
Spring Anime Previews
GigaZine
Anime Vice
Previews Media
Eden of the East
(the new Kenji Kamiyama, Production I.G anime)
Musashi: The Dream of the Last Samurai
(the English teaser for the Mamoru Oshii written look at the like of "Sword Saint" Miyamoto Musashi)
Kokyo Shihen Eureka Seven
: Pocket ga Niji de Ippai (the theatrical movie, also see
here
)
Hellsing Ultimate part VI
Doraemon the Movie: Nobita's How Space Was Won, New Edition
Bakemonogatari
(Shaft's adaptation of the NisiOisin live novels)
Aoi Hana
(J.C. Staff's adaptation of Takako Shimura's yuri manga)
Element Hunters
Kobato
Dogs: Bullets & Carnage
Evangelion: 2.0 You Can (Not) Advance
(trailer pictures)
Fullmetal Alchemist
(promo item photos)
Anime
The
display for the new

Kimba the White Lion

anime
at Tokyo Anime Fest
Via
An Eternal Thought in the Mind of Godzilla
Kazuya Sasahara will be directing a 12 episode
Studio Anima
adaptation of Motofumi Kobayashi's anthropomorphic animal told military history
Cat Shit One
(released in North America as
Apocalypse Meow
).
Rather than the Vietnam history released in North America, this will be Cat Shit One '80, a retelling of the Iran Hostage Crisis.
Story: Packy, Botasky and Rats are special operations experts working in a private military company. Every day they are embroiled in combat somewhere around the world. In the first episode, they intend to come to the assistance of a hostage captured by guerrillas demanding the withdrawal of the US Army, but instead become surrounded by a large number of guerrillas.
Via
Anime News Network
The new theatrical
Battleship Yamato
(localized as
Star Blazers
) will hit Japanese theatres in 2009. Set 21 years after the original anime, the Yoshinobu Nishizaki production will following 38-year-old Susumu Kodai, wife Yuki and daughter Miyuki overseeing the emigration of humanity as they flee an expanding black hole.
*
New production company Lucent Pictures Entertainment announced its
Squad
film collaboration with
Ghost in the Shell
and
Appleseed
creator Masamune Shirow. The project tag line is
"A battle for the front mission — I'll cover your back."
*
Lucent Pictures will be establishing a studio with Studio 4°C called Lucent 4°C (L4C).
BONES (
Cowboy Bebop: Knockin on Heaven's Door, Fullmetal Alchemist
) announced that are producing anime series
Tokyo Magnitude 8.0
for Fuji TV's
Noitamina
timeslot (a programming block of anime for people who aren't traditionally anime fans)
*
Sunrise announced that
Summer Days with Coo
director Keiichi Hara is overseeing a new theatrical film called
Colorful
for a projected 2010 opening. The movie adapts Eto Mori's
"heart-warming comedy"

novel about a person inhabiting the body of a suicidal 14-year old, previously made into live action by Shun Nakahara

(Tomie: Forbidden Fruit)
. This is unrelated to the T&A anime comedy,
Colorful
, released in North America by ADV Films.
*
The film is one of three films planned for 2009 and beyond that were discussed during Animax Broadcast Japan's
"Japanese Anime: Next Generation"
panel on Friday. The other two are Mamoru Hosoda's
Summer Wars
and Hideaki Anno's
Evangelion: 2.0 You Can [Not] Advance
. The stage panel will be televised as a special on the Animax channel in Japan this June.
*
CoMix Wave Films will be producing a new 60 minute, 3D CG animated
Tact Aoki (Catblue: Dynamite)

film called

The Asylum Session
. The sci-fi coming of age follows a conflict between vagabonds and profiteering police in a dystopian future.
*
Voice actress Aya Hirano (
The Melancholy of Haruhi Suzumiya, Lucky Star
) will play Hiyoko, while stage actor Masakazu Nemoto (
Haruka: Beyond the Stream of Time
stage play) will play Akira.
*
Toei Animation is working on feature-length anime film
c Niji-Iro Hotaru ~Eien no Natsu Yasumi~ (Rainbow-Colored Fireflies: The Eternal Summer Vacation~
, based on Masayuki Kawaguch;s 2007 novel, about a boy who travels back in time 30 years after losing his father in a traffic accident.
*
Toei will be mixing classic super robots, including
Superhuman Combat Team Baratack, Magnerobo Ga-Keen
, and
Gaiking
with cute girls in
Toei Robot Girls
, due out later this year.
*
A new
Pénélope tête en l'air (Ukkari Pénélope or Pénélope, Head in the Clouds)
anime series will be adapting Ann Gutman and Georg Hallensleben's
Pénélope
picture books about a blue koala.
*
Aru Kagaku no Railgun (A Certain Scientific Railgun)
, Motoi Fuyukawa's manga spinoff of Kazuma Kamachi's
To Aru Majutsu no Index (A Certain Magic Index)
light novels will be adapted into an anime series. The titles are set in a learning center as part of a world of magic and advanced science.
*
Toy maker Yamato has revealed a multimedia project called
Enka Odo Dai Shogun
that will feature animation from Studio Anima, in addition to a host of merchandise.
*
Romanov Higa's
(Catblue: Dynamite, TANK S.W.A.T. 01, Urda)
next work will be
Turd on the Run
, a near-future suspense action story centers around a serial killer named
Holiday Ripper
. The shorts will be posted online this fall.
Manga
Kadokawa Shoten will launch a new magazine called
Young Ace in July
that will feature the return of
Yoshiyuki Sadamoto's Neon Genesis Evangelion
manga, Eiji Ohtsuka and Shou Tajima's
MPD-Psycho
manga, Iqura Sugimoto's manga version of
Mamoru Hosoda
and Sadamoto's upcoming
Summer Wars
anime film, and
Puyo's
Haruhi Suzumiya spinoff comedy manga —
Nagato Yuki-chan no Shoshitsu (The Disappearance of Yuki Nagato-chan
).
As a reflection of its target audience of young adults,
Young Ace
's English tagline describes the publication as a
"magazine for people who never give up reading Comic!"
*
Weekly Shonen Sunday has announced that the launch date for the next Rumiko Takashi (
InuYasha, Ranma 1/2)
manga will be April 22.Viz Media already announced that it will publish this manga in North America this year.
*
Yuu Watase has announced that
Fushigi Yuugi: Genbu Kaiden
, the follow-up to her popular girl-in-historical-fantasy world romance will not resume until spring 2010 due to health concerns and the commitments to other manga work.
*
Maria-sama ga Miteru (Marimite)
manga artist Satoru Nagasawa will be remaking Yukari Ichijo's high school drama
Nichiyobi wa Issho ni
*
Yutaka Izubuchi (
RahXephon
, design work for
Lodoss, Patlabor, Gundam
) will resume manga series
Kishin Genso Rune Masquer
after an 18 year break.
The Anime Business
Matt Alt collects a must read
State of the Anime Industry 2009
In 2001, writer Douglas McGray dubbed Japan
"a cultural superpower,"
coining the phrase
"gross national cool"
to describe the incredible influence Japanese entertainment then enjoyed throughout the world. Less than ten years later, this hip facade seems to be cracking. Precious few Japanese anime shows air on American television. Anonymous complaints from anime industry insiders incensed at atrocious pay and working conditions continue to mount. And even the Japanese Fair Trade Commission has gotten into the mix, releasing a scathing report of the problems facing animation companies. Can the anime industry save itself? Read on for a rundown of the current state of affairs in the Japanese anime industry as of 2009.
*
Roland Kelts says American anime fans party, but don't pay
A DVD screener of Takeshi Koike's forthcoming anime feature
Redline
arrived in the mail from Japan a few weeks ago, courtesy of Madhouse productions. An outer-space thriller chronicling the greatest auto race imaginable,
Redline
's characters are like the Cantina crowd from
Star Wars
on acid, and its narrative thrust is like
Speed Racer on
, well, speed. Still, watching it aboard a bumpy flight back to New York, I kept thinking: Great--but who's gonna buy this?
Hollywood Adaptations
A poster for Imagi's
CG

Gatchaman
showed up at Tokyo International Anime Fair
*
Anime News Network relates a
Variety Japan
story that Kenji Uchida, the president of the Sunrise anime studio, told attendees of a Tokyo International Anime Fair (TAF) 2009 symposium that actor Keanu Reeves' enthusiasm for its Cowboy Bebop anime was the deciding factor in the recent live-action film deal. According to Uchida, Reeves visited Japan twice to express interest in adaptation the anime series. After difficult negotiation, Sunrise arrived at a contract with 20th Century Fox that would allow Sunrise to assert quality control.
"If the script is terrible, the live-action film adaptation will not be approved."
*
Dragonball Evolution
gets points for diversity
?
Twilight

Anime on the Works?
Sci Fi Wire
notes
that the commentaries for the recently released DVD of vampire-romance
Twilight
included Catherine Hardwicke and co-stars Kristen Stewart and Robert Pattinson's suggestion that an anime version of the popular novels-turned movie might be in the works.
During the final sequence of the film, in which Stewart's Bella and Pattinson's Edward Cullen discuss transforming her into a vampire so the two of them can be together forever, Pattinson notices that he looks different from previous scenes.
"I look Asian in this scene,"
Pattinson says.
"I do, I look like an anime character."
Hardwicke responds, "Hey, I think there's going to be an anime version of this in Japan. So you will be an anime character."
The Japanese trailer for the live action

Blood: The Last Vampire
Worth Checking Out...
Diego Jourdan's

Astro Boy
movie tie-in from IDW
If you're a mecha fan, especially of the realistic variety, check out
this

Patlabor

art book
Also, bits of
Ghibli Museum -
The Day I Bought A Star
Ghibli Museum - Mei And The Kitten Bus
Ghibli Museum - House Searching
Justice League of Anime
Henson, Decode Revive Doozers
The Doozers
, former residents of the classic series
Fraggle Rock
, are returning to TV in an all new 3-D animated series co-produced by The Jim Henson Co. and Decode Entertainment.
The new series, set for 26 half-hour episodes aimed at the 4-7 age group, will be produced in Canada for broadcast in fall 2010. Henson will handle the licensing to the U.S. market, as well as worldwide consumer-product licensing and merchandising. Decode will handle international distribution of the program.
Both companies are looking to secure pre-sales at MipTV.
"

The Doozers

' are back to inspire kids to make the world a better place by making smart, ecofriendly choices, and by inventing tools, gadgets, buildings, structures, and other technology that supports the environment's ecology,"
said Halle Stanford, executive VP, children's entertainment, The Jim Henson Company.
Big Tent Brands TOKYOPOP in Apparel, Sports Gear
Manga publisher TOKYOPOP's brand is expanding into several new areas under a slate of initial licensing agreements announced by Big Tent Entertainment.
The licenses will see TOKYOPOP branded merchandise from Bell Sports, Trinity Products, and Jem Sportswear and Awake Inc.
Bell will release TOKYOPOP branded skateboard decks due to hit Toys R Us in April and followed by a line of helmets and pads. Trinity will produce apparel, such as T-shirts, sweatshirts and fashion tops for men, women and juniors. Jem will create a line of girls and juniors T-shirts to appear at Target stores this summer.
"TOKYOPOP is an innovative global leader for manga entertainment and we're excited to further their brand through fashionable new lines inspired by their creative designs and artistic vision,"
said Rich Maryyanek, Chief Marketing Officer, Big Tent
L.A. Comic Show Screens Anime Fest April 26
The long-running Los Angeles Comic Book and Science Fiction Convention will present a Best of Science Fiction and Anime from Japan mini-film festival at its
April 26
show.
The festival is being organized in conjunction with Funimation Entertainment, and the six-hour event will include premiere screenings of the company's upcoming releases.
The convention, which also features a dealer's room, will be held at the Shrine Auditorium Expo Center from 10 a.m. to 5 p.m.
For additional information check
www.comicbookscifi.com
.
Nick Jr. U.K. Annexes

Little Kingdom
Nick Jr. U.K. has become a loyal subject of Ben and Holly's
Little Kingdom
, the new preschool TV series from the creators of the award-winning
Peppa Pig
.
Produced by London-based Astley Baker Davies and E1 Kids U.K., the series follows the adventures the fairy Princess Holly and her friend Ben Elf, who live in a tiny kingdom hidden in the garden. The voice cast includes Morwenna Banks and David Graham.
The series will have its world premiere on the channel
April 6
. The series has been sold into 80 territories, including France, Australia, Italy and Scandinavia.
Shawn Clement hired to score 3-D

"Quantum Quest"
Award-winning film composer Shawn Clement will score the large-format, 3-D, computer-generated animated movie
Quantum Quest: A Cassini Space Odyssey, which takes viewers on an atomic solar safari through the universe, the film's co-director and writer-producer, Dr. Harry Kloor, announced Tuesday.

Clement, whose credits include Buffy The Vampire Slayer

and the video game

Batman: Rise of Sin Tzu

, will record his original score for

Quantum Quest
at Skywalker Sound in April with an 82-piece orchestra.
"I am delighted that my friend and colleague Shawn Clement has decided to add his brilliant and thoroughly original musical talents to our space adventure,"
says Kloor, a nationally acclaimed scientist whose credits include
Star Trek: Voyager
and
Earth: Final Conflict
.
"I know his musical contribution will help

Quantum Quest

fly high."
Clement's dramatic musical style is evident in such shows as
World's Wildest Police Videos, American Idol

and

So You Think You Can Dance

. A multifaceted composer, his creative accomplishments have earned him an ASCAP Film and TV Music Award. Clement's film credits include

We Married Margo

and

Last Chance
.

His signature sound has enhanced such popular shows as
Queer Eye for the Straight Guy

, as well as video game titles including

Open Season, The Sims 2

and

Batman: Vengeance.

Presented by Digimax, Taiwan's premier digital content provider, Quantum Quest is produced by Digimax and Kloor's Jupiter 9 Productions. The animated film features full 3-D stereoscopic sequences recreating actual space imagery captured from seven ongoing NASA and NASA/ESA space missions, including Cassini-Huygens, SOHO, Stereo mission to the Sun, Mars Odyssey, Mars Express, Venus Express, and Mercury Messenger.

This film combines the excitement of a science fiction adventure with informal science education. The movie focuses on a photon named Dave, who tries to save his people, who are caught in a galactic battle between the forces of good and evil.

The voice cast includes Chris Pine (Captain Kirk in J.J. Abrams' upcoming Star Trek XI

feature film), Samuel L. Jackson (

The Spirit, Pulp Fiction, Star Wars
), Hayden Christensen
(

Jumper, Star Wars

), Amanda Peet (

X-Files Movie 2

), Robert Picardo (

Stargate Atlantis

), Jason Alexander (

Seinfeld

), Tom Kenny (voice of

SpongeBob SquarePants, Transformers

), Sandra Oh (

Sideways, Grey's Anatomy
), Brent Spiner (
Independence Day, Star Trek: The Next Generation
), James Earl Jones (
Star Wars
), William Shatner (
Boston Legal, Star Trek

), Mark Hamill (

Star Wars
), astronaut Neil Armstrong, Doug Jones (
Pan's Labyrinth

, Abe Sabien -

HellBoy

), Abigail Breslin (

Little Miss Sunshine, Kit Kittredge: An American Girl

) and Janina Gavankar (

The L Word).

Endorsed by X-Prize Organization, International Space University, Challenger Center and the Young Astronaut Council, Quantum Quest

will provide its free educational materials to millions of students worldwide, and a portion of the film's profits will fund science scholarships. The

Quantum Quest
materials will meet National Science Content Standards, and are intended to motivate and excite students around the globe about science. Since the inception of the project, the film has had regular input from the Cassini project in order to achieve the best balance between scientific accuracy and artistic license.

Quantum Quest
is directed by Dan St. Pierre and Kloor, and written and conceived by Kloor. Producers are Kloor, president of Jupiter 9 Productions; Helen Pao-Yun Huang, chairperson of Digimax; Jeff Tzong-Jer Yang, vice-president of Digimax; and Rayna Napali of Jupiter 9 Productions. Tom Teng from Digimax, Teddy Zee, Ellen Goldsmith-Vein and Jon Vein are executive producers.
The film will be released worldwide in large format and subsequently in conventional 3D theaters in early 2010. The film is distributed and marketed in Asia by Digimax, and by Jupiter 9 Productions in all other territories. For more information, visit
www.qqthemovie.com
.
"Shaman"

conjures up win at SXSW Film Festival
Released in Denmark by French-born director Luc Perez,
"Shaman"
won in the Animated Shorts category at Austin's South by Southwest Film Festival, which ended Saturday.
In
Shaman
(produced by Dansk Tegnefilm), Utaaq, an old Inuit, is at a bus stop in Copenhagen when he spots a bird from his native Greenland above his head -- a rare visitor to these climes. It reminds him of his youth: as a young hunter, Utaaq discovered that a qivitoq was using a tupilak to kill local hunters. Tupilaks are magical creatures that obey their masters. Utaaq went off into the mountains where he became a shaman, and on his return, he used his powers to destroy the qivitoq. Back to Utaaq at the bus stop, we see a weary old man nostalgically watching the bird.
The Special Jury Award in the category was won by
Sweet Dreams
, made independently by New Jersey freelancer Kirsten Lepore.
This stop-motion animation, made almost entirely with real food, tells the tale of a stalwart cupcake yearning to find something beyond his world of sugar cube skyscrapers and frosting-covered friends. When his makeshift boat crashes on foreign shores, he makes a shocking discovery that changes him forever.
In the Experimental Shorts category, both prizes went to animated entries.
Cattle Call
, directed by Canadians Matthew Rankin and Mike Maryniuk of Winnipeg, is a high-speed animated documentary about the art of livestock auctioneering. Structured around the mesmerizing talents of 2007 Man-Sask Auctioneer Champion Tim Dowler, and using a variety of classic and avant-garde animation techniques (including stop-motion, cutouts, open exposures, hole-punching and rubbing lettraset directly on the celluloid), the filmmakers have created images as dazzlingly abstract, absurd and adrenalizing as the incredible language of auctioneering itself.
Cattle Call
is the second collaboration from Rankin and Maryniuk. Their first collaboration,
Death by Popcorn
(2006), was temporarily banned in their native Winnipeg.
The Special Jury Award in the Experimental Shorts category was given to Helder Sun for
The Idiot Stinks
. Describes as
"Animation Angst. Media, Martians and Miscommunication,"
it's a 35mm scratch-on film lasting one minute and 45 seconds.
The animated
Fresh Fruit
, directed by Edward Kelley and Brenden Cicoria of Saint Mary's Hall in San Antonio, was tied for a Special Jury Award in the Texas High School Competition.
Fresh Fruit
is about the secret lives of fruit living in a refrigerator. An apple and a pear discuss topics ranging from the end of the world to the meaning of existence. However, their secret lives are destroyed when interrupted by a hungry human.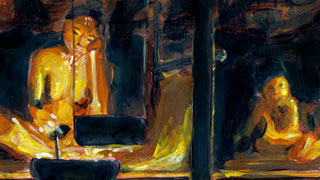 Scene from

Shaman

, by French-born Danish director Luc Perez.
Re-Animating Live-Action Films
Artist
Christopher Panzer
is promoting a new animation technique that he has dubbed Re:Naissance, which is essentially rotoscoped key frame drawings with traditional in-betweens. He plans to use this technique to create "homages" to older live-action films. This
interview with the website Eye For Film
offers more details about his process. Panzer says:
"Re:Naissance can be succinctly defined as 'the re-creation of live-action films in animation'. It's a new spin on adaptation and the remake. For the first time ever in the 100-year history of animation, Re:Naissance is going to invert the adaptation process by taking existing live-action films and faithfully reproducing them in animation, in a totally original graphic style unique to each film. We use a process known as 'rotomation,' which is a combination of rotoscopy and traditional animation. Our goal is not merely to rotoscope the original film - we are creating an entirely new film while remaining faithful to the original; an homage to the source film. The end result is an original animated feature film, meaning the stars in the live-action film will be caricaturized in some form but the movements and expressions (and original dialogue) will remain true to the original actors, although the animated characters will be completely new original graphic representation."
The first live-action feature that Panzer is adapting via his Re:Naissance method is George Romero's cult classic
Night of the Living Dead
. Below is a line-test based on the French film
La Traversée de Paris
that gives some sense of what the finished product will look like. The animation was created by Hong Ying studio in Shanghai. Panzer has a blog
LicenseToIllustrate.blogspot.com
that offers progress updates on the production of his first feature.
(Thanks
cartoonbrew
)
Briefly: 3-D Slow to Theaters; Real-Time Toon Interviews; MTV Human Trafficking Toon
* While promoting
Monsters vs. Aliens
in Hong Kong, DreamWorks Animation SKG CEO Jeffrey Katzenberg noted that the upgrading of theaters to support screening 3-D films is moving slower than expected, noting that the $100,000 up-front cost to upgrade and the current economic climate are making it harder to justify mass upgrading of theaters. [
Chicago Tribune
]
* Disney has begun deploying technology to allow members of the media to interview CGI cartoon characters in real-time, as seen in
an interview with Rhino the hamster
from
Bolt
on E Online. [
/Film
]
* MTV has announced
"Intersection,"
a half-hour anime film for the Asian market that is intended to raise awareness of human trafficking. The movie will star Thai actor Ananda Everingham and MTV VJ Taya Rogers. [
Asia One
]
MTV Reveals New

"Astro Boy"

One-Sheet
MTV's Splash Page has revealed
the new one-sheet for the new

Astro Boy

feature film
from Imagi Animation Studios, scheduled for theatrical release on
October 23, 2009
. The same article chronicles the rocky road that the movie has had to the screen, including
Imagi's recent scare over financing
.
We've got the new trailer for

Cloudy With a Chance of Meatballs
Flint Lockwood (Bill Hader) and Sam Sparks (Anna Faris)
A new trailer has gone live for the animated kids' movie
Cloudy With a Chance of Meatballs
, based on the book written by Judi Barrett and illustrated by Ron Barrett. You can watch it below.
The film focuses on a town where food falls from the sky like rain. The movie features the voices of Bill Hader, Anna Faris, James Caan, Bruce Campbell, Andy Samberg, Mr. T and Tracy Morgan. Chris Miller and Phil Lord direct from their screenplay. The movie opens
Sept. 18
.
Terminator

's Cameron reminisces—and distances himself from

Salvation
Linda Hamilton (left) and James Cameron on the set of the original Terminator
James Cameron reminisces about the first
Terminator
movie in a new essay in
Wired
, but says of McG's upcoming sequel:
"I'm not involved in
Terminator Salvation
. I've never read the script. I'm sure I'll be paying 10 bucks to see it like everybody else."
"I've been fascinated ever since by our human propensity for dancing on the edge of the apocalypse,"
Cameron writes.
"So when I wrote the first

Terminator

outline around 1982, I was just working out my childhood stuff. It was also born out of the science fiction movies and literature I grew up with. For the most part, they were warnings—about technology, about science, about the military and the government. You couldn't escape those themes or the fear of nuclear holocaust."
What Cameron brought to the previously told story of a hit man from the future trying to change past events was the concept of
"a flesh-covered endoskeleton,"
he says.
"That was new. So for me it was all about how we could develop stop-motion animation and puppetry to create a true robotic endoskeleton. The team at visual-effects house Stan Winston Studio jumped into it and made it work."
Cameron adds that he doesn't really believe that there will come a war by machines to wipe out humanity in the next generation.
"The stories function more on a symbolic level, and that's why people key into them," he says. "They're about us fighting our own tendency toward dehumanization."
Terminator Salvation
opens on
May 21
.
Studio Merry-Go-Round
I made my usual spins through some of our fine, Southern California cartoon factories the last few days, to wit:
Over at Nick, there might not be as much production as at other points in the studio's existence, but hands down, Nickelodeon has got more projects going on ... and more artists bent over their Cintiqs ... than any other teevee toon factory in town.
And what projects are percolating in the Viacom pot?
Fairly Odd Parents, Dora the Explorer, Go Diego, Go, Barnyard, Fan Boy and Chum Chum, Sponge Bob Square Pants, The Mighty Bee, MiHao Kai Lan
and
Penguins of Madagascar
.
Added to which, there are three or four future series in early development, plus a few specials.
Am I getting complaints about compressed production schedules? About uncompensated o.t.? About workloads? Noooo. Not now.
At Film Roman/Starz Media,
The Simpsons
crew got the word yesterday from Gracie Film's Richard Sakai and Richard Reynes that Fox is cutting the budgets of all their television series and The Yellow Family is no exception.
"The directors met with Sakai and Reynes earlier in the day, design crew later in the day. They tell us the plan is to hold salaries flat for overscale people, and hang on to as much of the crew as they can.

"The show's more complicated now, what with the high-def format, but we've got to somehow do more for less. They said they were going to honor union contracts, bump up people making scale minimums when they had to.

"It was nice that they came out and had the meetings in person instead of some memo going around. Sakai and Reynes answered questions people had, but there weren't many questions, to tell you the truth. The facts were pretty straight forward. Leaving the meeting, people weren't upset, weren't angry. Just kind of ... resigned."
The crew on
King of the Hill
has now departed. But when I was over at Fox Animation's
The Cleveland Show
last week, I was pleasantly surprised to see some of the Hill staffers working on
Cleveland.
Nice to see that at least some artists are landing on new job perches after the older roosts collapse out from under them.
An artist asked me today:
"So how many studios you visit a day?"
I told him the answer was usually one, but occasionally two ... and very occasionally three. I also said that I drive to two or three only when I'm feeling completely insane.
(Thanks
Animation Guild Blog
)
Gatchaman

Character Poster
Reader 'Lancealot' alerted us that the
Japanese

Gatchaman

blog site
has posted a cool snapshot picture of a character poster for Imagi Studios'
Gatchaman
.
The pic was taken at this years Tokyo International Anime Fair.
For those of you who grew up watching the cartoon back in the day like I did you can see this is a look at Joe Asakura, aka Jason.
I would love to know what is the status on this film, since there is no director attached to the project anymore. The last thing I know was that I posted a 10sec trailer clip for the film but that was back in Sept, which you can check out
HERE
. And back then it was set to be released in 2009 and now according to the character poster it is due to hit theaters in 2010.
Set in the future world grappling with environmental and technological issues, the story focuses on five reluctant heroes whose remarkable genetic code makes the Earth's only hope of defeating extra-terrestrial invaders.
Check out the pics below.
(Thanks
Latino Review
)