Second Trailer Arrives For Kitamura And Iwai's BATON!
Well, well, maybe he should have been doing animation all along ...
As frustrating as
Versus
director Ryuhei Kitamura can be when working in live action (which is very), when you think about it most of his annoying excesses in that format are things generally considered strengths in animation. Hyperactive camera motion? Lots of posturing and over emoting? These are not issues so much in the animated world, and neither are the high levels of production design that Kitamura generally demands but frequently cannot deliver on his tight live action budgets. And so the hopes are high for
Baton
, Kitamura's first foray into directing animation. And it certainly doesn't hurt that he's brought
All About Lily Chou Chou
director Shunji Iwai along for the ride as a producer.
Produced for the 150th anniversary of Yokohama,
Baton
employs a mix of traditional and rotoscoped animation. And it is, of course, a scifi-action story. The first trailer arrived a while back and has just been joined by a second on
the official website
and while I'm not a huge fan of the look of the rotoscoped sections - the human faces are a touch expressionless - I really like the feel of this thing on the whole. Check them both below the break!
Trailer Two
Trailer One
Franck Dion's

MONSIEUR COK

Online!
While doing jury duty in Sitges last year I had the chance to see a good number of truly stunning short films and pieces of animation and one of my absolute favorites was Franck Dion's retro-futuristic, Lane-Smith-on-acid, war satire
Monsieur COK
. This thing is both gorgeously realized and absolutely daft - the perfect combination - and i raved about it at the time while pointing the way to a brief trailer. But why both with a trailer when the whole film is online? Which this one is. Now. Go.
(Thanks
Twitch
)
Full Trailer For Mamoru Hosoda's SUMMER WARS!
A couple summers back first time feature director Mamoru Hosoda and writer Satoko Okudera took what, at the outset, seemed to be the most foolish of paths, releasing Hosoda's debut film head to head in Japanese theaters against
A Wizard of Earthsea
, the brand new (at the time) feature from animation titan Studio Ghibli, directed by the son of legendary animator Hayao Miyazaki. If ever there was a recipe for having your debut film crushed and ignored, this was it. Hosoda had a smaller budget, less publicity and worlds less recognition and so chances were good that his picture would simply disappear without leaving any trace behind.
But here's the thing. Hosoda went out and beat the Ghibli giants at their own game. While
Earthsea
relied a little too much of flash and dazzle, Hosoda simply set out to tell a story and tell it well and audiences and critics agreed that his film was the better of the two. This particular David ended up triumphing over this particular Goliath and Hosoda's little film,
The Girl Who Leapt Through Time
went on to become one of that year's big surprise hits and has played to great - and very deserved - acclaim all around the world.
And now on to the point. Hosoda is back and he's bringing writer Satoko Okudera with him. Working once again at Japan's Madhouse Animation - once again proving to be a major hotbed of talent - Hosoda and Okudera are hard at work on
Summer Wars
, Hosoda and Okudera are no longer the little guys here, and the anticipation for this film is running as high as it would for - to stay in the Madhouse world - a new Satoshi Kon and, perhaps to help manage expectations, the duo kept plot details to a minimum for as long as possible. But that's changing with the theatrical release approaching and the first official synopsis now on the scene.
When timid eleventh-grader and math genius Kenji Koiso (Ryunosuke Kamiki) is asked by older student and secret crush Natsuki (Nanami Sakuraba) to come with her to her family's Nagano home for a summer job, he agrees without hesitation. Natsuki's family, the Jinnouchi clan, dates back to the Muromachi era (1336 to 1573), and they've all come together to celebrate the 90th birthday of the spunky matriarch of the family, Sakae. That's when Kenji discovers his "summer job" is to pretend to be Natsuki's fiance and dance with her at the birthday celebration. As Kenji attempts to keep up with Natsuki's act around her family, he receives a strange math problem on his cell phone which, being a math genius, he can't resist solving. As it turns out, the solution to the mysterious equation causes a bizarre parallel world to collide with Earth, and it's up to Kenji and his new fake family to put reality back in order.
And with the arrival of the first synopsis we also get the first full theatrical trailer. This looks to be fantastic stuff, very distinctly Hosoda with perhaps a bit more buff and polish thanks to the increased profile. The fantasy elements are quite pronounced when they come but otherwise this looks very much as though it could be a companion piece to
The Girl Who Leapt Through Time
and that is a good thing, indeed. Check it out along with the earlier teaser below the break!
Trailer
Teaser
(Thanks
Twitch
)
UPA, Disney art director Victor Haboush dies at 85
Disney layout artist Victor J. "Vic" Haboush, art director for 1960s UPA TV series
Mister Magoo
and
The Dick Tracy Show
, died May 24 at 85.
A painter, designer and visual development artist, he worked from 1952 until 1997 for Disney, Sutherland, Hanna-Barbera, UPA and Warner Bros.
At Disney, he was an assistant art director on the 1953 shorts
Melody (Adventures In Music)
-- the studio's first attempt at 3D animation -- and
Toot, Whistle, Plunk And Boom
, the first Disney cartoon filmed in CinemaScope... and the winner of the 1954 Oscar for Best Short Subject (Cartoon).
Haboush was a layout artist on the Disney feature films
Lady And The Tramp
(1955),
Sleeping Beauty
(1959) and
One Hundred And One Dalmatians
(1961).
Born on April 16, 1924, Haboush had always intended to be a painter. After the Second World War, he enrolled at the Art Center College of Design in Pasadena, California, where he was a student of Lorser Feitelsen.
After he left the Art Center, he continued to study privately with Feitelsen for the next 15 years. And they remained close friends until Feitelsen's death. But marriage and children intervened, and he accepted an offer from Disney Studios.
In Feitelsen's class at Art Center, Haboush met Eyvind Earle, who became another lifelong friend, and with whom he collaborated at Disney Studios. Reminiscing about that time, Earle said that
"every painting [the 23 year-old Victor] started was a masterpiece the first half hour, and then started going downhill.... He became my closest friend."
Haboush and Earle also worked with Tom Oreb, and the three of them were part of the team that won an Academy Award for
Toot, Whistle, Plunk and Boom
. Feitelsen and Earle continued their friendship with one another, as well as Haboush, and did their best to keep Haboush painting, always asking about his latest work.
In his autobiography, Earle said that
"the few individuals [at Disney's] who actually were artists first and Disney artists second were very few.... Victor Haboush is a real artist even though he seldom paints any paintings except in his spare time, maybe once or twice a year."
With Oreb, he did production design on John Sutherland Productions'
Destination Earth
(1956). He was also a designer for
The Littlest Giant
(1955).
As head art director at UPA, he worked on the 1962 animated feature film
Gay Purr-ee
. He also worked on
The Flintstones
and
The Jetsons
for Hanna-Barbera and the partly animated 1964 movie
The Incredible Mr. Limpet
for Warner Bros.
He wrote at least one episode of
The Dick Tracy Show
,
The Flower Plot
(with George Atkins).
His formation of Spungbuggy Works with writer John Dunne and fellow animator Herb Stott marked Haboush's switch from animation to live-action films.
For more than two decades including the 1960s, Haboush worked as a director-cameraman in his own commercial production business, the Haboush Company. He won numerous awards, including the Cannes Gold and Silver Lions, Clios and IBAs.
Haboush's commercials often combined both dialogue and animation with live action. His extensive commercial credits included Taco Bell, McDonald's, Hefty Bags, Schlitz Malt Liquor, 7-Up, Ipana Toothpaste and Nash Cars. Other works from The Haboush Company included the Oscar-nominated
The Further Adventures Of Uncle Sam: Part Two
(1970),
K-9000: A Space Oddity
(1971) and
Free
(1972).
Although he retired in the mid-1990s and returned to painting full-time, Haboush returned to animation a few years later to work on the critically acclaimed 1999 feature film
The Iron Giant
. He received screen credit as a visual development artist.
In 2005, he received the Golden Award from The Animation Guild.
Victor Haboush was still painting at 80; his work is displayed on his Web site at
haboush.net
.
Survivors include his son, animation artist and teacher Auguste Haboush.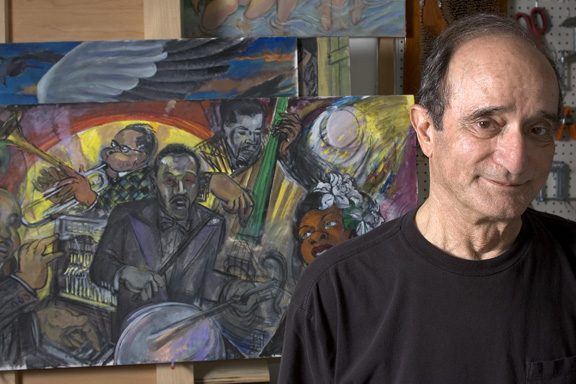 "Charlie's Angel" Farrah Fawcett dead at 62
Beautiful blonde-maned
"Charlie's Angels"
star Farrah Fawcett, the face that launched 12 million posters, died Thursday. She was 62.
Fawcett had been battling anal cancer on and off since being diagnosed in 2006. The actress, nominated for several Emmy Awards, had been hospitalized since early April.
Ryan O'Neal, her romantic partner since the mid-1980s, and her friend Alana Stewart were with Fawcett at Saint John's Hospital in Santa Monica, California when she died, said Paul Bloch, one of her representatives at entertainment public relations firm Rogers and Cowan.
Fawcett was Faucet, one of several of Toaster's new friends, in the 1998 direct-to-video sequel
The Brave Little Toaster Goes To Mars
, released by Hyperion Pictures.
She guested in a dual role -- as herself and as an old lady -- on the
Johnny Bravo
episode
Johnny Meets Farrah Fawcett
. In the 1997 episode, Johnny discovers that Fawcett is attending Little Suzy's birthday party. He'll do anything to meet (and kiss) his most favorite prime-time angel.
"Although this is an extremely difficult time for her family and friends, we take comfort in the beautiful times that we shared with Farrah over the years and the knowledge that her life brought joy to so many people around the world,"
O'Neal said in a written statement.
Besides the hit show
Charlie's Angels
, in which she played Jill Munroe, she zoomed to fame in the 1970s in part through a poster which sold a reported 12 million copies.
But Fawcett soon became known as a serious actress, winning critical fame and many nominations for her hard-edged leading roles, often in biographies.
Her starring role in the 1984 TV-movie
The Burning Bed
drew millions of viewers -- and an Emmy nomination for Outstanding Lead Actress in a Limited Series or a Special, as well as a similar Golden Globe nomination. In the movie, co-starring Paul Le Mat, she appeared in the true story of a battered wife who set fire to her husband's bed as he slept.
In 1987, she was nominated for a Golden Globe for Best Performance by an Actress in a Mini-Series or Motion Picture Made for TV for her starring role in
Nazi Hunter: The Beate Klarsfeld Story
. The following year, she was nominated in the same category for her title role in
Poor Little Rich Girl: The Barbara Hutton Story
.
She was nominated for an Emmy in 1990 for Outstanding Lead Actress in a Miniseries or a Special for her role in
Small Sacrifices
, and in 2003 for Outstanding Guest Actress in a Drama Series for playing Mary Gressler in
The Guardian
.
In William Mastrosimone's stage play
Extremities
, a role she repeated in the 1986 film version, she portrayed a woman who avenges a would-be rapist. Her other films included
Logan's Run
(1976),
Saturn 3
(1980),
The Cannonball Run
(1981),
The Apostle
(1997) and
Dr. T and the Women
(2000), directed by Robert Altman.
She was born Ferrah Leni Fawcett in Corpus Christi, Texas on February 12, 1947; her exotic first name was made up by her mother to match her surname.
Fawcett posed for her famed poster in early 1976 -- before she appeared in
Charlie's Angels
. A model, she was known for commercials, bit parts and for being
Six Million Dollar Man
star Lee Majors' wife when was photographed for Cleveland, Ohio company Pro Arts.
Then known as Farrah Fawcett-Majors, she was placed by photographer Bruce McBroom in the front seat of his 1937 Chevy. According to the Toronto Star, Fawcett did her own tousled hair, picked out the bathing suit herself, and chose the frame later used for the poster.
Soon afterward, she was asked to join the cast of the Aaron Spelling show
Charlie's Angels
, about three female detectives employed by the mysterious Charlie, who was heard (and voiced by John Forsythe) but not seen.
Co-star Kate Jackson was better-known then, but her poster propelled Fawcett -- the last cast for the series -- into stardom.
"Denunciations of 'massage parlor television' and 'voyeurism' only brought more viewers to the screen to see what the controversy was about,"
Tim Brooks and Earle Marsh wrote about the series in their reference book The Complete Directory to Prime Time Network and Cable TV Shows.
However, unhappy with her contract, Fawcett left
Charlie's Angels
at the end of the first season and was replaced by Cheryl Ladd. After being sued by the producers, she returned for six episodes in the second season.
For a while, Fawcett's career slowed. She divorced Majors in 1982 after nine years of marriage.
At about that time, she became involved with O'Neal. The two had a son, Redmond, in 1985.
In 1995, Fawcett posed nude for
Playboy
in 1995. Two years later, she was interviewed on
The Late Show with David Letterman
and appeared, sadly, to be totally exhausted. (She later claimed to be having fun with Letterman.)
She reunited with Jackson and Jaclyn Smith, her fellow Angels, for a 2006 awards show.
Farrah's Story, a documentary TV special partly shot by the actress, aired May 15 on NBC.
She started shooting the documentary by bringing a camera to a doctor's appointment. Later, the film showed include trips that Fawcett made overseas hoping to treat the cancer.
Farrah Fawcett's famed 1976 poster.
"King of Pop" Michael Jackson dies at 50
Michael Jackson suffered a cardiac arrest earlier this afternoon at his Holmby Hills home and paramedics were unable to revive him. When paramedics arrived Jackson had no pulse and they never got a pulse back, celebrety blog site TMZ has reported.
The LA Times is reporting that Mr. Jackson suffered a massive heart attack but remains alive in a coma at UCLA Medical Center. LA Times has now (4:20 PM Mountain Time) updated their site confirming the passing of the pop icon.
Los Angeles Fire Department spokesman Devin Gales would not confirm Jackson's identity but said paramedics went to an address corresponding to the star's home at 12.21 pm and the person was taken to UCLA Medical Center.
At 4:27, AP quoted someone familiar with the situation as confirming the Pop stars death, confirming the TMZ and LA Times reports.
The hospital has not confirmed anything at this point.
Jackson's manager Tohme E. Tohme was not immediately available for comment when contacted. Officials at UCLA Medical Center where Jackson was treated also could not be reached for comment.
Michael Jackson was portrayed in (but did not provide voices for) the Rankin Bass Productions show
Jackson 5ive
in 1971.
Michael
did
provide the speaking voice, under the pseudonym John Jay Smith, of Leon Kompowsky, a large white man in a mental institution who acts as if he were Michael Jackson, in the season premiere episode of
The Simpsons
' third season,
Stark Raving Dad
.
Jackson was born on August 29, 1958, in Gary, Indiana, the seventh of nine children. Five Jackson boys -- Jackie, Tito, Jermaine, Marlon and Michael -- first performed together at a talent show when Michael was 6. They walked off with first prize and went on to become a best-selling band, The Jackson Five, and then The Jackson 5.
Jackson made his first solo album in 1972, and released
"Thriller"
in 1982, which became a smash hit that yielded seven top-10 singles. The album sold 21 million copies in the United States and at least 27 million worldwide.
The next year, he unveiled his signature
"moonwalk"
dance move while performing
"Billie Jean"
during an NBC special.
In 1994, Jackson married Elvis Presley's only child, Lisa Marie, but the marriage ended in divorce in 1996. Jackson married Debbie Rowe the same year and had two children, before splitting in 1999. The couple never lived together.
Jackson has three children named Prince Michael I, Paris Michael and Prince Michael II, known for his brief public appearance when his father held him over the railing of a hotel balcony, causing widespread criticism.
G4 to Televise Lucasfilm Comic-Con Panel
Lucasfilm and G4 TV are set to make Comic-Con history by broadcasting this year's
Star Wars Spectacular
panel on national television.
The panel, always one of the most popular each year at the San Diego event, will be televised on the channel
Saturday, July 25
, at 2 p.m. ET/PT. The panel will be hosted, as usual, by Lucasfilm's Steve Sansweet, joined this year by Kevin Pereira and Olivia Munn, co-hosts of G4's
Attack of the Show
.
The broadcast will feature brand-new footage, breaking news, a live table read for a new episode of the hit animated series
Star Wars: The Clone Wars
, and several other surprise announcements.
The studio and network are inviting fans to take part in the excitement by submitting their
Clone Wars
questions through a G4 microsite to be answered by supervising director Dave Filoni during the panel.
Fans also are being asked to contribute to the Star Wars Stories Project by contributing their own tales of fandom to become part of the Lucasfilm historical archive. Fans can submit their stories in the Lucasfilm booth at Comic-Con or can upload their testimonials at
g4tv.com/comiccon
.
G4 will additionally broadcast three hours of live Comic-Con coverage from the floor of the convention starting at 4 p.m. ET/PT.
(Thanks
Animation Magazine
)
Animax Helps Bring

Planet Color

Online
Planet Color
by Todd Parr is set to win over the Internet with happy thoughts, thanks to a partnership between the author, marketing partner SupperTime Entertainment and digital creative agency Animax Entertainment.
Adapting the children's brand, whose goal is to have "fun with color while being kind to the earth and each other," Animax is developing a range of games that will be part of a wholesome, multimedia playground for children that is expected to go live in late 2009 or early 2010.
"We see this as an opportunity to leverage our experience building product-connected virtual worlds for leading brands to create something truly unique,"
says Animax CEO Corey Torrence.
"We believe that this innovation combined with Todd's recognized artwork will spell success in an increasingly hot online market for young kids."
The brand will be supported by a broad range of
Planet Color
licensees, including Chronicle Books for coloring and activity books, flash cards and stationery; Jen's Ideas for apparel; Four Peas for backpacks and school bags; and Sara's Prints for sleepwear.
(Thanks
Animation Magazine
)
ICv2 Sets Comics and Media Conference for San Diego
With Comic-Con having become the place for comics and media to interact, pop culture publishing and consulting company ICv2 has announced it will hold a conference exploring the ways in which these worlds are colliding
July 22
in San Diego.
The event, titled the
ICv2 Comics and Media Conference: Building Connections
, will include a keynote address from Jeph Loeb, writer of such comics as
Batman: The Long Halloween
and a TV producer whose credits include
Smallville
and
Heroes
.
Also set to speak on a panel titled
Comics After Hollywood
is Mike Mignola, creator of the popular comics, animation and movie franchise
Hellboy
.
Other topics include
Comics and Media Case Studies
, and
Comics and the IP Cycle
.
"Comics are increasingly the raw material for films, TV shows, and videogames and vice versa, and San Diego is where that all comes together,"
says ICv2 President Milton Griepp.
"We wanted to create a conference where writers and artists; publishers; producers of films, TV shows, and videogames; agents and managers; licensing pros; retailers; and librarians and educators can all come together to talk about what's happening and about how to expand this incredibly productive cross-fertilization."
The conference is set to run from 1 to 5 p.m. at the San Diego Marriott, located next to the Convention Center home of Comic-Con. Comic-Con is assisting with promotion and logistics for the event.
PW Comicsweek and comics culture blog The Beat, written by Heidi MacDonald, are co-sponsoring the event.
Registration for this half day event is $199 for publishers, producers, agents, marketers, and other; $99 for creators, retailers, librarians, and educators.
For more information, visit
http://www.icv2.com/articles/news/14929.html
and to register visit
https://www.regonline.com/63377_736158M
.
(Thanks
Animation Magazine
)
Content on the Cheap
Another
fine story
of an entertainment company reaching out a helping hand to hungry artists.
Starz Digital Media announced the launch of ABEToons.com this week, the self-styled "source for independent, alternative and underground animation ...

Through August 31, animators can enter a two to six minute animated short in the contest, which is handing out $4,000 for first place, $1,000 and $500 for the top two runners-up, and $500 for the video with the highest view count.
Such a deal. And if you
"win,"
they get to buy your film. (And -- I'm guessing here but I know how these things go -- all rights thereto. Neat, huh?)
There are ways of breaking into the business ... and then there are better ways.
On the other hand, it's a free country, and everybody is entitled to sell their sweat and inspiration for a nickel if they want to, but my advice is: Read the freaking fine print. Don't give away rights and ownership for a few thousand bucks. Better that you find a venue that gives you some real long-term upside than donating work to a site that is paying peanuts.
My opinion, anyway.
(Thanks
Animation Guild Blog
)
How To: Making a Great Animation Channel
The Snowman, Street of Crocodiles, Girls Night Out, Creature Comforts, Screen Play, Bob's Birthday, The Man With the Beautiful Eyes, City Paradise, Rabbit
: A truncated litany of some of the brilliant shorts that since the mid-1980's have defined British animation the world over, and are jaw-droppingly impressive. What they, and the unlisted others, share apart from their creative potency is, perversely enough, an institution. A government mandated, uniquely funded institution that luckily for all of us was peopled by passionate souls who cared about art and diversity (writ large), and who actively contrived to put money and resources into the hands of the most talented, fecund creators they could uncover. No, not the NFB (but thanks for thinking of us) Britain's Channel 4 – or Channel Four, more correctly – television network.
In
British Animation: The Channel 4 Factor
, Clare Kitson, Channel 4's commissioning editor for animation throughout the 1990s, has written a humane and intimate history of the ups and downs of animation at the Channel, leavening it with just the right amount of dry wit, personal insight and anecdote. The book is a deft balance between an academic tome offering historical context and background and an eye-opening guide to anyone interested in the many behind-the-scenes manoeuvrings that go on to actually get these kinds of films made and-most importantly in Channel 4's case-on to air.
As an NFB producer, the themes that resonated for me (both for the echoes and the dissonances) are Kitson's perspective as a commissioning editor rather than a producer, and the Channel's intrinsic ability (and sometimes inability) to get things onto TV screens around the UK. While these are not mass audiences by most standards, they are certainly much larger audiences than short animation otherwise gets on broadcast television – if our films get onto television at all. Such a luxury, but as Kitson points out also such a curse, was each season's scheduling matrix even for a broadcaster so committed to diversities of topic, technique and running length.
8's New

9

Poster. 1 Way To See It.
io9

has the first look at a brand new poster for the animated feature

9

.
9
is a feature-length expansion of Mr. Acker's short film of the same name. The action-packed tale takes place in a world parallel to our own, in which the very legacy of humanity is threatened. A community of fully mobile rag dolls living a post-apocalyptic existence find one of their own, 9 (Mr. Wood), displaying leadership qualities that may help them to survive. The conflicted but resilient community includes 1 (Mr. Plummer), a domineering war veteran; 2 (Mr. Landau), an aged inventor; 5 (Mr. Reilly), a stalwart mechanic; 6 (Mr. Glover), a visionary and artist; and 7 (Ms. Connelly), a brave warrior.
Seth Meyers And 'SNL' Team To Develop Animated Superhero Series 'The Awesomes'
The MTV mothership announced its slate of in-development programming this week, and among the titles announced is one particular project that should pique the interest of comic book fans.
"The Awesomes"
is described as an animated half-hour series created by
"Saturday Night Live"
head writer Seth Meyers and fellow SNL-er Mike Shoemaker that
"follows an unassuming superhero and his cohorts as they battle evil villains, the paparazzi, and a less than desirable reputation as bumbling losers."
The series will be produced by SNL chief Lorne Michaels' production company, Broadway Video, with Meyers and Shoemaker serving as co-creators and co-writers. Meyers is no stranger to the comics world, having recently teamed with fellow SNL-er Bill Hader on the Marvel Comics one-shot story
"Spider-Man: The Short Halloween.""The most exciting thing about creating content for MTV is that you can paint across a broad canvas,"
said Tony DiSanto, President of Programming for MTV.
"This allows us to play with different genres as our long history of hits clearly illustrates, from
'Beavis and Butthead'
to 'The Real World' to 'The Hills.' MTV is always evolving, and we are spreading our creative wings even further with this slate. From animation, to scripted, to comedy, as always, MTV is a home for talent to give life to their vision behind the camera, as well as in front of it."
There is no schedule for the series at this point, but we'll be sure to keep you posted when it's announced.
Original "Astro Boy" & "Kimba" Series DVD Mini Sets Coming on October 6, 2009
Right Stuf's Nozomi Entertainment has announced the
Astro Boy DVD Mini Sets 1 and 2
, scheduled for release on
October 6, 2009
. The sets will repackage the original 1960's
Astro Boy
series, which was based on the manga of Osamu Tezuka, and was the first anime series created for television and the first anime imported to air in the United States. Each set will contain 5 discs, with the episodes in their original black-and-white mono presentation with an English language soundtrack.
The same date will also see the release of a DVD Mini set of
Kimba the White Lion
, another anime series from Osamu Tezuka that was an early anime import to the United States. The 5-disc set will contain the first 25 episodes of the series.
Suggested retail price is $49.99 per set.
The full press releases follow, with full details:
RIGHT STUF'S NOZOMI ENTERTAINMENT Announces
ASTRO BOY DVD Mini Sets 1 & 2 for October 6, 2009
GRIMES, IA, June 23, 2009 – Anime producer and distributor Right Stuf, Inc. and Nozomi Entertainment are pleased to announce
ASTRO BOY DVD Mini Set 1
and
ASTRO BOY DVD Mini Set 2
will be released on
October 6, 2009
.
One of the "50 Best Anime Ever"
"as entertaining now as when it first aired"
- Anime Insider
Based on Osamu Tezuka's acclaimed manga (comic),
Astro Boy
was both the first modern, 25-minutes-per-episode anime series created specifically for television and the first anime series to air on TV in the United States, during the 1960s. The original boy-robot continues to be an icon to fans wordwide and also inspired the new CG-animated Astro Boy movie, which is scheduled to arrive in theaters on October 23, 2009.
Frederik L. Schodt – Order of the Rising Sun recipient and author of
The Astro Boy Essays: Osamu Tezuka, Mighty Atom, and the Manga/Anime Revolution
– describes the series' everlasting appeal among fans of all ages:
"It all started with Astro Boy. By animating his hugely popular
"Mighty Atom"
manga in 1963, Osamu Tezuka created the template for Japan's modern and gargantuan manga/anime industry. Today the series is still entertaining, charming, and fascinating for the sophistication of its ideas. But it also reveals how the anime boom began, and is a must-watch for all true anime fans."
Each mini set features episodes from the original 1963
Astro Boy
series, as it aired on television, with an English-language audio track.
Visit
astroboy.rightstuf.com
for more information about
Astro Boy
and to view the trailer, download desktop wallpapers, and listen to an interview with Mr. Schodt about the significance of Dr. Tezuka's works worldwide, the differences between the
Astro Boy
manga and its anime adaptations, and Tezuka's relationship with his best-known creation.
About ASTRO BOY
In a future where science fiction is reality, Dr. Boynton creates a super-robot in his deceased son's image. Named Astro Boy, the robot can swim oceans, leap over mountains and even fly into space – but he can't replace the doctor's son. Abandoned and disowned, soon Astro Boy is befriended by Dr. Packadermus J. Elefun of the Institute of Science, and together, they embark upon an amazing adventure. With super strength, rocket-powered flight, a selfless heart and a kind demeanor, Astro Boy fights a never-ending crusade against the forces of evil!
ASTRO BOY DVD MINI SET 1
Pre-Book: 8/25/2009
Street Date: 10/06/2009
Runtime: Approximately 550 minutes, Mono, Black and White
Genre: Adventure / Sci Fi / Retro Television
Suggested Rating: All Ages
Format: DVD (English Audio)
Catalog #: RSDVD0715
ISBN: 1-57032-773-4
UPC: 7-42617-0715-2-2
SRP: $49.99
Discs/Set: 5
Case Qty: 16
DVD Features:
Contains episodes 1-25 of the original Astro Boy series!
Scene access and English-language audio.
ASTRO BOY DVD MINI SET 2
Pre-Book: 8/25/2009
Street Date: 10/06/2009
Runtime: Approximately 594 minutes, Mono, Black and White
Genre: Adventure / Sci Fi / Retro Television
Suggested Rating: All AgesFormat: DVD (English Audio)
Catalog #: RSDVD0727
ISBN: 1-57032-770-X
UPC: 7-42617-0727-2-7
SRP: $49.99
Discs/Set: 5
Case Qty: 16
DVD Features:Contains episodes 26-52 of the original Astro Boy series!
Scene access and English-language audio.
RIGHT STUF'S NOZOMI ENTERTAINMENT Announces
KIMBA: THE WHITE LION DVD Mini Set 1 for October 6, 2009
GRIMES, IA, June 23, 2009 – Anime producer and distributor Right Stuf, Inc. and Nozomi Entertainment are pleased to announce the
KIMBA: THE WHITE LION DVD Mini Set 1
will be released on
October 6, 2009
.
"truly worth watching"
– Anime News Network
"Justifiably beloved by many"
– Anime on DVD at Mania.com
The mini set features the first 25 episodes of
Kimba: The White Lion
, as it aired on television in the United States, with remastered video (from the previous Ultra Edition collection) and an English-language audio track.
From Osamu Tezuka, the creator of
Astro Boy
and one of Japanese animation's great pioneers,
Kimba: The White Lion
was one of the first anime classics to air on American television, in the 1960s, and the very first Japanese animated series to be broadcast in color.
Visit
kimba.rightstuf.com
for more information about
Kimba
and to view the trailer and download desktop wallpapers.
About KIMBA: THE WHITE LION
Kimba's enchanting adventures of friendship, jungle survival and harmony return… Ready to be introduced to a whole new generation of fans! Join Kimba along with his pals Pauly the Parrot, Daniel Baboon, and a charming assortment of other loveable characters, as he follows in the footsteps of his late father, the great lion king, making the jungle a safer, better place for everyone to live. Each masterfully restored episode is presented in order according to Osamu Tezuka's original storyline.
Contains episodes 1-25 of the original Kimba series!KIMBA: THE WHITE LION DVD MINI SET 1
Pre-Book: 8/25/2009
Street Date: 10/06/2009
Runtime: Approximately 550 minutes, Mono, Color
Genre: Adventure / Retro Television
Suggested Rating: All Ages
Format: DVD (English Audio)
Catalog #: RSDVD0716
ISBN: 1-57032-774-2
UPC: 7-42617-0716-2-1
SRP: $49.99
Discs/Set: 5
Case Qty: 16
DVD Features:
Scene access and English-language audio.
The Dark Knight, Battlestar clean up at the Saturn Awards
The Dark Knight
The Dark Knight
was the big winner, with five awards, at the 35th annual Saturn Awards on Wednesday, taking home statuettes for best action/adventure/thriller film, best writing (Christopher Nolan and Jonathan Nolan), best supporting actor (Heath Ledger), best music (Hans Zimmer and James Newton Howard) and best special effects. The Academy of Science Fiction, Fantasy & Horror Films sponsored the awards at The Castaway in Burbank, Calif.
Other multiple winners included
The Curious Case of Benjamin Button
and
Iron Man
, with three each. Button won best fantasy film, best supporting actress (Tilda Swinton) and best makeup.
Iron Man
won best science fiction film, best actor (Robert Downey Jr.) and best director (Jon Favreau).
Single winners included
Hellboy II: The Golden Army
for best horror film; Angelina Jolie as best actress for
Changeling
; Jaden Christopher Smith for best performance by a younger actor in
The Day the Earth Stood Still
;
Indiana Jones and the Kingdom of the Crystal Skul
l for best costume;
Let the Right One In
for best international film; and
WALL-E
for best animated film.
On TV,
Battlestar Galactica
won three awards: best actor on television (Edward James Olmos), best actress on television (Mary McDonnell) and best syndicated/cable television series.
Dexter
won two acting awards, for Jennifer Carpenter for best supporting actress on television and Jimmy Smits for guest-starring role on television.
Single wins for TV series included
Lost
for best television series,
The Librarian: The Curse of the Judas Chalice
for best presentation on television, and Adrian Pasdar for best supporting actor on television, in
Heroes
.
DVD winners included
Jack Brooks: Monster Slayer
for best DVD release, Stephen King's
The Mist
for best DVD special edition,
Psycho
(Universal Legacy Series) for best DVD classic film release, T
he Godfather: The Coppola Restoration
for best DVD collection,
Moonlight
for best series on DVD and
The Invaders
for best retro series on DVD.
Jeffrey Katzenberg received the very first Visionary Award for his efforts in advancing 3-D film presentation. Leonard Nimoy received the Lifetime Achievement Award, for five decades of work in film and television, but really for Mr. Spock. A Life Career Award went to longtime genre actor Lance Henriksen.
Watchmen director's cut gets limited theatrical release—and somebody dies
Warner Brothers is giving Zack Snyder's director's cut of
Watchmen
—which will have an additional 25 minutes of footage,
including the death of a supporting character
—a limited theatrical run one week before Comic-Con International in San Diego. According to The Hollywood Reporter, the cut will screen in Los Angeles, New York, Minneapolis and Dallas before the movie is released on Blu-ray and DVD on
July 21
.
The rollout will culminate with a special screening
July 25
at Comic-Con that is designed to allow any viewer in North America to watch the movie simultaneously with the audience at Comic-Con, see and hear Snyder comment on the movie and even ask questions.
"Comic-Con, it isn't just comic-book fanatics, it's cinephiles as well. It'll be cool to discuss what people are thinking,"
Snyder said at a
Watchmen
press day, held Wednesday at Warner Brothers, where the news was announced.
The theatrical re-release is unusual, as the movie is generally considered to be a bit of a box-office disappointment, with only $107.5 million grossed domestically. Snyder, however, stood by it.
"I'm proud of the movie. It does everything I wanted it to,"
he said.
Why comic-book filmmakers trash Watchmen and Elektra (even the guy who wrote it) but praise Bryan Singer
In a candid and animated hourlong chat with fans at the Los Angeles Film Festival this week, three science fiction filmmakers discussed turning graphic novels into big-screen extravaganzas, ended up trashing
Watchmen
and
Elektra
, shrugged their shoulders about fanboy criticisms and praised director Bryan Singer (of the first two
X-Men
movies and
Superman Returns
) for single-handedly turning comic-book movies into mainstream films.
Zak Penn, who admitted to clashing with Singer when working the
X2
script, said,
"Bryan Singer deserves the credit that we've reached today where movies like Dark Knight are getting nominated for awards. He did the science fiction incarnation of these movies. These are not comic-book scripts; they are science fiction movies that are just based on comic books. And Bryan Singer is no fan of these movies. ... Yet no one else adapts The Matrix or the The Fly better than we do."
Barry Levine of Radical Publishing said he's working with Singer on the big-screen adaptation of
Freedom Formula
and credited him with bringing a lot to the project.
"He is embellishing it, because Bryan has that sensibility,"
Levine said.
"I firmly believe that comics are one thing—and not - Gone With the Wind - and the film version is a different medium. At Radical, we do character-driven projects, so we do not see ourselves as competing with Marvel. And we are far from being Disney."
Levine hinted to SCI FI Wire that he will be revealing some his darker and edgier stuff at Comic-Con this summer. He has Peter Berg directing
Hercules
for their next project, and six other films are in the works—all based on comic books.
"I got nominated for an Oscar, for f--k's sake,"
said
History of Violence
writer Josh Olson, who was also on the panel. "I th
ink Hollywood first discovered that comics made good movies in the 1930s, and now it's a dominant presence, like westerns were at one time. Then it was farting along in the late 1970s, and then revamped and updated recently."
The trio were part of the
"Graphic Explosion"
seminar on Tuesday night at the L.A. Film Festival, which offers free chats with actors, directors and screenwriters for the general public. More than 100 fans attended to see the team and to watch some ribbing and confessions go on during the informal chat.
"We blew Elektra,"
admitted Penn, who wrote the Jennifer Garner film.
"We blew chunks. It should have been R-rated, like Sin City. ... It should have been La Femme Nikita: She is an assassin, and you can't do that unless it is R-rated. I should have known that Fox would not make an R-rated movie, so it's probably my fault. They denuded it."
Levine said his team is working on
Aladdin
as
"our version of the Lord of the Rings series, and basically the writer turned in a script like Pirates of the Caribbean, because he kept saying we were never going to get some of these things past the studios because it was so violent."
Levine said he plans to push the edges of an R rating in this graphic-novel-based film, and that the budget is near $100 million.
"I do not want to make movies that satisfy any specific studio."
Penn pointed out that
"if you have a vision that Wolverine should be spilling more blood, and there's $200 million riding on it, and a lot of people's jobs at the studios, you may have to make some compromises to get the film made. And I'm not saying that's always the right decision."
He said the soft-core fight scenes in
X-Men Origins: Wolverine
felt
"ridiculous."
The panel were pressed for their thoughts on the recent
Watchmen
movie and about screenwriter David Hayter's editorial plea for fans to come see the movie, lest its failure spell doom for the genre. (Hayter worked with Penn on
X2
.)
"That was silly to say that if not enough people went to Watchmen, it would stop all the other movies,"
Penn said.
"No one told me to change anything because of the failure of Watchmen."
Olson chimed in,
"That was a candy-ass thing to do."
And Levine said,
"And there's that 25-foot blue penis.""Now it's true that this was a big nostalgia trip for me, and for that reason it succeeded for me,
" Penn added.
"That's not how you should write, though, out of nostalgia for a moment in your comic-book history."