Up

continues to ride high at the box office as number one
Disney/Pixar's 3-D animated
Up

flew in the number-one slot at the box office for the second weekend in a row, ascending above

Land of the Lost, which opened in third place, according to The Hollywood Reporter.

Up

was the first film this summer to repeat its performance as the top film of the weekend, declining just 35 percent for the June 5 weekend and raising its 10-day domestic box office to an estimated $137.3 million, the trade paper reported.



Land of the Lost opened with a disappointing $19.5 million.

Drag Me to Hell, meanwhile, saw its box office fall 53 percent in its second weekend of release, to about $7.3 million, to take seventh place, with a total so far of $28.5 million.

Angels & Demons added $6.5 million in its fourth weekend for a total of about $116.1 million domestically and $409 million globally, the year's best.

Star Trek remained strong in fifth place, with about $8.4 million for the weekend, raising its domestic total to $222.8 million, the best domestic take of the year so far.

Terminator Salvation
, meanwhile, dropped to sixth place from third, with about $8.18 million for the weekend and a total of $105.5 million domestically so far.
Cupid Gets Some New Dope
Powers
"Yo! You down wit' dis? Listen up, I hear Cupid got some new dope powers…"
Man, I love classic cartoon posters, but this one from 1917 is not only ugly, unappealing and racist (click image at left to enlarge), but it seemingly anticipates hip-hop slang from 90 years into the future. The word "dope" on this one-sheet poster is indeed a drug reference: for a new love potion - which Cupid in the cartoon uses to create mischief. The word "Powers" is not part of the film's title, its the name of the series (A Pat "Powers Cartoon Comedy"). The text is so poorly laid out it, it can be read the wrong way (at least, by me). I found this poster while browsing at
Moviegoods.com
, they are selling this repro for $19.99 - the original would be worth thousands. For the record, Pat Sullivan's
Cupid Gets Some New Dope
(1917) features his character Sammy Jonsin as "Cupid". Two years later, Sullivan would find lasting success with the creation of Felix the Cat.
(Thanks
cartoonbrew
)
NY Times: Newcomer Animation Studios Coming on Strong in 2009
The New York Times
has taken a look at
several of the animated feature films being offered by smaller studios in 2009
, including Ilion's
Planet 51

, Imagi's

Astro Boy

, Snoot's

Battle for Terra

, LAIKA's

Coraline

, and Exodus'

Bunyan & Babe
. The article also discusses the increasing financial importance of animated films, with animated films being 4 of the top 10 grossing movies in 2008, as well as the growth of animation past the usual musical comedy for kids genre, noting the $85.2 million take for
Coraline
and Disney's upcoming theatrical release of Hayao Miyazaki's
Ponyo
.
"Ponyo"

to Debut on 800 Screens in US
Producer Frank Marshall has stated on his Twitter account that
Ponyo
, the latest movie from Studio Ghibli's Hayao Miyazaki,
will be debuting on 800 screens
when it is released on
August 14, 2009
. This will make it noticeably larger than any prior Miyazaki release in the US -- 2002's
Spirited Away

was showing on 714 screens
at its peak, and many Ghibli releases have been on fewer than 300 for the duration of their theatrical releases. However, the number is also well short of the 3,000-4,000 screens for headline movies such as Disney/Pixar's
Up
or DreamWorks'
Monsters vs. Aliens
.
Nickelodeon

and

Nick Jr.

Magazines Shutting Down
Nickelodeon
has announced
that they are ceasing publication of
Nickelodeon Magazine
and
Nick Jr.
Magazine
by the end of the year. The former, though intended for children, also attracted
independent comic creators
who contributed many strips including a monthly feature called
The Comic Book
.
"Homestar Runner"

Creator to Co-Write

"Monster Safari"

Feature
Matt Chapman, co-creator of HomestarRunner.com, has been hired alongside Craig Zobel to write the Jim Henson Co. film
Monster Safari
. The film will be a stop-motion feature based on a short film about two cryptozoologists.
Moonscoop's

Hero: 108

Toys with Playmates
Moonscoop's eagerly anticipated new animated series
Hero: 108
has landed Playmates as its global toy partner (excluding Taiwan). The deal allows Playmates to develop and market show-related toys including action figures, vehicles, role play toys and accessories, playsets and electronic and handheld games for the property.
Slated for an early 2010 launch on Cartoon Network internationally,
Hero: 108
is the result of one-of-a-kind collaboration between Japan's leading online multiplayer game publisher Gamania Digital Entertainment, Moonscoop and Cartoon Network Intl. Telegael Teo of Ireland and Hong Ying of China are also involved in the toon production. The series is expected to launch on Cartoon Network platforms around the world in early 2010.
Loosely based on the ancient Chinese novel
The Water Margin
(which was also made into a classic martial arts movie, released in the US as
Seven Blows of the Dragon
),
Hero: 108
follows the outrageous adventures of a group of brave young defenders determined to end a conflict between animals and humans in a faraway kingdom. The group known as First Squad includes Lin Chung, Mighty Ray, Mystique Sonia and Jumpy Ghostface. The show's striking character designs are by show creator Phoenix Tarng, who is also part of Gamania's in-house creative development team. The series comes with a massive multi-platform online game developed by Gamania as well as a rich stream of online content and Flash games available at
www.Hero108.tv
.
(Thanks
Animation Magazine
)
Kickstand Grows in Brooklyn
A new animation and research development company called Kickstand has opened its doors in Brooklyn, New York. Using a team of technical directors with backgrounds in DreamWorks Animation and Charlex, Kickstand will offer commercial software products and services for vfx, game productions, features and TV projects.
"Our team is committed to delivering innovative technology that maximizes productivity in all stages of the production pipeline,"
says Kickstand's exec producer Rob O'Neill.
"We believe artists and animators need to spend their time being creative, not worrying about how to streamline workflow."
With commercial software for surface deformations and workflow enhancement currently in development, Kickstand plans to enhance character animation using Autodesk Maya software. In addition to commercial software development, the company also offers custom plug-in creation, pipeline research and development, 3D content and asset design, character modeling and rigging and pre-production and pitch development services.
Daniel Dawson, who received a technical achievement award for the development of a hair animation and simulation system for DreamWorks Animation and has worked on character development for features such as
Shrek 2, Shrek the Third
and
Monsters vs. Aliens
. Greg Elshoff (an Autodesk Masterclass presenter) is the outfit's Tools Division exec, while former DreamWorks Animation character designer Rob O'Neill leads the company's research and development division.
For more info about the new company, visit
www.kickstandlabs.com
(Thanks
Animation Magazine
)
Pixologic Unveils GoZ for ZBrush
Pixologic has introduced GoZ, a special new feature of Pixologic's ZBrush, which is designed to easily connect data workflow to and from modo with a single button click.
Once inside modo, rendering ZBrush data with photorealistic results or modifying a model becomes easier and any texture, normal, and displacement maps created in ZBrush will automatically be connected to the appropriate shader networks. Working without the distraction of timely export and import operations means artists can spend less time on technical aspects, and more time on simply being creative. GoZ is also compatible with modo (Cinema 4D and Maya) on both the Mac and PC platforms.
The first version of GoZ will be released with the next ZBrush Mac OSX update in
June 2009
and will follow with the release of ZBrush 4 in
August 2009
for PC users. For more info and to see a demo of the product, visit
www.pixologic.com/zbrush/features/GoZBrush/
(Thanks
Animation Magazine
)
"Sid the Science Kid"

up for TV critics' award
The Jim Henson Company's animated PBS series
"Sid the Science Kid"
is one of five shows nominated for the Television Critics Association's TCA Award for Outstanding Achievement in Children's Programming.

Vying with
Sid the Science Kid
in the category are
Camp Rock
(The Disney Channel),
The Electric Company
(PBS), and Nickelodeon's
Nick News
and
Yo Gabba Gabba
.

TCA Award nominations were unveiled Wednesday in Los Angeles.

NBC leads the list with 11 nominations, including comedies
30 Rock, The Office
and
Saturday Night Live
, which garnered a total of seven nominations.
Friday Night Lights
, which initially aired on DirecTV, got a nomination along with long-time series ER. NBC also received a nomination for its coverage of the
2008 Summer Olympics
.

FX's
The Shield
received the most TCA Award nominations for its final season in four categories: Program of the Year, Outstanding Drama, TCA Heritage Award and Individual Achievement, for which actor Walton Goggins was nominated.

The 25th annual TCA Awards honor the finest work of the 2008-09 season as selected by the association's 200-plus member critics and journalists. The winners will be announced August 1 at The Langham Huntington Hotel and Spa in Pasadena, California. Chelsea Handler, host of E!'s
Chelsea Lately
, will open the ceremony.

NBC has three series --
ER, Saturday Night Live
and
Star Trek
-- nominated for a TCA Heritage Award, which recognizes a long-standing program that made a lasting cultural or social impact. Also nominated in this category are
M*A*S*H
(CBS) and
The Shield
(FX).
Teenage

Little Lulu

manga from Brazil
If you think the U.S. has a monopoly on ruining its classic cartoon stars… have you seen
Little Lulu´s Brazilian-made comics revival as a teenager
?
Here is
more info
(in Portuguese) and pictures. Check out the slim Tubby - according to this info, Tubby left his violin to lead a rock band, Annie is the gang's geek and a videogame freak, Gloria is a fashion expert and Alvin has become a skater and surfer.
(Thanks, Alfons Moline)
(Thanks
cartoonbrew
)
"Dear Pixar, How About a

Chick Flick

…?"
NPR.org posted
these thoughtful two-cents
from a female Pixar viewer. Linda Holmes writes:
"Of the ten movies you've released so far, ten of them have central characters who are boys or men, or who are anthropomorphized animals or robots or bugs who are voiced by and imagined as boys or men. These movies feature women and girls to varying degrees —

The Incredibles

, in particular — but the story is never "a girl and the things that happen to her," the way it's "a boy and what happens to him."
While you're checking in at NPR, don't miss the interview with Pete Docter recently broadcast on
Fresh Air
. Docter talks about
UP
and animation in general. Good stuff.
Here's the link
.
(Thanks, John Paul Cassidy and PJ)
(Thanks
cartoonbrew
)
Upcoming in Japan
More
Hate Fun
summer season previews
Previews
Mai-Mai Miracle
- Madhouse film set in the 50's, directed by Sunao Katabuchi (
Black Lagoon
)
XXXHOLiC Shunmuki 2
Saint Seiya: Lost Cancas
Gokusen
- live action adaptation of live action heiress turned teacher manga adaptation
a bit of a look at Hosoda Mamoru's
(
The Girl Who Leapt Through Time) Summer Wars
Anime
affenheimtheater
reports
Studio 4°C and Molot Entertainment's Russian/Japanese/Canadian co-production
First Squad: The Moment of Truth
will screen during the 31. Moscow International Film Festival late June and will finally be released on
October 15th
.
Ghibli World
notes that
the Studio Ghibli animated music video for Aragaki Yui's single piece, will be released on DVD. Starting June 17th Aragaki's full album hug will go on sale in shops across Japan and will also be available in a CD+DVD combination of which the DVD will include the piece music video.
Canned Dogs notes
, according to the July issue of
Dengeki Bunko Magazine
, a new
Shakugan no Shana
anime is in the works. The light novel follows a normal boy who's fate become interwined with a strange girl's supernatural battles.
Seiji Mizushima (
Gundam 00
) will be helming a Gainax adaption of
Hanamaru Kindergarten
Via
Anime News Network
A second season of BONES' super powered espionage anime
Darker than BLACK
has been confirmed by the
Young Gangan
manga anthology. The first season is being released in North America by FUNimation
Manga
Nausicaa.net
reports that
Hayao Miyazaki is considering illustrating a new story of his literally pig-headed pilot, entitled
Porco Rosso: The last sortie"
. In this story Porco Rosso flys the Savoia-Marchetti SM.79.
In Model Graphix, Logan Umemoto, a scale model creator, visited the Italian Air Force Museum to take references pictures of a Caproni Campini. According to the article, Miyazaki will draw the sequel after having boarded this Caproni Campini. Model Graphix says,
"It is unknown when this will be."
Great Teacher Onizuka
will be returning with new manga entitled
GTO: Shonan 14 Days
.
Live Action
Rock manga (released in North America by Tokyopop, the anime was released by FUNimation) will be adaptated into a live action film, directed by 20th Century Boys' and scheduled for Fall 2010. Cast includes Hiro Mizushima as Ryusuke Minami,Takeru Satoh as Yukio Tanaka, Kenta Kiritani as Chiba, Aoi Nakamura as Yuji Sakurai, and Osamu Mukai as Taira.
Digital Distribution
The fall out continued from the situation in which an episode of
One Piece
was discovered on FUNimation's server prior to a planned streaming simulcast and illegally distributed.
Anime Vice
collects Japanese reactions to leak from the 2ch message board
"In America, only ninja, samurai, and tentacles sell well."
FUNimation suspended the streaming of
One Piece and Full Metal Alchemist
, but resumed
Full Metal Alchemist
with episode 9 on June 4th. The
Fullmetal Alchemist
had been posted online with a FUNimation watermark, but because the episode had already air in Japan, the post is believed to be a hoax.
One Piece
has been removed from Joost in Huli in addition to FUNimaton's portal.

Plans to resume the streaming simulcast of
Phantom ~Requiem for the Phantom
~ hit another hearted when episode 10 was discovered and pirated online on June 4th, a day prior to its Japanese broadcast.

FUNimation's
xxxHoLiC
is now streaming on
TV.com
and
Youtube.
Event News
NYAFF 2009 Trailer!
*
NY Int'l Children's Film Festival
will be screening 35mm prints of Hayao Miyazaki's
Castle in the Sky
and
Kiki's Delivery Service
.
CASTLE IN THE SKY
Animation, Hayao Miyazaki, Japan, 1986/2000, 124 min
In English - Recommended ages 8 to adult
Sun, June 7
, 11:00am at IFC Center
Sun, June 14
, 2:00pm at Symphony Space
A young girl with a mysterious crystal pendant falls out of the sky and into the arms and life of young Pazu. Together they search for a floating island in the sky, site of a long-dead civilization promising enormous wealth and power to those who can unlock its secrets.
Castle in the Sky
is an early masterpiece of storytelling and filmmaking whose imaginative and ornately detailed vision of a decaying world in constant flux presaged Miyazaki's later films like
Princess Mononoke
and
Spirited Away
.
KIKI'S DELIVERY SERVICE
Animation, Hayao Miyazaki, Japan, 1989/1999, 103 min
In English - Recommended All Ages
Sat, June 6
, 11:00am at IFC Center
Sun, June 14
, 11:00am at Symphony Space
From legendary Hayao Miyazaki comes the beloved story of a resourceful young witch who uses her broom to create a delivery service, only to lose her gift of flight in a moment of self-doubt. Set in a gorgeously detailed seaside village,
Kiki's Delivery Service
is less about witchcraft than a beautifully timeless story of a young girl leaving home to find her own way in the world. Voiced by Kirsten Dunst as Kiki, with Phil Hartman as her black cat Jiji.
*
New York - Tokyo
announced
UNIQLO PAC-MAN CHALLENGE
.
The classic game will be played online for preliminaries and the finals will be held at UNIQLO Soho, 546 Broadway in NYC. If you're not a "company" and wish to join the challenge, you are welcomed to the event at UNIQLO Soho, 546 Broadway on June 19th
UNIQLO PAC-MAN CHALLENGE
is inspired by the fun UT PAC-MAN T-shirt designs and is supported by Namco Networks' special technical support.
WHEN / WHERE
(1) Preliminal Rounds (Company vs. Company) - Anime News Network, Blacksmith, Complex, Evil Monito, Freshness, Fusicology, Giant Robot, Giant Step, Gizmodo. Going, Hypebeast, Josh Spear, Lime Wire, NY Comic Con, New York Press, Pitchfork, The Source, psfk, superfuture, Trace, UGO, Vapors, Vinyl Pulse East
Dates: June 8th (Mon) - 14th (Sun)
Place:
www.newyork-tokyo.com
(2) Finals (Company vs. Company) with Walk-In Challenge
Date: June 19th (Fri) 4-8pm
Place: UNIQLO Soho, 546 Broadway, NYC
For more, see
here
Supporters of Japan Animation Creator's Association, and Awareness
Speaking of anime, there's a group on Facebook which can be found
here
, called
Supporters of Japan Animation Creator's Association, and Awareness
. It's a group that gives you some insight into just how much (or how little) Japanese animators actually make.
Here's some highlights, from a deviantart article originally posted
here
:
*Storyboard:*
30 minute tv show takes 3 weeks to cut at the earliest.
Money the boarder gets per episode: $2200-$2300
$700 per week
$2,800 per month
$33,600 per year
That's if you don't take a single day (even weekends) off which is impossible.
Storyboarder is probably the closest position involving drawing to director.
They get no paid vacation, no health insurance, basically no benefits at all, no guarantee you can save for retirement.
*KEY animator:*
30 dollars per CUT. Not per drawing. Per CUT. And no, I'm not talking about HAIR CUTS which probably might cost more than 30 dollars these days.
1 cut = 1 scene
1 scene = a shot where the angle and background does not change (though the bg can pan, or truck in/out)
- The average scene length is said to be 4 seconds.
- In Japanese animation there are 8 drawings per second when an object is clearly showing movement (i.e. not stills nor held cells)
-so 32 drawings on average per cut.
Key Animator must rough out the scene and then clean it up.
- and probably a lot more that I'm not aware of knowing how crazy some of these animators are (some do everything from in-betweens to keys to colour)
-They say most key animators finish 2 cuts per day at most, working 10-15 hours per day in order to put out good quality
- these are FINISHED CUTS.
SO...
-$30 per cut x 2 per day
-$60 per day if things go well.
-$420 per week
-$1800 per month
-$21,600 per year if you don't take any days off (i.e. even working on weekends and holidays) which again is not humanly impossible.
*In-betweeners*
-they are the newest members of the company
-they are paid per drawing. I do not know the exact figure but I've seen companies show it by XXYen. I think XX literally means two digits. Remember that 100 yen=1 canadian dollar.
-the site mentioned they make maybe $10,000 a year working 10-15 hour days without a lot of days off on weekends.
-It is impossible to get by without the support from family members
-It is said that 50% of the new employees
quit within 6 months
. 70%
quit within 12 months
. This is not because they don't love it. This is not because they can't draw or can't meet deadlines. It's because they can not survive in such conditions OR because something serious has happened to their health.
The Widening Toon Mart
Ookaay. I'm back from tromping through the Sierras, and have just now come across this
recent nugget
from the NY Times:
Computer animation, once one of the most isolated corners of Hollywood, is rapidly becoming one of the most crowded. With the cost of computer animation coming down because of advances in technology and soaring box office receipts for family films, a broad range of new animation players are entering the multiplex ...


"I have lots of respect for Disney and DreamWorks, but I think we are going to easily compete in this marketplace,"
said Erin Corbett, president of Imagi Studios USA.
"Astro Boy,"
based on the popular Japanese manga and television series, is about a young robot with incredible powers ...
All of the above, of course, has been said a bunch of times before (some even here). So what separates the royalty of the genre (Pixar, DWA, Blue Sky) from the pretenders? The simple, all-purpose, ever-workable one-word answer is
"story,"
but let's face it. That really tells you next to nothing.
Thirty years ago, I sat in the Disney Animation building and listened to Don Bluth expound on the subject:
"You've got to make the audience care about your characters! You've got to make those characters live! You've got to involve them in the story you're telling!"
Everything Don said was true -- in a generic way -- but it turned out, as time went by and Don made a string of his own films, that Don wasn't particularly adept at pulling on audience into his type of story-telling. (Mr. Bluth has a plethora of creative strengths, but most are, I think, outside the story/character realm.)
Few would deny you need some sort of basic wire-frame structure on which to hang your elements, but the wire frame isn't, in most cases, the crucial thing. It's the characters frolicking through the structure, the characters' attitudes and the situations triggered by those attitudes that raise "formula story-telling" to the Olympian heights of "inspired film-making."
And it's an organic process, not a mathematical one. A computer could no more spit out
Toy Story, Ice Age
, or
Kung Fu Panda
than a robot could shoot hoops with Kobe Bryant. Writers and story artists with actual life experience have to sit in a room and analyze, puzzle out, and finally create the worlds and fragments of time that people want to sit in a theater and watch. And they do it with their heads, their hearts, their solar plexuses.
Which brings us to the newer challengers (see above) to the Big Three of Toondom. If the newbies can come up with stories and characters that engage and enthrall, they have a shot at becoming the New Pixar. But if they produce a feature that is flat and derivative (
Quest For Camelot
territory), they will probably fail. Because it's not enough to have pretty pictures. There's got to be ninety minutes of screen time there in the big dark room that cause folks to whisper
"Yeah!"
and then go out and tell friends
"go see this!"
If the process we're easy, simple and inevitable after the computers and software were installed and the $100 million budget was spent, your Aunt Maude would no doubt be a wildly successful cartoon creator. But it's not, and Auntie is still back in Manhattan, Kansas doing the lunch dishes, and Pixar is still at the top of the heap.
So best of luck to Ilion, Imagi and Exodus, and may your inspiration match your ambition, may you turn out an animated feature that really clicks, and may you scale the mountain peaks occupied by Walt, John, and Jeffrey. A journey, after all, begins with the first pixel.
(Thanks
Animation Guild Blog
)
Leonardo

Lives
Pixar story artist and director of the short
Your Friend the Rat
,
Jim Capobianco
, has been workin on his short animated film, Leonardo, for quite
some time
now, (since about 1999), and it is finally nearing the end of production with final color correction, all that remains, before it embarks on the festival circuit. Throughout the production, Jim posted on his
blog
about his progress, but his best entires came early this year when he did a
series of posts
offering advice on making an animated short film.
Many of us animators strive to reach the level Jim has, whether that includes wanting to work at a major feature film studio, such as Pixar, or even just reaching
that level of craftsmanship
, but regardless if that ever happens, the important thing to take from Jim's posts, let alone the very idea he did this on the side while working at Pixar, is that even when you reach the "top," you cannot and should not ever stop creating on your own, and that no matter how good you are, or
think
you are, there will ALWAYS be something new to learn that will continue to help you grow both as an artist and as a person, and not to mention in most cases help to keep your sanity while working on OTHER people's "stuff."
Okay enough with the fortune cookie-ness. Check out this sweet trailer!
Leonardo Trailer from jim Capobianco on Vimeo.
P.S I hope to do a follow up post with proper credits to all that helped Jim out with this film. Stay tuned
James Cameron Forging a Piece of

Heavy Metal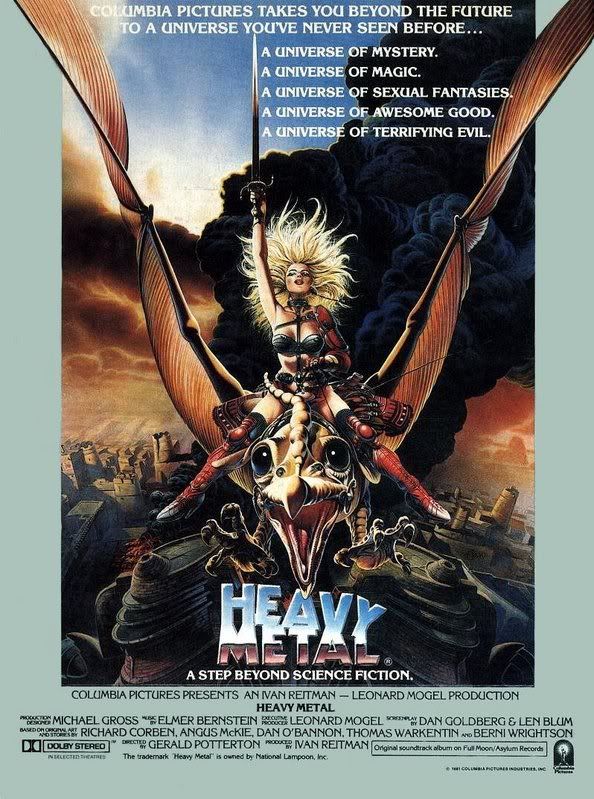 Our buddies over at Film School Rejects may have stumbled onto the scoop of the century (or at least for the next few days) when they sat down with
"Teenage Mutant Ninja Turtles"
co-creator Kevin Eastman and the subject came around to the big screen remake of
Heavy Metal
, to which Eastman told them that James Cameron has come on board as a co-executive producer of the project with plans to direct a segment. He also mentioned that
Kung Fu Panda
co-director Mark Osborne would reunite with Jack Black to do a "comedy segment" for the animated anthology.
This is the update Eastman gave the Rejects about the project based on the popular adult comic magazine that was previously turned into an animated movie in 1981:
I've got breaking news that Fincher and James Cameron are going to be Co-Executive Producers on the film. Fincher will direct one. Cameron will direct one. Zack Snyder is going to direct one and Gore Verbinski is going to. Mark Osborne and Jack Black from Tenacious D are going to do a comedy segment for the film. Three other directors have agreed but we haven't signed them, but they're equally as jaw-dropping. So we're on cloud nine to be working with such an amazing amount of talent."
So that would mean the movie would be made up of a segment directed by David Fincher, another by Zack Snyder, another by Gore Verbinski and then two more by Osborne and Cameron. (Rob Zombie was also in talks to direct a segment.) Now the project just needs a studio to step forward and agree to fund the making of this movie!
Banderas Talks About

Puss in Boots
A lot of people are skeptical about the fourth entry into the
Shrek
series, entitled
Shrek Forever After
, but the real scoffing has been saved for the planned spin-off starring Puss in Boots.
Speaking with
ComingSoon.net
, Antonio Banderas who voices the character, had only good words for the film and reassures us that they're not taking their work lightly.
"A couple days ago, I went to DreamWorks and they pitched me what is going to be

Puss in Boots

' own movie, and it looks unbelievable,"
said Banderas.
"They've been working very, very heavy on the script for almost three years, and they didn't just want to give me any kind of thing until the other day when Jeffrey [Katzenberg, CEO of DreamWorks] finally called me and he said it was done. I went there and was very surprised how the movie is going to take off. I love it."
Though he naturally couldn't get into details about the plot, Banderas did share that it was an origin story focusing on what brought Puss in Boots to his profession as an assassin. But don't expected a light-hearted farce of a fairy tale like you've gotten used to with the
Shrek
movies.
"It's interesting because it goes away from that kind of use of popular culture that

Shrek

has,"
he said.
"It goes in a different way, and the movie sometimes gets almost emotional, I may say, and it's kind of epic."
First

Ice Age 3

Film Clip
20th Century Fox has releaed the the first clip from the third film in the
ICE AGE
series;
"Ice Age: Dawn of the Dinosaurs"
starring the voices of Ray Romano, John Leguizamo, Denis Leary, Simon Pegg, and Queen Latifah.
The film is due out
July 1st 2009
, just in time for the forth of July weekend.
Check out the clip below.
The sub-zero heroes from the worldwide blockbusters

"Ice Age"

and

"Ice Age: The Meldown"

are back, on an incredible adventure...for the ages. Scrat is still trying to nab the ever-elusive nut (while, maybe, finding true love); Manny and Ellie await the birth of their mini-mammoth, Sid the sloth gets into trouble when he creates his own makeshift family by hijacking some dinosaur eggs; and Diego the saber-toothed tiger wonders if he's growing too "soft" hanging with his pals. On a mission to rescue the hapless Sid, the gang ventures into a mysterious underground world, where they have some close encounters with dinosaurs, battle flora and fauna run amuck - and meet a relentless, one-eyed, dino-hunting weasel named Buck.
The Studio System Reborn
Now with historical

Add On

.
The Boston Globe
holds forth
on the old
"dream factory"
... otherwise known as the Golden Age Hollywood studio, has been reimagined in Emeryville:
... [T]he heyday of the Studio Era [was] a period roughly coinciding with the presidency of Franklin Roosevelt, 1933-1945.

The Studio Era was the assembly line as art... Its most notable achievement didn't lie in the work of any one filmmaker or given genre or style. Rather, it was the systematic organization of talent, craft, and technology to manufacture a high-quality, high-volume entertainment product which managed to achieve two seemingly opposed ends: to create work of considerable artistry at the same time that it generated even more considerable profits.

... The greatest living testament to the genius of the system comes from a name no one would have recognized 15 years ago, let alone 60, and the studio that bears the name isn't even in Hollywood.
Pixar Animation Studios
is based in Emeryville, Calif., 350 miles and several sensibilities away from contemporary Hollywood. It's not all that far, though, from the Hollywood of six decades ago.

In terms of product, what most distinguished Studio Era Hollywood was a devotion to three principles: a corporate approach to creativity, being in it for the long haul (rather than just a one-weekend killing), and reaching every part of the moviegoing public ...
One point the Globe misses: All the Golden Age studios were run by savvy, creative execs who turned out a large number of quality films with small administrative staffs. There were no huge lumbering bureaucracies, no focus groups, no herds of "producers" jostling for screen credit, just the film-makers and a few test screenings and then .... the release of
Wee Willie Winkie, The Sea Hawk, Grapes of Wrath

or

Gone With the Wind
.
And the staffs inside studio front offices were lean. At 20th Century-Fox, there was Darryl Zanuck, who supervised forty films a year with the assistance of a handful of associate producers. Zanuck read the scripts, cast the pictures, ran the story conferences and made the editorial decisions. Everybody else, from directors to writers to actors to art directors, performed to his specifications.
At Warners, Hal Wallis did much the same job that Zanuck did over the hill at Fox, with about the same number of aides.
At M-G-M, there was Irving Thalberg and Louis B. Mayer's son-in-law David Selznick doing the creative exec thing. In pretty much the same way it was peformed at the other Golden Age studios. But the well-oiled Metro machine had some sand tosses in its gears in the late thirties, when Thalberg died and Selznick went off to be an independent producer.
And then of course there was Walt Disney at his small, start-up studio. Most people thought of Disney as a one-man show from the beginning. (He was a Hollywood God by the end.)
All these studios had something in common with Pixar. The power to create product was in the hands of a few driven men who knew how to make films. Zanuck started as a writer, Selznick and Thalberg had been line producers, as had Hal Wallis. Disney, of course, had started as a cartoonist at a drawing board. At the studios over which they presided, there were no committees, no sign-offs by layers of bureaucracy, just studio bosses who'd long-since proven themselves in the movie trenches making the crucial decisions.
This time-honored, streamlined system doesn't always work. You get an exec who doesn't make the grade with his less-than-inspired choices (former Disney movie top-kick Joe Roth comes to mind), then the resulting features and production deals are neither stellar nor long-lived. But in modern times Pixar has done it, also Mr. Katzenberg, also Steven Spielberg (who, over thirty-plus years, has been a studio mogul unto himself.) And the odds are good that there wil be others (J.J.Abrams?) as we travel deeper into the 21st century.
But the Globe has one thing right: Pixar is the most obvious current example of a rebooted "Golden Age" studio system where the creative exec rules.
Add On:
A couple of examples of
"Golden Age"
micro-management by the heads of studios come from memos of Darryl Zanuck and Hal Wallis. Here's Zanuck giving writer Nunnaly Johnson directions about what he wants in the script for
The Grapes of Wrath
(1940);
[The Joads'] money practically gone -- gas low -- and the terible realization that what they were told [about there being no jobs] is true ...

We come in on them driving into town and asking some body where they should go about finding work -- maybe showing the fellow the handbill. The man just looks at them and laughs. Someone else comes along and they ask him. We see the fellow look at the car and down on the license plate.
"Oh -- Oklahoma. There's a camp on the edge of town -- maybe somebody there will tell you --"


Their hopefulness and terrible disillusionment. They drive into the Hooverbille camp and their hearts drop at the terrible sights. The futility of what has occurred. They just look at each other as the stark truth dawns on them.
"Don't seem very encouragin', does it" ... Ma snaps them out of it -- they'd better pitch the tent, etc."
Zanuck biographer George Custen points out that "the sequence as shot is a virtual transcription of the memo ..." (
"Twentieth Century's Fox -- Darryl F. Zanuck and the Culture of Hollywood"
Basic Books, 1997, pp. 234-35.)
Then there is this 1941 memorandum from Hal Wallis to line producer Henry Blanke about director John Huston (
The Maltese Falcon
):
Huston's second day's dailies are better than the first, but I still feel that they are too leisurely in tempo. I think my criticism is principally with Bogart, who has adopted a leisurely suave form of deliver. I don't think we can stand this all through a picture, as it is going to have a tendency to drag down the scene and slow them up too much. Bogart must have his usual brisk, staccato manner and delivery, and if he doesn't have it, I'm araid we are going to be in trouble... [W]e must quicken the tempo and the manner of speaking the lines ...
Director Huston
"quickened the tempo."
Lastly, here's Wallis complaining to director Rauol Walsh about dailies on
The Roaring Twenties
(1939) [bot W@alis memos from the book
"Inside Warner Bros."
]:
... I don't like your camera setups; those straight-on two shots, and individual closeups are going to get monotonous and make for choppy cutting ... [I]n the courtroom instead of just shooting a big, choker head of the judge, why didn't you shoot over-the-shoulders of Cagney and Jeffrey Lynn up at the judge. Get a little composition in the thing and a little grouping so that we don't have to cut from one big closeup to another and just have a series of portraits on the screen with the people speaking the lines ...
Micro-management, wouldn't you say? And not a focus group in sight.
(Thanks
Animation Guild Blog
)

News briefs: Darth Maul joins

Heroes

;

Avatar

running time
Ray Park
Entertainment Weekly columnist
Michael Ausiello
reports that Ray Park (
Star Wars
' Darth Maul) is in talks to join the cast of NBC's
Heroes
for a sizable arc; Deanne Bray (
The L Word
) is also nearing a deal to come on board for multiple episodes. Both join the previously reported Robert "T-Bag" Knepper.
...
SlashFilm
reports that James Cameron's 3-D sci-fi epic
Avatar
will have a running time of
"definitely over two and a half hours,"
while rumor has it that it might be over 3 hours long.
...
Dark Horizons
, meanwhile, reports that
Harry Potter and the Half-Blood Prince
clocks in at a final runtime of 153 minutes.
Check out 10 Saturday morning TV series that inspired blockbuster movies
Land of the Lost
, which opened Friday in theaters nationwide, isn't the first film to be based on a Saturday morning television series. Hollywood has been trying to mine gold for years from those sometimes classic, sometimes campy shows we watched back when Saturday meant grabbing a bowl of Lucky Charms and vegging out on the couch for hours.

Some movies have proven that it's possible to take yesterday's TV and successfully reinvent it for modern audiences. But without a decent script, a cast of skilled actors and a team of expert CGI experts, the final product can also end up as nothing more than the regurgitation of an old idea for the sake of merchandising.











With that in mind, here are 10 movies, produced over the course of nearly three decades, that have been adapted for the big screen from our childhood favorites. Some translated well, managing to capture the whimsy of the originals, while others ... didn't.
POPEYE
(1980)
The TV Show:

The animated series followed the life of Popeye, a sailor who gained superhuman strength from eating canned spinach, and his often supernatural adventures around the world battling such enemies as the Sea Hag and the pirate Bluto.

Popeye the Sailor

was adapted from the original 1929 comic strip

Thimble Theatre.

The Film: The sailor Popeye arrives in the strange little seaside town of Sweet Haven, where he meets the soon-to-be love of his life, Olive Oyl, a hamburger-loving man named Wimpy and a brutish pirate named Bluto whose one desire is to punish Sweet Haven and its residents. With the power of a can of spinach, Popeye of course saves Sweet Haven from Bluto's wrath and even manages to find his long-lost Pappy and the abandoned baby Swee'Pea while he's at it.

Why we loved the original: The classic animation and simple themes made for an original and charming cartoon.

Did the adaptation work?:
Yes. Thanks to the comedic powers and brilliant character-acting abilities of Robin Williams (Popeye), Shelley Duval (Olive Oyl) and Paul L. Smith (Bluto), the story of Popeye causes the film to come to life in a brilliant and endearing way. The film is quirky, sweet and slightly ridiculous, just like the original cartoons, carrying that odd campiness that is so distinct in humorous musical '80s films.
TEENAGE MUTANT NINJA TURTLES
(1990)
The TV Show:
The 1980s cartoon series
Teenage Mutant Ninja Turtles
focused on four humanoid turtles trained in the arts of Ninjitsu by a sensei rat named Master Splinter. They live in the sewers below Manhattan and battle every type of assailant from petty thieves to alien invaders.
The Film:
After coming into contact with a mysterious substance called Ooze, four normal turtles mutate into humanoid, pizza-loving turtle creatures in New York. Educated by a rat by the name of Splinter in the ways of Ninjitsu, they must unite in order to confront the Shredder and the Foot Clan.
Why we loved the original:
Its pseudo-Japanime style and cute catchphrases certainly captured the imaginations of an entire generation. Cowabunga, dude!
Did the adaptation work?:
No. The goofy, juvenile humor that underscored nearly every scene in the cartoon is lost in the live-action version, dissolving from campy to downright unbearable as it's delivered by the actors in rubber ninja turtle costumes. The entire film reeks of low-budget mass franchising that is soulless and spiritless, a blatant marketing gimmick to capitalize on the merchandising aspect of the cartoon.
THE ADDAMS FAMILY
(1991)
The TV Show:
Inspired by the work of cartoonist Charles Addams,
The Addams Family
satirizes the "ideal American family" by portraying an eccentric, macabre and extremely wealthy family who are clueless about how they differ from mainstream America.
The Film:
An unscrupulous doctor discovers the fact that Uncle Fester (Christopher Lloyd) has been missing for 25 years and attempts to insert his own son as a duplicate Fester in order to secure a portion of the Addams' wealth.
Why we loved the original:

The Addams Family
is still one of the most original television programs ever aired, especially for the time period in which it was conceived. The humor is pricelessly macabre, the comedic timing perfect and the characters so lovingly twisted that, perhaps, they remind us all a bit too much of members of our own family.
Did the adaptation work?:
Yes. Due to how deeply ingrained the characters are in the international human psyche, casting was crucial, and with Anjelica Huston as Morticia, Raul Julia as Gomez and Christina Ricci as Wednesday, it was obvious that director Barry Sonnenfeld was well aware of this. The film stayed true to the original spirit of the television show, with campy, dark one-liner humor, near-identical duplication of original, unmistakable costumes and a masterful re-envisioning of The Addams Family's macabre manor.
THE FLINTSTONES
(1994)
The TV Show:
The animated series
The Flintstones
follows a working-class Stone Age man named Fred Flintstone and his family as they lead a suburban existence in the community of Bedrock. The show originally aired in 1960 and was syndicated until the mid-1990s.
The Film:
Due to a mixup in test scores, Fred Flintstone obtains an executive position at the Slate and Co. rock mining company, where he works with his friend Barney. He thinks this is his dream job until he realizes he is being manipulated by Cliff Vandercave to be the fall guy for an embezzlement scheme.
Why we loved the original:
The concept was creative and original, with sassy but sweet humor and multilayered characters that made each episode memorable and timeless.
Did the adaptation work?:
Yes. Not only was the cast expertly selected with such actors as Elizabeth Perkins (Wilma), Rick Moranis (Barney Rubble), Rosie O'Donnell (Betty Rubble) and Elizabeth Taylor (Pearl Slaghoople), but the movie stuck true to its original, sweet and simple artistic concept. The sets and props, populated with Muppet-esque dinosaurs, were larger than life and constructed with a plasticized texture that gave them an animated feel. The costumes were near-direct replicas of the original cartoon, down to Wilma's oversized white stone necklace. The end product was a film that could be enjoyed by both young and older audiences.
SCOOBY-DOO
(2002)
The TV Show:
Originally aired in 1969, with several versions developed over the decades, the animated series follows the wild supernatural adventures of Mystery Inc., a group of teenage investigators, their hippie friend Shaggy and his goofy talking Great Dane, Scooby-Doo.
The Film:
Mystery Inc. have been separated for two years when they receive invitations to meet up at Spooky Island. Not realizing all have been invited, they arrive and quickly discover that the amusement park on the island is affecting the visitors in very strange ways.
Why we loved the original:
The mere mention of "Why, it's Old Man Witherspoon!" or "Scooby snacks" instantly conjures up fond memories of the cheesy, poorly animated series about a pack of mystery-investigating teenagers. While the animation was crude, the show itself was cute, predictable and always entertaining.
Did the adaptation work?:
No. With the exception of Matthew Lillard, who played Shaggy, the casting was completely wrong, and it was painfully obvious that the actors had neither an enthusiasm for the show nor the remote capability of properly reinventing the classic characters. To make matters worse, the CGI animation style used to create Scooby-Doo was poorly executed, to the point where the lovable Great Dane took on a creepy, disturbing quality.
GARFIELD
(2004)
The TV Show:
Inspired by the comic strip
Garfield
by Jim Davis, the animated series
Garfield & Friends
follows the interaction between a spoiled, sarcastic and gluttonous cat named Garfield, a goofy dog named Odie and their average, disillusioned owner, John. The animated series ran on Saturday mornings from 1988 until 1994.
The Film:
In a desperate attempt to impress the local vet, John Arbuckle, Garfield's owner, adopts a dog, named Odie. When Odie is dog-napped, Garfield does something completely out of character and launches a search for his supposed canine rival.
Why we loved the original:
Garfield, one of my all-time favorite cartoon characters, was sarcastic, rude, lazy, gluttonous and irreverent, a true cat of cats, so to speak. The humor was priceless and the animation sharp, causing it to appeal not only to the younger audience of the time but to older generations as well.
Did the adaptation work?:
Mixed. This is not necessarily a film that most adults would enjoy, but it can be appreciated for the kid appeal. For a true fan of the comic strip, Garfield is not cranky, wry, belligerent or sarcastic enough. John is not desperate or despondent, like the comic or cartoon version; in the film he is goofy and lovable and rather clueless. However, all in all, it turned out to be a good family film.
FAT ALBERT
(2004)
The TV Show:

Created, produced and hosted by comedian Bill Cosby, the 1970s' animated series

Fat Albert and the Cosby Kids
followed a group of kids called the Junkyard Gang living in the ghetto, and dealt with common youth issues such as stage fright, first loves and skipping school.
The Film:
A rather large boy named Fat Albert and his friends Rudy, Mushmouth, Bill, Dumb Donald, Russell and Weird Harold "fall" out of their TV world into the real world. Fat Albert attempts to help a young girl, Doris, make friends. Everything appears normal until Doris' older sister, Lauri, talks Fat Albert's friends into believing that he may never want to return to his cartoon world again.
Why we loved the original:

Fat Albert
, with its fun, easygoing characters, tapped into the slapstick, laid-back attitude of the generation it was conceived in.
Did the adaptation work?:
No. This movie is a prime example that what was hip and stylish two decades ago is not necessarily transferable to the modern era. The over-the-top exaggerated characters that worked perfectly in animation became tiresome and boring when produced in a live-action format.
TRANSFORMERS
(2007)
The TV Show:
Inspired by the 1970s' Japanese toy lines of Microman and Diaclone, and the later
Transformers
comic-book series, the animated show followed the story of the planet of Cybertron, where a war was being waged between the noble Autobots and the dangerous Decepticons for control over the Allspark, a mystical talisman that would grant unlimited power to whoever possessed it.
The Film:
The first of the new
Transformers
feature films introduces us to to the human teenager Sam (Shia LaBeouf), who has been drawn into the center of an apocalyptic war between the Autobots and Decepticons as they return to Earth in search of the Allspark.
Why we loved the original:
While the actual animation left something to be desired, just as many of the mainstream animations of the 1980s did, the concept of the series itself was designed around a clear good-versus-evil plotline that was easily digestible by its young audience. And big honking robots are cool!
Did the adaptation work?
: Yes. With the keen directorial expertise of Michael Bay and the brilliant screenwriting of such creative talents as Roberto Orci and Alex Kurtzman, it was destined to be a classic. While casting did play a key role in the success of the 2007 production, with such actors as Shia LaBeouf and Megan Fox, who gave it a fresh, hip face, the true defining elements of
Transformers
were the clever screenwriting and awe-inspiring CGI animation that took the clunky, often cheesy, 1980s cartoon characters and breathed an unprecedented fierce life force into the Titan-like mechanized aliens we had grown up with. The end result was a movie that succeeded in captivating audiences and cultivating a whole new generation of Transformers fans.
UNDERDOG
(2007)
The TV Show:

Underdog
follows the courageous and often ridiculous adventures of a beagle with superhero powers and the ability to speak. He battles such villains as Simon Bar Sinister and Riff Raff, fighting for his love interest Sweet Polly Purebred. The Underdog animated series ran from 1964 until it was syndicated in 1973.
The Film:

Underdog
is the tale of an ex-bomb-sniffing beagle named Shoeshine who is injected with an experimental elixir by a mad scientist, which incidentally gives him superpowers and the ability to speak. Shoeshine uses his powers to protect his human family and the citizens of Capitol City from the evil Simon Barsinister.
Why we loved the original:
The cartoon employed a unique (for the time) animation style and a simple, moral-driven concept for each episode.
Did the adaptation work?:
No. There are a few quasi-adorable moments. Even though the hilarious comedic talent of Jason Lee (
Chasing Amy, My Name Is Earl
) was employed as the voice of Underdog himself, the campy humor was unfortunately lost in the shadow of the often bizarrely animated movements of the actor-dog. Though it is not a complete disaster, there is something particularly creepy about blending CGI animation over an actual living creature, such as a dog, to make it appear that it is speaking or flying.
SPEED RACER
(2008)
The TV Show:

Speed Racer
is the English adaptation of the Japanese manga
Mach Go Go Go
, and focuses on a teenage race-car driver named Speed Racer who wants to become a professional racer despite his father's disapproval.
The Film:

Speed Racer
is a young man with a keen ability to race cars. When Speed rejects an offer by Royalton Industries, he uncovers a secret that top corporate interests are fixing races and cheating to gain profit.
Why we loved the original:
Speed Racer
was simple, sharp anime at its best.
Did the adaptation work?
: No. There was very little actual plot to the original
Speed Racer
animated series to begin with, and, thus, the feature film consisted of barely more than one flashy race scene after another. While it was a visually pretty movie, it was hardly a tolerable reinvention of the story, and it did little to inspire new enthusiasm in younger audiences or nostalgia in older ones.
Blade Runner

director Ridley Scott announces a new Web series
Ridley Scott, director of the seminal 1982 science fiction film
Blade Runner
, announced that a new division of his commercials company, RSA Films, was working on a Web video series called
Purefold
, set in a similarly themed future setting, The New York Times reported.
Purefold
is a series of linked 5- to 10-minute shorts, aimed first at the Web and then perhaps television, that will be set at a point in time before 2019, when the Harrison Ford movie takes place in a dystopian Los Angeles.
Scott, his brother, Tony, and his son Luke are developing the project in conjunction with the independent studio Ag8. The series won't make direct use of characters or situations from
Blade Runner
, which is based on Philip K. Dick's
"Do Androids Dream of Electric Sheep?"
, but will deal with similar themes.
Purefold will harvest story input from its viewers, in conjunction with the social media site
FriendFeed
.
The series is slated to debut later this summer, with the first episodes depicting events about two years into the future, with the central theme
"What does it mean to be human?"
Dunst "Definitely On Board"

Spider-Man 4
Everyone's getting in on the action trying to guess what to expect from Sam Raimi's return to the Marvel superhero franchise with
Spider-Man 4
, slated for release on
May 6, 2011
. It's obviously still very early in development, but that didn't stop the New York Post from asking Sony producer Todd Black a few questions in order to clear up some of the rumors that have been circulating.
In the article, Black confirms that Kirsten Dunst is definitely on board, but that there are no plans to have a wedding between Peter Parker and Mary Jane in the forthcoming movie. He also squashed the rumors that
Morbius the Living Vampire
will be the villain in the movie, but that the villain will be very New York centric.
This is what he told the Post about the potential villain:
"We're just coming up with who the villain's going to be now. We'll be shooting in New York again. Trust me, people will appreciate who we pick, because it'll be a big part of New York."
So who do you think the villain may be? In the article, they speculate it could be either
Kraven the Hunter
or the
Kingpin

, although one should probably assume the latter is still owned by Fox as part of the

"Daredevil"

deal. Still, maybe it will be some sort of New York City mob/crime storyline in the next movie, and there are plenty of Spider-Man villains that fit the bill like

Hammerhead
and
The Enforcers
.
Transformers: Revenge of the Fallen

Tickets Now On Sale!
You can now pre-order tickets for Michael Bay's
Transformers: Revenge of the Fallen
at
MovieTickets.com
,
Moviefone
and/or
Fandango
.
The movie, opening at midnight
June 24th
, will play in both conventional and IMAX theaters, is 2 hours and 24 minutes long, and is rated PG-13 for intense sequences of sci-fi action violence, language, some crude and sexual material, and brief drug use.
The sequel stars Shia LaBeouf, Megan Fox, Josh Duhamel, Tyrese Gibson, Kevin Dunn, Julie White, John Benjamin Hickey, Ramon Rodriguez, Isabel Lucas and John Turturro.
Mickey Rourke Talks

Iron Man 2
The Guardian
spoke to Mickey Rourke about playing a villain in
Iron Man 2
. Here's an excerpt from the interview:
And

Iron Man 2

, in which he plays Tony Stark's tattooed Russian nemesis, Ivan, is possibly the biggest movie yet in Rourke's new career. For Rourke this means going to Russia, drinking vodka and visiting jails to study prison tattoos and find his character's tics. "I decided to do half my role in Russian," he beams, "and that's hard because the Russian language doesn't roll off the English-speaking tongue very easily. I spent three hours a day with a teacher, and after two weeks I know four sentences! Let me see, it's sort of like... 'Yezzamee menya... Yezzamee manya obott... Er, nemaboootty menya...'"

This goes on for quite some time. "It means," he says, finally, "If someone kills me, don't wake me up, because I'd rather be dead than live in your world."
Click
here
for the full interview.
Iron Man 2
hits theaters on
May 7, 2010
.