Dystopian designs dominate comic films
Variety
has an in-depth feature on the art direction of
'The Dark Knight'
and
'Iron Man'
, making the case for the leading men in both movies as outsiders in their respective worlds.
Chris Yost on

HULK VS
Marvel Animation Age
recently talked to fan-favorite writer Christopher Yost, best known for his work on a host of different Marvel cartoons and comic series, about his work on the upcoming
Hulk Versus
, the animated direct-to-video feature hitting shelves on
January 27th, 2009
, and much more.
World's Finest Talks with Will Friedle on

"Batman Beyond"

and

"Brave and Bold"
The
World's Finest Online has interviewed actor Will Friedle
on his roles as Terry McGinnis on
Batman Beyond
and the Blue Beetle on
Batman: The Brave and the Bold
. Friedle discusses how he landed the role of McGinnis in
Batman Beyond

thanks to his work on

Boy Meets World

, and also digs into his newest role as an up-and-coming superhero and his other work on shows like

The Secret Saturdays
and other shows he can't reveal just yet.
iFMagazine Talks with Dave Filoni on

"Star Wars: The Clone Wars"
iFMagazine.com has posted
part 1 of an interview with Dave Filoni
, supervising producer of the new
Star Wars: The Clone Wars
TV series. Filoni discusses the challenges the new series brings to the table, how this series is connected to the earlier
"micro-series"
by Genndy Tartakovsky, how he manages the vast army of animators needed to make the show, and whether he reacts to on-line fan criticism.
LA Times on DreamWorks' Expanding Franchises;

"Panda"

Producer Reacts to Globe Nom
The Los Angeles Times has taken a look at
DreamWorks Animation SKG's many efforts to grow its revenue streams
beyond CGI animated feature films and the ensuing DVD releases (free registration required). The many initiatives are intended to even out the up-and-down revenue caused by theatrical and DVD release schedules, and will include TV specials and series, theme parks in Dubai and Singapore, and a Broadway musical based on the
Shrek
movies. DreamWorks officials were also frank in acknowledging that the current economic recession was affecting home video sales, reducing home video projections of
Kung Fu Panda
to approximately 10 million unit sales from the expected 12 million. The article also notes CEO Jeffrey Katzenberg's statement that
"the studio had developed a more consistent track record at the box office by spending more time developing story lines and by hiring experienced directors and producers."
Elsewhere,
Kung Fu Panda

producer Melissa Cobb spoke with
Animation Magazine
about her reaction to the movie's Golden Globe nomination for Best Animated Feature. Cobb expresses gratitude for the recognition the movie has received so far, while also acknowledging the acclaim for competition such as
WALL-E

and

Bolt

, and also gives her opinion on why

Kung Fu Panda

was received as well as it was. She also notes that she is at work on the sequel, and how the addition of 3-D will be a

"new frontier,"

adding that,

"we're really looking at the potential to use it to enhance the storytelling"
Siegfried
trailer
This just in from France: 2D isn't quite dead yet…
Based on Dargaud's graphic novel
Siegfried
by
Alex Alice
. Animation by
Pendragon Imageforge
.
UPDATE:
Reader Tsuka says,
"This is not a trailer but a pilot produced in 2004 for an aborted feature project. Subsequently the author, Alex Alice, turned the project into a comic book last year."
(Thanks
cartoonbrew
)
The

Spirit

That Never Was
Thank you
Mark Evanier
for pointing us towards a must-read
L.A. Times article
by former Chuck Jones/Bill Melendez/Richard Williams publicist-turned-animation producer Steven Paul Leiva
(Space Jam)

, about his ill-fated attempts to bring Will Eisner's

The Spirit
to the screen. The story tells how Brad Bird, John Lasseter, John Musker, Jerry Rees (and other Hollywood bigshots) tried to make a potentially ground-breaking animated feature over 20 years ago (Leiva is pictured above left, in 1981, with Brad Bird (center) and Will Eisner at right).
Read it now!
(Thanks
cartoonbrew
)
CG Pioneer Encourages SIGGRAPH to Broaden Focus
Don Greenberg, director of Cornell University's highly regarded computer graphics program, encouraged the audience at the inaugural edition of SIGGRAPH Asia in Singapore to expand the applications of the technology and to help build bridges between disciplines in the future. In his keynote speech today (December 11), Greenberg used colorful examples from his amazing scientific and academic career to illustrate how far the CG community has come in the span of four decades.
Greenberg, whose current research projects involve realistic image generation and parallel-processing algorithms for rendering new graphical user interfaces, discussed the various application of computer sciences which go beyond animation and gaming. He talked about how some of the innovations in CG led to advances in areas from automotive design to medical operations, and how IBM scientists studied the brain's circulatory system to create new 3D chips that help cool computer systems. He shared some of the early virtual imaging work he and his team produced for Cornell University back in 1968. The opening day audience was also treated to footage of Greenberg's CG recreation of the flight of a possibly extinct ivory-billed woodpecker, which led him to an extensive study of flight mechanisms in birds and its scientific application in the field of aviation.
"Have courage to take risks and don't shy away from attacking the big problems,"
he urged.
"With our expanding universe of computer technologies, why are we so concentrated on gaming and animation? The algorithms that we've developed can help accelerate research in other fields [medical, environmental studies, architecture, etc.], but they aren't applied because we don't talk to each other…because we don't cross disciplines. The domain of our focus at SIGGRAPH has become narrow. It's time for us to expand our boundaries to make the results of all this superb research more relevant to other disciplines."
One of Greenberg's many distinguished students, Rob Cook, VP of advanced technology at Pixar, is scheduled to deliver Friday's (Dec. 12) keynote speech at SIGGRAPH Asia. Cook was the co-architect and primary author of Pixar's Oscar-winning RenderMan software. He was also the first to use Monte Carlo techniques in computer graphics, which were essential for simulation of complex, realistic lights and camera effects. He won the ACM SIGGRAPH Achievement Award in recognition of these contributions.
Madagascar 3

Set for 2012
Those wild and wooly zoo animals from the
Madagascar

movies will be back for another African adventure in 2012. Daily Variety reports that Jeffrey Katzenberg made the announcement Thursday during his 3-D pitch to Wall Street analysts. The DreamWorks Animation CEO also offered a sneak peek at scenes from

Monsters vs. Aliens

, which is scheduled to bow in theaters on

March 27, marking the studio's big dive into 3-D movie making.

Katzenberg and his team told attendees that the studio hit an all-time high this year with

Kung Fu Panda

and

Madagascar: Escape 2 Africa

earning a combined $1.2 billion at the box office worldwide, but asserted that stereoscopic 3-D presentation is a major factor in driving up film revenues amid slumping home video sales. The argument was made that

Shrek the Third would have grossed approximately $80 million more had it been projected in three dimensions. Some of the additional dough would come from the $5 price hike for 3-D fare.

DreamWorks Animation chief operating officer Ann Daly chimed in to note that DVD sales of Kung Fu Panda are expected to fall shy of the projected 12 million units. She estimated that home video sales industrywide will be down 6% this year as the recession has consumers spending less.

Even though the number of theaters equipped for digital 3-D projection will only be about half of what Katzenberg thought it would be by the time

Monsters vs. Alien
s
opens, he thinks roughly 40% of the film's audience will plunk down the extra $5 to see it as it was meant to be seen. There should be roughly 2,500 venues set up for the 3-D bow in March.
Panda

Producer Reacts to Globes Nom
Melissa Cobb, producer of DreamWorks Animation's
Kung Fu Panda

, spoke with us this morning about her first feature film receiving a Golden Globe nomination. The Hollywood Foreign Press Association recognized the action-comedy today, along with Disney's

Bolt

and Disney/Pixar's

WALL•E
. See the nomination story here
www.animationmagazine.net/article/9334
.
"The biggest thing is the validation,"
Cobb says of the nomination.
"You know, hard as the artists work on these things and for how many years, they always do their best and when that gets recognized it makes a huge difference for everybody."
Cobb is a former Disney and Fox exec who worked in live-action and produced a number of TV movies and documentaries before joining Team Panda at DreamWorks. As a fan of animation and the arduous process involved in bringing these stories to the screen, she wishes there were enough awards to go around, especially during such a competitive year.
"Obviously it's a great year for animation,"

Cobb remarks.

"Both

[WALL•E
and
Bolt]

have gotten incredible recognition all over the world, so it's tough competition. We were really supported so well by the foreign press this year. They really embraced the movie, which was a great honor for us."
Kung Fu Panda
earned more than $630 million at the box office worldwide, and was also well liked by critics. Asked why the film had such wide appeal, Cobb responds,
"We tried to create a character that we cared abut because we were going to spend four years looking at the guy. In the character of Po, we found some qualities that people can relate to on a very personal level. That idea of feeling out of place, feeling like an underdog or that you're never going to realize your dreams are things that people can relate to throughout the world. Really early on, the crew fell in love with the character and what Jack Black brought to it, and it really kept people inspired over the years we spent making it. On top of that, we really tried to be true to the mystery and the beauty of China. A big piece for us was trying to honor the art and culture of China, and I think the look of the movie is obviously something that critics and audiences responded to as well as the story."
In addition to raking in the dough and garnering favorable notices,
Kung Fu Panda
was recently recognized by the animation community, picking up a whopping 17 Annie Award nominations. Winners for that competition will be announced on
Friday, Jan. 30
at UCLA's Royce Hall in Los Angeles, Calif. Another date the crew at DreamWorks Animation is looking forward to is
Thursday, Jan. 22
. That's when the Oscar nominations come out. However, Cobb tells us an Oscar nod would just be icing on the cake after all the great things that have happened with the film so far.
At the moment, Cobb is working on the
Kung Fu Panda
sequel, which is slated to hit theaters on
June 3, 2011
. This time, the kicks and punches will be coming at us in 3-D, which Cobb says is a game changer.
"It's sort of like being given a new color to paint with all of a sudden,"
she comments.
"It's pretty exciting and we're really looking at the potential to use it to enhance the storytelling. We have some really interesting approaches we're playing with and testing for how we can best use that tool to best immerse you in the story. It's a very new frontier!"
Bugs' Death 2 - Solid Drawing - adding perspective
More from

John K

. on solid drawing -
Solid drawings are made up partly of construction. Perspective and foreshortening help make the drawings even more convincing - and harder to do. They also afford you more creative choices to tell your stories with.
Note how Bugs' feet are in the same perspective (the same angle) as the grave pit.
Many characters in today's cartoons will be drawn in 3/4 angle, yet their feet are placed on a horizontal line that completely ignores the perspective or angle of the rest of the characters. It hurts my eyes to see that so much. It makes it look like the leg that is farther away from is is longer than the one that is close to us.
We are also looking down on Bugs so his head is much bigger than his feet and his body is foreshortened.
I love the hills and valleys in Bugs' ears. Very subtle and adds even more form.
The way Bugs drags Elmer floating through the air and into the grave is cheated. Even McKimson couldn't figure out how to make that look natural. I bet he was cursing Clampett for this scene. It's full of technical problems to solve - yet the result makes the cartoon even funnier. It's amazingly directed - as someone pointed out in the comments the other day, Elmer is crying to the music. As always, Clampett's actions and gags flow along melodic music like a cartoon ballet.
I can't imagine how they choreographed all these ideas and made them work together so smoothly - and funny. They must have been supermen in the 1940s.
http://www.cartoonthrills.org/blog/Clampett/45OldGrayHare/bugsdeath2shorter.mov
Catch a Look at Mamoru Oshii's Upcoming Samurai Anime
Production I.G has launched a trailer and site for
Musashi: The Dream of the Last Samurai
.
An movie animated by the people behind the
Ghost in the Shell
anime, written by the man who directed the
Ghost in the Shell
Movies, depicting a legendary figure of chabara lore, it should be something to interesting AICNers.
The Mamoru Oshii film will detail the life of
"Sword Saint"
duelist and Book of Five Rings author
Miyamoto Musashi
. The life of the historical/semi-historical samurai has previously been depicted in 36 films, including Hiroshi Inagaki's Samurai Trilogy, in which he was portrayed by Toshirô Mifune, and in Eiji Yoshikawa's novel "Musashi," which in turn inspired Takehiko Inoue's manga Vagabond.
From Production I.G's description of the film
Overview

Maverick filmmaker Mamoru Oshii is the mastermind behind the original concept for this project, in collaboration with Production I.G - the team that brought you cutting edge anime such as
Patlabor: The Movie
(1989),
Patlabor: The Movie 2
(1993),
Ghost in the Shell
(1995),
Innocence
(2004) and
The Sky Crawlers
(2008).
This new full-length feature film entitled,
Musashi: The Dream of the Last Samurai (
Japanese title:
Miyamoto Musashi - Soken ni Haseru Yume)
is slated in Japanese theaters for summer 2009.

Miyamoto Musashi (1584-1645) was an unrivalled swordsman in the days when internal wars in Japan had virtually ended. Nevertheless, he wrote a master treatise on military strategy,
The Book of Five Rings
and sought
"the way"
to enlighten his spirit and cultivate his mind. But could this image have been manufactured by the generations that followed...?

Mamoru Oshii will take on an unusual portrayal of this legendary and aloof warrior, between spectacular duels and a tragic life in pursuit of greatness. With
The Book of Five Rings
as his guide, Oshii will unsheathe the true vision of the greatest swordsman in Japanese history! Medieval chivalry, horsemanship, swordsmanship and the essence of
The Book of Five Rings
will be pure entertainment!

The impressive production staff includes director Mizuho Nishikubo (also known by his alias Toshihiko Nishikubo) who has worked on numerous Oshii films including
Ghost in the Shell
(1995),
Innocence
(2004) and
The Sky Crawlers
(2008). He also directed the TV series
Otogi Zoshi
and
Legend of Heavenly Sphere Shurato
. Kazuto Nakazawa, director of the mind-blowing animation segment in Quentin Tarantino's
Kill Bill Vol. 1
(2003) and creator of innovative characters as seen in
Samurai Champloo
(2004), will design the characters for
Musashi
. The animation is supervised by Kazuchika Kise, the chief animator in
Ghost in the Shell, Innocence and Blood: The Last Vampire
.


MAIN STAFF

Original Concept / Screenplay: Mamoru Oshii
(Ghost in the Shell, The Sky Crawlers)

Director: Mizuho Nishikubo
(Innocence, The Sky Crawlers, Legend of Heavenly Sphere Shurato, Otogi Zoshi )

Character Design: Kazuto Nakazawa
(Kill Bill: Vol. 1, Samurai Champloo, Asience: Hairy Tale)

Animation Director: Kazuchika Kise
(Ghost in the Shell, Blood: The Last Vampire)

Art Director:
Shuichi Hirata (Innocence, xxxHOLiC - A Midsummer Night's Dream, Asience: Hairy Tale)

CG Animation: Makoto Endo
(Ghost in the Shell: Stand Alone Complex, Le Chevalier D'Eon)

Animation Studio: Production I.G
(Ghost in the Shell, Kill Bill: Vol. 1, The Sky Crawlers)
© 2009 Production I.G/Musashi Production Committee
Speaking of Oshii and swords, keep an eye out for this dueling anthology
KIRU ~ KILL
Mind Game

Gets English Release (in Australia)
Kaiju Shakedown includes the important notice that
Mind Game
is out on DVD
Australia's Madman Entertainment will be releasing a 2 DVD set of Studio 4C's gem
Mind Game
, marking the first time the movie has been released in English region (the Japanese DVD featured English subtitles)
Begin again in a wild and bizarre ride!

Nishi has been in love with Myon since he was 9 years old. They both had feelings for each other, but due to Nishi's cowardice their relationship never became more than friendship. Now, in the present, Nishi is 20 years old and aims to be a great manga artist; but he still loves Myon. After years of being apart they meet again, but she tells him that she's thinking of marrying her boyfriend. Nishi is still a coward so he accepts it and wishes her luck. While they're talking at her older sister's restaurant a pair of yakuza walk in looking for their father. One of the yakuza starts harassing Myon and out of anger Nishi chooses to finally take a stand -- but he is shot and dies. Now, in limbo, he chooses to live again; but will he really live any differently than before?
DVD Special Features
Animatic Storyboard
Special Interview
Final Sequence Director Commentary
Events and Talks
CG Works
Production Art Gallery
Mindgame Theme Live Performance
Mindgame Music Video
New and Upcoming in Japan
Previews
Armored Trooper Votoms: Pailsen File
Basquash
- based on a concept from
Oban Star-Racers
' Thomas Romai, animated by Satelight
(Hellsing Ultimate, Macross F)
Egg Man
Elite Yankee Saburo
Isekai no Seikishi Monogatari
Kurokami The Animation
(the manga version of which is released as
"Black God"
by Yen Press)
Maria-sama ga Miteru

4th Season
Rideback
Sengoku Basara
The Tower of Druaga: the Aegis of Uruk
Takashi Miike's
Yatterman
Anime
Active Anime
reports
Blu-ray Box sets for Mushishi and
Kurozuka
announced. Both titles schedule for release in 2009 in Japan.
According to
Canned Dogs
, Card Captor Sakura's Clow card arc will be released on a Blu-ray set for 81,900 yen on 27th March 2009 and the Sakura card arc will be released for 49,350 yen on 26th June 2009
According to
Anime Nation
, the two OVA episodes of Shirow Miwa's action manga will be released on May 19, 2009, packaged with limited edition copies of the
DOGS/Bullets & Carnage
volume 4 manga and on July 17, 2009, packaged with limited edition copies of the expanded re-release of the 2001
DOGS Stray
dog howling in the dark manga.
Via
Anime Vice
The 17th theatrical
Crayon Shinchan
movie,
Eiga Crayon Shin-chan Otakebe! Kasukabe Yasei Oukoku ("Movie Shin-chan Otakebe: Kasukabe Wild Kingdom")
will debut in Japanese theatres on
April 18th
.
A "doujin" anime based on the doujin shooting game Touhou is progressing with the casting
Reimu: Mai Nakahara
Marisa: Miyuki Sawashiro
Shameimaru: Ayumi Fujimura
Patchouli: Mikako Takahashi
Sakuya: Rie Tanaka
Remilia: Ayumi Tsuji
Suika: Aki Toyosaki
Narrator: Kikuko Inoue
The
buzz
in Japan is that financially strapped studio Gonzo may begin producing eroge anime.
Via
Anime News Network
The
Eureka Seven
will be called
Kokyo Shihen Eureka Seven: Pocket ga Niji de Ippai
(literally,
Psalms of Planets
or
Symphonic Poem Eureka Seven: Pocket Full of Rainbows)
and open in Tokyo's Theatre Shinjuku, Osaka's Theatre Umeda, and other locations during Golden Week, the string of holidays that stretches from the end of April through the first week of May.
CLAMP's
Kobato
(serialized in North America in NewType USA) will be adapted into an anime series. Madhouse title will be directed by Mitsuyuki Masuhara (Chi's Sweet Home,
Chobits
episode director) from scripts by CLAMP's Nanase Ohkawa.
kakifly's four panel manga concerning a high school light music club,
K-ON!
will be adapted into an anime series.
San-X's
Mamegoma seal mascot
will be adapted into its own anime.
Sakuran Boy DT ("cherry boy"), following a local costumed hero, is being called
"Japan's first"
Flash-animated television series.
Nitroplus and writer Gen Urobuchi
(Blassreiter)
are adapting their
Phantom of Inferno
visual novel (narrative PC game) into an anime series. Director Koichi Mashimo
(.Hack franchise, Blade of the Immortal, Noir)
and series script supervisor Yousuke Kuroda
(Demonbane, Gungrave, Mobile Suit Gundam 00)
will be helming this
Phantom ?Requiem for the Phantom?
.

software as a television anime series.
Phantom ?Requiem for the Phantom?
will feature the director Koichi Mashimo
(.Hack
franchise,
Blade of the Immortal, Noir)
and series script supervisor Yousuke Kuroda
(Demonbane, Gungrave, Mobile Suit Gundam 00)
. The original game was previously adapted in 2004 as a three-volume video anime series,
Phantom - The Animation
.

The first anime version of Rumiko Takashi's relationship comedy
Urusei Yatsura
in 17 years will premiere at the exhibition on
December 23
in Sendai, Japan. The anime will be exclusively shown at this traveling display of Takahashi's artwork. Fumi Hirano will reprise the role of green haired oni alien Lum.
A sequel to
Nodame Cantabile
: Paris, the latest anime adaptation of the manga that concerns the relationship between students of classical music, is sheduled for fall 2009. Two live action films continuing the 2006 television drama and this years special are now scheduled for 2010. Juri Ueno (live-action Young Kindaichi Case Files, Kodomo no Kodomo, Warau Michael) and Hiroshi Tamaki (MW's Michio Yuki, GTO drama guest star) will reprise their respective roles as leads Nodame and Chiaki. The first film will open in January 2010, while the second film will open later in the spring of 2010.
Manga
via
Anime News Network
Ichijinsha's Monthly Comic Rex magazine will reportedly announce that Eri Takenashi's supernatural romantic comedy
Kannagi
manga has been placed on hiatus due to the creator's
"poor health."
Anime News Network's
forum threads
reflects some of the controversy behind Kannagi.
Manga creator Kazuya Minekura
(Saiyuki, Bus Gamer)
reported on his blog on Wednesday that fellow creator Eri Takenashi
"cannot move her body."
Hakusensha's Young Animal Magazine announced that Kentarou Miura's
Berserk
manga is going on hiatus with the next issue. Miura had only just restarted the manga in October after a four-month break.
There have been joking references to Miura
playing too much iDOLM@STER
The manga creator Koge Donbo*
(Digi Charat)
announced
that she will launch the new manga
Dokidoki! Tama-tan
manga in the March issue of Kodansha's Nakayoshi shojo magazine.
Hello Kitty

maternity hospital opens in Taiwan
Are you tired of sterile, white or beige blah decor when you go to hospitals? If you're living in Taiwan and you're having a baby, you now have a far more cheerful option to choose from. Say
Hello, Kitty
. :)
(Thanks
fps magazine
)
Mamoru Oshii's The Sky Crawlers on Blu-ray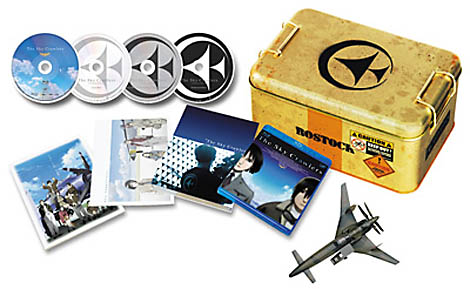 HMV Japan
has revealed the upcoming
February 25th
release of Oshii's hit film,
The Sky Crawlers
on Blu-ray disc. It will street in two editions, the more elaborate of which ships in a metal flight-case and contains three bonus discs with tons of extras.
More details at
The Blu-ray Blog.com
.
(Thanks
fps magazine
)
Anime News Network Streams Free Legal Anime
The Anime News Network is now in the streaming anime business -- only you don't have to pay! Visitors can now
watch

Kite: Liberator
, as well as
Girl's High
and
Ramen Fighter Miki
.
All three are ad-supported streams, licensed from Media Blasters, available in North America only. With any luck, they'll unveil even more titles soon!
(Thanks
fps magazine
)
Trailer for

HULK VS

now online
Two legendary battles. One DVD. Coming
January 27th
it's
'Hulk Vs'!
Lionsgate has released a new trailer for the epic film, revealing a handful of Marvel guest stars in villains appearing in the upcoming animation event, as well as specs and details about the DVD.
Hulk Vs will be available on Standard Edition DVD, 2-disc Special Edition DVD and Blu-ray Disc on
January 27, 2009
. The Standard Edition DVD features collectible 3D lenticular packaging.
HULK VS. WOLVERINE

SYNOPSIS
The Incredible Hulk has been tearing a line across the Canadian wilderness, leaving a swath of destruction in his wake. He has to be stopped, and there's only one man up to the job. He's the best at what he does, but what he does isn't very nice. He's Wolverine, an elite agent of Canada's top secret Department H, and he's been put on Hulk's trail with a single objective: stop the green goliath…at all costs. Hulk and Wolverine are about to enter the fiercest battle of their lives.
HULK VS. THOR

SYNOPSIS
It's gods versus monsters in this epic forty-five minute movie. For ages, Loki the trickster has sought a way to bring defeat to his accursed stepbrother, Thor. But for all the battles Thor has fought, in all the nine realms, only one creature has ever been able to match his strength—a mortal beast of Midgard known as The Incredible Hulk. Now, with Odin the king of the gods deep in a regenerative sleep, and the forces protecting Asgard at their weakest, Loki is finally ready to spring his trap. In a classic battle that will test a hero's limits more than ever before, only the mighty Thor can hope to prevail.
STANDARD EDITION DVD BONUS FEATURES *:
Hulk Vs. Wolverine
- Audio Commentary by Supervising Producer/co-writer Craig Kyle and co- writer Chris Yost
Hulk Vs. Thor
- Audio Commentary by Supervising Producer/co-writer Craig Kyle and co-writer Chris Yost
First Look – Wolverine and the X-Men"
featurette
First Look – Thor Tales of Asgard"
featurette
Trailer Gallery
SPECIAL EDITION DVD AND BLU-RAY BONUS FEATURES *:
Hulk Vs. Wolverine
Audio Commentary by Supervising Producer/co-writer Craig Kyle and co-writer Chris Yost
Audio Commentary by Supervising Director Frank Paur and Storyboard Artists Kevin Altieri and Butch Lukic
This is Gonna Hurt: The Making of Hulk Vs Wolverine"
featurette
Fan Frenzy: Hulk Vs Wolverine at the 2008 San Diego Comic-Con"
featurette
First Look – Wolverine and the X-Men"
featurette
Trailer Gallery
Hulk Vs. Thor
Audio Commentary by Supervising Producer/co-writer Craig Kyle and co-writer Chris Yost
Audio Commentary by Supervising Director Frank Paur, Animation Director Sam Liu and Color Key Design James Peters
Of Gods and Monsters: The Making of Hulk Vs Thor"
featurette
Jack Kirby and Thor"
(original Thor comic illustrator) featurette
First Look – Thor Tales of Asgard"
featurette
For more information on this title, visit
the official website
.
And now, here's that trailer:
John K. on Appealing Character Design -
Appealing Character Design Goes A Long Way
Not every artist or cartoonist has natural appeal. Some , like Freddie Moore and Rod Scribner have naturally appealing styles and can take other people's designs or even generic designs and draw them with great appeal.
Since there are so few of these artists who can make almost anything look good, animation developed the concept of having specialists in appeal that we call character designers.
A good character designer, unlike a stylist actually thinks about his appeal. It's partly a science of balancing shapes and contrasts in order to make an assortment of characters who vary from each other in design. You can see in Ed Benedict's baseball players above that he is consciously experimenting with arranging different shapes together. They aren't good merely because they look simple or flat or designy - there is a lot of careful thought in them. Ed has natural appeal in his drawings and strong principles in general, and top of those 2 rare abilities he is visually creative - which is different than being able to draw well. The 9 Old Men are all very strong in principles, but rarely show much imagination in their designs. They recycled the same designs over and over again for decades, with very slight variation.
There is a modern mindset that every artist is a potential designer, which I find absurd. In 80s and 90s Disney feature films, it looks as if they let each animator design his own character and most of them are pretty bland, awkward and uninspired. Plus they don't work with each other in the same films.
Then there is the Hip TV Executive mindset that thinks that as long as you have not been tainted with experience in the animation business, then you have a revolutionary new design style. The executives of course can't tell what is actually new or not, because they are ignorant of cartoon history, and worse than that, they can't even tell a good drawing from a bad one. And they view actually appealing professional drawings as being "too old school".
Now to me, no matter what the budget of your cartoon is - whether it is a $400,000,000 fully animated feature, or a low budget TV cartoon, there is no excuse for any cartoon to have bad design.
I imagine the thinking behind cartoons that are supposed to be educational is that they have to taste bad - like stewed cabbage or boiled broccoli, because if they actually looked pleasing they'd be bad for you like ice cream is. Is there another explanation for how cartoons can look this unappealing?
Here are some really expensive nasty designs. Unbelievable. I feel like I live in an alternate universe where nothing makes sense.
A good designer is rare, but nowhere near as expensive as all the other animation costs.
If you start with good appealing design, and then you have good animators or even somewhat mediocre animators, then at least your cartoons will have some kind of instant appeal. I'm just using Ed here as one example of appealing design. There are many other design styles possible but the same principle applies.
Mel Crawford is one of those artists (who is not so much a designer) who has a very appealing unique personal style. When you take an appealing artist and give him appealing character designs you get the best of both worlds.
But even lesser artists still can make appealing work with good designs. Hanna Barbera made their reputation on their look more than anything else.
These artists are not at the level of Crawford, but they are good enough to allow Ed's design appeal to still come through.
The animation was limited, but Ed's design style was so strong and appealing that it carried HB for a decade before they threw away their reputation and switched to ugly design.
As a kid I watched as HB went from appealing cartoony designs to copying Filmation's ugly semi-realistic characters with flesh colored eyes. I was shocked. To this day, I can't understand how big studios can have so many people in charge that can "yes" to having their expensive cartoons look ugly or bland. Just hire a real designer. There are a handful left in the business.
Revised Episode List For

"The Zeta Project: The Complete First Season"

DVD Release
Warner Home Video has provided
The World's Finest
with a revised listing of episodes featured on the highly-anticipated upcoming release.
A representative from Warner Home Video has confirmed for The World's Finest that the upcoming
The Zeta Project: The Complete First Season
will definitely contain twelve episodes spread over two discs. Below is the revised disc-by-disc breakdown, confirmed through Warner Home Video.
Disc One
1) The Accomplice
2) His Maker's Name
3) Remote Control
4) Change Of Heart
5) The Next Gen
6) West Bound
Disc Two
1) Hicksburgh
2) Shadows
3) Crime Waves
4) Taffy Time
5) Kid Genius
6) Ro's Reunion
Warner Home Video has set a $26.99 MSRP for the
March 17th, 2009
DVD release of
The Zeta Project: The Complete First Season
. Further details and hi-res artwork is expected to be released shortly.
5 Superhero Movies in the Running for Visual Effects Oscar
ComingSoon.net
has posted the 15 movies selected by the Academy of Motion Picture Arts and Sciences as semifinalists for Achievement in Visual Effects for the 81st Academy Awards®. Included are superhero movies
The Dark Knight, Hancock, Hellboy II: The Golden Army, The Incredible Hulk
and
Iron Man
. Three of the 15 will receive a nomination for final Oscar consideration.
You can check out the full list
here
!
New

'Blade'

Movie In The Works… Without Wesley Snipes?
While David Goyer might have been the bearer of
bad news for anyone looking forward to
"X-Men Origins: Magneto"
earlier today, he had some good news for anyone hoping to see another film based on Marvel's day-walking vampire hunter, Blade.
"I heard rumors that they may want to start from scratch with a new person playing Blade,"
Goyer said of New Line's plans for the property during an interview with
Shock Till You Drop
.
Goyer, who wrote all three films in the franchise and co-created the short-lived
"Blade"
TV series, added that after the
"Blade"
series, he didn't have much interest in vampire projects — but found his interest in the genre piqued again again after reading one of Marvel Comics' classic collections of vampire-themed stories.
"I was reading the '

Tomb of Dracula Omnibus'

and I hadn't read them in a long time and I thought it might be cool to do another vampire movie at some point,
" said Goyer.
Goyer also offered up some thoughts about studios' affinity for remaking certain films just a short time after the original was released, explaining that in his mind,
"remakes are more successful the more time there is in between"
— and that he'd prefer studios waiting at least 10 years before remaking a film.
'X-Men Origins: Wolverine'

Star Hugh Jackman Dishes On Deadpool, Gambit & Future Of Franchise
Despite the fact that
"X-Men Origins: Wolverine"
revolves around arguably the most popular character in all of comics, one thing that most fans are looking forward to in the upcoming bad-ass flick will be the cameos by other anti-heroic mutants who will be making their big screen debuts — most notably, Deadpool and Gambit.
And while we've had a chance to see some
promo images of the muties' debuting
in
"Wolverine"
, clues as to what fans can expect from their appearances are a hot topic unto themselves. That said,
totalfilm.com
dropped an in-depth interview with the man who's now ubiquitous with the role of Wolverine, Hugh Jackman, who happily gave more details about what we can expect from the upcoming film. (Well, besides lots and lots of crazy fight scenes, of course.)
In terms of
Gambit (played by Taylor Kitsch)
— a mutant from the bayous of Louisiana who has the ability to manipulate kinetic energy — Jackman related the character to Pyro (from the
"X-Men"
franchise) and said that he shares a very special relationship with him in
"Wolverine."
"He's a little more showy than Wolverine, but there's a similarity,"
said Jackman.
"They're outsiders, they're wise-cracking, they're anti-authority. They have a dynamic where they love giving each other s–t. There's some good stuff in there. And they get a fight, the two of them get a fight. I'm really, really happy with the dynamic between the two."
Yet while Jackman was happy to talk about Gambit, he kept the film's plans for Deadpool (played by Ryan Reynolds) close to the vest.
"I have to be very careful how I talk about Deadpool, because it's something I'm really excited about in the movie, where it plays and how it plays,"
hinted Jackman.
"The things I'm thinking about now I don't want to tell you because the fans will go 'Awwww, that's cool'… Actually some fans might be pissed off but that's ok. I think they'll understand why we did it. We took some creative licenses with him."
Meanwhile, Jackman once again makes it known that he'd love to
take Wolverine to Japan in future installments of the franchise
, should this prequel film be a success.
"When I was doing

'X-Men'

I was obsessed with reading the Japanese story,"
said Jackman.
"It gave me a lot of great inspiration for the character and I've forever been banging onto people about that. It's the coolest — and can you imagine visually? I can see the comedy of him training with the Samurai. I can just see it working."
EXCLUSIVE: Kenneth Branagh Breaks Silence On

'Thor,'

Says Casting Talk Is Premature
It's been over two months since word broke that
Marvel was courting Kenneth Branagh to direct
their next big-screen re-launch of one of their cherished heroes, Thor. And since then we've heard nary a peep from Branagh himself. At today's junket for
"Valkyrie,"
MTV News caught up with the actor/filmmaker and of course brought up the project.
"I am directing

"Thor"

or

"The Mighty Thor'"

as you might like to call it,"
he said with a smile before clarifying what the title of the film will be.
"I think it will be

'Thor'

."
MTV has spoken to
other writers about why Branagh would be such a good fit for the hero
. But here was finally an opportunity to hear from Branagh about what appealed to him about the project. So what's the appeal of
"Thor,"
Kenneth? "To work on a story about one of the immortals, Gods, extraordinary beings, inter-dimensional creatures," he enthused.
He continued excitedly,
"There's science fiction and science fact and fantasy all woven into one. It's based on Norse legends which Marvel sort of raided in a brilliant way."
So who will play Branagh's hero? Asked about the
rumors of Kevin McKidd being up for the role
, the director waved it off as premature speculation.
"There's been lots of talk [about casting] — I sound like a politician — but we are too early at this stage. We're getting the story and the visual effects together and all of that is very exciting. Someone sensational is going to play the part but it is early days."
Just because Branagh hasn't worked on a project of this scale since
"Mary Shelley's Frankenstein,"
fear not. This
"Thor"
promises to be as large as the character would seem to call out for.
"It's a chance to tell a big story on a big scale,"
said Branagh.
"It's a human story right in the center of a big epic scenario."
The New

X-MEN ORIGINS: WOLVERINE

Trailer Slashes Across YouTube!!
There's a new trailer for
X-MEN ORIGINS: WOLVERINE
in theaters this weekend.
Not surprisingly, it found its way to YouTube.
Not the greatest quality - but workable if you cross your eyes just so.
Here's a different one....
"Ozie Boo!"

toon series wins French export award
"Ozie Boo! Learn to Live Together"
won the Animation Export Award at Monday night's 15th French Film and TV Producers Association Awards.
The series, particularly prominent in the French animation industry, is produced and distributed by Cyber Group Animation, founded in 2005 by former Disney executives Pierre Sissmann and Dominique Bourse.
Other nominees for the award were
The Fantastic Four
, produced by Moonscoop and sold by Taffy Enterprises, and
Team Galaxy
, sold by Marathon International.
Normaal Animation received Procirep's best producer award.