Sci-fi's grand old man, Forrest J. Ackerman, dies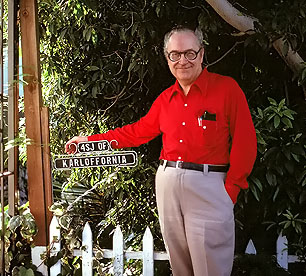 Forrest J Ackerman, the sometime actor, literary agent, magazine editor and full-time bon vivant who discovered author Ray Bradbury and was widely credited with coining the term
"sci-fi,"
has died. He was 92.
Ackerman died Thursday of heart failure at his Los Angeles home, said Kevin Burns, head of Prometheus Entertainment and a trustee of Ackerman's estate.
Although only marginally known to readers of mainstream literature, Ackerman was legendary in science-fiction circles as the founding editor of the pulp magazine
Famous Monsters of Filmland
. He was also the owner of a huge private collection of science-fiction movie and literary memorabilia that for years filled every nook and cranny of a hillside mansion overlooking Los Angeles.
"He became the Pied Piper, the spiritual leader, of everything science fiction, fantasy and horror,"
Burns said Friday.
Every Saturday morning that he was home, Ackerman would open up the house to anyone who wanted to view his treasures. He sold some pieces and gave others away when he moved to a smaller house in 2002, but he continued to let people visit him every Saturday for as long as his health permitted.
"My wife used to say, 'How can you let strangers into our home?' But what's the point of having a collection like this if you can't let people enjoy it?"
an exuberant Ackerman told The Associated Press as he conducted a spirited tour of the mansion on his 85th birthday.
His collection once included more than 50,000 books, thousands of science-fiction magazines and such items as Bela Lugosi's cape from the 1931 film
"Dracula."
His greatest achievement, however, was likely discovering Bradbury, author of the literary classics
"Fahrenheit 451"

and

"The Martian Chronicles."
Ackerman had placed a flyer in a Los Angeles bookstore for a science-fiction club he was founding and a teenage Bradbury showed up.
Later, Ackerman gave Bradbury the money to start his own science-fiction magazine, Futuria Fantasia, and paid the author's way to New York for an authors meeting that Bradbury said helped launch his career.
"I hadn't published yet, and I met a lot of these people who encouraged me and helped me get my career started, and that was all because of Forry Ackerman,"
the author told the AP in 2005.
Later, as a literary agent, Ackerman represented Bradbury, Isaac Asimov and numerous other science-fiction writers.
He said the term
"sci-fi"
came to him in 1954 when he was listening to a car radio and heard an announcer mention the word
"hi-fi."
"My dear wife said, 'Forget it, Forry, it will never catch on,'"
he recalled.
Soon he was using it in
Famous Monsters of Filmland
, the magazine he helped found in 1958 and edited for 25 years.
Ackerman himself appeared in numerous films over the years, usually in bit parts. His credits include
"Queen of Blood," "Dracula vs. Frankenstein," "Amazon Women on the Moon," "Vampirella," "Transylvania Twist," "The Howling"
and the Michael Jackson
"Thriller"
video. More recently, he appeared in 2007's
"The Dead Undead"
and 2006's
"The Boneyard Collection."
Ackerman returned briefly to
Famous Monsters of Filmland
in the 1990s, but he quickly fell out with the publisher over creative differences. He sued and was awarded a judgment of more than $375,000.
Forrest James Ackerman was born in Los Angeles on Nov. 24, 1916. He fell in love with science-fiction, he once said, when he was 9 years old and saw a magazine called
Amazing Stories
. He would hold onto that publication for the rest of his life.
Ackerman, who had no children, was preceded in death by his wife, Wendayne.
These tributes and rememberances  on Forry came via
Aint It Cool News -
The following was written by Phil Tippett:
In the mid to late sixties Forry's Ackermansion was the hub for (all five) stop motion animators, especially when Ray Harryhausen came to town. We'd meet for 8mm (not super 8) film-fests and gawk at the terrific collection of artifacts from
Kong, Mighty Joe Young
, props and models from Ray H's work. It was pig heaven. Forry kept me going in the lean days by commissioning me to sculpt & fabricate creatures from covers of Sci-fi magazines from the 30's and effigies from H.P. Lovecraft tales. On one occasion I was delivering a plaster sculpture of Cthulhu and took a turn to hard just as I was pulling into the driveway. Cthulhu went over and smashed to bits. Forry looked over the ruins with that bemused detached smile and paid me anyway. I was able to eat that month on the twenty five bucks. I'll never forget Forry's kindness, generosity and inclusiveness. He'd always let you know when something cool or fun was coming up. Like his buddies, the two Rays, he fueled inspiration for a generation of us in a time when there really wasn't much out there.
What a great guy.

Phil Tippett
Berkeley Calif, 2008
Then we have Mick Garris:
Harry--

I'm honored to be able to pay tribute to a man who had so much to do with how my life--and the lives of so many of my peers--has turned out. I don't think it's any secret that most of the people who make films, paint, write, compose, or perform in the horror and fantastic genre grew up mostly outside of the "norm". Whether by selection or defection, those artists I know were always outsiders, never the popular guys at the prom (if they attended at all).

As a child of the sixties, I was astounded when I discovered Uncle Forry and FAMOUS MONSTERS on the rack of the local liquor store/market in my humble town of El Cajon, CA. I used to sweep their parking lot, and get paid with a copy of FM and a bag of Fritos.

No one I knew shared my interest in the monsters and horrors that were profiled so gleefully in FM, and so I was shocked to see that there were enough people like me to warrant the publication of a magazine devoted to them. I even submitted my customized Aurora MUMMY model to their "Master Monster Makers" contest at the local department store... and won the local First Prize plaque (I suspect to this day that there were no other entrants).

When I moved north to Los Angeles in the seventies with my band, one of my first visits was to the Ackermansion, which was amazing and overwhelming. And Forry could not have been more welcoming and accommodating. On my first publicity job on
The Fog
, I arranged to have a genre press conference at the Ackermansion, and it was an incredible and memorable affair. I've been lucky enough to spend much time with FSJ over the years, at screenings, at luncheons (usually with his incredibly generous and loyal friend, John Landis), at awards ceremonies, at film festivals. His ever cheerful greetings and passionate discussions (and horrible puns) were never less than a total delight.

Seeing his health decline in recent years is painful, but the fact that he has remained a potent and loving force in horror into his nineties, for God's sake, is a testament to the man and his monsters.

Mick Garris
This came from Paul Dini:
Before the internet, before Entertainment Weekly and the nightly show biz shows, we fans of the cinema fantastic had no touchstone to that world other than through Forry and FAMOUS MONSTERS. Each month in its pages we would learn of Hollywood's horror lore, of Karloff, Lugosi and Chaney, Sr., and Jr., and of wonders to come --
Star Wars, Superman, Carrie
, and hundreds of others. We devoured the articles, we marveled at the photos, we groaned at the puns, we ordered the models and horror masks, and most of all we loved the man who brought it all to us.

Here's to you, Forry. And thanks, from me and every kid you held in your spooky, but always thrilling Dracula-like trance each month.

Paul Dini
Here's one from Rick Baker:
What do you say when a man passes away who was instrumental in the course that one's life has taken. I don't know, but I do know that I probably wouldn't be where I am today if it wasn't for his influence.

Uncle Forry and his magazine
Famous Monsters
showed me that people actually made a living making monsters.

I will never forget seeing
Famous Monsters
for the first time.

My mom took me with her to the market, like she did every week, I always hated going but I didn't have a choice. I asked if I could look at the magazines while she shopped. I looked at the rack and there was issue number 3 of FM. What was this? I thought to myself. I anxiously took it off of the rack and proceeded to turn one monster filled page after another. I couldn't believe it. A magazine that was made just for me.

I vividly remember in the letters section a photo of a guy with a blob on his back with a caption that said" blob on his back." I also remember an article where some make-up artist that I never herd of before , or since ,making up a kid into a monster, called "Boy into Monster". I was so excited. I asked my mom if I could have it and she said no. I don't think she objected to the subject matter I just think that she didn't have 35 cents to spare. Needless to say I was disappointed ,but let me tell you I happily went to the market with her every week . I saved my allowance so I could buy the next issue. I don't know why, but it took forever before them market had another issue. It was issue # 6. From the back issue department I bought issue # 3 and I still have it today.


Famous Monsters
was magic. I would memorize every page.

Uncle Forry was my hero.

I remember seeing an article about the luckiest boy in the world, a kid who lived next door to Forry. I thought to myself boy that is the luckiest kid in the world alright.

I finally met Uncle Forry, or Dr Acula or 4e , when I was twenty and was working on John Landis's film
Schlock
.

Forry had a cameo in the film and invited us to the Ackermansion.

I was excited but not as excited as I was when an article on
Schlock
appeared in
FM
with photos of me in it. Here I was in the magazine that I loved so much.

Even more exciting was when Forry did an article on Rick Baker Monster Maker. Now I was in the big time .Here I was in the same magazine that had articles on Jack Pierce ,Dick Smith, Ray Harryhausen. I couldn't believe it. I have had lots of magazine articles written about me since but none of them had the same thrill as reading my own name in
Famous Monsters of Filmland
.

Forry and his magazine inspired so many kids of my generation to get into the film business and I am sure that the state of the art in make-up and effects wouldn't be the same today if
FM
and that strange uncle that we all had didn't exist.

I will forever be thankful to my Uncle Forry for my education in monster mania and for pointing me in the direction that my life has taken.

Life will be different without 4SJ but I will never forget him.

Rick Baker Monster Maker
Leslie Cabarga's Garage Sale
Animation historian, artist, logo designer, friend and colleague Leslie Cabarga is having a yard sale on ebay - and there are some amazing things here of historical importance. Many of his auctions end this Sunday night and others are Buy It Now. Check out
Leslie's ebay store page here
. He'll be putting up lots more next week too, so check back. Rare Hollywood photos, Paramount model sheets, Fleischer animation art, Terrytoons backgrounds, Disney stills, Harvey Comics original art, and more!
(Thanks
cartoonbrew
)
Brush with Passion: The Art and Life of Dave Stevens
This work offers an introduction to the first retrospective popular comic film illustrator David Stevens.
"Brush with Passion"
charts the career of beloved and influential artist David Stevens. Encouraged by legendary creators like Jack Kirby, Milton Caniff, and Burne Hogarth, Stevens talks about his work as a storyboard artist for Michael Jackson's
"Thriller"
video and Steven Speilberg's
"Raiders of the Lost Ark"
, his days drawing comics, and the trials and tribulations of bringing his character to the big screen in the 1991 Disney film,
"The Rocketeer"
. Renowned for his wink-and-flirt pin-up art, Stevens is credited with revitalizing interest in, championing the rights of, and befriending the reclusive 1950s model Bettie Page and he recounts their first meeting and subsequent adventures together - including a trip to the Playboy Mansion.Featuring a wealth of iconic paintings and previously unpublished art,
"Brush with Passion"
also features commentary by comic book greats Todd Schorr, Richard Hescox, Michael William Kaluta and William Stout.
Thoughts on Dave included -
"Dave Stevens was the last artist of an innocent era when showing less and teasing more was the way to eroticism. He was much more than that, of course. His artwork burst with the heroic innocence and determination of an America that existed fully only on the printed page and the movie screen. Even when drawing some bondage or spanking scene, his art was human, lively, caring."
—
The Beat
blog author Heidi MacDonald
"It's been more than 30 years during which I have stood in hang-jawed wonder and delight at Dave Stevens' singular beautification of the universe."
— Harlan Ellison
"Dave Stevens' brush is an alembic, distilling the essence of the past with the edge of the future, never allowing the authenticity of his nostalgia to succumb to imitation or pastiche. In other words: Hubba-hubba! We likes!"
— The Wachowski Brothers
"[Dave Stevens] is my best friend in the whole world, bar none!"
— Bettie Page
Brush with Passion: The Art and Life of Dave Stevens
is available to order
here on amazon.com
.
Pinup Bettie Page hospitalized after heart attack
Bettie Page, a 1950s pinup known for her raven-haired bangs and saucy come-hither looks, was hospitalized in intensive care after suffering a heart attack, her agent said Friday.


"She's critically ill,"
Mark Roesler of the Curtis Management Group told The Associated Press.

He said the 85-year-old had the heart attack Tuesday and was hospitalized Friday in the Los Angeles area.

A family friend, Todd Mueller, said Page was in a coma. When asked to confirm, Roesler said,
"I would not deny that,"
but he would not comment further on her condition.

Page, a secretary turned model, is credited with helping set the stage for the sexual revolution of the rebellious 1960s. She attracted national attention with magazine photographs of her sensuous figure that were tacked up on walls across the country.


Her photos included a centerfold in the January 1955 issue of then-fledgling Playboy magazine, as well as controversial sadomasochistic poses.

Page later spent decades away from the public eye, and during that time battled mental illness and became a born-again Christian.

After resurfacing in the 1990s, she occasionally granted interviews but refused to allow her picture to be taken.

Mueller credits his business dealings with Page for bringing her out of seclusion. He said he first met her in 1989 when he offered her
"a bunch of money"
to show up at autograph signings.


"I probably sold 3,000 of her autographs, usually for $200 to $300,"
he said.
"Eleanor Roosevelt, we got $40-$50. ... Bettie Page outsells them all."
National Board of Review puts

WALL-E

among top 10
The National Board of Review on Thursday named Pixar-Disney's
"WALL-E"
the best animated feature of 2008, also placing it on its list of the top 10 films of the year.
Nominations by the board -- celebrating its 100th year -- are considered by many to mark the unofficial beginning of the Hollywood awards season and a precursor to the Academy Awards.
Meanwhile, the board also named Ari Folman's animated documentary
"Waltz With Bashir,"
a co-production of Israeli, German and French studios, one of the top five foreign films of 2008. However,
"Waltz"
failed to make the NBR's list of the year's top five documentaries.
The National Board of Review's lists of the top 10 films and top five foreign films of the year are always ranked in alphabetical order.
The National Board of Review, celebrating its 100th year, named
"Slumdog Millionaire"

the 2008 Best Film of the Year. Directed by Danny Boyle, this inspirational drama reflects back on the tumultuous life of Jamal Malik

(Dev Patel)
while competing to win 20 million rupees on India's
"Who Wants To Be A Millionaire."
The film was released
November 12
by Fox Searchlight.
For Best Actor and Actress of 2008, the NBR honors two artists whose performances were exceptional and brave. The 2008 Best Actor, Clint Eastwood, was selected for his performance in
"Gran Torino."
For the 2008 Best Actress honor, the NBR has selected Anne Hathaway for her performance in
"Rachel Getting Married."
The 2008 NBR Awards will be presented at an annual gala
January 14
at Cipriani's 42nd St. in New York City.
"2008 was a very special year for film with diverse and wonderful storytelling and we are proud to honor these achievements. Several of the films from our Top 10 list, along with our Best Film of the Year, share the universal message about the resilience and the strength of the human spirit,"
said NBR president Annie Schulhof.
"

'Slumdog Millionaire,'

with brilliant direction by Danny Boyle and incredible performances, shares a passionate story about one man's courage and determination for the woman he loves,"
said Schulhof.
"The NBR is so thrilled to launch our centennial celebration with a gala hosted by Whoopi Goldberg. We are looking forward to celebrating with all our honorees."
This year, the NBR screened over 330 films, including 10 animated films. The NBR, founded on January 25, 1909, was originally founded as an anti-censorship organization and continues to honor excellence and freedom of expression in filmmaking today. The 122 members include knowledgeable film buffs, academics, professionals and historians.
This year's membership includes 41 young voices from both students and filmmakers. Many of these members are past recipients of the NBR student grant program which enables students and young filmmakers to finish their projects and exhibit their work.
New Hi-Res Images From Upcoming

"Wolverine And The X-Men"

Animated Series
Nicktoons Network has provided Marvel Animation Age with new images from
Wolverine & The X-Men
.
Click on the images below for a closer look.
Wolverine And The X-Men
currently airs Saturday at 12:05pm (ET) and 7pm (ET) on the Canadian channel YTV.
Wolverine and the X-Men
is slated to premiere
January 2009
on the Nicktoons Network and on another Canadian network, Teletoon.
Marvel Animation Age also reports that work is underway on a second season for the show.
Marvel Animation and Singapore-based Toonz Entertainment Pte Ltd have given an early green light to a second season of the animated television series,
Wolverine and the X-Men
. This on the heels of an overwhelming response at MIPCOM and the launch of Season 1 in Latin America, Canada, and Italy, the
Wolverine and the X-Men
animated series is set to continue its uncanny success as it expands to other international territories including the U.K. on BBC and the U.S. in January 2009 through the Nicktoons Network, Nickelodeon's 24-hour animation channel. The action, adventure and drama will continue with 26 more half-hour episodes already in preproduction.
'The Dark Knight'

DVD Exclusive Featurette Hits The Web
It looks like the fine folks at
UGO
managed to get their hands on an exclusive look at one of the
special features from the upcoming special edition of

"The Dark Knight"

DVD
. In this, we get a glimpse at GCN's hard-hitting news magazine, "Gotham Tonight," and their coverage on the up-and-coming Gotham Police Lieutenant, Jim Gordon. Sadly, no cameo appearance by Anthony Michael Hall in this, but for those of you who are counting down the days until
"The Dark Knight"
DVD hits stores on
December 9
, this ought to get you properly hyped for the bevy of extra footage contained on the set.
Check out the clip below…
Terminator Salvation

Sneak Peek At The Trailer
Seems that the new full trailer for the upcoming sci-fi sequel
"Terminator Salvation"
will debut on Entertainment Tonight on this coming Tuesday. ET showed their sneak peak of the trailer which stars Christian Bale, Sam Worthington, Anton Yelchin and Bryce Dallas Howard. The film directed by McG
Check out the sneak peak at the trailer below.
Terminator: Salvation
opens
May 22nd 2009
In the highly anticipated new installment of
The Terminator
film franchise, set in post-apocalyptic 2018, Christian Bale stars as John Connor, the man fated to lead the human resistance against Skynet and its army of Terminators. But the future Connor was raised to believe in is altered in part by the appearance of Marcus Wright (Sam Worthington), a stranger whose last memory is of being on death row. Connor must decide whether Marcus has been sent from the future, or rescued from the past. As Skynet prepares its final onslaught, Connor and Marcus both embark on an odyssey that takes them into the heart of Skynets operations, where they uncover the terrible secret behind the possible annihilation of mankind.
Miller Says

Sin City 2

is Getting Closer
IGN UK
talked to
The Spirit
writer/director Frank Miller, who says that he's ready to join up with Robert Rodriguez again for
Sin City 2
:
"

Sin City 2

is written,"
he told the site.
"It's mainly a matter of working out the details of the production. I'm hoping to do it with Robert Rodriguez again in the same circumstances that we did the first one, and we could be shooting as soon as April."
Will Smith Says

Hancock 2

is Happening
JoBlo
caught up with Will Smith, who revealed that a
Hancock
sequel is
"definitely"
happening:
When we asked Will if he'd ever be up for playing another superhero he replied that there were a lot of unexplored characters in the

HANCOCK

universe that would be ripe for a sequel and confirmed that we'll definitely see the rumored

HANCOCK 2

in a few years.
The Peter Berg-directed film, which was made for $150 million, earned $624.4 million worldwide.
Singer Not involved in Superman Talk?
UGO
has posted an interview with
Superman Returns
director Bryan Singer, who goes a bit back and forth whether he's involved with the follow-up or not. Here's a clip:
JH: But there is talk of a new film, though. Are you officially involved in this talk of the new film?

BS:
I am not officially involved in the talk, no.
JH: But when talk happens they'll call you.

BS:
Well it's, you know, I have relationships with Warner Brothers and with the character and, and, and, and it's just the way things work out.
JH: But you are not divorced from Superman at this point.

BS:
No.
JH: All right.
WB to Re-Release

The Dark Knight

Jan. 23
Warner Bros. Pictures is bringing
The Dark Knight

back for a return engagement in theaters and IMAX on

January 23, 2009, giving audiences one more chance to see the film on the big screen. The film will re-open nationwide, it was announced today by Dan Fellman, Warner Bros. Pictures President of Domestic Distribution.

In making the announcement, Fellman stated,

"

'The Dark Knight'

is a crowning achievement in every sense of the word. We wanted to provide one more opportunity for moviegoers to experience it on the big screen as it was meant to be seen."



One of the most celebrated and successful films of this or any year, The Dark Knight

has been hailed by both critics and audiences since its original release last July. The film garnered widespread acclaim for its artistic and technical achievements, including the work of its outstanding cast and its director, Oscar®-nominated filmmaker Christopher Nolan

(Memento)

.

Led by Christian Bale, reprising his role from

Batman Begins

, and Academy Award® nominee Heath Ledger

(Brokeback Mountain)

, the ensemble cast also includes Academy Award® winner Michael Caine

(The Cider House Rules)

, Gary Oldman

(

the

"Harry Potter"

films

)

, Aaron Eckhart

(Thank You for Smoking)

, Maggie Gyllenhaal

(Stranger Than Fiction)

, and Academy Award® winner Morgan Freeman

(Million Dollar Baby)

.

In addition, critics and moviegoers alike applauded Nolan's revolutionary use of IMAX cameras to film some of the most challenging action sequences ever created—a first for a major feature film.

Nolan directed

The Dark Knight

from a screenplay written by Jonathan Nolan and Christopher Nolan, story by Christopher Nolan & David S. Goyer. Charles Roven, Emma Thomas and Christopher Nolan produced the film, with Benjamin Melniker, Michael E. Uslan, Kevin De La Noy and Thomas Tull serving as executive producers.

Collaborating with Nolan behind the scenes were two-time Oscar®-nominated director of photography Wally Pfister

(The Prestige, Batman Begins)

, Oscar®-nominated production designer Nathan Crowley

(The Prestige)

, Oscar®-nominated editor Lee Smith

(Master and Commander: The Far Side of the World)

and Oscar®-winning costume designer Lindy Hemming

(Topsy-Turvy)

. The music is by Oscar® winner and multiple Oscar® nominee Hans Zimmer

(The Lion King, Gladiator)

and seven-time Oscar® nominee James Newton Howard

(Michael Clayton, The Fugitive)

, who previously collaborated on the score for

Batman Begins

.

Originally released on July 18, 2008

,

The Dark Knight
broke virtually every possible box office record to become the top-grossing film of 2008 and the second-highest grossing movie (domestically) of all time.
Holy Macaroni
Back when I was a lad working at Disney, the economy outside the Disney gates was really bad.
Ten percent unemployment
. High interest rates. An unpopular President.
The year was 1982. And from the vantage point of a steady job at 500 S. Buena Vista Street ... and my own general cluelessness ... the bad times seemed far away.
This time
, it doesn't.
Job losses [of 533,000] in November were the steepest since December 1974, when 602,000 jobs were shed, and much worse than the consensus on Wall Street for a 340,000 reduction.

In addition, job losses in recent months turned out to be worse than previously reported. October's loss was revised to 320,000, originally given as a 240,000 loss, while September's drop was revised to 403,000 from 284,000.

That meant 199,000 more jobs were lost in September and October than initially thought and the total reduction in U.S. nonfarm payrolls for the last three months was 1.256 million, with almost 2 million jobs shed in the year so far.
In fact, this time, it feels very
close to home
.
... [E]ntertainment companies to fall victim to the economic crisis include NBC Universal's Spanish-language TV unit, Telemundo, which reduced its workforce 5%. Lionsgate, Hollywood's biggest independent movie and TV studio, last month cut 8% of its workforce. Walt Disney Co., which reported a 13% drop in fiscal fourth-quarter net income, is considering major belt-tightening moves across all divisions, including its Burbank studio, ABC network, cable channels and theme parks.

Analysts believe the cutbacks are far from over: Other media giants, including Time Warner Inc., whose assets include the Warner Bros. movie and TV studio and cable giant HBO, and smaller entertainment outfits are continuing to look for ways to reduce overhead and other costs.
So far, animation employees have been luckier than many.
As of today, we have
2,536
artists, technicians and writers working under TAG jurisdiction. By historical standards, this is a healthy number, but a large segment of our working population has employment guarantees only through the end of their shows' television order, or run of their current feature. Beyond that, it's mostly project to project, and the odds are good the next job will be elsewhere.
Here in 'toonland, our employment levels will depend (as ever) on what kind of cash flows our work product creates. Out in the wider world, it appears that both cash flows and jobs are rapidly disappearing, so perhaps we should be grateful there is still a semi-robust market for animation. God knows how long it will last.
(Thanks
Animation Guild Blog
)