Carell Gets

Despicable

for Toon
Steve Carell is re-teaming with
Horton Hears a Who!
pals for his next animation voicing job. According to Daily Variety, the
Office
star been cast as the lead in
Despicable Me
, a CG-animated feature written by
Horton
scribes Cinco Paul and Ken Daurio. The film is being produced by Chris Meledandri through his Universal-based Illumination Ent. Meledandri oversaw Horton as head of Fox Animation.

Slated for release in 2010,
Despicable Me
centers on Groo (Carell), a terrible man who plots to steal the moon. Only one thing stands in his way, a trio of orphan girls who temporarily come under his care. Julie Andrews plays Groo's evil mother. Other cast members include Jason Segel
(Forgetting Sarah Marshall)
, Kristen Wiig
(Saturday Night Live)
, Will Arnett
(Arrested Development)
, Danny McBride
(Tropic Thunder)
, Russell Brand
(Forgetting Sarah Marshall)
, Jemaine Clement
(Flight of the Concords)
and Jack McBrayer
(30 Rock)
.

Meledandri is producing the movie with Janet Healy and John Cohen. Chris Renaud and Pierre Coffin are directing, with Sergio Pablos serving as co-director. Pablos conceived the original idea.

Illumination, which Meledandri founded last year with Universal heads Marc Shmuger and David Linde, plans to make two family films a year with full funding from Universal. Meledandri is working with Paul and Daurio on yet another project, and also has deals set up with Son of Rambow filmmakers Garth Jennings and Nick Goldsmith, and
Simpsons
writers/producers Mike Reiss, Matt Selman and Josh Lieb.
Halo-8 Bites into

Xombie
Halo-8 Ent. picked up worldwide distribution rights to
Xombie: The Animated Series
at the American Film Market (AFM). Created by James Farr, the animated zombie adventure began as a web series that has garnered more than 13 million downloads. Halo-8 plans to give it a limited theatrical release in early 2009, before releasing it in DVD.
Employing Flash animation,
Xombie
follows the adventures of Dirge, a dead man who fights his posthumous cravings and legions of the living dead to reunite a lost child with her family. The property was made into a comic book and graphic novel by Devil's Due Publishing, as well as a top-selling, self-published illustrated novel. In addition, Epic Level Ent. is developing a live-action
Xombie
movie for a major studio.
"Xombie is my attempt to inject something new and fun into an often over-mined genre,"
says Farr. "I am thrilled it has gotten such a huge response and that the characters have endured so long. Dirge and his friends are very close to my heart, and thanks to Halo-8, I get to share them with a brand new audience."
Formed in 2006 to expand and manage the Xombie property, Xombie Inc. is managed through Epic Level Ent. (
www.epiclevel.com
), an ientertainment company with development and production expertise in film, television, internet media and games. Halo-8 will work with Xombie Inc. on additional
Xombie
animated media. Other animated features in development at Halo-8 include in-house adaptations of the Halo-8 comic books
Godkiller
and
How I Lost My Virginity
by Alexandra Jones.
Comedy Central Has

Ugly Americans
Comedy Central announced that it has commenced production on a pilot episode of
Ugly Americans
, an animated project about an alternate universe in New York City. The show is a spin-off of the comedycentral.com original series
5-On
.
Ugly Americans
is exec produced by David Stern (
The Simpsons, Monk
) and produced by Devin Clark, with Lou Wallach and Dan Powell in charge of production for Comedy Central.The animation is being handled by
Augenblick Studios
in New York.
The animated series follows Mark Lilly, a social worker at the Department of Immigration, as he helps new citizens both human and otherwise adapt to hectic life in the Big Apple. There are easier tasks than weaning vampires from blood, socializing land-whales and housebreaking werewolves, but Mark is up to the challenge. Between his stressful job, a zombie roommate and a demon girlfriend, Mark's lucky if he can sneak in a few minutes of sleep.
Cartoon Network, whose top-rated show is
South Park
, has been seeking to add more animation to its lineup. The animated

"reality"

show
Drawn Together
ran for three seasons before creators Dave Jeser and Matt Silverstein left and signed a two-year contract with FOX. Lately, the network has been airing the new
Futurama
movies following their DVD debuts. The latest,
Bender's Game
, hit retail last week and make its television premiere in a couple months.
France's TF1 Merchandises

Dragonball
Toei Animation Co. Ltd. has appointed French licensing company TF1 Enterprises as the merchandising broker for the
Dragon Ball, Dragon Ball Z
, and
Dragon Ball GT
. Through its TF1 Licences department, the company will handle the property in France, French speaking Belgium, Luxembourg, Switzerland and Monaco. TF1 has all merchandising rights for the brand with the exception of toys, video-game, publishing and Lamincards categories.
With 508 episodes produced to date, the
Dragon Ball
saga follows young Goku's quest to become the strongest martial artist in the universe and his search for the seven magic Dragon Balls. The animated series is based on Japanese comics by Akira Toriyama, and currently airs in France on MCM, NT1, AB1 and Mangas.
As part of TF1 Group, TF1 Licences manages a portfolio of more than 50 entertainment brands. These include
Ushuaïa, Barbapapa, Nintendo, Magical Doremi, Franklin, Chuggington, Olivia, Casper, Hello Kitty
and
Who Wants to Be a Millionaire?
.
"Waltz With Bashir"

wins Asia Pacific Screen Award
"Waltz With Bashir,"
an Israeli-French-German co-production, was named Best Animated Feature Film on Tuesday night at the Asia Pacific Screen Awards, the region's highest accolade in film.
Winners were announced at a special ceremony on the Gold Coast, Queensland, Australia. More than 700 film industry luminaries from the Asia-Pacific region, Europe and the United States attended the ceremony.
Producer Yael Nahlieli accepted the award for
Waltz With Bashir
. Nahlieli shared the award with fellow producers Ari Folman, Serge Lalou, Gerhard Meixner and Roman Paul.
The documentary defeated rival animated feature films
Byul-byul Yi-ya-gi 2: Yeo-seot-bit-ggal Mu-ji-gae (If You Were Me: Anima Vision 2),
produced by Nam Kyu-sun of South Korea, and
Stranger Mukoh Hadan (Sword of the Stranger)
, produced by Masahiko Minami of Japan.
The Best Feature Film award was won by
Tulpan
(Kazakhstan/Russian Federation/Switzerland/Poland/Germany). The Best Documentary Feature Film was
Ggeutnaji Anhmeun Jeon Jaeng (63 Years On, South Korea).
Best Children's Feature Film was
The Black Balloon
(Australia).
Thirty-two films representing 17 countries were finalists in the awards, with winners also coming from Turkey, Iran, China and India. The awards were determined by an international jury headed by Oscar-nominated Australian director Bruce Beresford.
The CNN APSA Viewers Choice Award for Best Asia-Pacific Film of all Time, voted for by thousands of film fans around the world, went to
Himala
, Ishmael Bernal's 1982 work from The Philippines.
BOOK REVIEW:

The Art of Disney's Bolt
I received a complimentary copy of the
The Art of
Bolt
in the mail recently. I'm going to ignore the fact that it wasn't intended for me since there was a note inside of the book that was addressed to the editor of a certain other animation-related print magazine which shall remain unnamed.
In terms of text, there's little to discuss. The book, credited to Mark Cotta Vaz, is thin in the writing department, even relative to other
'art of'
books in my collection. It makes me wonder why I invest so much effort when I'm hired to write similar 'art of' books. With the exception of a dozen or so pages of text, everything else is quotes, including deep bits of insights like the following from a couple of the animators: "Animating a dog is quite complicated. Instead of two legs you have four, and the overall motion is something the audience is very familiar with, so it has to look perfect for everyone to believe in it."
Then again, it's called The ART of
Bolt
for a reason. We buy these books for the artwork and there's plenty of that on every page. At times, the book almost feels like it should be titled "The Art of Paul Felix." It's dominated by the digital paintings of Felix, who was art director on the movie. I'm not complaining. Felix's work is skillful and has a certain charm. There are also plenty of other digital paintings by artists including Greg Miller, Jim Finn, Ric Sluiter, Kevin Nelson, Sean Samuels, as well as some graphite drawings (how quaint!) by Bill Perkins.
The buzzword for the art direction of this film is "painterly." It's repeated frequently in the book, and they cite a desire to recreate the "painterly" feel of Edward Hopper, George Bellows and the Ashcan School artists. It'll be interesting to see how this painterly notion appears onscreen since the treatment of light and color has been a weak point in a lot of contemporary CGI (though it is improving). There are examples in the book of render tests, and what they illustrate is that in CGI, "painterly" translates to softer textures and a brushstroke feel, but at the end of the day, the backgrounds are still controlled by the perfect geometries of a computer-generated image. It is, at best, an approximation of a painter's work. There is no abstraction of masses or compositional decisions that are based outside the realm of the digital model. That is not a fault of the artists so much as it is asking something of the technology that it is incapable of providing. But it's also why I find it difficult to muster enthusiasm for page after page of Disney's attempt to codify a "painterly" approach in their films (top image) without really ever approaching anything remotely as exciting as a true painter's work (bottom image, by George Bellows).
One area in which CGI doesn't have to play second-fiddle to the traditional arts is in the realm of characters, and there's plenty of character design artwork in this book. The book offers solid and appealing designs by lead designer Joe Moshier, supported by work from Jin Kim and Chen-Yi Chang. Moshier comes from the Tom Oreb school of character design, and he does the super-graphic and elegant shapes and forms as well as anybody today. I think his designs excite me even more than Craig Kellman's designs for
Madagascar
, which is another heavily Oreb-influenced production. My reservations are in the obviousness of the design choices. There's never any real exploration of the graphic possibilities, such as what one saw in Teddy Newton's inventive character exploration work on
The Incredibles
.
Another thing that I don't see in the character designs is a unified vision of the universe, especially not in the way that was evident in the work of Chris Sanders on
American Dog
, the earlier incarnation of
Bolt
. Not only is the work of Sanders absent in this book, but his name has also been entirely omitted from the production history. As a historian, this type of revisionism raises my ire, but I don't know the behind-the-scenes story that necessitated his name being omitted from the book. In the book, Vaz writes that Paul Felix started figuring out the look of the film in 2005. Did Felix and Sanders never speak to one another during Sanders' tenure as director? Obviously a lot of stuff was figured out when Sanders was still aboard.
In a hint at why Sanders was let go, Lasseter writes in the foreword that in
Bolt
,
"as innovative as the production design is, the artists made sure the style was always serving the story."
My only wish is that the style they ended up using wasn't so safe and generic. The Disney studio has built a reliable animation brand that hews to the
"Illusion of Life"
philosophy, but I don't believe for one second that to achieve that, they need to dumb down their design sensibilities and regress to blandness. As is evident in films like
Fantasia, Sleeping Beauty, 101 Dalmatians
and
Lilo and Stitch
, the Illusion of Life is not tied to any set Disney style. It's a flexible idea that can accommodate more creativity and experimentation than the artwork that's shown in this book. This 'art of' book may not have the most interesting or inspiring art, but let's hope at the end of the day, at least it serves the story, as Lasseter believes it does.
Click here to buy the book on Amazon
.
(Thanks
cartoonbrew
)
"Inside a Boy"

Music Video by Rafa Toro
"Inside a Boy" is a fresh-looking music video for the group My Brightest Diamond. It's directed by Spanish artist
Rafa Toro
. He says that he made it "with a tight schedule (barely a month and a half) and low budget (I made every step of the production, including design, animation, editing, etc…)." The illustrations in this vid are a treat for the eyes and the real highlight of the piece. This is Toro's first major freelance animation assignment and I hope it's not the last.
(Thanks
cartoonbrew
)
NEXT WEEK: Don Hertzfeldt In NYC
If you haven't heard, filmmaker
Don Hertzfeldt
is currently in the midst of a nationwide tour of his films, including the debut of his latest tour de force
I Am So Proud of You
. The show has been a huge success and has sold out (or nearly sold-out) in every city the tour has hit. Hertzfeldt continues appearances in Allentown, Pennsylvania tonight and Rochester, New York on Saturday. Next
Wednesday, November 19
, he's doing a couple shows in New York at the IFC Center (323 Sixth Avenue). Both the early and late show have already sold out, but Don tells me that they're planning to add a third, extra-late show. Stay tuned to
this page for ticket info
on the third show, which should go on sale soon.
If you're feeling lucky, Cartoon Brew is giving away two tickets to the 9:15 show. Just enter your name on our
Cartoon Brew group on Facebook
by Saturday. I'll be moderating the Q&A sessions with Don for the New York portion of the tour so get some good questions ready for us. More info about the tour on Don's website
BitterFilms.com
. And while we're at it, here's a good recent
interview with Don
about his latest short.
(Thanks
cartoonbrew
)
Academy Disqualifies

'Dark Knight'

Score
Due to a discrepancy in the paperwork, Hans Zimmer and James Newton Howard's score for
'The Dark Knight'
will not be considered for nomination by the Academy music branch, reports Variety.
The problem stems from the fac that five names are listed on the music cue sheet, which is the official studio document specifying every piece of music in a film.
The names of music editor Alex Gibson, ambient music designer Mel Wesson and composer Lorne Balfe also appear. Reportedly this was to allow them to be fairly compensated for their work.
The trio agrees that the score it self is Zimmer and Howard's work, and have signed an affidavit for the Academy saying as much. Apparently their plea fell on deaf ears and
'The Dark Knight'
score is disqualified.
Marvel toons up thunder god

Thor

for TV series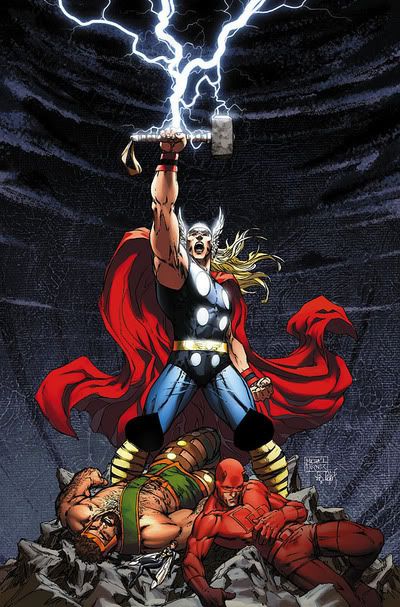 Marvel's
Thor
is the latest hero from the comics and entertainment company to get cartoon treatment.
Marvel Animation is developing and self-producing 26 half-hour episode series based on its long-running comic book, with the series targeted to launch in fall 2010, on the heels of Marvel's live-action feature
"Thor."
The animated series will follow the Norse god of thunder, as he defends his mythical home of Asgard against fantastical villains, fiendish hordes, winged creatures and angry giants. The show will take place in various worlds -- from mountainous landscapes to places of icy mists and fiery voids and will include many of the comic's supporting cast, such as Balder the Brave, the Warriors Three and Thor's evil adopted brother Loki.
Marvel president of animation Eric Rollman said the series is part of the company's plan to follow each live-action movie with an animated series and "offer a continued awareness in the marketplace." It is already in production on cartoon series
"The Avengers: Earth's Mightiest Heroes,"
which will be available for broadcast in 2011, in time for Marvel Studios' releases of the tentpole live-action movies
"The First Avenger: Captain America"
and
"The Avengers."
Marvel Animation is in the midst of a big push in the toon sector. Its new series
"Wolverine and the X-Men" and "Iron Man: Armored Adventures"

debut next year on Nicktoons. Also coming is

"Marvel Super Hero Squad"

and

"Black Panther."
The latter will run on BET in 2009.
New Images From Opening Title Sequence To

"Wolverine And The X-Men"

Series
Marvel Animation Age

has obtained new images from the opening sequence to
Wolverine And The X-Men
.
The opening sequence for
Wolverine and the X-Men
features both regular characters and special guest stars. The opening sequence, animated by Lotto Animation and scored by Dean Grinsfelder, is attached to the first 26 episodes of the upcoming animated series.
Wolverine And The X-Men
currently airs Saturday at 12noon (ET) and 7pm (ET) on the Canadian channel YTV.
Wolverine and the X-Men
is slated to premiere
January 2009
on both the Nicktoons Network and on the Canadian network Teletoon. Click on the images for a closer look at the opening title sequence for the series.
Pics From

'Brave And The Bold'

's Plastic Man Episode
In other
'Brave and the Bold'
news,
Legions of Gotham
has new images from the upcoming
"Terror on Dinosaur Island"
episode, which features Plastic Man.
Cloverfield

Sequel Still Possible
Paramount is still pushing for
''Cloverfield''

director Matt Reeves to come up with a sequel. And though the

''Felicity''
vet is open to the idea of a follow-up to his monstrous 2007 hit, Reeves says he's waiting till he and producer J.J Abrams find an idea they really like rather than rushing a cheap money-grabbing follow-up into production.
"Wanting something to happen and coming up with the right idea are two very different things"
, Reeves, whose working on a new version of
"The Invisible Woman"
, tells
MTV
.
The filmmaker says there have been on-and-off talks about doing one for the past nine months or so.
"At times it's gone dormant and then its come back up again".

"There are a couple ideas that have potential but we haven't quite cracked it yet,"
he says, adding,
"When we were in Japan we thought, wouldn't it be cool to do it here"
.
Reeves says the sequel probably won't pick up right at the end of the first film, and fix on that flick's survivors (if there were any). Rather they have discussed a sequel that
"wasn't necessarily right after that night but had intersections with the original."
Heck, Reeves might not even direct the sequel.
"There was the thought that maybe we'd bring in some young exciting people and we'd produce their take."
"I don't know at this point,"
Reeves said.
"I think if we find something that would be incredibly fun to make and that we would want to watch then that's what would push it over the top. It's a weird puzzle."
Monsters Vs. Aliens

Featurette!
SCI FI Wire has posted a behind-the-scenes featurette on the making of the upcoming animated film
Monsters vs. Aliens
. The movie opens in March 2009.
Click HERE
to see it.
Jones Talks

Hobbit, Frankenstein
Doug Jones, the character actor best known for playing elaborate creatures in Guillermo del Toro's
Pan's Labyrinth
and
Hellboy
movies, talked with reporters about his upcoming films and his hopes to play roles in del Toro's
Hobbit
films and
Frankenstein
, among others.

Jones played Abe Sapien in
Hellboy
and its sequel,
Hellboy II: The Golden Army
(now out on DVD and Blu-ray disc), as well as the Angel of Death and the Chamberlain in the latter film.
Jones spoke on Nov. 11 at the Hollywood premiere party for
Hellboy II
's home-video release. Following is an edited version of that group interview.
Guillermo's being coy about casting
The Hobbit
, but have you had a conversation yet about playing a role in the films?

Jones:
I have not had a conversation with him about any of them at all yet, but he was quoted--he was interviewed by somebody, I guess I read this--that the Elven King is not in consideration [for me]. That's one character we can cross off. I'm not sure what else. I don't want to speculate what he has in mind, because if I get my hopes up about something I'll be like, nah.
Have you had any early thoughts about playing the Frankenstein creature?

Jones:
Oh, that's another one. Oh, talk about getting my hopes up. Yeah, he was interviewed about 20 minutes before me at the red carpet of the
Hellboy II
premiere. One of your friends, Ryan Rotten, when I got to Ryan he said, "Oh, Doug, Doug, Doug. I just talked to Guillermo 20 minutes ago, and he said that he wants to make his own version of Frankenstein." I'm like, "Aw, that's perfect for him. What a great vehicle for Guillermo." He said, "Oh, that's not the best news. I asked him who he wanted his monster to be, and he said Doug Jones." And that's when I fainted. Yeah, yeah. No, that would be a dream come true, [but,] again, I don't want to get my hopes up too much just in case we never get to make it.
Have you talked to Guillermo about that?

Jones:
I have not talked to him about that, and I'll tell you why. He kind of doesn't give me too much information too soon, and it would be premature at this point, really. We'll just slip that over here on the happy shelf and wait for it.
As it enters the conversation, though, do you start imagining makeup and how it could look?

Jones:
Yeah. That's made very easy for me in the Frankenstein world, because Guillermo del Toro has a love of Bernie Wrightson's artwork, and I did see a rendering of Frankenstein done by Bernie Wrightson, so I have a visual to go with now. In the meantime, another fan of his--I'm going to get his name wrong, it's a French fellow with a French name I cannot pronounce--he has the screen name Riddick. Riddick submitted a piece of artwork to Deltorofilms.com, his own rendering of Doug Jones as Frankenstein, and it was absolutely drop-dead gorgeous. It looked like me as Frankenstein. Not the big lumbering Boris Karloff, but a thinner Doug Jones, with patchwork [stitching] to put him together. He's been sewn together. The eyes is what really grabbed me. He kept my eyes. He gave me a very soulful, victimized look that was very sympathetic. That's one Frankenstein that I would love, love, love to take on under Guillermo's tutelage.
Doug Jones plays Abe Sapien in Hellboy II: The Golden Army, one of three creatures he portrays in the sequel.
In the meantime, what else are you doing?

Jones:
I'm in
Quarantine
right now. ... That's an infected man. A movie called
Legion
is coming out with Dennis Quaid, Paul Bettany, Tyrese Gibson. In that I play a devilish kind of character, maybe, an ice-cream man that looks happy enough. It's ice-cream man with an evil twist, so I morph into a little something on film in front of you. It's a one-scene yummy moment in the film that kind of turns the page into the action sequence in the film. ...
It must be gratifying to get roles that don't require makeup?

Jones:

Seriously, since I got home from filming

Hellboy II

, most of the work I've done since then has been with my own face. Even recently, the casting office for

Criminal Minds
on CBS, they called up and said, "Would you please be a guest star on our show?" No audition, not even have to read for it. They want me to play the organizer captain of a fight club. Now look at me. Look at me. But someone there, I guess, had a vision of what they wanted, so I was the skinny, wiry, a-little-bit-crazy-behind-the-eyes fight-club captain, and that has yet to air on CBS. ...
You're also playing Lucifer in something?

Jones:
The project is ... something in development right now. The project is called
Lucifer

, in which I would play one of Lucifer's minions, like the right-hand troll demon of his. Back in the makeup, but it's a juicy, yummy part written and to be directed by Ray Griggs. Ray Griggs directed and wrote

Supercapers

that I told you about just a minute ago. So that's that one and

Supercapers

was something he directed to prove his prowess as a director who can do visual effects, and that was his first feature film,

Supercapers

. So

Lucifer

is going to need a huge budget, because it's going to be epic with heaven, hell, the fall of Lucifer the angel when he became the devil. That's a big story to be told with a lot of money, and they're not going to trust him with that much money until he can prove himself as a director, so

Supercapers
came up.
Studio 4C Goes To War With

FIRST SQUAD

!
A spin on the Russian campaign against Nazi Germany in WWII may not be the sort of fare that you'd expect to see in an anime film from Japan but that's exactly the territory being mined by much beloved Japanese animation house Studio 4C for it's film
First Squad
. Though I don';t know much about it at the moment it is slated for release in 2009 and the first teaser is already available and looking stellar, not that you'd expect anything less from 4C. Check it out below the break in the Twitch Player.
Showtime, Stan Lee Developing Gay Superhero Project
Showtime is developing an hourlong project from comic book icon Stan Lee that tracks the life of a gay superhero, says The Hollywood Reporter.
The project is being executive produced by Lee and the president and CEO of his Pow! Entertainment banner, Gill Champion.
The story, which focuses on an up-and-coming superhero who struggles to hide his secret identities, is based on the book
"Hero"
by Perry Moore.
Moore is writing the script and also executive producing along with Hunter Hill.
"Hero"
is the story of Thom Creed, a high school basketball star. He has a lonely, solitary life, largely thanks to being the son of a superhero, Hal Creed. The elder Creed was one of the most popular heroes of his day, and a proud member of the League, until the death of his wife drove him into exile.
Thom doesn't want to disappoint his still proud father, so he struggles to keep two secrets from him — that he is gay, and that he is developing superhero powers of his own. Thom has the power to heal people, something that attracts the attention of the League. Invited to join, the young man accepts, and finds himself part of a pretty motley crew of superheroes. From there, it's a story of mystery, adventure, love, and deadly plots.
Showtime is a network known for good television dramas, but this is still a pretty gutsy choice. None of the premiere cable networks has been willing to launch a superhero series, and to choose one with a gay protagonist might prove rather tricky for audiences. There's no doubt Moore's book would make a great series, though, so let's hope the involvement of Lee gets it on the air.
Brett Ratner Not Directing

'Conan'

. . . At The Moment
It seems you can't believe much of anything you read these days. According to the
LA Times
, Monday's story that
Ratner was set to direct Lionsgate's
"Conan"
reboot
was premature. Producer Avi Lerner admitted that he had released the story to the trades before the deal was done.
"We still have a few obstacles,"
said Lerner.
"Brett is only committed if we agree on a budget, on how to do the special effects and exactly where we'd shoot the film."
But Ratner insists negotiations are preliminary, and is annoyed he has been linked to the film so definitively.
"Let me make this very clear. I am not doing
'Conan'
now. This is totally premature,"
stated Ratner.
"For now,
'Conan'

is only a development deal. I have a deal at Paramount and I'm doing
'Beverly Hills Cop [4]'
first, no matter what. Avi shouldn't be telling you or anyone else in the press what I'm doing."
Even Paramount is upset about the
"Conan"
deal, as it puts their schedule and plans for
"Beverly Hills Cop 4″
in a bit of jeopardy. Ratner's involvement hinges entirely on whether Lerner is willing to wait for him to complete his Beverly Hills installment — and Lerner is so eager to get
"Conan"
up and running that he may be announcing another director by the time you read this.
In the meantime, he's looking for his Conan, who he wants to be a
"younger Arnold Schwarzenegger, someone we could sign to a three- or four-picture deal."
That didn't stop him from approaching Arnold, however — Lerner offered him $1 million for a one-day cameo, and Schwarzenegger didn't say yes … but he didn't say no, either. So, what you can take from the saga of the Barbarian this week is that he's lost in a worlds of maybes.
Ben Stiller's Animated

'Master Mind'

Shifts Robert Downey Jr. From

'Iron Man'

Hero To Supervillain
Ben Stiller says he doesn't like to be the center of attention — but that's precisely what he was Wednesday
(November 12)
when New York's Museum of the Moving Image held an all-star salute to him. Robert De Niro, Diddy, Mike Myers, Jack Black, Will Arnett, Amy Adams, and Bill Hader were among those singing his praises in person, and Tom Cruise via a videotaped message
("I'm thrilled for you tonight, but even more thrilled to be able to tell the room that I am one of your — if not the biggest — fans,"
Cruise said).
While Stiller was being feted for his work as an actor, he said it's his behind-the-scenes work as a writer, director and producer (from
"Reality Bites"

to

"Tropic Thunder"
) that he's most proud of. So which of his many writing-directing-producing jobs would be next for him?
"I don't know yet,"
he admitted.
"I'm still trying to figure it all out."
One of the jobs on his plate is producing the animated superhero spoof
"Master Mind,"
which might double as an acting gig (
"I could be a voice,"
he said). The project has gone through a couple of directors already — from Gary Trousdale to Cameron Hood and Kyle Jefferson. But Stiller said that it's firmed up now with his
"Madagascar"
director, Tom McGrath (who also did double duty, voicing Skipper the Penguin).
"I've been learning a bit over the years through

'Madagascar'

how the animation process works,"
Stiller said.
"And if you've got a good story and talented people to bring it to life, it can be really fun."
The plot of
"Master Mind"
— written by first-timers Alan Schoolcraft and Brent Simons — is a send-up of superhero stories, in which the superhero dies in the opening scene of the movie, and the story becomes more about what the supervillain feels about it.
"The idea is that Uberman, who is the big hero of the city, dies,"
Stiller said,
"and Master Mind is left without someone to be evil to. He sort of loses his sense of what his purpose in life is, so he has a midlife crisis of sorts. And he falls in love. It's dealing with the emotional life of a supervillain."
Stiller said Robert Downey, Jr., would voice the part of Master Mind.
"This genre's been done so many times,"
Stiller said,
"that it's always interesting to try to find a postmodern version of it."
Zack Snyder, David Fincher, Gore Verbinski To Direct New

'Heavy Metal'

Movie
Direct from the
"how awesome is this?!"
files,
"Heavy Metal"
publisher and editor Kevin Eastman has announced that Zack Snyder, David Fincher and Gore Verbinski are on board to direct three segments of the currently-in-development revamp of
"Heavy Metal,"
based on the classic comic magazine and 1981 adult-themed animation masterpiece which served as a visual representation of the three elements of Metal — sex, drugs and rock & roll.
According to a piece on
Slashfilm
, in addition to a geek-drool-worthy line-up of directors attached thus far (which, as with the original version, the updated film is rumored to be an anthology made up of four or five different, self-contained stories), Eastman also said that after some disagreements with Paramount that nearly caused a falling out,
"Heavy Metal"
is officially back on at the studio.
While the report was light on actual quotes from Eastman, the underground comic icon did say, "there's more on the director front — but I'll hold off to share more with you shortly." Stay tuned for more on
"
Heavy Metal"
— this looks like it's gonna be a big one!
President-Elect Barack Obama: Fanboy?!
After President-Elect Barack Obama swept the nation in this year's election, many comic book writers and artists spoke to
MTV's Splash Page
about how thrilled they were with the results, and openly expressed their hopes in a Obama-led future — but little did we know at the time that Obama was one of us?
It's true — according to a list compiled by the
Telegraph UK
titled
"Barack Obama: The 50 Things You Might Not Know,"
the new leader of the free world is a comic collectin',
"Potter"
readin', gadget lovin', bona fide geek.
In addition to learning of a
"Spider-Man"
and
"Conan"
comic collection (even though he
earlier admitted
that he identifies with Batman as well as Spidey), it's also revealed that Obama has read all of the
"Harry Potter"
books (and rumor has it he's
moving on to the

"Twilight"

series
next), and claims his worst habit (besides smoking cigarettes, obvs) is
"constantly checking his BlackBerry."
And if you're wondering if Obama is
"a Mac or a PC,"
Obama furthers his nerd-cred by using a
Mac laptop complete with a Pac Man sticker
.
However, as mentioned on
The Beat
today, Obama isn't the first Prez to admit to being a fan of the funnybooks. Ronald Reagan apparently started each day by reading the daily
"Spider-Man"
newspaper comic strips, and Franklin Roosevelt was such a fan of
"Dick Tracy,"
the he's rumored to have once called a newspaper publisher to find out how Tracy was going to escape a trap because he just couldn't wait until the next day's strip.
Check Out Splash Page's Exclusive Behind-The-Scenes Clip For

'Wolverine And The X-Men'
It looks as though 2009 is shaping up to be a hectic year for everyone's favorite mutant, Wolverine. Along with his solo-movie debut in
"X-Men Origins: Wolverine"
— set to hit theaters on
May 1
— the self-proclaimed "Best There Is At What He Does" also headlines Nicktoons Network's
"Wolverine and the X-Men"
animated series.
And because who in their right minds could pass up a chance to see Wolverine in animated action form, our sister station was nice to enough to give Splash Page a short exclusive look at the creators behind the 'toon, set to hit the network in January 2009. Peep it below…
Here, you can check out model sheets for Cyclops, The Beast and of course, the main man himself, Wolverine.