Pixar references in

Up

trailer
A number of items in the recently out Pixar's
Up
trailer are being spotted that could possibly reference other Pixar works, reports
UpcomingPixar
. These include the
Luxo
ball, the toy airplane from
Toy Story
and also a stuffed toy bear which, the site suggests, could possibly reference to Pixar's upcoming film
The Bear and the Bow
, due out in 2011. Apple has made available the new
Up
trailer in various formats, including HD. Up is slated for a
May 29, 2009
release.
WALL-E

DVD previews
ThePixarBlog
shares three preview clips featuring some of the bonus materials from the upcoming
WALL-E
dvd and blu-ray. The clips titled
Elbows, Reason for Bots
and
Building Worlds from the Sound Up
feature director Andrew Stanton and other members share some insights and challenges in making the film.
WALL-E
will be out on dvd and blu-ray on
November 18
.
Kanye West's New Video Inspired by Bakshi's

American Pop
Kanye West writes on
his blog
that this new video for
"Heartless"
, directed by Hype Williams, was inspired by the rotoscope-animation in Ralph Bakshi's
American Pop
. The Jetsons also make an appearance in the vid. West says,
"WE RECORDED REAL PEOPLE AND THEN HAD 65 ANIMATORS IN HONG KONG HAND DRAW OVER EVERY CELL [sic] . INSPIRED BY THE MOVIE

"AMERICAN POP"

. HYPE SHOWED ME THE MOVIE AND I WAS SOLD."
(Thanks
cartoonbrew
)
Splatter

pics
The image above comes from a London art exhibit,
Splatter
, which
we reported here
last month. The show has now closed (Sunday was the last day) but in case you missed it, artist
James Cauty
has
posted several pics
from the opening and slashfilm.com has
posted several more
.
And if that isn't enough, Cauty is selling
exclusive merchandise here
. My only question: is this stuff authorized by Warner Bros.?
(Thanks
cartoonbrew
)
Notes on

Bolt
Saw
Bolt
yesterday. Before the screening they gave everyone a promotional deck of playing cards featuring development artwork from the film. Aren't the pencil images of the lead characters (above) beautiful. I really wanted to see that movie.
Instead I saw the CG version (and I saw it flat, not in
Disney Digital 3D
). What did I think? First off, let me recommend that all Cartoon Brew readers see this feature. It's definitely a good solid family film and an improvement (story-wise) over
Chicken Little
and
Meet The Robinsons
. I don't know all the behind-the-scenes problems - but I'm aware John Lasseter got involved, the director was replaced, the film was reworked and pushed through production in eighteen months.

The first ten or 15 minutes of the film is pure action. I'm talkin'
Incredibles
, 007, Jason Bourne-style fast cutting with wild stunts, chases, explosions, cliff-hangers and a dog with super powers. Could Brad Bird have had a hand in this section? This was exciting stuff. Actually, this action-packed opening sequence is preceded by a heart-tugging opening scene that shows Bolt being adopted several years earlier.

Following the action set-piece, the film then goes to great lengths to explain the set-up: Bolt is the star of a TV show who is motivated to "act", by his director (James Lipton, a nice touch), because he believes the situations (and his super-powers) are real. Before you can say "deus ex machina", Bolt is accidently shipped to New York and the remainder of the film is taken up with his journey back to Hollywood, his traveling companions, and his realization that he isn't who he thinks he is.

John Travolta does a great job as
Bolt
's voice. Susie Essman (from
Curb Your Enthusiasm
, as Mittens the alley cat) and Disney story artist Mark Walton (as a fanboy hamster) deserve kudos as the true co-stars of the picture. I suppose I should mention Miley Cyrus. Her part is much smaller despite it being the pivotal role of Bolt's human master. Does anyone know if Miley was in this film from day one - or did she replace another actress and was shoehorned into the production after the success of
Hannah Montana?

The film hits all the right notes as the characters trek across America and have numerous adventures. The climactic rescue of Penny from a burning Hollywood sound stage is also quite effective. The production has all the polish we've come to expect from a Disney (or Pixar) production (including the now-requisite 50s stylized 2D end titles) - however there were several little things that kept pulling me out of the film. For one, the film's settings (in the old days we'd say

"the backgrounds"
) are mainly photo-real, but are sometimes painted. There's one scene in New York, where Bolt is staring at the back of a U-Haul truck. My eye was distracted by the unrealistic painting of the truck's poorly rendered license plate.

Another thing got to me… there's a dialogue scene between Bolt and Mittens in a field in Las Vegas. I admired how they got the intense Nevada daytime sunlight just right. But the dialogue track took me out of the scene. The characters sounded like they were in a recording booth - not in a Las Vegas field. I've never thought about this before seeing this scene - but couldn't dialogue for an important outdoor scene actually be recorded outside? It would've added touch of realism to the situation.

But these are just tiny nit-picks. Overall, I really enjoyed the film - especially its digs at the behind the scenes world of network television production.
Bolt
is a lot of fun, and a good step in the right direction as Disney continues to rebuild its brand in Feature Animation. I'm rooting for
Bolt
, and the studio, to succeed.

P.S. to Disney brass: I still wouldn't mind seeing a hand drawn version of
Bolt
as depicted in the development art. Could such an idea be in the cards - and not just in the playing cards?
(Thanks
cartoonbrew
)
Toon Tuesday: Looking Back on Disney's

"The Hunchback of Notre Dame"

-- Part Un
Disney Legend Floyd Norman begins a new series about the development & production of this 1996 Walt Disney Pictures animated feature
Though not an overwhelming success, I think
"The Hunchback of Notre Dame"
was one of the most sophisticated animated films I've ever worked on. I actually went to my old pal, Gary Trousdale when I got word that he and his co-director Kirk Wise might be adapting this Victor Hugo novel for the screen. Frankly, I thought doing
"The Hunchback"
as an animated film was a totally crazy idea. And that's exactly why I wanted to be a part of it.
"The Hunchback of Notre Dame"
was my return to animation after a ten-year absence. In fact, I never thought that I'd return to animation since I had found a new love. I was writing comics and children's books for Disney Publishing, and having a ball with my newfound freedom. This was a job I could do forever. However, the wild and wacky management of Michael Eisner decided otherwise. So I was booted out.
In case you're counting, this was the second time I got the boot from Disney. Ouch!
No matter. I simply returned to Walt Disney Feature Animation where I immediately doubled my salary. True story. You can't make this stuff up.
In the animation business you sometimes end up working for the kids you once hired. I remember a barefoot Gary Trousdale applying for a job a few years earlier. Now, he was my boss. That was cool of course, because I considered this film a dream project. I loved the score by Stephen Schwartz and Alan Menken. And I was given the opportunity to work with some of the greatest talents in the business.
The producers, directors, writers and story artists of Disney's "The Hunchback of Notre Dame."
FYI: This photo was taken by Chris Sanders
For all its flaws, I still consider
"The Hunchback of Notre Dame"
a Disney masterpiece. Yeah, I know. We bit off more than we could chew. Still, I gotta hand it to our talented crew for taking the risk. After all, isn't that what creativity is all about?
One chilly November afternoon in 1993 we had the opportunity to pitch this
"masterpiece"
to our Disney bosses. Yeah, everybody was there, including Peter Schneider, Tom Schumacher, Jeffrey Katzenberg, Roy E. Disney and Michael Eisner. Our CEO was in a jovial mood and even joked about the less-than-successful debut of what was then called Euro Disneyland.
It's a pretty funny story, actually. Our art director David Goetz began his pitch with this description:
"14th century Europe. A dark and dreary time. A time of hopelessness. A time of ..."
Before Dave could finish his sentence, Michael Eisner blurted out
"A time of Euro Disney!"
Needless to say, the entire room broke out in wild laughter.
Who says Michael Eisner lacks a sense of humor?
One of the wonderful pieces of development art that was created for this film
So began the dark tale of the disfigured Hunchback sequestered in the bell tower of Notre Dame. Composers Alan Menken and Stephen Schwartz were on hand to perform the songs that would grace this production. The music was well received, but Judge Claude Frollo's rendition of "Hellfire" clearly had the executives squirming nervously. Could this really play as a Disney film, they wondered?
In spite of the film's religious overtones, they bought it, and our animated motion picture was given a green light. Mind you, we were told not to make the movie too religious. A pretty daunting task when you consider how much of this story takes place inside of a big church.
The entire
"Hunchback"
team moved out of development into a large warehouse facility on Airway in Glendale. As the Disney story artists, layout crew and animators moved in their new quarters, we decided that our building needed a name. So a new one was chosen.
It was called
"Sanctuary."
Early development art for Esmeralda
In Part Two of this series, you'll see why Gypsy girl Esmeralda was deemed way too sexy, and learn whether stone gargoyles can actually fly.
New

"Wolverine And The X-Men"

Video And Details, More Episodes In Production
Marvel Animation Age details an upcoming episode, unravels a preview reel, and confirms an additional 26 episodes are currently in pre-production.
Viewers can expect to see familiar faces in the upcoming
Wolverine And The X-Men
episode
"Time Bomb."
The episode, which features the X-Men and the Brotherhood coming to blows over a dangerous mutant, sees special appearances by characters Psylocke and Nitro. The episode is written by Len Uhley based on a story by Craig Kyle and Greg Johnson. Steve Gordon directs.

In related news, Marvel revealed yesterday, in the company's financial report for the 2008 third quarter that 26 additional episodes of
Wolverine And The X-Men

are currently in pre-production. This currently gives

Wolverine And The X-Men
a total episode order of 52.

The first 26 episodes of
Wolverine And The X-Men
, produced with India's First Serve Toonz, have been completed and will begin airing on Nicktoons in January 2009. The series has already begun airing airing in many markets around the world, including Canada and Latin America. Marvel Animation Age can also confirm that
Wolverine And The X-Men
will also begin airing on the Canadian network Teletoon in January 2009, effectively airing on two Canadian networks simultaneously, YTV and Teletoon.

There are no further details about the second 26-episode order. However, Nicktoons Network is expected to pick up the broadcast option for them, and the talent involved in the first 26 episodes is expected to return.

Lastly, Nicktoons has provided Marvel Animation Age with a preview reel for the upcoming premiere of
Wolverine And The X-Men
on the Nicktoons Network. Click
HERE
to check out the Windows Media file.
Joe Johnston to Direct

Captain America

!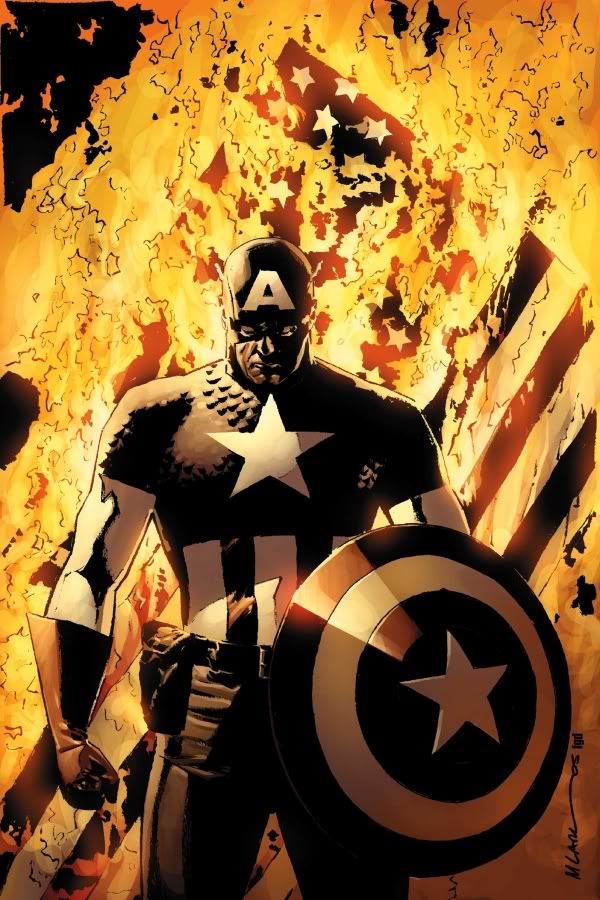 Joe Johnston
(Jurassic Park III, Hidalgo)

has signed a deal to direct

First Avenger: Captain America, Marvel Studios' take on its classic comic book character, says

The Hollywood Reporter

. Marvel's Kevin Feige is producing.

No writers are on board, but the studio, which is hearing pitches, expects to hire shortly.



"This is a guy who designed the vehicles for

'Star Wars,'

who storyboarded the convoy action sequence for

'Raiders of the Lost Ark,' "

Feige said.

"From

'The Rocketeer'

to

'October Sky'

to

'The Wolfman,'

you can look at pieces of his movies and see how they lead to this one."



Created in 1941 by Jack Kirby and Joe Simon for Timely Comics, Captain America is the heroic alter ego of Steve Rogers, who is rejected by the Army for being too sickly and undergoes an experiment that takes him to the pinnacle of human form. Paired with an indestructible shield, he became a symbol of the war effort, in and out of comics.

The character disappeared in the 1950s but was revived during the early era of Marvel Comics. He was reintroduced as part of the Avengers, the absence explained by having him being in a state of suspended animation during a war mission until found by the superteam.

First Avenger: Captain America

is scheduled for a release on

May 6, 2011

. It will be a World War II-set movie, and the character will appear in the modern day-set

The Avengers
.
Here's the Nazi Propaganda cartoon from
"The Rocketeer"
-
Zack Snyder Confirms

'Watchmen'

Ending To Be Changed
I'm not sure whether to applaud Zack Snyder's guts, or worry that a mob of
"Watchmen"
purists might march to his door with torches and pitchforks. Despite Snyder hinting to MTV back in August that
the ending of

"Watchmen"

would have very few (if any) changes from the graphic novel
, reports from a test screening last month suggested that the film's ending had been tweaked from the original graphic novel. [
Patrick Wilson, who plays Nite Owl, also hinted to MTV that

the end of the film would remain the same
.]
In the
"new"
ending, the moral dilemma was the same, but the mechanics were different — and missing in action was one highly anticipated giant squid. The reviews were quickly pulled from the Internet forums they appeared on, and many were skeptical they were real. Theories circulated that Warner Bros was testing alternate endings to see if they could appeal more to mainstream audiences.
Well, wonder no more. In an interview with
Dark Horizons
, Snyder confirmed that he had changed the ending of
"Watchmen,"
and shot down reports that he had filmed more than one.
"The fans, god love 'em, they're all up in arms about the squid,"
said Snyder. "
What they should be up in arms about are things like shooting the pregnant woman, 'God is real and he's American', whether THAT'S in the movie. That's my point of view, maybe I'm crazy."
"The squid was not in the movie when I got the script, the squid was never in any draft that I saw,"
continued Snyder.
"My point is only that there was this elegant solution to the squid problem that I kind of embraced. I'm a fan of the thing as much as anyone, I was saying what are we going to do about this before I even read the script."
The director remained ambiguous on whether he had ever done squid work in pre-production, as was rumored, and he remained tight-lipped on what has replaced Ozymandias' psychic creature. [Previously, MTV spoke with
Matthew Goode, who plays Ozymandias, about the CGI creatures he interacts with in the film
.] While the scenes Snyder mentioned are important, I'm curious what will happen to the plot threads that lead up to Alan Moore's ending. If the movie is faithful to the book, as everything we've seen suggests, what becomes of all those bits and pieces? Will it be able to hold up at the end?
Veterans Day Exclusive:

'The Spirit'

Creator Will Eisner's Wartime Memories
Will Eisner is particularly well known today for creating

"The Spirit,"

his blue-clad superhero that's currently receiving the Hollywood treatment at the hands of Frank Miller. But lesser known is that Eisner was a veteran of no less than three major wars: World War II (where he was an enlisted man) and Korea and Vietnam, where he was a civilian contracter eventually obtaining the rank equivalent to a brigadier general.
MTV's SplashPage
was fortunate enough to know Will, and four years before his death in 2005, we chatted at length about his military service, how it related to

"The Spirit,"

and his views on the extreme stresses of war. In honor of both Veterans Day and Will Eisner, enjoy this rare look inside the mind of the revered comics legend on this most serious of topics.
MTV: Where were you when Pearl Harbor was attacked?

WE:
I was sitting in my studio eating a roast beef sandwich which my mother prepared for me [laughs]. I was working on
"The Spirit."
I was really shook up listening to it. I was listening to the opera at the time…it was a Carnegie Hall concert I was listening to. I remember the thing was cut off and they announced the attack on Pearl Harbor. And I was really shook up because I realized that this was gonna be it. I'd be drafted.
MTV: And in 1942, you were drafted into the Army.

WE:
Early '42. The Army gave me a six-month delay because I was working on a newspaper feature.
MTV: What were you feeling when you received your draft notice?
WE:
Well, I was ambivalent. Remember, unlike the Vietnam War, everybody was very in favor of the war, particularly because of the Nazis and because of the fact that the country seemed to be in danger. So I was kind of eager to be part of it. I felt that I'd want to be part of the war effort. On the other hand, this was a year after I had started
"The Spirit,"
which represented a whole new career for me. And I knew that if I went into the Army this whole thing would kind of fall apart on me. So I was torn between the two feelings. One was the eagerness to go and sign up, [but] on the other hand, the loss of a possible career. So that was my feeling.
MTV: Did people recognize your name when you went into the Army?

WE:
Yeah. I landed at Aberdeen Proving Grounds, which was just outside of Baltimore. And the Baltimore newspaper carried
"The Spirit."
So I was something of a celebrity I suppose.
MTV: Did your drill sergeants go easier on you?

WE:
No, they didn't. As a matter of fact, my drill sergeant was a sadistic S.O.B. [laughs]. I remember standing there in line and he came over and looked at me and stuck his nose in my face, as all drill sergeants do. And he said to me, "Sh-t, man, you don't look like the character you draw" [laughs]. So he was really kind of nasty on me. Picked on me because The Spirit was a heroic character and I looked a little less than that [laughs].
But when the basic training was over, the camp newspaper editor came by with his assistant and asked if I'd be willing to come on their staff and do artwork, and do cartoons and so forth. And I said yes.
MTV: Were you ever shipped out?

WE:
No, I was never shipped out. What happened was that… Aberdeen Proving Grounds was a training center too and they had a school and they were using visuals and graphics and so forth. And at that time, the Ordnance Corp, which later became the Ordnance Department, decided to install a new program called Preventive Maintenance. This was simply almost a non-disciplinary element in the business of maintaining their equipment. Preventive Maintenance, in short, is nothing more than putting oil in your vehicle and preventing rust. You know, this kind of basic, simply maintenance of equipment, which they copied from the British, who were using it very successfully.
Anyway, I remember talking to my commander officer, who was a lieutenant colonel in charge of the newspaper, saying the problem with this program was that it required a voluntary contribution and that the best instructional material that could be produced for this thing was in the comic form. I was, at that time convinced, that comics as a medium was a fine instructional tool and was capable of far more than the usual entertainment, gag-a-day stuff. Well apparently, he picked up what I said and was making a case at a meeting somewhere, unbeknownst to me. Actually, what he did was he lifted my speech and used it. And apparently they said, "Well, who the hell could do this?"
And he came back and said to me, "Hey, would you like to get involved in this program?" And I said sure. And so, I was shipped out from Aberdeen to Holabird Ordnance Depot, which was a truck/vehicle depot that the Ordnance Department had just taken over. And I began working with a new little mimeograph magazine called Army Motors. And I helped design that; bring it up to the point where it was using comics, or what they now call sequential art, as a training tool. It became very successful and ultimately had a distribution of two million.
That became so immediately successful that I was transferred to Washington to work on the staff of the Chief of Ordnance, where I remained for the rest of the war.
MTV: Were you aware at the time what the Nazis were doing to the Jews?

WE:
Oh yeah, sure, we all know. We all knew that very well. As a matter of fact, I tried very hard to get me sent overseas. I kept applying for a transfer to get into a combat area. I was as charged up as everyone else. And particularly, as a Jew, I was really enflamed over it. But the Chief of Ordinance, General Campbell, refused to let me go because apparently he wanted to keep around him a staff of, what he used to refer to as, "bright young men." So I remained in the Pentagon building. I created "Joe Dope," and "Sergeant Half-Mast," which ultimately led, later on, to P.S. Magazine after the war, which still exists today.
MTV: There obviously must have been a feeling of absolute elation to hearing the Germans had surrendered.

WE:
Oh, like all of us, I was very overjoyed over the thing. Those who were Jews in the States at that time were bothered by two elements: we're torn by the fact that they weren't there involved in it, and at the same time, we're really dismayed by what was happening. My father was bringing members of a Jewish family over from Europe. He and the rest of his brothers and sisters pooled a few dollars together. We were not rich. My father was quite poor, but we pooled a few dollars together to bring people over from Berlin who were able to escape somehow. But there was obviously joy. This is a real enemy that had to be defeated.
MTV: In 1950, you agreed to work for the Defense Department magazine.

WE:
Well, by 1950 I had been back a couple of years and working on
"The Spirit."
I started a company called American Visuals Corporation, which was using comics as a teaching tool for industrial purposes. We had companies like General Motors and U.S. Steel, and organizations who had a lot of employees and were looking for pamphlets to distribute to their employees and instruct them. And the Army, with the advent of the Korean War, they came back and asked me if I would reconstitute Army Motors, and we developed P.S. Magazine. And I was very interested in doing that because it would be a further demonstration of the use of comics as a teaching tool or as an instructional medium.
By then, by the way, parallel that was that
"The Spirit"
was becoming burdensome to me. I was looking for ways out of it. I became far more interested in the use of comics as an instructional medium than I was as an entertainment medium. I felt that was a new channel for the use of comics. All my life, professionally, I've been really obsessed with the idea of trying something new. I'm in love with innovation and experimentation. It's risky, but it's really very exhilarating.
MTV: You've certainly done that with your graphic novels.

WE:
Yeah, well everything I have done has been really a form of risk-taking. But that's the fun of the business.
MTV: Then Korea breaks out and you're sent into the theater. Was that something you wanted to do?
WE:
Well part of the contract for the production of P.S. Magazine was the fact that I would go into the field, put that in italics, at least a couple of times during the year…in order to develop a familiarity with what was going on. Realism was very important in this medium because you were dealing with guys who were working on the line, so to speak. When I did a story or did a cartoon it had to have relevance to what they were doing. So I would go out into the field at least twice a year, sometimes three times a year. And my trips included going to the combat zone in Korea and later on in Vietnam. I went to Germany, spent some time with the troops there. Usually these were five to six week trips.
MTV: Was it odd being in a combat zone as a civilian?

WE:
Yeah, it was, and as a matter of fact it became embarrassing at times. I remember standing on a hilltop — I think it was in Korea — and this young G.I. standing next to me looked up and said, "These are combat boots you're wearing." And I said, "Yeah, they're my old boots that I wore during World War II." And he said, "Gee, my father has the same set" [laughs]. It suddenly occurred to me that I was getting older and that I was no longer part of it.
No, it was interesting, but you know, war stinks. War is horrible and all those conditions…there's no glamour to it. And you're out there with a bunch of guys who are slugging around in harm's way, if you will. As a civilian, I was well received because I was, in effect, a reporter. I traveled on a high grade. I remember in Vietnam I was traveling on the equivalency of a brigadier general, so that meant I got fairly good accommodations and transportation preferences.
MTV: Korea is often called the

"Forgotten War,"

even though 30,000 Americans lost their lives. Many folks — especially younger generations — don't know anything about it, certainly in relation to other conflicts. Why do you think this is? Is it because it's somewhat shoved in there between World War II and Vietnam?

WE:
I think so, and the public reaction to the Korean War was a little different. The Korean War was labeled as a kind of "police action." We didn't think of it as an action to either defend our way of life or defend our nation. World War II was a very frightening situation because Hitler was dominating Europe and it was very clear that sooner or later once he succeeded in beating England he would be over here. So we were defending the nation, so to speak.
The Korean War was a police action. We thought of it as sending troops over there to take care of it. Sort of like the Gulf War. Very much like the Gulf War. The Gulf War won't be remembered except as a kind of police action which we took. The Vietnam War was something else again. That opened up a whole social struggle in the United States. A lot of people didn't want to go. A lot of people protested. It exasperated the racial conflict that was brewing in this country because a lot of the blacks felt that they were being singled out to go fight. It was a whole, totally different situation that will remain with us for a long time. It's still a wound that sometimes bleeds.
MTV: Did you ever believe that Vietnam would become as big a conflict as it did?

WE:
No, in the beginning, like most Americans, I felt that we would come in there and we'd win very handily because we were, after all, the most powerful army in the world. We had all this tremendous equipment. And I remember, in Vietnam I was amazed with how much sophisticated equipment we had and how small the enemy looked [laughs]; the little people running in and out of the forests. But we had underestimated the will of the people there. So in the beginning I felt that we would win it and then after awhile, after I visited Vietnam, I was certain we were going to lose.
MTV: When did you go over to Vietnam?

WE:
I can't remember the exact date. I think it was '67, '68, somewhere in there. I think it was just before the Tet Offensive.
MTV: What were your first impressions upon arriving?

WE:
Well, I was kind of shocked by what I saw, I felt that I had landed in another planet, because I've never been in a tropical environment like that before. And then the people I saw were little people; they were tiny. I remember walking down the street in Saigon and I felt like we were ten feet tall and these were all very little people. I remember saying to the guy I was with, "I wonder what would have happened, how would we have felt if the Germans had prevailed in World War II and they were walking down the street in New York in their uniforms, big and tall and arrogant. The way we are."
I remember a conversation I had with a correspondent sitting and having a beer., saying, "You know, isn't this like the British coming into America during the Revolutionary War, and fighting an action against people who were living there?" And he agreed with me. He said it's very much like that. So that was my reaction. I was kind of shocked. I felt a little embarrassed, I guess.
MTV: They say Vietnam is either really cold or really hot.

WE:
Well, it was hot. It was very tropical. The weather was wet and sticky. When I stayed one night in a hotel room I felt there were bugs all over the place. It was a sticky, hot place.
MTV: How long were you in Vietnam for?

WE:
About six weeks.
MTV: Only one visit?

WE:
Just once, yeah.
MTV: Did the troops you met feel they were fighting a losing war, or that they didn't know what they were fighting for?

WE:
Most of them didn't really know what they were fighting for, but they were fighting. You know, if I took you and put you into a gang fight in the middle of the street, you would soon not remember anything about the basic principals you were fighting for but you would be looking to survive. And that's what most of these guys were doing. They were struggling to survive.
A lot of the guys felt that they were being hamstrung. They didn't feel that there was a clean, clear enemy. The enemy was all around them. It wasn't like World War II where the enemy was clearly defined. They had a uniform, you know what they looked like, you knew where they were, and so forth. Here the enemy was all over. You'd walk down the street in Saigon and somebody would zip by on a motorcycle and you'd wonder whether they were gonna throw a bomb. As a matter of fact, I think I picked up a story from this in
"Last Day In Vietnam."
One of the hotels in Saigon was entirely encased in a screen. Very much like a fire screen, in front of a fireplace. The whole hotel had it. The reason for that was that they'd find that people would go by the hotel and fling hand grenades in through the windows.
I remember attending briefings where they'd give us body counts. I remember this colonel giving us a briefing and saying that this would soon be over because they are now putting teenage kids in combat. The military was certain about winning. They had no idea of losing.
MTV: What did you think of the anti-war protestors in the United States?

WE:
Well, I understood where they were coming from. I was sympathetic with the idea that we should get out. It was hard to sympathize with the street action because of the kind of person I am. By then I was fairly establishment, well-established person. Street demonstrations were understandable but I didn't find myself terribly sympathetic with it.
MTV: Were there any dicey situations in Vietnam were you felt you were really in danger?

WE:
Well, yeah. One scary thing was the first story I did in
"Last Day In Vietnam"
where I went down to the Delta in the gunship. And the story centers around the fact that where I was coming under fire and we had to get out. So yeah, that was a hairy moment for me.
MTV: Having been in three wars, what common threads have you found between the soldiers who fight in them?

WE:
There's one common thread of all soldiers and that is survival. To stay alive. They all feel the same way. For the G.I.'s, there's a common anger at the officer groups; what they refer to as "them." The powers-at-be, the War Department, the people who were directing. Remember, as a soldier, you feel that you're being directed by someone above, and that's not very comfortable. Not for Americans, anyway.
A lot of guys did enjoy it. A lot of guys remained in the army because they liked the life of a highly-defined, highly-ordered life.
MTV: Do you know whether any of the soldiers you wrote about in

"Last Day In Vietnam"

have read the book?

WE:
I got a letter from one guy who started a letter that said, "Dear Mr. Eisner. I am George." It was the last of the stories,
"A Purple Heart For George."
And he went on to say that he had shipped out and so forth and so on. But I don't know how many have read it. I sent copies to the old people at P.S. Magazine, but they're all civilians now. So I don't know. I've gotten some letters from guys who were G.I.'s who said it was right on, which is one of the most flattering things I could get. I appreciated that.
What should people keep in mind this [Veteran's] Day?

WE:
Well, I guess the only thing they should keep in mind is the fact that we are dependant on the military, just as we're dependant on the people in the fire house down the street. These are guys who are there when and if we need it. And I think the military is a very important part of our society.
Booming Theatrical Animation
Apparently it's getting noticed that
animation is doing well
at home and abroad.
[There has been] a steady rise in the number of CG-animated features at AFM. CMG's offerings this year include the African adventure
"Zambezia"
and the action feature
"Louis La Chance."
...

"In the five years that we've handled animated features, the quality has gone through the roof," [Edward Noeltner, president of Cinema Management Group] said. "That allows us to have scripts with more characters and detail and more spectacular imagery."
The Pixar/Disney, DreamWorks and Blue Sky product represents the high-end, mega-smash animation that takes in a half-billion dollars at a crack, but there is plenty of viable product aiming for more modest, worldwide grosses.
Theatrical animated features are no longer the wimpish, niche products from the days of my youth. In the seventies, you could count the number of non-Disney animated features on the pitching hand of three-fingered Brown. There were Ralph Bakshi's features, there was the occasional offering from overseas, and that was about it.
Thirty years further on, there's a global cascade of animation, everything from musical comedies to action adventure to dramas, and ninety of them are being offered at this year's America Film Mart.
But there's a reason the global film market is awash in animation. Global audiences can't, apparently, get enough.
(Thanks
Animation Guild Blog
)
"Batman: The Brave And The Bold"

Voice Director Andrea Romano Discusses Series
The
World's Finest
recently sat down with voice director Andrea Romano to discuss her work on the upcoming
Batman: The Brave and The Bold
animated series.
To read this new interview, click on the links provided below.
Andrea Romano Interview
Batman: The Brave and The Bold
is set to premiere on
November 14th, 2008
, at 8pm (ET) on Cartoon Network. The Canadian network Teletoon will also be airing a special preview of
Batman: The Brave and The Bold
on
November 14th, 2008
, at 5:30pm (ET) before giving the series a regular timeslot in January 2009.
Official Description For Upcoming

"Iron Man: Armored Adventures"

Series, New Image
Marvel Animation Age has obtained the official description and an exclusive new image for the upcoming
Iron Man: Armored Adventures
animated series.
The official description for
Iron Man: Armored Adventures
is as follows, as seen below. Click on the accompanying image for a closer look.
Iron Man: Armored Adventures

Tony Stark is a typical student, in appearance at least. He's secretly developing the perfect suit of armour which will replace all current vehicles and will cross all obstacles. Following a helicopter accident in which his father died, Tony is hurt and obliged to wear his special armour to replace some of his vital organs. Tony Stark became Iron Man. As the head of a multinational corporation, he puts on his armour in order to confront those who use technology for evil ends.

Co-directed by Stéphane Juffé and Philippe Guyenne
Created by Hervé and Olivier Pérouze, Julien Magnat
Co-produced by Method Films, LuxAnimation, Dataquest, Marvel, France 2 and Isle of Man
Teletoon, the Canadian animation station, plans to air a preview of
Iron Man: Armored Adventures
on
Friday, November 21st, 2008
at 4pm (ET). Teletoon will then premiere the
Iron Man: Armored Adventures
animated series in its regular timeslot in January 2009. The series will also premiere on the Nicktoon Network in January, as well.
WALL-E

videos to feature advanced definition
According to Andrew Stanton, the Richmond, California based company has gone to extraordinary lengths to preserve precise details in its Blu-ray version of
WALL-E
, which will hit the shelves on November 18, reports
IMDB
. Stanton adds,
"This is the first time where a format exactly represents how good a film looks in the building here…It used to be that you'd only go downhill from here after (creating films in the studio). We sweat over every pixel."
Behind the scenes of

Monsters vs Aliens
Wired.com
hosts an exclusive behind-the-scenes video clip offering a sneak peek at the making of DreamWorks' upcoming animated film
Monsters vs Aliens
. Directed by Rob Letterman and Conrad Vernon, 3-D animated comedy
Monsters vs Aliens
opens
March 27, 2009
.
14 Toons Eligible for Oscar
The Academy of Motion Picture Arts and Sciences has identified 14 animated features eligible for Academy Awards consideration. From this list, three titles will be selected to compete for the Oscar for Best Animated Feature at the 81st Academy Awards. Those of us who like to see a variety of contenders were hoping for 16 eligible contenders to bring the number of nominees to five.
The 14 submitted features are:
Bolt - Disney
Delgo – Fathom Studios
Dr. Seuss' Horton Hears a Who! – 20th Century Fox/Blue Sky
Dragon Hunters

– Futurikon/Peace Arch


Fly Me to the Moon – Summit Ent./nWave
Igor – MGM/ Weinstein Co./Exodus
Kung Fu Panda – DreamWorks Animation
Madagascar: Escape 2 Africa

– DreamWorks Animation


$9.99

– Regent Releasing


The Sky Crawlers

– Production IG./Nippon/Sony Pictures Classics


Sword of the Stranger (Stranger Mukoh Hadan) - Shochiku
The Tale of Despereaux

- Universal


WALL-E – Disney/Pixar
Waltz with Bashir
– Sony Pictures Classics
Curious omissions include the French feature
Fear(s) of the Dark
from IFC Films, the Brett Morgan documentary
Chicago 10
from Roadside Attractions,
Star Wars: The Clone Wars
from Lucasfilm/Warner Bros.,
Space Chimps
from Starz Media/Vanguard and
The Pirates Who Don't Do Anything: A VeggieTales Movie
from Universal/Big Idea Prods. We can only assume that these films were not submitted for consideration.

Bolt, Delgo, Dragon Hunters, $9.99, The Sky Crawlers, The Tale of Despereaux
and
Waltz with Bashir
have not yet had their required Los Angeles qualifying run. Submitted features must fulfill the theatrical release requirements and meet all of the category's other qualifying rules before they can advance in the voting process. Films submitted in the Animated Feature Film category may also qualify for Academy Awards in other categories, including Best Picture, provided they meet the requirements for those categories.
Nominations for the 81st Academy Awards will be announced on
Thursday, Jan. 22
at 5:30 a.m. (PT) in the Academy's Samuel Goldwyn Theater. The Awards ceremony will then be presented on
Sunday, Feb. 22
at the Kodak Theatre at Hollywood & Highland Center. The event will be televised live by the ABC Television Network.
Imagi Inks
Astro Boy
Licensing Deals
Imagi Studios announced today that it has signed worldwide licensing agreements with American Greetings, Penguin Group (USA) Inc., Jazwares Inc., D3Publisher and IDW Publishing for
Astro Boy

, its upcoming CG-animated film based on Osamu Tezuka's classic manga and anime series. The movie is slated for domestic release on

Oct. 23, 2009

, with Summit Ent. handling worldwide distribution outside of Imagi's reserved territories of Japan, Hong Kong and China.

American Greetings will create items such as greeting cards, stationery, gift wrap and party goods inspired by Astro Boy

and upcoming Imagi properties, while Jazwares serves as the master toy licensee for

Astro Boy
. Penguin, one of the world's largest trade book publishers, will introduce a full range of
Astro Boy
publications, and IDW Publishing will support the film's release with comic book and graphic novels. Interactive entertainment software leader D3Publisher will publish and distribute
Astro Boy
video games.

Imagi Studios and Summit Ent. also announced global marketing partnerships with Striker Ent., the exclusive licensing agent for the
Astro Boy movie, and promotional agency Rogers & Cowan. Working together under the Striker Ent. banner, licensing vets Russell Binder and Marc Mostman will deliver a worldwide consumer products program with focus on the core six-to-14 demographic.

Directed by David Bowers (Flushed Away)
, Imagi's
Astro Boy
tells the story of a young robot with incredible powers who sets out on an adventure-filled journey in search of his identity and destiny. The movie is produced by Maryann Garger and boasts a voice cast that includes Freddie Highmore, Nicolas Cage, Kristen Bell, Nathan Lane, Bill Nighy, Eugene Levy and Donald Sutherland. Timothy Harris
(Kindergarten Cop, Trading Places)
wrote the screenplay.
First 2 Theatrical Teaser Posters for
Star Trek
!
Paramount Pictures has provided
Latino Review
with the first 2 Theatrical Teaser Posters for J.J. Abrams'
"Star Trek."
The film stars Chris Pine, John Cho, Ben Cross, Bruce Greenwood, Simon Pegg, Zachary Quinto, Winona Ryder, Zoe Saldana, Karl Urban, Anton Yelchin, Eric Bana, Leonard Nimoy, Marlene Forte, and Jimmy Bennett.
From director J.J. Abrams
("Mission: Impossible III," "Lost"
and
"Alias")
and screenwriters Roberto Orci & Alex Kurtzman
("Transformers," "MI: III")
comes a new vision of the greatest space adventure of all time,
"Star Trek," featuring a young, new crew venturing boldly where no man has gone before.

Check out the posters below.

Star Trek
will beam into theatres on
May 8, 2009
.