The Secret of Kells coming to DVD/BD in October
New Video has announced that they have acquired U.S. television, digital, VOD and home video distribution rights to the Oscar nominated animated film
The Secret of Kells
and will be bringing it to most of those platforms (including DVD and Blu-ray) on
October 5th, 2010
.
Newman gets star on Walk of Fame
Composer Randy Newman received a star on the Hollywood Walk of Fame Wednesday, according to
AFP
. Newman spent a highly successful 35 years in the business before scoring his first animated film — 1995's
Toy Story
. Since then he's become one of the most popular and honored animated film composers around. Ten of Newman's nineteen Oscar nominations have been for his work in animated films, with his sole win coming in 2002 for the song
If I Didn't Have You
from
Monsters, Inc.New Toy Story 3 images
A new batch of images from the upcoming
Toy Story 3
have just been revealed at
Box Office Mojo
. The anticipated Pixar sequel comes to theaters just two weeks from tomorrow.
Droga5 Adds Brock Lee Into the Recipe For Blur
Meet Brock Lee (brocc-oli? get it?), a video game drive who isn't satisfied with his lot in life. He stars in this new spot for Activision's
Blur
driving game. The effort was led by
Droga5
and directed by Darren Walsh.
Jacquet Puts Hamsters in New Kia Soul Spot
For this new
Kia Soul
TV spot, I think they used humans in mouse suites, keyed out the actor's heads and added in CG hamster faces. What's your guess? The ad is titled
A New Way To Roll
and Antoine Bardou Jacquet at
Partizan
directed.
Animated Ad For Disney's World of Color
Starting on
June 11th
,
Disney's World of Colo
r will be open to the public at Disney's California Adventure at Disneyland (did I mention that it's a Disney production?) It's primarily a water show, but there's lasers, fire, music and lots of animation memories thrown in. Here's a recent TV spot that features some Mickey Mouse character animation.
The New ThunderCats and the Retro Revival
Yesterday's unexpected
news
about the development of Warner Bros' new
ThunderCats
cartoon for a 2011 premiere is welcome and interesting for a few reasons worth noting. First of all, I think it's fair to say that assorted animation news in the past nine months has introduced a fad of retro revival. What young adults grew up with in the 1980s are being reintroduced to a new generation by multiple networks to a degree that, I think, we haven't seen before. Sure, in the preceding 00s decade, we did have our throwbacks to 80s cartoons. There was 2002's update of
He-Man and the Masters of the Universe
that sadly met a premature end, and of course there was the 2003 series for
Teenage Mutant Ninja Turtles
from 4Kids and Mirage Studios that only recently ended. G.I. Joe made a mild comeback with
G.I. Joe: Sigma Six
and the much better received G.I. Joe: Resolute miniseries. The Transformers franchise has pretty much persisted with little rest since Beast Wars came along in the mid-1990s.
However, the examples from the prior decade are dwarfed by the developments that we are now seeing. As we learned late last year, after a short break the
TMNT
will be back in 2012 for their third animated series courtesy of Nickelodeon. In the short term, a brand new
Voltron
cartoon will be premiering on Nicktoons this fall. Meanwhile, the imminent arrival of The Hub cable network will deliver a block of old school Hasbro cartoons and a fresh
lineup
spearheaded by original series for
Transformers
(
Transformers Prime
) and a "year one" reboot for
G.I. Joe
(
G.I. Joe: Renegades
) along with a return to Pound Puppies, My Little Pony and
Strawberry Shortcake
. And now we have
ThunderCats
, which is arguably the most welcome revival yet as a fantasy action series that, unlike the
TMNT
or the
Transformers
or
G.I. Joe
, has gotten no animated love at all since the original series ended more than twenty years ago.
In sum, in the next two years we will have more renewed properties from the 1980s than what we had throughout the entire 00s decade. The 80s are back again--again. This time the revival is bigger; time will tell if it will be better.
The skeptic in me does wonder whether this trend is ideal when, in theory, the resources and creative talent going toward these reboots would be devoted toward something fresh otherwise. Also, while I'm happy to witness this in general, I grew up on most of these properties in the 80s and so I do have the benefit of nostalgia. Those issues notwithstanding though, ultimately I do honestly view all this as positive. Just for starters, history clearly demonstrates that returning to the past doesn't preclude innovation at all. Ask any
Transformers
fan and you'll probably be told that 2007's
Transformers Animated
was not a
"normal"
Transformers
series, whatever that fan happens to think of it. Likewise, I doubt many fans of the TMNT are complaining about the differences between the 2003 series and the original 80s series today. Japan's
Mobile Suit Gundam
franchise has a robust history of over thirty years that is now as much occupied by original, standalone innovations as it is by the original story that it had to tell. One could easily go on, especially if we examine the issue beyond animation. It's very possible to do significantly different--even radically different--things with similar basic concepts or iconic characters.
More to the point, perhaps, it isn't as if we are exactly lacking in fresh new ideas amidst these developments. For Cartoon Network,
ThunderCats
will eventually be airing along with plenty of original programming.
Ben 10, Generator Rex, Chowder, Sym-Bionic Titan, Young Justice, Metajets
, and on and on. Nick has its own Nicktoons, of course, and a fresh
Avatar
-related project that its many fans breathlessly await. For all of its embracing of nostalgia, among other things The Hub has
Cosmic Quantum Ray, Deltora Quest
, and
The 99
, the latter of which I'm especially anticipating.
Besides, as far as I'm concerned
ThunderCats
offers something that's far too rare today--a simple, straightforward fantasy action adventure. Sure, there's technology there too, but fundamentally it's got catlike heroes fighting evil in an exotic setting where magic is a force to be reckoned with. Superheroics, comedy, science fiction, straightforward action: animation has plenty to offer for those who want any of these things, but for the fantasy fan it seems to me that one's options are depressingly few in comparison. Between the return of the
Thundercats
and the coming of
Deltora Quest
to The Hub, however, some welcome diversity will be added to animation programming on television for awhile. Bring it on.
(Thanks
Toon Zone
)
New Futurama Episodes Begin June 26 on Comedy Central
Futurama
's return with all-new episodes is set for
June 26
at 10 p.m. on Comedy Central.
More than six years since the last original episode of the animated series aired on Fox, the first of 12 all-new episodes will debut with back-to-back episodes.
The series' sixth season will include the show's 100th episode, set to air Sept. 2.
Created by Matt Groening and David X. Cohen, the series ran 72 episodes in four seasons on Fox from 1999 to 2003. It returned in 2008 with the first of four direct-to-video features that were later broken up into a 16-episode fifth season.
The 26 new episodes will feature returning original cast members Billy West, Katey Sagal, John DiMaggio and Maurice LaMarche. Guest stars in the new season include Chris Elliot, Craig Ferguson, George Takei, Sergio Aragones, Matt Groening, David X. Cohen, Katee Sackhoff and Mark Mothersbaugh.
(Thanks
Animation Magazine
)
13th Season of Pokémon Set for Cartoon Network
Pokémon is back!
The new animated series
Pokémon: DP Sinnoh League Victors
— the 13th season of the show — will debut in the United States on June 5 at 7 a.m. ET/PT on Cartoon Network.
The new series is the final chapter in the long-running series' Diamond & Pearl storyline.
"Pokémon is a truly global brand with legions of fans spanning the television, film, trading card game, and video game markets,"
said J.C. Smith, The Pokémon Company International's director of consumer marketing.
"This is an amazing year for the Pokémon franchise and we're excited to work with Cartoon Network to bring Pokémon fans the newest adventures in the animated series."
Pokémon
is aired every day of the week on Cartoon Network, with original episodes airing on Saturday mornings and repeat episodes on Sundays. The show also appears Monday through Friday, on Boomerang at 8 a.m. EST/PST.
Pokémon
animation appears around the world in more than 30 different languages. In addition to Pokémon's partnership with Cartoon Network in the U.S., other major broadcast partners include YTV in Canada, RedeTV in Brazil, Cartoon Network Latin America, Gulli in France, RTL2 in Germany, K2 in Italy, CITV in the United Kingdom, and Disney XD across much of Europe.
(Thanks
Animation Magazine
)
Brooklyn Festival Hosts U.S. Premiere of Hasan Everywhere
Kavaleer Productions' award winning short film
Hasan Everywhere
will have its United States premiere at the Brooklyn Film Festival, set for June 4-13.
The short film about the friendship between an Israeli writer and a Palestinian artist has won four awards in the last five months, including two Digital Media Awards.
Directed by Kavaleer CEO Andrew Kavanagh, Hasan Everywhere is set to screen at the festival on
June 6
at the Indie Screen in Brooklyn, with a second screening set for
June 8
.
"It is exciting and such an honor to receive international recognition for this touching story,"
says Kavanagh.
"For Hasan Everywhere to have its U.S. premiere in New York is the perfect tribute to Hasan Hourani, who studied at the Art Students League of New York."
Hasan Everywhere
also will screen at the Palm Springs International ShortFest & Film Market at the end of June.
(Thanks
Animation Magazine
)
Toy Story Tix On Facebook
Disney has created a first of its kind ticket sales app to leverage it's Facebook presence on the social network. Called Disney Tickets Together, could transform how Hollywood sells movie tickets by combining ticket sales with the networking of friends on the social sites. When you buy a ticket through Disney's application, it alerts your Facebook friends and prompts you to invite them to buy tickets of their own.
Currently only available for the
June 18th
release of
Toy Story 3
, but should the app prove a success, Disney will surely roll this app out for it's other theatrical releases.
"The whole idea is that no friend gets left behind,"
said Oliver Luckett, senior vice president and general manager of DigiSynd, the Disney social networking subsidiary.
Luckett went on to say that Disney Tickets Together, which has been in development for months, works with ticket-buying sites like Fandango.com and covers the majority of the movie theaters in North America.
Facebook receives no percentage of the ticket sales but does, in theory, get more visitors on its site.
Rue McClanahan, Golden Girls' Blanche, dead at 76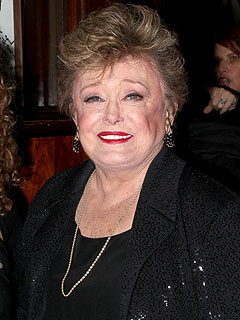 Emmy Award-winning actress Rue McClanahan, best known for portraying man-hungry Blanche Devereaux on the NBC sitcom
Golden Girls
, died early Thursday at 76.
"She passed away at 1 a.m. this morning,"
manager Barbara Lawrence told People.
"She had a massive stroke."
Lawrence said that at the time of her death, McClanahan
"had her family with her. She went in peace."
Earlier this year, she had a minor stroke while recovering from bypass surgery.
The voice of Scarlett on the 1997 Fox Christmas special
Annabelle's Wish
, she was Grandma on the
Blue's Clues
video
Blue's Big Treasure Hunt
(1999).
In the 1994
Spider-Man: The Animated Series
episode
Doctor Octopus: Armed And Dangerous
, she was Anastasia Hardy. The 2007
King of the Hill
episode
Hair Today, Gone Today
cast her as Bunny.
Golden Girls
first aired from 1985 to 1992 and remains in syndication. She won the Emmy for Outstanding Lead Actress in a Comedy Series in 1987.
One of McClanahan's co-stars, Estelle Getty, died in 2008; Beatrice Arthur died from cancer last year. The last of the
Golden Girls
, 88-year-old Betty White, has made a remarkable career comeback and recently hosted
Saturday Night Live
.
She was born Eddi Rue McClanahan in Healdton, Oklahoma on February 21, 1934. Her father, a road builder, moved between various projects, and she lived in six towns by the time she was 8.
After four years at the University of Tulsa, McClanahan moved to New York, working part-time as a part-time file clerk while seeking theatrical jobs.
Finding her first professional theatrical work off-Broadway in 1957, she reached Broadway in 1969.
McClanahan appeared on TV soap operas until she was seen on CBS's
Maude
, starring Arthur, in 1972. She was Maude's best friend Vivian.
She had six husbands, including actor Morrow Wilson, whom she married in 1997. She is survived by Wilson as well as by a son, Mark Bish, from her first marriage.
"I've always been lucky enough to marry good cooks,"
McClanahan told
People
in 1986.
"One cooked Greek. One cooked Tex-Mex -- chili and stuff."
She added with a laugh,
"True, one needed a recipe to make a peanut butter sandwich..."
Radio jock, toon voice Robert O. Smith dies at 67
Zany Northwest radio personality Robert O. Smith, a voice actor on numerous anime and other cartoon series, died early Tuesday of pancreatic and liver cancer, children Justine Wintersmith and Zach Monroe announced on the blog of "Thorndike Pickledish," one of Smith's many alter egos. He was 67.
Heard on many Seattle and Vancouver-area stations, Smith was also known on the air and on novelty recordings as The Masked Avocado, Dr. Zingrr, and Walter Wart the Freaky Frog. A number of his discs (such as "Sinister Lunchmeat") were played -- sometimes several times -- on The Dr. Demento Show.
Smith's regular voice roles in TV series included Bernie, Buck, Cuddles and The Doctor in
The Adventures of T-Rex
(1992), Manx and Sanctifur in
Billy The Cat
(1994), Sagat in
Street Fighter: The Animated Series
(1997), Sparkle in
Pocket Dragon Adventures
(1998), and Soundwave in
Transformers: Cybertron
(2005). He was in the voice casts of several episodes of
Mary-Kate and Ashley in
Action!
(2002) and
Gadget and the Gadgetinis
(2003).
He guested in
Madeline
(1990) as Alfred Hamhock in
"Madeline's Tea Party"
and
Sabrina the Animated Series
(1999) as Dr. Mixer in "Witchery Science Theater."
He portrayed Dr. Sevenbrains and the Taxidermy Representative in the 1997 animated film
The Fearless Four
. He was Yorick in
Monster Mash
, a 1999 direct-to-video animated special.
Among his roles in anime series were Kyoko's Father in
Mezon Ikkoku
(1986); Genma Saotome, Sasuke Sarugakure and the Scroll Owner in
Ranma 1/2
(1993); the Old Man in
Green Legend Ra
n (1994); and Gravity Man in
MegaMan: NT Warrior
(2001) and
MegaMan: NT Warrior AXESS
(2003).
His anime feature films included
Dragon Ball: Curse of the Blood Rubies
(1986),
Ranma ½: The Movie, Big Trouble in Nekonron, China
and
Ranma ½: Nihao My Concubine
(both 1992), and
Fatal Fury: The Motion Picture
and
Ranma ½: One Grew Over the Kuno's Nest
(1994). In addition, he had many voice roles in English-language dubs of original video animations.
Smith made several of what he called
"bizarre, zany and outrageous"
animations using only a mouse and software, ad libbing a voice track. He sold two,
"Like a Wormhole"
and
"Coffee Fi Fi,"
to the Canadian Broadcasting Corporation's ZeD TV show, which airs weird videos. They aired under his nom de comedy Thorndike Pickledish.
Although he had been in physical pain lately, he had made it through recent voice sessions on Vancouver station CKNW. He had also worked at KJR, KOL, KVI, KIXI-FM in Seattle, Tacoma's KTAC, CFMI-FM Vancouver and CISL Richmond, British Columbia, and CKMA in Abbotsford, British Columbia.
Famed for his ability to do hundreds of different voices, he once created 20 of them for a single radio spot. After living in the Seattle area, he settled in Vancouver.
Smith held numerous records in the masters division of weightlifting competitions, calling himself
"Bench Bozo."
A bench-presser until shortly before his death, he had a 578.5-pound official lift.
What did his middle "O" stand for? Smith kept his full middle name a secret to all but close family members; apparently, it was a peculiar family name, said his daughter, who knows what it was. However, he once claimed in a Vancouver newspaper interview that he was just plain Robert Smith, and that he added the "O" just to differentiate himself from all the other Robert Smiths.
"His wishes were simple -- no public memorial, no digital gold-plated turbo-casket with fine cordovan leather interior and motion-activated whirling Mercedes-Benz hood ornament,"
his children said.
"He requested cremation and a celebration of life among his closest friends."
They added:
"If you would honor him, keep on doing what you do -- bench with the best of your ability and passion, striving ever toward bigger and better lifts, or create art and sound, inspired by his memory. We will keep that memory alive and continue to update Bench Bozo and All Hail Thorndike Pickledish, sharing images and his original drawings from a lifetime dedicated to lifting and creativity. Our thanks to all who knew, loved, and shared that dedication with him. We will love and miss him always."
His son is a Seattle resident and freelance voice and visual artist.
Extra Virgin Olive Oyl
First
Popeye
was selected to front
a sex shop in Tokyo
. Now, who better to represent a line of products using Extra Virgin Olive Oil than… the extra virginal
Olive Oyl
.
Reader John Hall sent in this
new character merchandising find
:
I was traveling through the Nashville, Tennessee area yesterday and found a bag of Olive Oyl Popped Corn at a local grocery store. The bag has 3 nice drawings of Olive on the bag that look like artwork from the early '40s Fleisher cartoons. Also on the back is a nice trademark showing the whole Popeye clan with a 2009 King Features copyright. Here are some photos of the used bag
(click thumbnails below to enlarge)
. Oh, and the popcorn is pretty good.
(Thanks
Cartoon Brew
)
A Lost Fleischer Cartoon
I have friends in the stock footage business. They buy large libraries of old 16mm movies by the ton (usually home movies, travelogues and educational films) and every once in a while, while digitizing and archiving their latest acquisitions, they come across an animated film they cannot quite identify. When that happens they usually send it to me to examine.
This past weekend I screened one of those films and it's a real mystery. It's not a particularly great cartoon, but its quite an exciting find. Watching it conjured more questions than answers. But one thing's for sure: It's an undocumented product of the Miami Fleischer studio. I'm posting it in hopes that others may have more clues to explain its existence - and its 70 year absence from any animation reference.
The Vacationer's Paradise
is apparently part of a proposed series called Traveltoons. It's sort of an animated travelogue - not unlike what Famous Studios would base their later 1940s series of
Screen Songs
(like
The Sunshine State
or
The Golden State
).
First off, notice the title lettering done by that mysterious Fleischer/Famous studio calligrapher, whom I'm a big fan of. Next note "Mrs. Doe" - a character design that answers the burning question of what happened to Betty Boop after she retired and moved to Miami.
Could this have been a pilot for a new series of Fleischer cartoons? Was material created for this series later recycled in the Famous Screen Songs? Could this possibly be the first Famous Studios cartoon? A "blackout" reference certainly places it in either late 1941 or 1942. Note it's really more of a film about Florida etiquette than Florida tourism. Perhaps it was created for a Miami Visitor's Bureau?
Was the film perhaps a contractual obligation of the studio, produced for the Miami Chamber of Commerce, as part of Fleischer's deal to re-locate to Miami? Why does the film feel so cheap? Why the absence of music in the main body of the film? Why are their no credits whatsoever? Note the voice of Jack Mercer among the background voices. Note the narrator may be Charles Irving, who voiced many of the later travelogue Screen Songs.
Bob Jaques
believes that the man in the live action footage to be animator Tom Johnson. Did Johnson direct the film? Was this done by a group of ex-Fleischer artists as a sample film, perhaps to start their own Miami studio after Paramount took over Fleischers? And yet, there is a fair amount of live action and animation material, which leads me to believe this was done under Max or Dave Fleischer's watch.
Lots of questions, no answers… but we have the film.
What do
you
think?
(Thanks
Cartoon Brew
)
Salesman Pete Trailer
French animation students—yes,
students
—continue to push the envelope for cel-shaded CG animation more than anybody else within the industry. This trailer for
Salesman Pete
is the latest example (and among the finest) that I've seen from a technique standpoint. It also puts to shame the bland indistinguishable visual styling that dominates all mainstream computer animated features nowadays.
The film's directors Anthony Vivien, Marc Bouyer, and Max Loubaresse point out emphatically on their Vimeo page that
"WE ARE NOT from Supinfocom, in fact we left our school before our last year in order to make this short our own way."
Now
this
is the kind of dropping-out that I can get behind, but I'm really curious to learn the full story about why such a production wasn't possible at their school Supinfocom. The have a
Salesman Pete production blog
with pre-production artwork from their film.
(Thanks,
Dan Pinto
and via
Drawn
)
(Thanks
Cartoon Brew
)
Andrea Romano on "Batman: Under the Red Hood"
Warner Bros. Animation has released a new interview linked to the upcoming direct-to-DVD feature
Batman: Under the Red Hood
. This time, fans can hear from long-time Batman voice director Andrea Romano.
The full press release interview follows. Click any image to enlarge.
Andrea Romano Finds the Perfect Blend of Voice and Character for Batman: Under the Red Hood
Bruce Greenwood (Star Trek) provides the voice of Batman, under the dialogue direction of Andrea Romano for Batman: Under the Red Hood, The film will be distributed July 27, 2010 by Warner Home Video. (Photo courtesy of Gary Miereanu)Few individuals understand the intricacies of the voice of Batman better than Andrea Romano.

Arguably the top animation voiceover director in the business today, Romano has been instrumental in orchestrating the vocal tones behind the character's non-live appearances for more than two decades. From Kevin Conroy and Rino Romano to Jeremy Sisto and William Baldwin, Romano knows precisely what voice will best fit the tones of a particular story or series.

Enter Batman: Under the Red Hood and all of its deep, emotional undertones. Romano has outdone herself once again, balancing the veteran acting chops of Bruce Greenwood as Batman with the youthful, pained intonations of Jensen Ackles as Red Hood, and tossing in Neil Patrick Harris as Nightwing for humorous resonance.

All in a days work for Romano, who recruits the best in the business – winners of Oscars, Emmys and Tonys alike – to provide the voices behind some of the world's best known super heroes for the DC Universe Animated Original Movies.

Romano's voiceover casting/direction resume spans more than a quarter century, covering the genre gamut from action (Batman: The Animated Series) to humor (Animaniacs) and contemporary (The Boondocks) to timeless (Smurfs). The eight-time Emmy Award winner (along with more than 30 nominations) is a star in her own right, earning the respect of her peers and the adoration of legions of animation fans. One need only witness the reaction to her introduction at a Con to understand that voiceover work is no longer an anonymous profession.



Batman: Under the Red Hood

is the next entry in the popular ongoing series of DC Universe Animated Original PG-13 Movies from Warner Premiere, DC Entertainment and Warner Bros. Animation. The full-length film will be distributed by Warner Home Video on July 27, 2010 as a Special Edition version on Blu-Ray™ and 2-disc DVD, as well as being available on single disc DVD, On Demand and for Download.

Romano took a few minutes to offer her perspective on the voices of Batman: Under the Red Hood. Here's what she had to say:
Bruce Greenwood provides the voice of Batman in Batman: Under the Red Hood.QUESTION: Let's take the cast one member at a time. What made Bruce Greenwood right for the role of Batman in this particular film?

ANDREA ROMANO:
One of the coolest finds of this past year for me was Bruce. I've seen so much of his work over the years, and he can do so many things so convincingly. I knew I'd have to offer him a big role. Something with meat. And I knew he would really sink his teeth into the material and make it his own. I don't need to tell you what a wonderful actor he is – but for this film, he gives a terrific, sensitive performance. This is the most tortured we've ever seen of Batman and, without overplaying it, Bruce really showed us a lot of the guilt and issues Batman has in his luggage. It's an exhaustive, emotional piece, and he carried it perfectly.
QUESTION: How did Jensen Ackles perform in his maiden voyage in animation?

ANDREA ROMANO:
When you get a first-timer in the booth, there are often risks involved, particularly in understanding the techniques involved in working with the microphone. Jensen picked it up so quickly and was so effective in this very difficult role. Red Hood is written as such an embittered, angry, verging-on-insane character, and it can so easily be overplayed. But Jensen found just the right level of energy and flair. I loved his acting. His quality was dead-on, and he really offers a perfect balance with Bruce (Greenwood).
As a director, you live the emotions with the actor. There's one scene where Jensen has to let his emotions completely bubble to the surface. I had to work really hard to see my script through the tears that I was crying with him as he let his emotions come through.
QUESTION: Who better than Neil Patrick Harris to break up all the emotional drama of this film?

ANDREA ROMANO:
Who doesn't love Neil Patrick Harris? He's charming, talented, friendly, and remembers everyone he works with. He can sing and dance, not that I need that talent for Red Hood (she laughs). And in this instance, he did the unthinkable – he came to record for us on his way to the airport as he was going to New York to host the Tony Awards. Nightwing really does give a comic balance to this intense story, and Neil brought that spunky, funny instinct to the character with his usual effortless performance. He's completely believable whether he's doing drama or comedy, and he really added to this film. If I could, I would use Neil on every single project I do.
QUESTION: Jason Isaacs is such a nice guy. Why'd you have to make him play a villain again?
Wade Williams (Prison Break) provides the voice of Black Mask in Batman: Under the Red Hood.
ANDREA ROMANO:
Jason Isaacs is a delight. And you're right (she laughs) – nice guys sometimes make the best villains. I've worked with Jason several times, and he's absolutely fantastic. For Ra's, I needed something slightly exotic. He's a great, unusual character, but we had to fight against him getting too cartoony – and I knew Jason had the chops. He's also a wonderfully intelligent actor – during the recording session, he had so many ideas, and would so respectfully suggest them to Bruce (Timm) and I – and I honestly don't know that there was one we didn't use. He helped edit the copy, he added beats where we didn't even see them, and really nuanced the performance.
QUESTION: The Joker has had some very memorable live-action and animated performances from some notable performers. How did John DiMaggio fit into that legacy?

ANDREA ROMANO:
If I weren't in love with my husband, it would be John. He's such a versatile, talented voiceover actor. The Joker is such an intense character, and I knew I needed somebody with great range – and John was delighted to come in and play, and he gave it some beautiful new twists. Because he has such a deep gravely voice, and he's good at comedy, and he's a good actor, I knew John already had covered most of the points of the Joker. But I didn't want a light, thin reedy voice, I wanted a voice with some mass to it. That's John.
QUESTION: You've placed Vincent and Alex Martella as the Young and Younger Robin voices. Had you ever cast brothers in the same film?

ANDREA ROMANO:
This is the first time I've ever cast brothers in the same film. I was familiar with Vincent's work and had been looking for something for him, and this was a great, interesting opportunity because I needed to cast the younger version of this character at two different ages. Vincent has a younger brother named Alex, who has only just begun in the industry, but because siblings tend to have very similar qualities to their voices, it was kind of a no-brainer to cast his younger brother as his younger self. And they were terrific – Vincent was pure dynamite in his performance, and I actually think Alex learned from watching his older brother record before him.
What really surprised me was in their attention to detail. They had to set up this character's life for another actor that they weren't even going to act in the same room with, and I thought the transitions were seamless.
Jensen Ackles (Supernatural) provides the voice of Red Hood in Batman: Under the Red Hood.
QUESTION: What set this cast apart from the first seven DC Universe films?

ANDREA ROMANO:
Each one of these actors had something to bring to the party above and beyond what was required of them. They had questions, they had input, they had ideas and, because the piece is so adult, complex, intense and dark, they knew they weren't coming in to play The Smurfs. In order to make sure they were in the right head space and had the right tone, they asked a lot of questions. And that's always a good sign. When the actors are that involved with their characters and the story, that challenges Bruce (Timm) and I to truly think through everything even more thoroughly, and then it becomes a much more collaborative effort. I'm not above telling an actor how to read a line. But I'd prefer that the actor comes up with the idea himself and I'm able to just tweak things here and there. We all need a challenge, something that keeps us on our toes, and recording this film was one of those experiences. A very, very positive experience.
For more information, images and updates, please visit the film's official website at
www.BatmanRedHood.com
(Thanks
Toon Zone
)
The Hub/ Hasbro
I trucked over to the fabled Starz Media building next to Bob Hope Non-International Airport this p.m., and I'm happy to report that The Hub and Hasbro have now (finally) moved in.
And who the hey are Hasbro and The Hub? As the L.A. Times
reported
five months ago:
Cable programming giant Discovery Communications and Hasbro Inc., ...are teaming up to launch a kids channel ... calling the network "The Hub." ...

The Hub will target primarily the 6-12 age demographic ... taking over the channel space that was occupied by Discovery Kids and will launch in roughly 60-million homes in the fall. There has been concern from children's advocacy groups that the connection with Hasbro will mean the channel will be focused more on selling toys than in enlightening children ..
.
Selling TOYS?! Who would have thought?
But the part of the building formerly occupied by
King of the Hill
has had a big-time makeover. Where once there was a large, dark, meandering space with musty cubicles, there is now a reception area with leather couches. Nice, glassed-in conference room. And off through double glass doors, a whole bunch of new animation cubes with lights and desks that haven't (for the most part) been occupied yet.
Upstairs,
The Simpsons
studio is quiet, with lots of artists out on hiatus, other artists just back from hiatus. One returnee told me that one of the leads who's been with the show almost from Day One has decamped for another studio.
"Blank decided the writing was on the wall and went off to Disney. He thinks the show's on its last legs and it's better to get out now than wait around for the end ..."
I replied that I think the Yellow Family has another 2-3 seasons in it because the ratings still hold up and if Fox pulls the plug the money machine will slow down faster. I also predicted that there are at least two more Simpsons features in our movie-going future, as Fox isn't going to abandon any profit centers if it can help it.
As my predictive powers are strong and flawless, I'm sure that all these things will come to pass.
(Thanks
Animation Guild Blog
)
The Permanence of Three Dee -- Part XVIII
The Wall Street Journal
speaks
:
Katzenberg Says 3-D Is Great -- Except When It's Not
Yeah, it's a smart-ass headline, but the video at the link is interesting. Jeffrey reiterates what he's said before, but he's still more right than wrong.
3-D is going to be marching on to greater acceptance and glory. The conglomerates smell big bucks. And Sony, Samsung and the rest know a pricey, profitable new viewing platform when they see it.
So get used to the brave new multi-dimensional world of movies and teevee.
(Thanks
Animation Guild Blog
)
Exclusive 'Scott Pilgrim' And 'The Last Airbender' Clips To Air During MTV Movie Awards Pre-Show!
The 2010 MTV Movie Awards kick off this
Sunday, June 6
, at 9 PM EST — but you should tune in an hour early if you want to catch some new footage from
"Scott Pilgrim Vs. The World"
and
"The Last Airbender."
Yes, you heard it here first, folks: MTV will bring you some exclusive, new footage from the two upcoming films by directors Edgar Wright and M. Night Shyamalan during the Movie Awards Pre-Show, which begins at 8 PM EST.
If you've been following along at home, you know that Wright's
"Pilgrim"
movie is based on the celebrated Oni Press series by Bryan Lee O'Malley, and stars Michael Cera as a slacker musician who must battle his new girlfriend's seven evil-exes to win her heart.
Shyamalan's
"Airbender"
is a live-action take on the wildly popular Nickelodeon animated series, and follows a hero's quest to save the world from warring tribes that wield the elements in a battle for supremacy.
Remember: Tune in at 8 PM EST for exclusive sneak peeks at
"Scott Pilgrim Vs. The World"
and
"The Last Airbender"
on MTV!First 'Thor' Costume Images?
Yesterday, we got a look at some images that might be
Captain America's costume
in the upcoming Marvel Studios movie, and now it looks like some images of Thor's costume — Mjolnir and all — might have also found their way online.
While this isn't our first peek at Chris Hemsworth as Thor, the art (which is entirely unofficial and unconfirmed at this point, so keep that in mind) does offer a cool, full-body shot of Marvel's god of thunder. The image also features a nice look at Mjolnir — though it might be old news for anyone who's been paying close attention to the more
spoilery corners of the Marvel movie universe
lately.
If nothing else, the images (which should probably be considered
"fan art"
until we hear otherwise) continue to present a look clearly influenced by the recent
mainstream
"Thor"
comics
by J. Michael Straczynski and Olivier Coipel
Here's one of the images, and you can find a pair of them over at
Collider
, where they first surfaced:
What sci-fi films would be like with their original casts
Kurt Russell in
Star Wars
? O.J. Simpson in
The Terminator
? George Clooney in
Hancock
? Coulda happened. We've only been able to
imagine
what some of these movies would have been like if they'd been filmed with their original casts—until now.
wildammo
mocked up 17 movie posters reflecting that original casting—and since we know you don't really care whether Jim Carrey might have appeared in
Meet the Parents
, we're plucked out our sci-fi favorites.
And it turns out that great minds think alike—as moviefone showed us when it did something similar
last month
.
Christopher Nolan Talks Batman 3 And Superman

In the latest issue of Empire Magazine, Nolan talks a bit about what inspired him to get involved with the latest incarnation of Superman, as well as his thought process on moving on to Batman 3 after TDK..
In this months issue of
Empire,
Christopher Nolan talks about his latest movie
Inception
. But he also briefly mentions his much discussed but rarely quoted involvement with the
Superman
reboot as well as a chat he had with David Goyer when they were trying to figure out where to go after
The Dark Knight
.
He doesn't go into too much detail, and no plot details are revealed, but its nice to hear the notoriously tight lipped director talk about these much anticipated projects...
"..What it is, while David Goyer and myself were putting together the story for another Batman film a few years ago, you know thrashing out where we might move on from the Dark Knight, we got stuck. We were just sitting there idly chatting and he said "by the way, I think I know how you should approach Superman".. and he told me his take on it. I thought it was really tremendous. It was the first time I've been able to conceive of how you'd address Superman in a modern context I thought it was a really exciting idea. What you have to remember about Batman and Superman is that what makes them the best superhero characters there are, the most beloved after all this time, is the essence of who they were when they were created, when they were first developed. You can't move too far away from that."
Nice to hear that Nolan thinks the characters should remain mostly true to their origins. Does that mean we will have to see Supes' exodus from Krypton again? Maybe. But hey, I can live with that as long as we have another villain instead or as well as Lex this time around. Also, the fact that he is so heavily involved in
Superman
and directing the next
Batman
really gives hope to an eventual cross over I think.
(Thanks
Comic Book Movie
)