Made in NY: Careers in Animation
L to R: Julianne Cho, David Levy, Debra Solomon, Aaron Augenblick, Norma Toroya, Catherine Branscome, and Bill Plympton. Photo Courtesy of the Mayor's Office of Film, Theatre, and Broadcasting
On May 5, 2009, The City of New York Mayor's Office of Film, Theatre, and Broadcasting, held a career panel on animation. On the panel were Independent Filmmaker, Bill Plympton, Founder of Augenblick Studios, Arron Augenblick, Animation Sales Rep, Catherine Branscome, and Animation Directors/Filmmakers, David Levy, Debra Solomon, and Norma Toroya (aka Crankbunny). Julianne Cho, Associate Commissioner for Communications and Business Development at the MOFTB, moderated the panel.
The night opened up with a discussion between keynote panelist Bill Plympton and Julianne Cho. Bill's seasoned career has given him a lot of fun stories to tell and great advice to pass along. His most well known story of why he went independent is his Disney one. I'll try to retell it here to the best of my ability. At age 15, Bill went to Disneyland with $20 in his pocket. He saw a Disney book on how to animate and couldn't resist buying it with his $20. He sent a package of drawings in application to Disney, only to be rejected three weeks later with a form letter for being too young. Fast-forward 30 years later, after he's become successful, Disney approaches him with a million dollar contract. Intrigued, he gets into the nitty gritty, only to learn that the contract requires him to turn over ownership of all his works created during his time there to Disney. The right answer for him was to turn them down, and he has remained independent ever since. He touts self-finance as not a bad thing due to animation's longevity - it can always be sold, and the fact that you ultimately own the rights to your work. His advice to students looking to get started in a career in animation, is to start off at a company doing animation: learning new technologies, making contacts, building cash reserves, and storing ideas. Work 6-7 years, make a few films and do the festival circuit. If they are successful, take off and become independent. To close the discussion, the audience was treated to a screening of Bill's new short "Santa: The Fascist Years".
The night then introduced the rest of the panelists, who come from a wide array of animation backgrounds. A variety of questions were posed, and the panelists drew upon their vast experience to give poignant, meaningful advice and anecdotes. Catherine, the animation sales rep, spoke of the need to know what you're going for and whom you're talking to. If you're looking to pitch or sell a certain idea, you need to know the background of the company you're pitching it to. Many of her clients are found through referrals and festival networking. Many of the panelists related stories of how they got their start, in particular Aaron, who owns his own animation studio. Aaron got his start at MTV animation. During that time, he scraped enough money together, to rent a small space in Dumbo, Brooklyn with one crappy computer. He worked on a number of small jobs but each got more interesting, and in the meantime, he made short independent films on the side. These projects fed off each other and led Augenblick Studios to the successful business it is today.
Much was made of the highly independent nature of New York City, the proliferation of small boutique shops operating here, and the spontaneity and vibrant personality that comes out of that. New York City is unique in that way, and most of the panelists wouldn't have it any other way. One last question was posed: What do you wish you knew that you didn't know starting out? Norma: How to say no properly to clients. Debbie: to become an active member of the animation community through organizations like ASIFA-East. Dave: to be your own advocate and don't wait for things to happen.
I really enjoyed the panel discussion and found it to be very informative and entertaining. I wish the event had been promoted better, as attendance wasn't what it could have been, based on past events I've been to with the MOFTB. I want to thank the Mayor's Office for including an animation panel. Ironically, the tax incentives that MOFTB manages and that allow many a production to operate in NY, do not apply to animation productions because they are not shot on-stage. Many productions in NY outsource their animation work to countries like Korea, India, and Canada, for the cheap labor. There is currently no incentive for productions to keep their animation in-house. There is no shortage of talent here, and many would love to see more work return to NY. I remain hopeful that we can find a way to work with the Mayor's Office and Albany on inclusion of animation productions into the tax incentive program. Until then, the MOFTB's benefits to the animation community here remain limited.
Visit the Mayor's Office of Film, Threatre, and Broadcasting Online.
Click here to view pictures from the event.
(Thanks
asifaeast
Celebrate 80s Pop Culture in Philly
The
Autumn Society of Philadelphia
is curating an art gallery show in June for the 25th anniversary of
Ghostbusters
and other 80s pop culture icons (animation, video games, and movies). The exhibition will go on display at the beginning of June and it will be up for the entire month at
Brave New Worlds Comics
in Philadelphia. Local artist
Chogrin
(who contributes the
Transformer
's piece below) says,
"animators and cartoonists from the industry will also be making guest apperances on the show. The show will have a total of 50+ pieces, all by different artists from the Autumn Society."
The
Ghostbusters
piece above is by
Dave Perillo
. Brave New Worlds Comics is located at 45 N. 2nd Street in Philadelphia, Pa.
Chogrin will be compiling another show based on the Golden Age of animation and comics in July, with Bob Mcknight, and Oscar Grillo already on board. He sent us samples from that show (below) including a realistic Betty Boop is by
Jessica Tommassello
and Donny the Mouse by
Oscar Grillo
.
(Thanks
cartoonbrew
)
EXCLUSIVE: Early Review of

The Princess and the Frog
I don't typically republish reader comments in separate posts, but a Cartoon Brew reader named Michael saw a rough cut of
The Princess and the Frog
last night, and has posted a
lengthy, thoughtful and knowledgeable critique of what he saw
.
(No real spoilers in his review unless you're super-sensitive.)
I did some digging to find out who "Michael" is, and while his identity will clearly remain anonymous, I learned that he's not affiliated with Disney and that he works in the live-action film industry. Here is what Mike thinks of Disney's return to hand-drawn:
Well, I saw the film at a screening (through movietickets.com) last night, of which something less than 30% was full color animation; and the rest surprisingly — given the audience — was pencils and boards. It was a lovely treat for an animation buff to be able to attend a movie in this stage of its development.
My one sentence review would be: it's a worthy entry in the Disney canon, but they've got a LOT more work to do, and not just finishing up the animation.
My more considered opinion:
I think this movie has a lot of promise and in the main it was very warmly received by an audience unused to watching pencil tests, who laughed heartily throughout.
I liked a lot of the character design, derivative though some of it seemed — but I don't know how many new ways there are to design a talking frog, for example. The alligator looks a little too familiar, though how he moves around is rather fun. The lightning bug, who was a huge hit with the audience, as he's quite amusing, nonetheless looks, from a design standpoint, as if he has flown in from another movie entirely.
The environments and backgrounds are really beautiful, especially when the action moves into the bayou. Really, really lovely stuff, and what we saw of the completed New Orleans is really quite something.
Unlike some who have commented on the snippets above, I did not find the acting to be over the top except when that's what's called for. To the contrary I found it to be closer to the classic style of old than most recent Disney fare. Whether that's a good thing or not depends on how you feel about Disney living in the past, versus pushing the boundaries. Can't they do both? Make films like the classics, but also make more modern or challenging films? Surely they can, but since this is the first one out of the gate 2D-wise post John and Ed, it seems inescapable that it should be an effort that tries to capture that classic Disney aesthetic.
[Note: The following paragraph references
a comment that I made earlier
.] And Amid, as far as them being out of touch — I don't think they are out of touch at all with what the lion's share of the paying audience wants to see (certainly, if the whoops and cheers after last night's screening are any indication). You can
"Triplets of Belleville"
about it all you want, and I adore all sorts of animation, but even the most meagre Disney grosses put the lie to this notion that the masses are thirsting for more challenging animated product and are rejecting this somewhat traditional and predictable, if beautiful, fare — no matter how much animation enthusiasts like you or I might wish that it were so.
Anyway, story-wise, there's enough that's "different" in there to pique the interest of those who are tired of the traditional Disney fare, but unfortunately it also treads many of the same boards as the movies we have seen a dozen times over. I suppose, alas, that given the burden of expectation — it's going to SAVE Disney 2D animation!!! — it has to to meet the modern expectation of a "Disney animated feature." The
"I want"
song lands right where it is supposed to, and so on. It seemed to me, that some of the more familiar elements don't really sit well with some of the new, but I think there's room, and time, to smooth this out some.
BUT, there are some pretty large story problems in the first act that loom large over the rest of the film. I won't go into detail because I don't want to be hatching spoilers all over the place. Suffice it to say that neither the prince's, his servant's or the villain's motivations are at all made clear; their early development is rushed; they seem to be acting as they do because the plot demands it of them, rather than moving from any basis of character. This lack of development weighs the movie down horribly when it should be flying. Moreover, certain developments later in the film that should really land with elegance don't because they are not properly set up in the first act. Tiana's the only character who feels really fully developed, and inasmuch as she's the protagonist that's good news, but these other three characters and why they do what they do to each other is really a big piece of the core of the story and I fear the film will not resonate unless these issues are addressed.
It was kind of shocking, really, to see these questions of character and motivation at this point in a project that's been gestating as long as this one, with these particular people at the helm! Fortunately, there are numerous potential solutions and ways to strengthen these characters, utilizing mainly what's already been done, and possibly replacing one scene (one of the few which seemed nearly complete, alas) with another which could conceivably be whipped into shape in the time available.
I hope so. A success for this picture is a good thing for animation everywhere. It was a crowd-pleaser last night in its unfinished form, for sure, and if it were finished and released in its present form I have no doubt it would do well, but lots of pictures that aren't as good as they could be do well. If they can rejigger the first act and clarify those three characters, the picture could really soar, could really stand up on its own among the other Disney classics, and could open the door to loads of new possibilities for the studio.
(Thanks
cartoonbrew
)
Aflac Goes

"Up"
Characters from Disney-Pixar's
Up
will appear in an ad for Aflac insurance, starring with the Aflac duck to pitch Aflac policies, the companies announced today.
As part of the joint promotion, Up characters will appear on Carl Edwards' Ford Fusion at the Southern 500 NASCAR Race on May. The new ad will premiere during the Fox Network telecast of the race.
"Bob the Builder"

DVD Coming in July
Bob the Builder: Built for Fun
, a DVD collection of five episodes of the TV series, will be released on July 4, HIT Entertainment said today. The release will come packaged with a bonus collectible toy.
Episodes on the disc include
"Radio Bob," "Super Slasher," "Roley Brings the House," "Silent Scoop,"
and
"Scrambler Gets Prepared."
Extras include
"Build with Bob: The Game"
and
"Building Buddies"
Read-Along.
It will retail for $14.98.
Adult Swim Orders

"Titan"

Series from

"Robot Chicken"

Producers
Adult Swim has ordered nine episodes of
Titan,
a stop-motion animated series from
Robot Chicken
producers Tom Root and Matthew Senreich, according to The Hollywood Reporter.
The series will be set a century in the future, where a team of pilots—whose spaceships can combine to form the giant robot Titan Maximum—must reunite to fight a former team member who has gone rogue.
Titan
will feature a continuing set of characters and story lines. Seth Green will voice the series' villain and executive produce with Root and Senreich. Other players cast include Breckin Meyer, Rachael Leigh Cook, Dan Milano, and Eden Espinosa.
Titan
will debut in September.
Downey Jr. in Armor on Iron Man 2 Set
People
has posted this photo of Robert Downey Jr. wearing the armor on the Los Angeles set of
Iron Man 2
on Wednesday. We presume the black and white dots on his arms and legs are references for the computer-generated visual effects that will enhance the suit in post-production.
Opening
May 7, 2010
, the Jon Favreau-directed sequel co-stars Gwyneth Paltrow, Don Cheadle, Jon Favreau, Mickey Rourke, Sam Rockwell, Samuel L. Jackson, Scarlett Johansson, Garry Shandling, John Slattery, Kate Mara and Clark Gregg.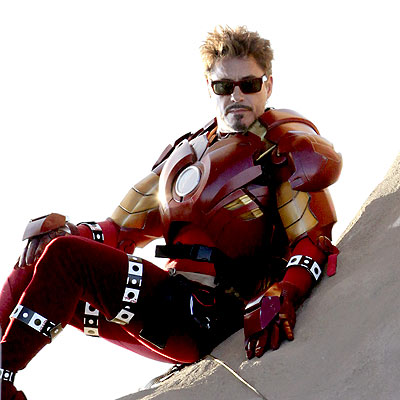 CalArts Animator Spools Out Weighty

Lifeline
Lifeline
is
Andres Salaff
's ambitious final film from his studies at
CalArts
. This 5-minute, traditionally animated short is without a word of dialog, and is instead accompanied by a highly polished audio track (
Kyle Blanton Ross
) that is best enjoyed with headphones. It's dreamlike in a 2001 kinda way, mixing awe and eurphoria with the intensity and emptiness of the vast unknown.
From the "Not Everything Needs to be Animated" Dep't.
A memo to real estate agents: The market is bad enough. Creepy, poorly animated CG spokespeople aren't going to increase your sales and rentals.
(via

Lili's Twitter

)
(Thanks
cartoonbrew
)
Star Trek

Warps Into B.O. Orbit
The first real faceoff of the summer movie season is set for this weekend as
Star Trek

looks to steal the thunder of last weekend's big opener

X-Men Origins: Wolverine.

Star Trek, which is set to open in 3,849 theaters, is expected to win the weekend based on high anticipation and an overwhelmingly positive critical response (a high score of 90 % on rottentomatoes.com). Predictions are all over the map on how well the film will do, going from a lowball number of $40 million to Variety's Anne Thompson thinking a $100 million weekend is very possible. The film's cool visual effects were handled by ILM, Lola, Evil Eye Picture, Svengali and Kerner Optical.

X-Men Origins: Wolverine will play wider in its second weekend, showing in more than 4,100 theaters. The film opened last weekend to a strong showing of $87 million, and the real question this weekend will be how far does that number drop?

Studios are giving Paramount a wide berth on Star Trek

, a reboot of the classic TV series from director J.J. Abrams, with only Summit Entertainment opening a major release against it with

Next Day Air. The comedy stars Donald Faison, Mos Def and Mike Epps and opens in 1,138 theaters.

Hanging on are holdovers such as Obsessed, The Soloist

and

Monsters vs. Aliens
, which heads into another weekend still playing at more than 2,500 theaters.
(Thanks
Animation Magazine
)
ASIFA Plans 20th Anniversary

Little Mermaid

Panel, Screening
The makers of the modern Disney classic
The Little Mermaid
will reunite for a special screening May 21 celebrating the films' 20th anniversary and benefiting the ASIFA-Hollywood Animation Archive.
Reuniting for a panel discussion at the event are the film's writers and directors, John Musker and Ron Clements; animators Andreas Deja (King Triton), Mark Henn (Ariel), Duncan Marjoribanks (Sebastian), Reuben Aquino (Ursula) and Tina Price (CAPS system and early CGI). Animator Tom Sito will moderate the panel.
The event will be held from 7 to 10 p.m. at Woodbury University's Fletcher Jones Auditorium, located at 7500 Glenoaks Blvd. in Glendale, Calif.
Reservations are not required for this event but seating is on a first-come, first-served basis. Members of ASIFA-Hollywood and students of Woodbury are admitted free. Tickets for non-members cost $10 and can be purchased at the door. Parking is free.
(Thanks
Animation Magazine
)
Derryberry Launches Baby Banana Site
Voice actor Debi Derryberry, best known as the voice of Nick's
Jimmy Neutron,
has launched an interactive website featuring the original character Baby Banana.
The site,
mybabybanana.com
, features animated music videos for songs written by Derryberry and starring Baby Banana. The site also features original games, songs, recipes, activities and a blog.
People who join the Baby Banana Fan Club get a free download of the song
"Tropical Fruit"
from the new CD release Debi Derryberry's Baby Banana.
Derryberry, an acclaimed singer-songwriter in addition to being an accomplished voice actor, created the characters Baby Banana, Momma Duck and Daddy Gorilla to entertain her son. The character first appeared in a calypso-themed song and in a book released in late 2008,
Baby Banana and the Licorice Tree
.
Derryberry plans to tour extensively this year in support of the project.
(Thanks
Animation Magazine
)
My Big Big Friend

Adopts Toon Boom Pipeline
Canadian software maker Toon Boom Animation announced that its pipeline system will be used in the making of the Brazil-Canada co-production
My Big Big Friend
.
The deal to implement the new Harmony solution was made with the show's producers, 2D Lab, Breakthrough Animation and Treehouse. The Harmony solution includes Toon Boom Storyboard Pro, Animate Pro and possibly Toon Boom Manager. Toon Boom will provide consulting services and training as part of the deal.
The preschooler TV series began production in March on 52 11-minute episodes that will start airing in Brazil early next year.
(Thanks
Animation Magazine
)
Marvel Orders up

Deadpool

, More

Wolverine
With
X-Men Origins: Wolverine
having shredded box office expectations last week with a hefty $85 million haul, Fox is proceeding with development on a spinoff
Deadpool
movie and a
Wolverine
sequel.

Variety reports Ryan Reynolds will return as Wade Wilson, the

"merc with a mouth"

for the
Deadpool
film. Lauren Shuler Donner will return to produce the film with Marvel.

The studio also is in the formative stages of a direct sequel to
Wolverine
that will see Hugh Jackman's clawed mutant head to Japan.

Also in Fox's plans for the
X-Men
franchise is
X-Men Origins: Magneto
, with a script by Sheldon Turner ready to go, and
X-Men: First Class
, a look at young mutants written Josh Schwartz.
(Thanks
Animation Magazine
)
CNE to Handle

Total Drama

Licensing
Cartoon Networks Enterprises has been named the exclusive North American licensing agent for the popular
Total Drama
franchise

CNE struck the deal with Cake Entertainment and Fresh TV, creators of the popular animated series
Total Drama Island
and its upcoming spinoff,
Total Drama Action
, The agreement calls for CNE to develop licensing and merchandising plans for multiple categories, including home video.
The deal expands on the relationship between Cartoon Network, which is the broadcaster for both series, and Cake.
Total Drama Island
, created by Tom McGillis and Jennifer Pertsch to be the first competitive animated reality program, debuted in June 2008 and became an instant hit on television and online.
Total Drama Action
, which takes the original series' contestants and puts them in a new competition, is currently in production and set to premiere later this year.
(Thanks
Animation Magazine
)
Soderbergh Animates Key Cast Member
Steven Soderbergh's is planning to animate the star character in his upcoming live-action movie
Moneyball
.
The film, based on Michael Lewis' book about how Oakland A's manager Billy Beane used a statistics model developed by Bill James to build a winning team, will be as realistic possible — except when it comes to James.
"We have this sort of oracle character that appears throughout and declaims various issues and he's essentially supposed to be Bill James,"
Soderberg told MTV.
"He's your host in a way…. The background will be real but the person who is supposed to be him will be animated."
Brad Pitt is set to play the role of Beane alongside a number of people from the story who will be playing themselves.
(Thanks
Animation Magazine
)
Animag's Pitch Party Contest Returns!
Animation Magazine is gearing up for its 8th annual Pitch Party contest!
The Pitch Party offers independent artists an opportunity to advertise their animated properties for a greatly reduced rate in the pages of Animation Magazine, which is read all over the world. Each entry is also reviewed by a panel of esteemed judges, whose identities will be revealed soon, who select one winner for the opportunity to pitch their idea to the participating execs of their choice.
All pitches are presented as 1/6th-page advertisements that offer new ideas for animated shows that just may get picked up for development. Results of the online reader poll will be announced along with the picks of their distinguished panel of industry judges and AniMag staffers in the August issue of Animation Magazine.
Deadline to enter is
June 10
. For more details on this year's contest and how to enter, click through to
www.animationmagazine.net/pitch_party_09.html
.
(Thanks
Animation Magazine
)
2 Springfields offer

Simpsons

stamp cancellations
Today (Thursday, May 7), the real Springfield Post Office -- the one in Springfield, Vermont -- will provide a special cancellation to mark the release of United States postage stamps depicting characters from
The Simpsons
.
From 8 a.m. to 5 p.m. at the 9,000-person town's post office, a table will be set up where customers can ask for
The Simpsons
postmark, which shows Homer kicking (d'oh!) a bowling ball.
"We will be happy to cancel any letters that our customers bring in to mail that day,"
said acting postal supervisor Jeremy Montgomery.
"Customers may also bring in their own envelopes to obtain a postmark that they can take home as a keepsake."
The Vermont
"Springfield"
finished first in national voting for the locally-produced video which best showed the fictional Springfield where the perennial Fox animated sitcom is set.
In 2007, 20th Century Fox studios sponsored a
"Hometown Movie Challenge"
open to Springfields across the United States. USA Today readers voted Vermont's Springfield entry the best of 13 Springfield videos that were posted on the newspaper's Web site.
Although today's the first day that
The Simpsons
stamps will be available for sale across the U.S., Springfield Post Office staff will cancel any stamp -- not just those bearing the images of Homer, Marge, Bart, Lisa and Maggie. As well, packages of plain #10 envelopes and stamped envelopes will be available for purchase.
For further details, call the Springfield Post Office at (802) 885-4103.
Not to be outdone, Springfield, Colorado -- population 1,562 -- will have its own celebration today.
The town's post office and community will gather from 11 a.m. to 12:30 p.m. at Chubby's Restaurant, 1165 Main Street, in -- where else? -- Springfield.
"Of course, we are proud to claim our great Springfield, Colo. community as the real hometown of the
Simpsons
,"
postmaster Charlie Turner said.
The Colorado office will have a special
Simpsons
pictorial stamp postmark featuring baby Maggie. The celebration will also include costumed
Simpsons
characters and "duh'o"-nuts.
"We're also having a customer costume contest so the kids and fans are invited to come dressed as their favorite

Simpsons

TV character,"
said Marcela Juarez Rivera of the U.S. Postal Service. The winner will get a framed Simpsons Stamp artwork piece.
"We invite everyone to help us celebrate and put our special Springfield, Colorado postmark on the Simpsons. It should be a lot of fun,"
Turner said.
Those who can't get to the Colorado town today are can still get the special Maggie Simpson postmark by mail. Affix a first-class stamp to each envelope or postcard of your choice, address them to yourselves or others, and put them in a larger envelope, addressed to: Simpsons Postmark, Postmaster, 188 E 9th Ave, Springfield, CO 81073-9998.
The Springfield, Colorado Post Office will return the postmarked envelopes and postcards through the mail. Although there's no special charge for the postmark, all orders must be made by June 6.
Meanwhile, customers can buy Simpsons stamps by credit card by calling 1-800-STAMP-24, or online at
www.usps.com/shop
-- as well as in person at post offices, of course.
Until
Thursday, May 14
, Simpsons devotees can vote online for their favorite
Simpsons
stamp at
www.usps.com/Simpsons
. A limited-edition
Simpsons
poster autographed by series creator Matt Groening will go out to each of 25 voters.
Friday Links
Now that we're at the end of another slog through a workweek, we offer links for your perusal ... beginning with the
power of Seth McFarlane
.
In a dazzling, audacious stunt that hasn't been tried on TV since, well, the last time
Who Framed Roger Rabbit?
was rerun in the wee hours of the morning, an animated character is about to cross over to a live-action show.

Baby Stewie, the foul-tempered, homicidal baby from
Family Guy
, appears on tonight's episode of the police procedural
Bones
. Suddenly, Izzie's ghostly hallucinations in
Grey's Anatomy
and Dr. House's spectral visitations by the dead Amber in
House
don't look so out-there ...
It must be sweeps, correct? Because they know the producers know a ratings booster when they stumble across one ...
M-G-M, once a behometh and now a shingle, is
getting into
the theatrical animation game:
'Bunyan and Babe'
will go out through MGM in North America. MGM has pacted with Exodus Film Group to release the animated pic
"Bunyan and Babe"
in North America.

Film, which features the voices of John Goodman and Kelsey Grammer, is a modern take on the folk story of legendary lumberjack Paul Bunyan and his sidekick, Babe the Blue Ox ...
Of course, the Bunyan legend has cropped up in an animated before.
CXO Today reviews the
current state
of Indian animation:
The Indian animation industry has matured on the technical expertise since last five years (sic). However the industry now needs to focus on creativity and build its own IP content based on indigenous story themes to become more credible in the world market -- say industry experts.
(It gives a fine account of what's going on the sub-continent ... even if some of the article's sentences are ... a little tortured.
Variety
profiles
Luc Breson and his budding career in animation with
Arthur and the Invisibles
:
The idea for
"Arthur"
came out of a meeting Besson had with writer Patrice Garcia, who had shown him a drawing of the character.


"
'Arthur'
was financed like a studio film and showcased an enormous pool of French talents,"
says Sparx's former head of production, Thomas Schober. The sequel,
"Arthur and the Revenge of Maltazard,"
is set to bow next November in Germany.
The Disney Co. will be
setting up
a new animation studio in Vancouver ... again:
To accommodate a growing slate of nonfeature projects, Disney and Pixar will launch an animation studio in the fall in Vancouver.

The focus will be on Pixar's legacy characters, including Buzz and Woody from the
"Toy Story"
films and Lightning McQueen and Mater from
"Cars."
"The operation will be small in size and dedicated to producing short-form quality computer animation for theme parks, DVDs, television and theatrical exhibition ... for several different divisions of the Walt Disney Co.,"
Disney/Pixar president Ed Catmull said.
For those of you keeping a scorecard (and who have been around awhile), you might recall that Disney set up an animation studio in Vancouver during the go-go nineties. At that time, the concentration was on hand-drawn sequels for VHS and DVD. TAG assisted a Canadian union in its efforts to organize the studio. They came close, but ultimately failed. The artists working there were fearful that if they
"brought in the union,"
that Disney would close the studio.
So the studio remained non-union. And Disney closed it a year-and-a-half later. (Ah well ...)
Have a glorious Friday and productive weekend.
(Thanks
Animation Guild Blog
)